August 15, 2010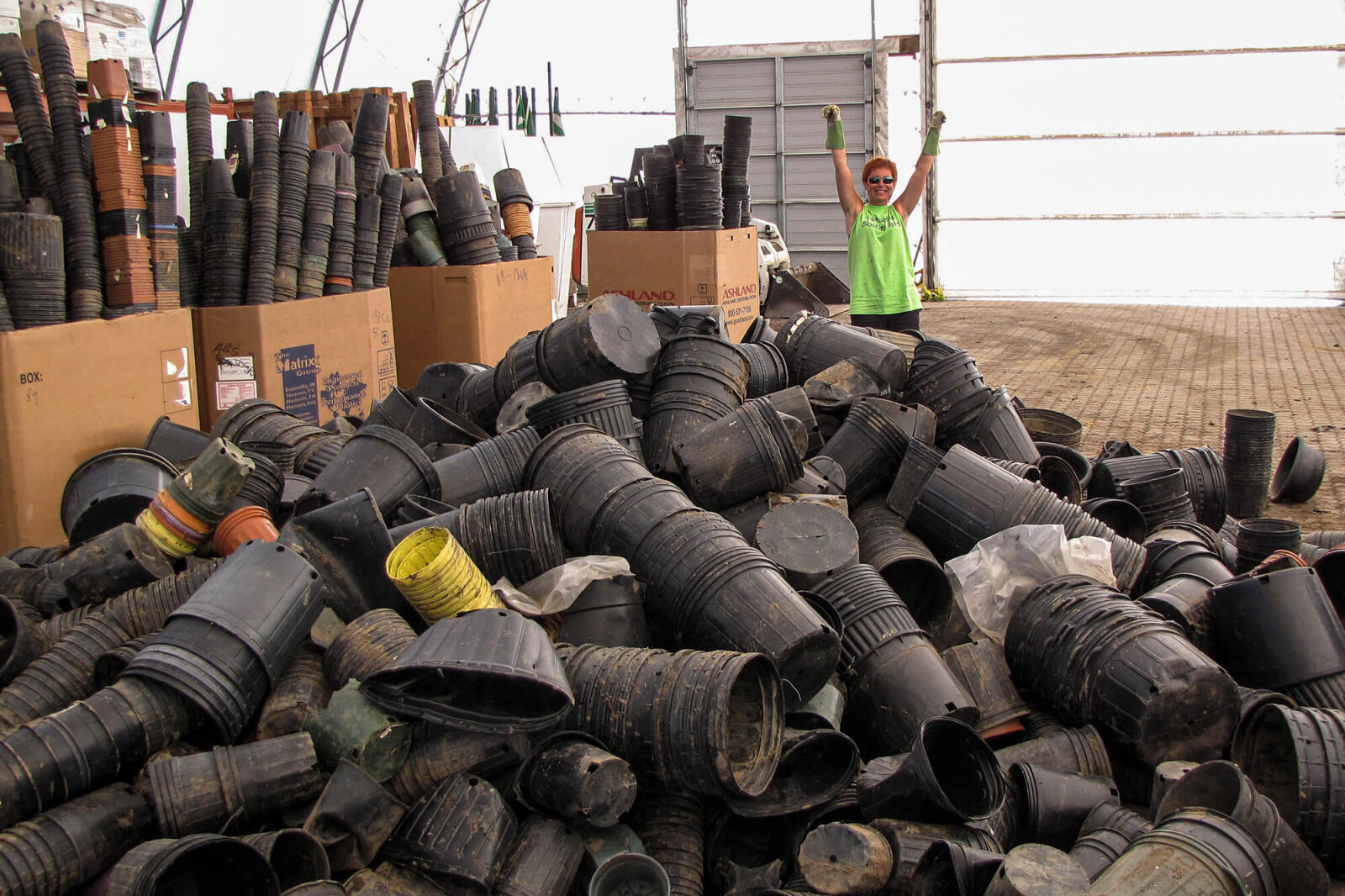 Plastic recycling effort pays off
Thanks to the dedication of several CNLA and LO staff, and the commitment of many LO members, over 120 skids of plastic were collected during National Plastic Recycling Week. B.C. also took part in the initiative from June 28 to July 5.

In Ontario, homeowners and members of the horticultural trade were invited to bring their used horticultural plastic to the temporary depot at the LO site in Milton. Pots, trays and tags, as well as fertilizers and mulch bags came in car trunks, truck beds, trailers and even dump trucks.

Homeowners, garden centres, nurseries and landscapers all took advantage of the opportunity. Users were asked to fill out a short survey that resulted in unanimous thumbs-up for the program. Next year it is hoped that more depots will be available across the province.

Additionally, over 20 skids of used plastic pots were collected during Member Appreciation Day at the LO Growers Auction, held in Milton on July 15.

The process was labour-intensive, as all pots, trays and bags needed to be stacked on skids and shrink wrapped before being removed by Plastix Canada. Some of the plastic will be recycled into garden furniture in partnership with CRP Plastics.

Currently, there is no Blue Box program to recycle horticultural plastic, even though growers pay a levy to Stewardship Ontario for the pots they use. Events like National Plastic Recycling Week can be used to demonstrate the need for an organized, sustainable collection program. Landscape Ontario will continue to work with other stakeholders to develop solutions to keep our plastic out of landfills.

Short video clips taken at the Ontario collection site have been uploaded to YouTube under PlasticRecycling2010.

Thanks go to the Ontario champions of National Recycling Week, Agnes Zawartka of CNLA and Lorraine Ivanoff of LO. Kudos are also due to Kim Burton, Martha Walsh, Michael Cerelli, Tyler Garrad, Robert Ellidge and special thanks to Dianne Lang of Plastix Canada for her tremendous work!