November 15, 2013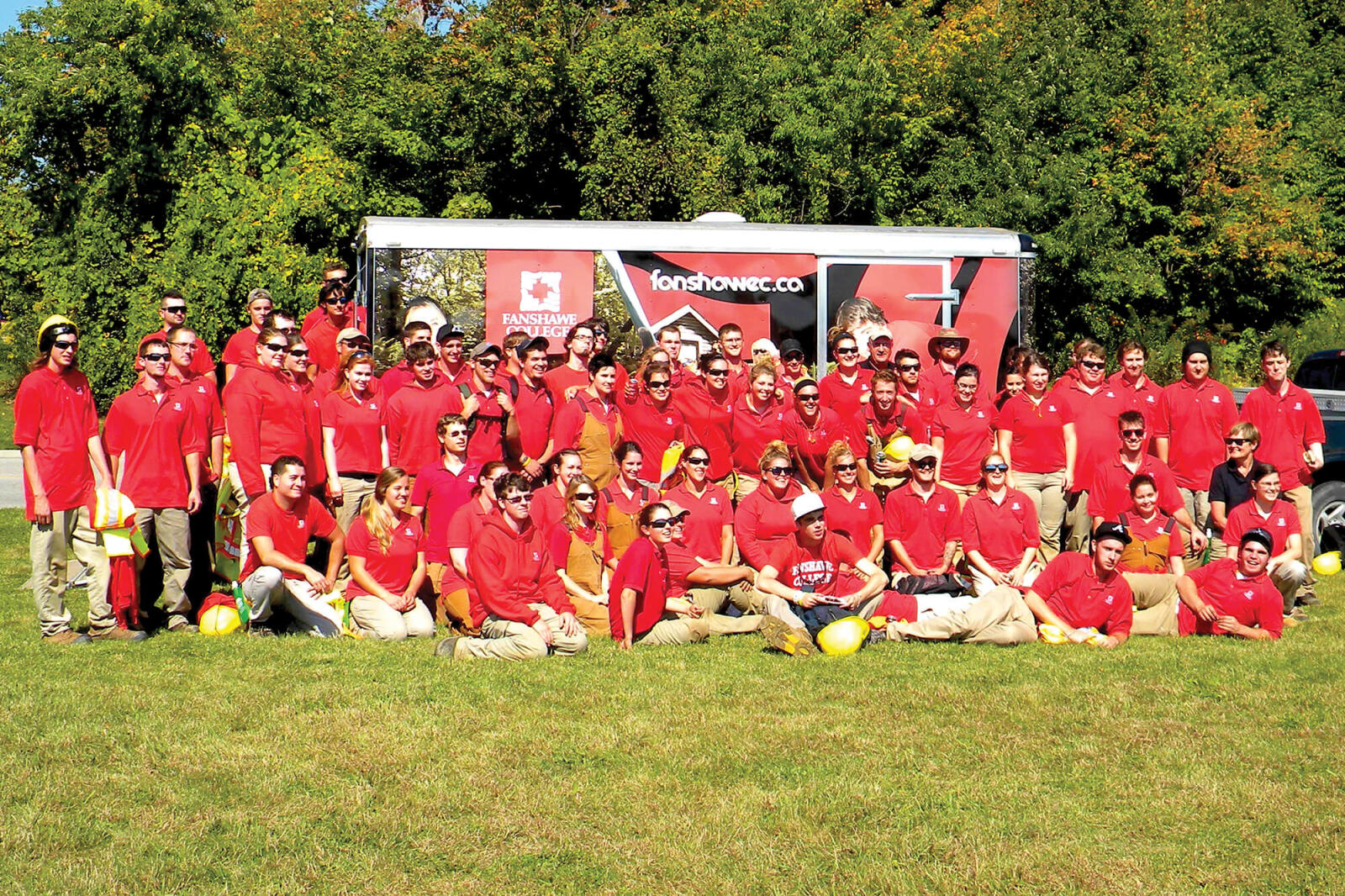 London members continue work on Veterans Memorial Parkway
Landscape Ontario members continue to take key roles in the success of London's Veterans Memorial Parkway Community Program (VMPCP).
The latest involvement came on Sept. 28, when 500 community members planted 400 trees along the Parkway.
It is a major landscape project in London, featuring a living monument along a 10-km stretch of Veterans Memorial Parkway to honour Canada's military veterans.
"It's unique in the country, in that the entire parkway will become the monument to veterans. It's designed to create a driving experience to make you think about veterans and their service," says Barry Sandler, executive director of the VMPCP. "The features are meant to focus on the values and service veterans have given the country. I have looked at examples and I haven't found anything like this."
The Veteran's Memorial Parkway Landscape Enhancement Project officially launched on Sept. 30, 2011, when London Mayor Joe Fontana joined representatives of Landscape Ontario to sign an agreement for the VMPCP to begin operations. The project is expected to be completed by 2017.
A few days before the big planting day on Sept 28, over 40 LO members and employees working with 14 pieces of equipment dug holes and placed trees for the arrival of planting volunteers. Ron Koudys CLD conducted a site layout with the help of the London Veterans Memorial Parkway Community staff members and members of the Scouts Canada Urban Forester program.
Groups represented at the planting day included Argyle Community Association, Scouts, Guides, Lions, Rotary, Optimists, East London District Masons, Trojan Technologies employees, GDLS employees, Starlim North America Employees, StarTech.Com employees, 3M Canada employees, London Garrison Community Council, various veterans associations and Parkwood Hospital patients and staff.
Fanshawe College Horticultural Technician Program students and staff were on site to help volunteers with the planting process. Decked out in their red unforms, the students served an important function in helping volunteers plant the trees. They were also joined by the St. John Ambulance Search and Rescue Team, auxiliary officers from London Police Services, officers from the Traffic Division London Police Services, and City of London Park and Recreation staff.
Displays by ReForest London (Million Tree Challenge Tree give-a-way), Remember November 11 Association, CLC Tree Service, and a volunteer band (Cuda Highway) joined the amazing community event that day. Breakfast was donated by Kellogg's and Tim Hortons, with water bottles donated by Talbot Marketing, and water by Trojan UV.
The 66th Scouts, Triple H Paving, and Triple H Concrete designed, constructed, and installed a hardscape feature on the site, the Canadian Flag in stone.
Along with a number of MPs, MPPs, city politicians and other dignitaries, Landscape Ontario executive director Tony DiGiovanni and LO's director of public relations Denis Flanagan attended the event.
Landscape Ontario members taking part in the Veterans Memorial Parkway Community planting included TLC Professional Landscaping, Tydan Landscape Design, Coldstream Land Escape Company, Rural Roots Landscaping, Jay McKinnon Company, Escapes Outdoor Living Designs, Beamish Landscape Services, Mountview Services, Outdoor Aesthetics, MPH Hardscapes, Parkside Landscaping, PGS Landscape, Stone in Style, Unlock (John Lavoie) and Kimmick Landscaping.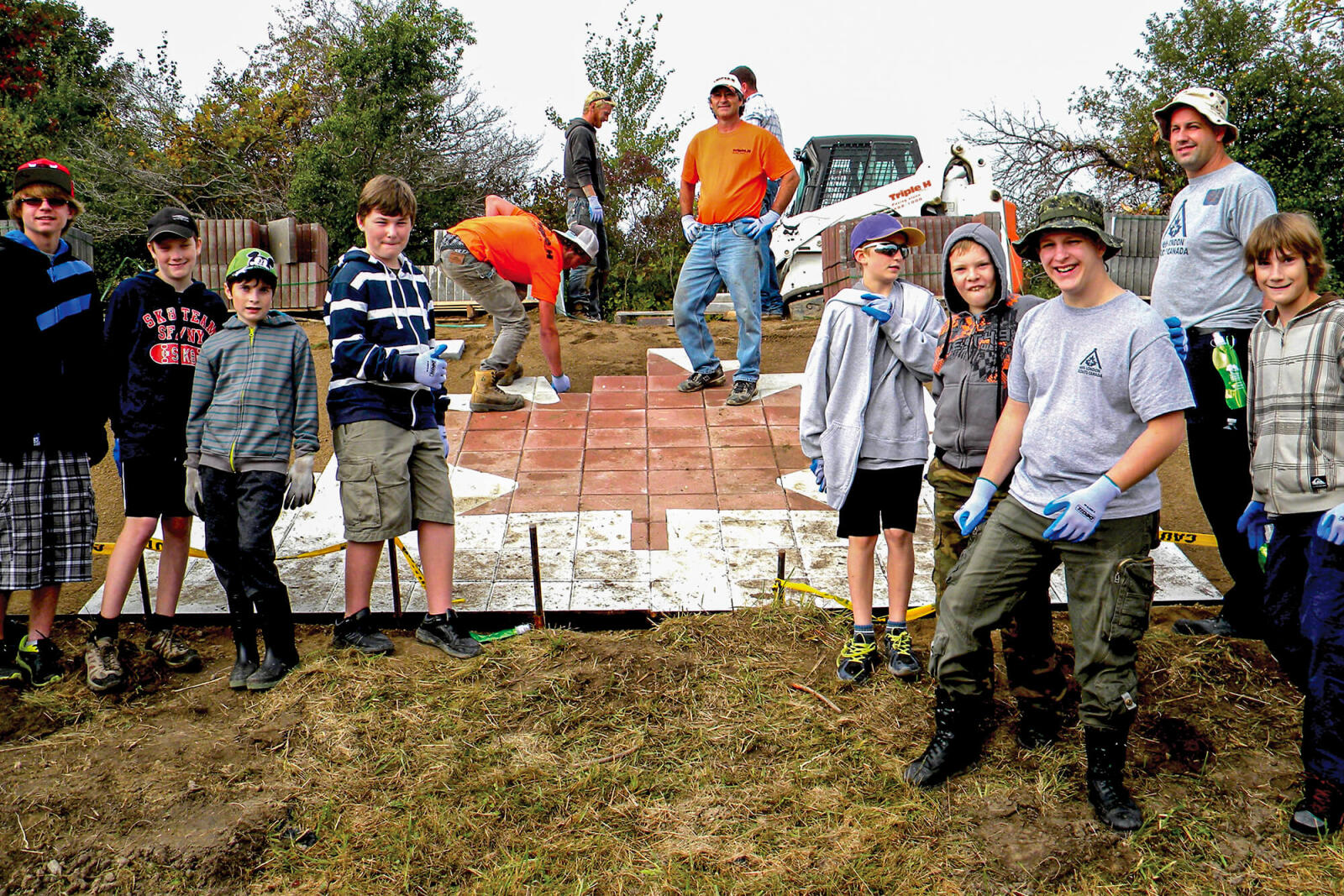 The 66th Scouts, Triple H Paving and Triple H Concrete designed, constructed and installed a hardscape feature on the site, the Canadian Flag.