September 15, 2014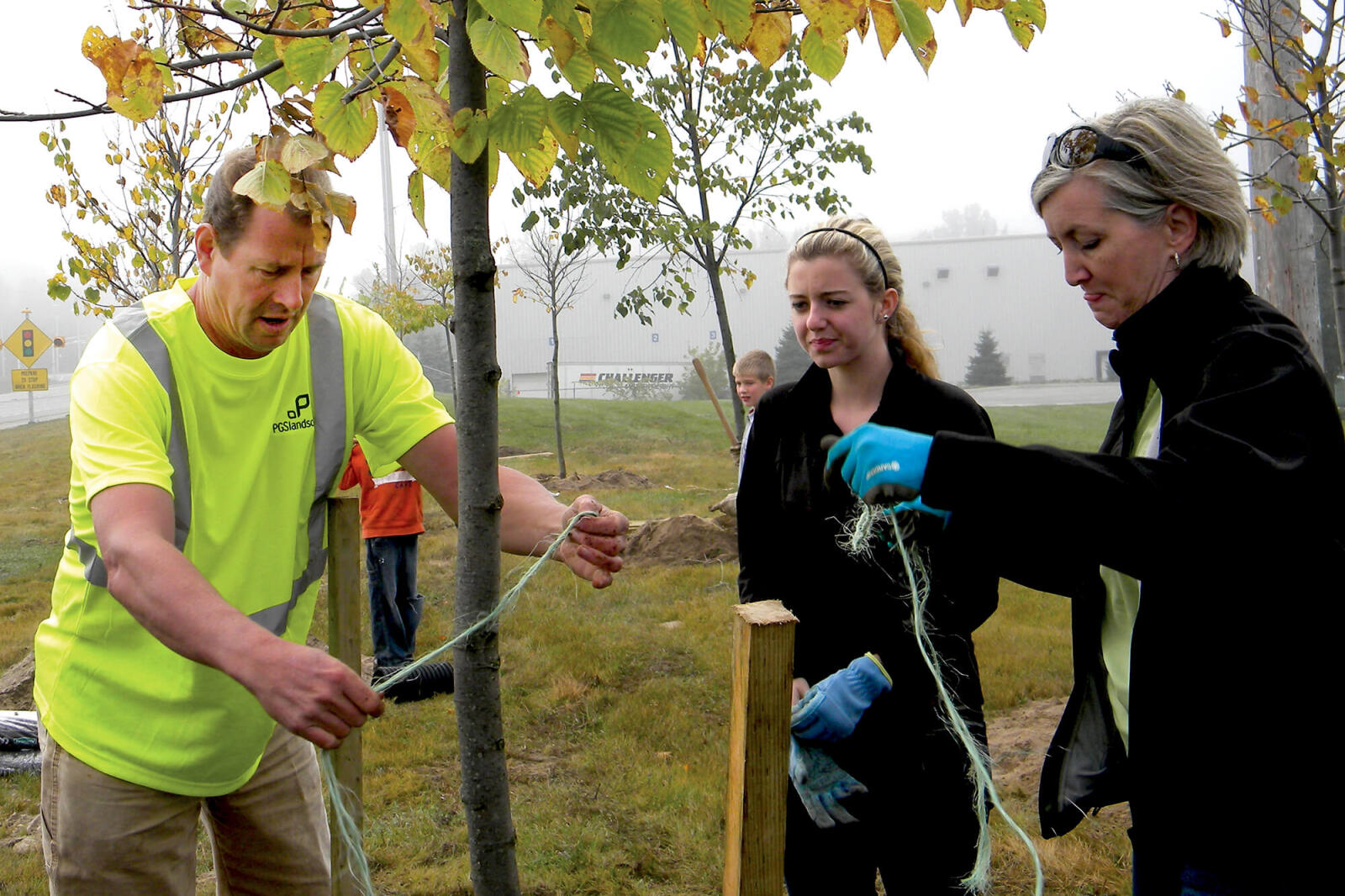 London Chapter important cog in tree planting project
The London Chapter continues its important role with the Veterans Memorial Parkway Community Program (VMPCP).

Right from the get-go, Landscape Ontario partnered with the program to provide the expertise and machinery needed to plant the large trees.

Expert advice and year-over-year experience have contributed to the innovative and highly successful planting process now utilized by the VMPCP. After hundreds of large caliper trees are delivered onsite, professional LO members volunteer to drill holes to ready the ground for planting. Each tree weighs 200 to 300 pounds. In 2013, over 100,000 pounds of trees were planted.

In terms of the planting process, the VMPCP is very proud of an attrition rate of less than one per cent. "This maximizes the environmental impact and satisfies the program's stakeholders. Partners and volunteers can see their dollars and hard work go to work immediately," says VMPCP executive director Barry Sandler.

The project began in 2006, when the Parkway was still called Airport Road, and still in its conceptual form. Landscape architect Ron Koudys CLD developed the original long-term plan for the project. "He had a bold vision for what the parkway could be. Thematically, he wanted the VMPCP to focus on the honour and sacrifice, rather than the combative aspect of conflict," says Sandler.

The City of London jump started Koudys's plan in 2009, utilizing infrastructure money from both the federal and provincial governments. Over $1-million was invested and, as a result, over 1,000 trees were planted and several stone memorial features were installed along the Parkway.

On Sept. 28 of last year, over 600 volunteers, with 4,000 pounds of mulch and 800 tree stakes in tow, planted over 400 trees along the Parkway.

Long-time and new partner organizations continue to generously contribute resources to push the program toward achieving its ambitious goal of planting an additional 2,800 trees by 2017. Several sponsors renewed their commitment to the program for another four years this spring.

In 2014, the VMPCP was awarded the Green for Life Community Award from the Canadian Nursery Landscape Association which recognizes projects or geographical segments within a community, region or municipality that have specific benefit to the public through the development and/or maintenance of green spaces.

To fulfil its goals, the program will need help from current and new partners as well as those in the London community, including professional landscapers.

Landscape Ontario members taking part in the Veterans Memorial Parkway Community planting in 2013 included, TLC Professional Landscaping, Tydan Landscape Design, Coldstream Land Escape Company, Rural Roots Landscaping, Jay McKinnon Company, Escapes Outdoor Living Designs, Beamish Landscape Services, Mountview Services, Outdoor Aesthetics, MPH Hardscapes, Parkside Landscaping, PGS Landscape, Stone in Style, Unilock and Kimmick Landscaping.