November 15, 2012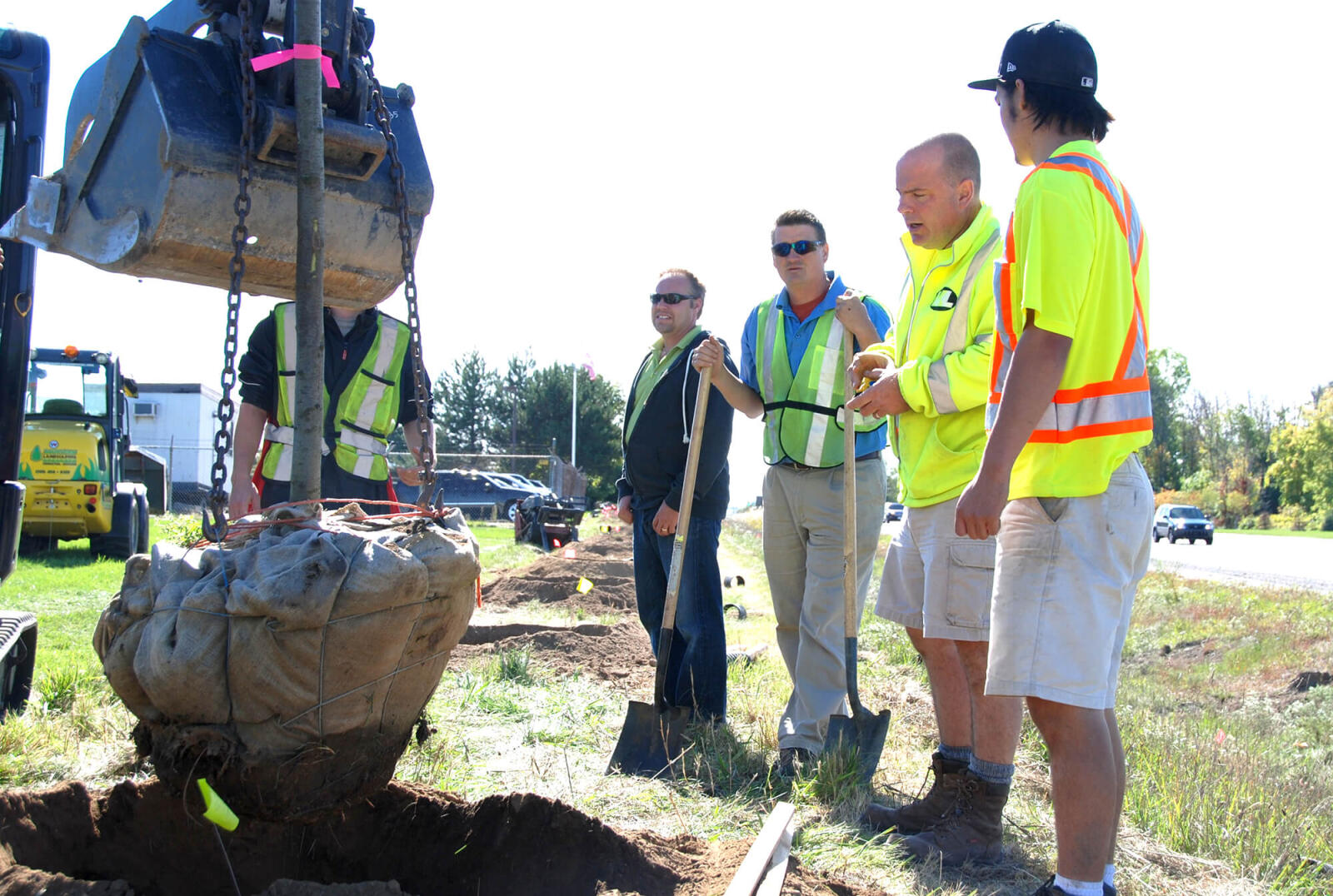 London members continue work on tree planting project
Members of the London Chapter continued their strong support of the Veterans Memorial Parkway tree planting project with 225 more trees going into the ground on Sept. 29.
The project, which had its official beginning last year, aims to plant 6,500 trees by 2017 along the London highway to honour Canada's military veterans.
The latest planting saw 300 volunteers take to the area with assistance from Landscape Ontario volunteer professionals and their equipment.
Also taking part were 85 members of Fanshawe College's horticulture technician program. Michael Pascoe, program coordinator, said the students learned a number of valuable lessons from the experience.
Pascoe related that traditionally each year Fanshawe students become involved in a community project. He plans to bring the students from the horticulture program to fulfil the annual tradition to help complete the Veterans Memorial Parkway tree planting project.
"I hope the students take away from this that they should be volunteering," Pascoe said. "I am a big believer in volunteerism and I hope they see the benefit to their career in horticulture, giving back to the city, to the community, working with different groups, working and learning with each other."
Barry Sandler, executive director of the Parkway program, says the project is all about community, environment, and veterans. He noted the great co-operation from the local landscapers. In particular Sandler was pleased that, thanks to professional LO members, large trees 15 ft. tall and 300 lbs. could be planted.
"We are working in some tough environments, ditches and slopes, so we are learning a lot. We hope to really accelerate things in the next few years," said Sandler during the tree planting day. "It feels great to have everyone out here. The quality and survivability of the trees is up. So we have learned a lot every time we do this. It is quite encouraging."
To also assist with fundraising, Sandler suggests people purchase trees, which the program will then plant along the parkway. For more information, visit
www.treesfortheparkway.ca
.