November 15, 2014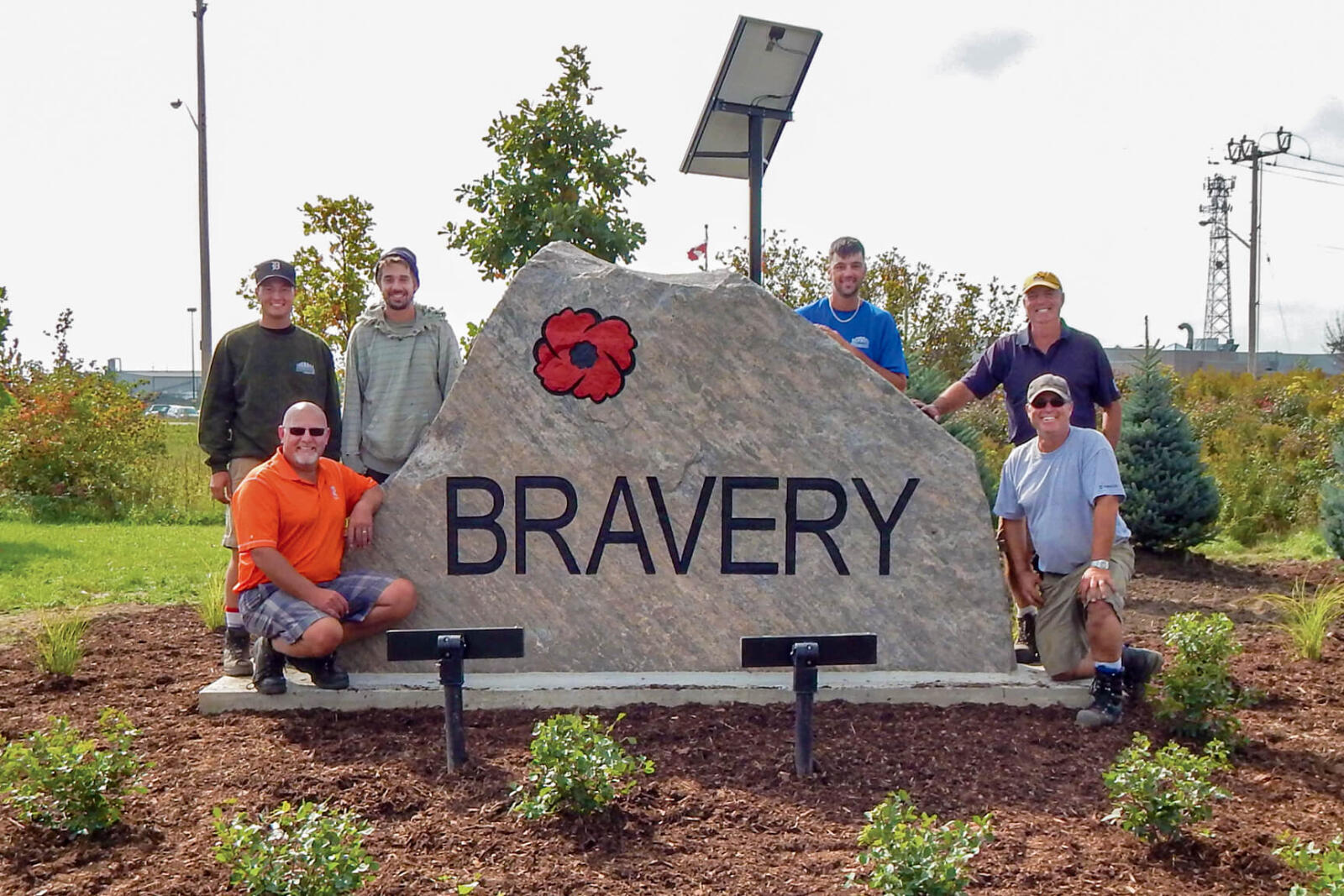 Volunteers make big difference at London project
London Chapter reports a great week of planting trees along the Veterans Memorial Parkway (VMP) for the fourth phase of the six-year plan to beautify the parkway.
This year's planting consisted of 600 trees, plus completion of the Landscape Ontario's London Chapter Bravery Garden at the corner of Paige and VMP. A project of this size cannot be completed without volunteers, or at an affordable price. The London Chapter and the VMP boards send a very big thank you to the London Chapter company members who helped out this year and during past years.
For the tree planting, a number of LO Chapter member companies volunteered time and equipment on Oct. 1 and 2 to dig holes and place the trees in preparation for the final planting on Oct. 4. LO member volunteers include Beamish Landscape Services, Fox Hollow Farms, Grand River Brick & Stone, Jay McKinnon Company, Mountview Services, MPH Hardscapes, Parkside Landscaping, PGS Landscape, Rural Roots Landscaping, Sifton Properties, Silverthorn Landscape Supplies, Stevens Irrigation, Stone in Style, Tydan Landscaping and Vanderley Landscaping.
Also helping on Oct. 4 were Fanshawe College horticulture students who created a sea of red along VMP. This marked the second consecutive year that the students, under teacher Michael Pascoe, planted trees. The planting project is a requirement in the course curriculum and gives students hands-on experience with community work. All students in the horticulture program belong to the Landscape Ontario Fanshawe College Student Chapter. It's their way of supporting the London Chapter with its initiatives. The LO members were proud of the professionalism shown by the students in both their appearance and their skills to get the task done right.

The horticulture students from Fanshawe College added a great deal of colour and help towards the VMP project.
---
The London Chapter garden required some fundraising efforts from Chapter members. The garden featured the installation of a large rock engraved with the word 'Bravery,' plus a full planting with lights illuminating the rock. Special thanks to Fox Hollow Farms for donating the three Colorado blue spruce, Fisher Landscape Depot for supplying the mulch and Coldstream Land Escapes for picking up and delivering the spruce and mulch.
Volunteers who helped install this garden are Coldstream Land Escape Company, Jay Mckinnon Company and Sifton Properties (RiverBend).
The continuation of the VMP project will include more tree plantings along the highway over the next few years, as the VMP project continues to rely on volunteers to help bring this major undertaking to its conclusion.