November 1, 2021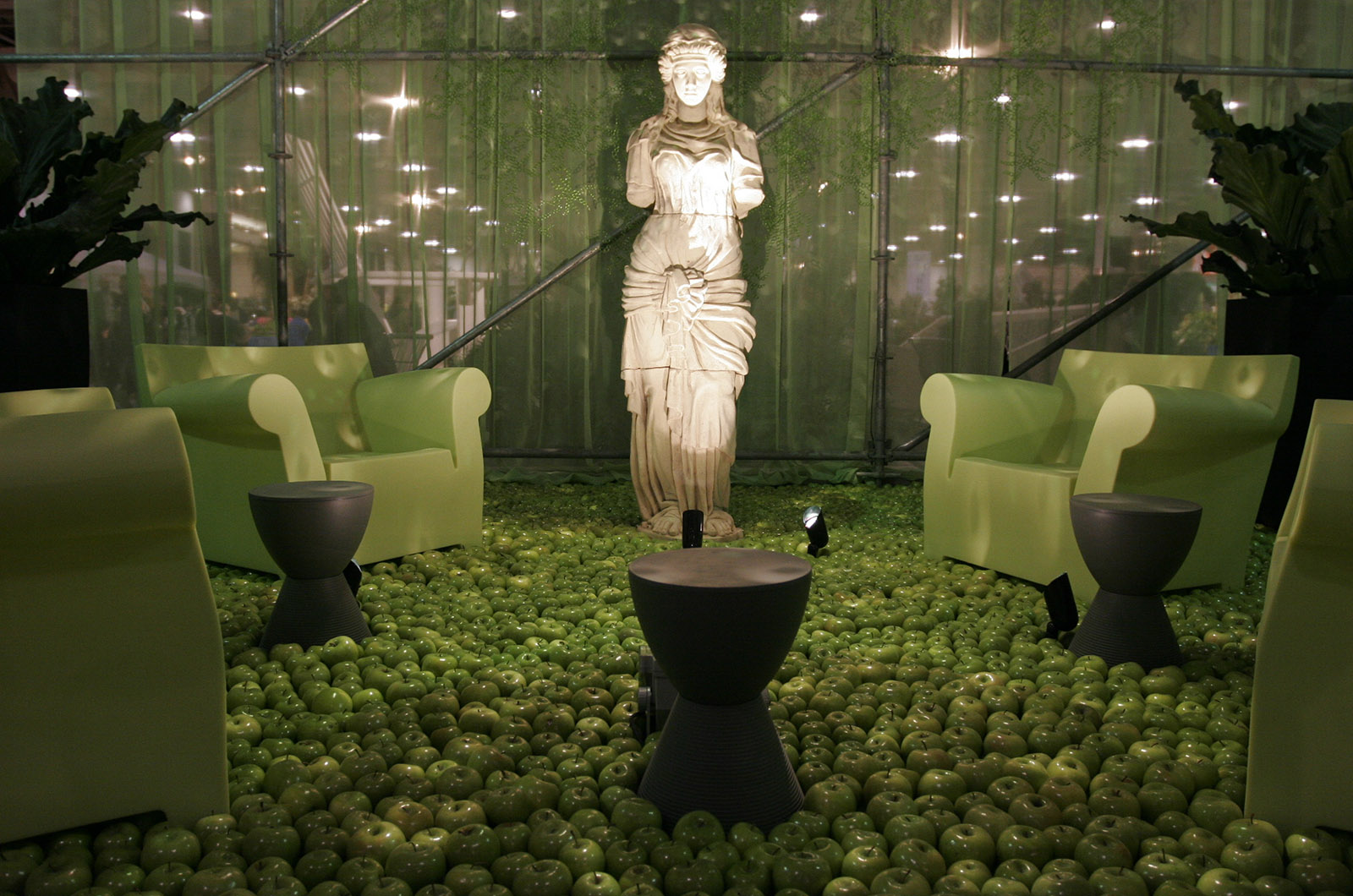 The history of Canada Blooms
Canada Blooms began with a cheque and a challenge.

Today, Canada Blooms is the largest flower and garden festival in the country. However, the event began as an idea for an advertising campaign to promote the landscaping industry.

In 1990, Unilock founder Ed Bryant met with Landscape Ontario executive director Tony DiGiovanni in search of support for a large-scale advertising initiative. Armed with a cheque for $10,000, Bryant wanted to find other landscaping companies willing to match his contribution to promote the industry.

"Every time I see an airplane land, I know there are 300 people who won't get their driveways and landscapes built this year," Bryant told DiGiovanni.

Bryant's challenge led to a campaign called Operation Nurture. Within a few months Landscape Ontario raised $278,000 and purchased several television commercials. They even had spots on Hockey Night in Canada.
Operation Nurture would evolve into a world-class flower and garden show, designed to inspire the public with a garden and landscape experience.

Several years later, Kathy Dembroski, a member of the Garden Club of Toronto, was planning the club's 50th anniversary party. Dembroski decided to partner with Landscape Ontario to explore the possibility of creating a new garden show.

Landscape Ontario was also set to celebrate its 25th anniversary that year, and DiGiovanni had included the idea of creating "a world-class flower show" in the association's strategic plan to build off the momentum of Operation Nurture.

"Tony and Kathy were the instigators, and got it off the ground," remembers Joyce Johnson of the Garden Club of Toronto.

A group was formed, including three members of the Toronto Garden Club, three people from Landscape Ontario and a lawyer. Meetings were held around Dembroski's dining room table. Uniting the two different groups was not an easy task, but she remembers DiGiovanni would always find a way to make things work. The group of seven spent the next three years planning the festival.

Columba Fuller was the artistic director for Canada Blooms for nearly 20 years. She began as a member of the Garden Club of Toronto and joined DiGiovanni and Dembroski, in interviewing applicants for the position of artistic director.

"They were all missing something," Fuller remembers. "They drew up ideas, but they were all commercial kinds of things. They were not getting the idea of what we were trying to do, combining the landscape with the artistic side of floral arranging."

Since Fuller had designed a few floral shows for the garden club, a decision was finally made.

She was told, "Columba, give it a go."

Inaugural success


March 1997 marked the launch of Canada Blooms at the Toronto Congress Centre. DiGiovanni was told that an inaugural show would never fill the parking lot.

"So the show opens," DiGiovanni explains, "and people start coming, and they keep coming."

Fuller was driving to the show, cruising along on Highway 401, when suddenly traffic stopped.

"My God, what is going on here? It must be a bad accident," she remembers thinking.

She turned on the radio, and heard the announcement — there was no accident, it was just the opening of the Canada Blooms Flower Show.

"That was the best commercial for Canada Blooms," Fuller said.

Dembroski and DiGiovanni sat in the office watching an endless stream of cars roll in, and heard the radio telling the public to avoid the highway into Toronto, as it was jammed with traffic from "a new garden and flower show." However, the crowds eventually made their way into the show, where they were welcomed by an incredible garden that represented the four seasons.

"It's the only show in Canada that's like that and it was so huge," Johnson explained. "When you go in and see a garden where they've taken an empty, concrete space and they've built the walls, they've built the pool with fountains, all the plants around, it's flowering and blooming, it's always been quite a feat to do that in March."

Peter Guinane, CEO of Oriole Landscaping in Toronto, was a garden builder that first year.

"We didn't realize how important Landscape Ontario was as an association, but we knew we had to be a member to build at Canada Blooms."

For the inaugural show, Oriole partnered with landscape architect Darrell Bankes on a display designed to look like an old waterworks building in disrepair with nature overtaking the pipes.

"Every year was different, and every year we put ourselves totally into the show," Fuller remembers of her time with Canada Blooms. "It was rewarding to see so many people coming in. The whole thing was amazing."

In 2009, Guinane had the honour of giving the Ambassador of Ireland to Canada and his wife a tour of the show. As part of the international competition, the ambassador had sponsored a garden for Tourism Ireland.

The international section of Canada Blooms has become a large part of the flower show, with competitors coming from all over the world to compete.

"We do have a reputation because it is the only big flower show as far as floral design," Johnson said.

Fuller always enjoyed having young designers join the festival. They gained experience by meeting people and making deadlines.

"The experience of Canada Blooms was a whole bunch of people with the same vision of a world-class flower and garden show," DiGiovanni said. "It was chaos. Not knowing each other.

Not knowing what we're doing. We just tried to figure it out on the go. Yet it worked because even though it was messy, we all had the same vision."
Changing seasons


The first year was a learning experience for everyone. Suppliers from across Ontario were called on to support the event. One of the biggest challenges was timing flowers to bloom just in time for the March event. It was a struggle in the early years, but a number of trusted greenhouse operators soon nailed the March Break window.

Canada Blooms gradually developed into more of a "home show" style event, more suited to those looking for affordable gardening. There were a series of venue changes over the years, bringing benefits and challenges alike.

"Often necessity forced designers to be more clever than extravagant, so they would come up with more interesting solutions, rather than expensive solutions," Guinane said.

Now, the world-class garden festival focuses on both small and large gardening spaces, including people just learning to garden, others who may have only small plots of land, or are older folks who have downsized.

Canada Blooms returns in 2023

In 2020, timing of the COVID-19 pandemic was disastrous for Canada Blooms. Professionals had spent hundreds of hours crafting their display gardens for the public, only to have the show cancelled the day before it was set to open.

It was devastating for the garden builders and show organizers, but they understood it needed to be done.

Fortunately, the Toronto Flower Show, garden builders and Professional Floral Artists were still able to have their entries judged. The feature gardens were filmed with a drone to provide virtual tours for the public — you can see the gardens online via Landscape Ontario's YouTube channel.

There was hope Canada Blooms would return in 2021 and 2022, but uncertainty created by the pandemic meant the show would experience a three-year hiatus.

"We, like you, are so very disappointed. Think about it, we have been planning our big 25th Anniversary party for two years now and we have to wait another year -- again," Canada Blooms organizers said in a statement. "We miss you! We miss all of our partners, garden builders, floral artists, exhibitors and especially the over 800 volunteers that join us every year. But, there is no sense having a celebration if it can't be done right."

The festival will return in 2023, and organizers plan to release more details about the show and a revamped format in February, 2022.
Looking forward

This spring, Canada Blooms and Landscape Ontario launched the video series Canada Blooms Inspiration to encourage the public to get into their gardens. You can watch the 10-part series, hosted by Mark and Ben Cullen on the Canada Blooms YouTube channel.

The series is meant to encourage people to create ideas for their own gardens. A Canada Blooms Educational Series is in the works to share demonstrations and presentations. Another series, The Oaks Products Do Up The Doorsteps & Back-steps Gardens, demonstrates what can be done in a 100 to 200 square foot space.

"The future of Canada Blooms will be different still from its recent past and will continue to evolve," Guinane said." I think there will always be a curiosity and interest to see these gardens presented and it has a long future ahead."