April 15, 2016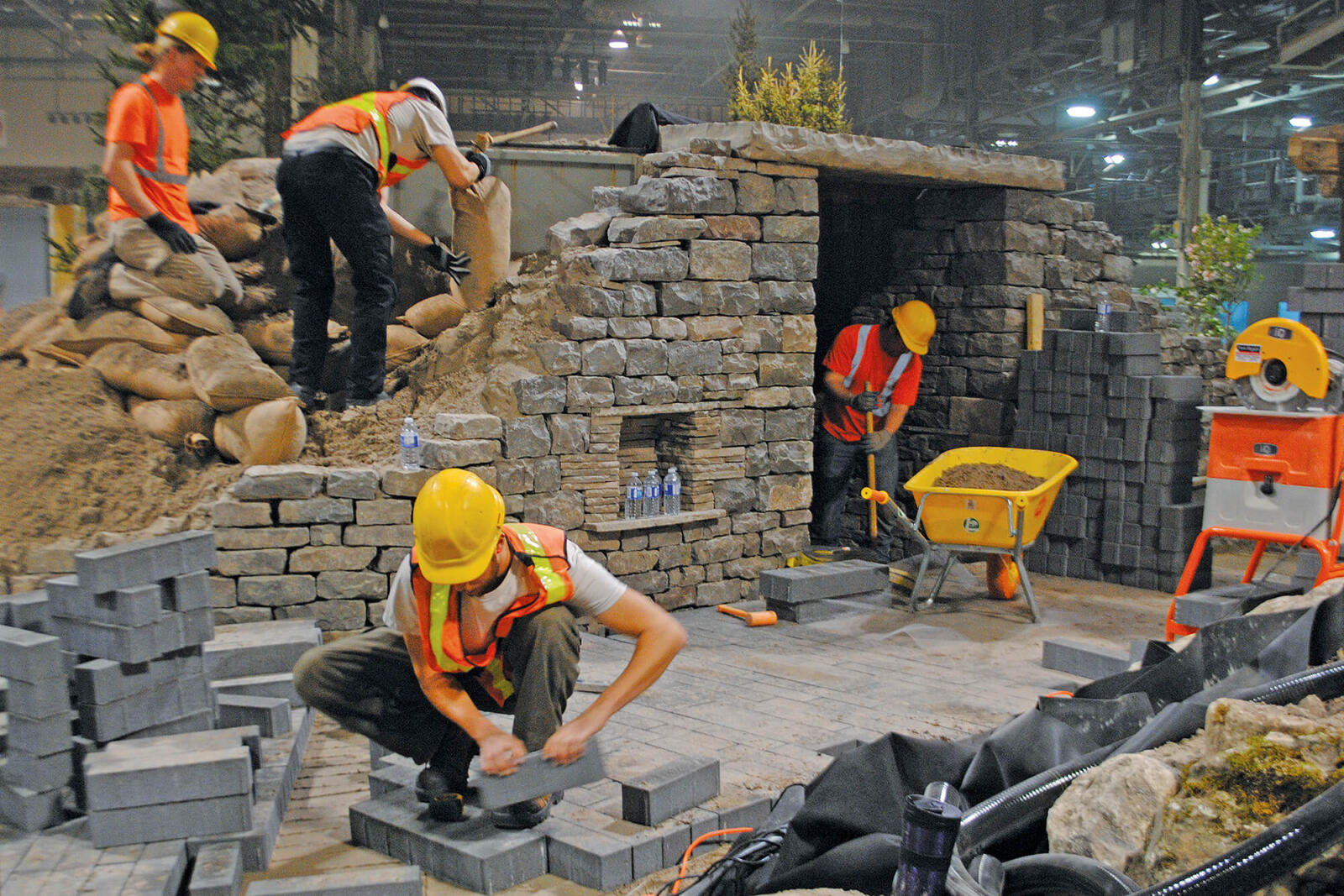 Team effort required to showcase industry at Canada Blooms
LO "CHOOSE YOUR PATH" FEATURE GARDEN
Contributors
Brydges Landscape Architecture, Dean McLellan Stonework, Edengrove Landscapes, Envirolok Vegetated Environmental Solutions, Gelderlands, Ground Effects Landscapes, Highland Design and Build, Illumicare Group, In-Lite Design, Jackson Pond Management, Lawn Life, LIM Landscape, Nutri-Lawn, Patrick Callon Landscape Design, Saugeen First Nations #29. Sunnybrook Health Sciences Centres, Weed Man Canada, Wentworth Landscapes, Whistling Dwarf Stonework.
Sponsors
Beaver Valley Stone, Durolawn, Envirolok, Ground Effects, Hutcheson Sand & Mixes, Immumicare Group, Nursery Sod Growers Association of Ontario, Turf Care Products Canada, Turf Systems, Unilock, Upper Canada Stone.

Teardown Team
Dreamscape Landscaping, Edengrove, Ground Effects, Highland Design, Illumicare Group, Jackson Pond Management, TDA Landscape Services, TNT Property Maintenance, Weed Man.

Volunteers
Paul Brydges, Laura Paaren, Tiffany Byrd, Dean McLellan, Kenneth Davies, John Hordyk, Stephen Kampen, Tyler Kampen, Justine Lodder, Josh McCarthy, Sean Kampen, Jason Beatty, Tyler Heemskerk, Russ Vanveen, Ryan Bosscher, Mike Bilotto, Jay Morgan, Brandon Gelderman, Boyan Shen, Tim Kreamer, Keith Heaton, Angie Fry, Natasha MacNiel, Robyn McEwan, Mark Fligg, J.P. Galle, Rob Rafferty, Dan Pigeon, Nathan Drumm, John Higo, Steven Hernandez, Jonathan Pink, Kerri Taylor, Kevin King, Rob Redden, Phil Jackson, Gord June, Amanda Goddard, Tiffany Lavender, Ken Pavley, Lucas Michaelson, Kevin Miket, Tom Szasnowski, Ben Szasnowski, Patrick Callon, Brian Bailey, Dan Voorkees, Richard Jacobs, Henry Mandawoub, Matt Wolfe, Mike Henry, Rohan Harrison, Steve Tschanz, Scott Wentworth, Jim Philip, Brian Ferreira, Natasha Egorenkova, Sian Pritchard, Jay Middleton, Rhonda DeRue, Andrew Wilson, Cory Steenburgh, Dennis Grant, Matt Ferreira, Steve Ferreira, Menno Braam, Robert C. Tester, Robert A. Tester, Brian Tester, Missy Tester, Linda Tester, Twan Van Veghel, Israel Del Angel,
Carol-Ann Betz.

Students
Tyler Nakagawa, Carter Maxwell, Morgan Whitehead, Elizabeth Lazar, Andrew Guay, Caleb Greisman, Abigail Turple, Mihali Schindle, Fuhao Xie, Jarrett Sim, Jenna Simpson, Victoria FitzGerald, Kiersten Lieske.

Canada Blooms 2016 Sponsors
Toronto Star, Unilock, Aviva Insurance, Bayview Flowers, Canadian Wildlife Federation, Fafard, Florist Holland, Gatto Flowers, Gro-Bark (Ontario), HortusTV, HUB International Insurance Brokers & Consultants, Intercontinental Toronto Centre, Jill Jensen Botanicals, Medallion Plants, Merit Travel, Oaks by Brampton Brick, Pick Ontario, The New Classical 96.3 FM, Zoomer Radio AM 740, Canadian Gardening, Garden Making, Harrowsmith, Homes Publishing Group, Pro-Mix, Zoomer magazine, The Garden Club of Toronto, Landscape Ontario Horticultural Trades Association.