July 15, 2014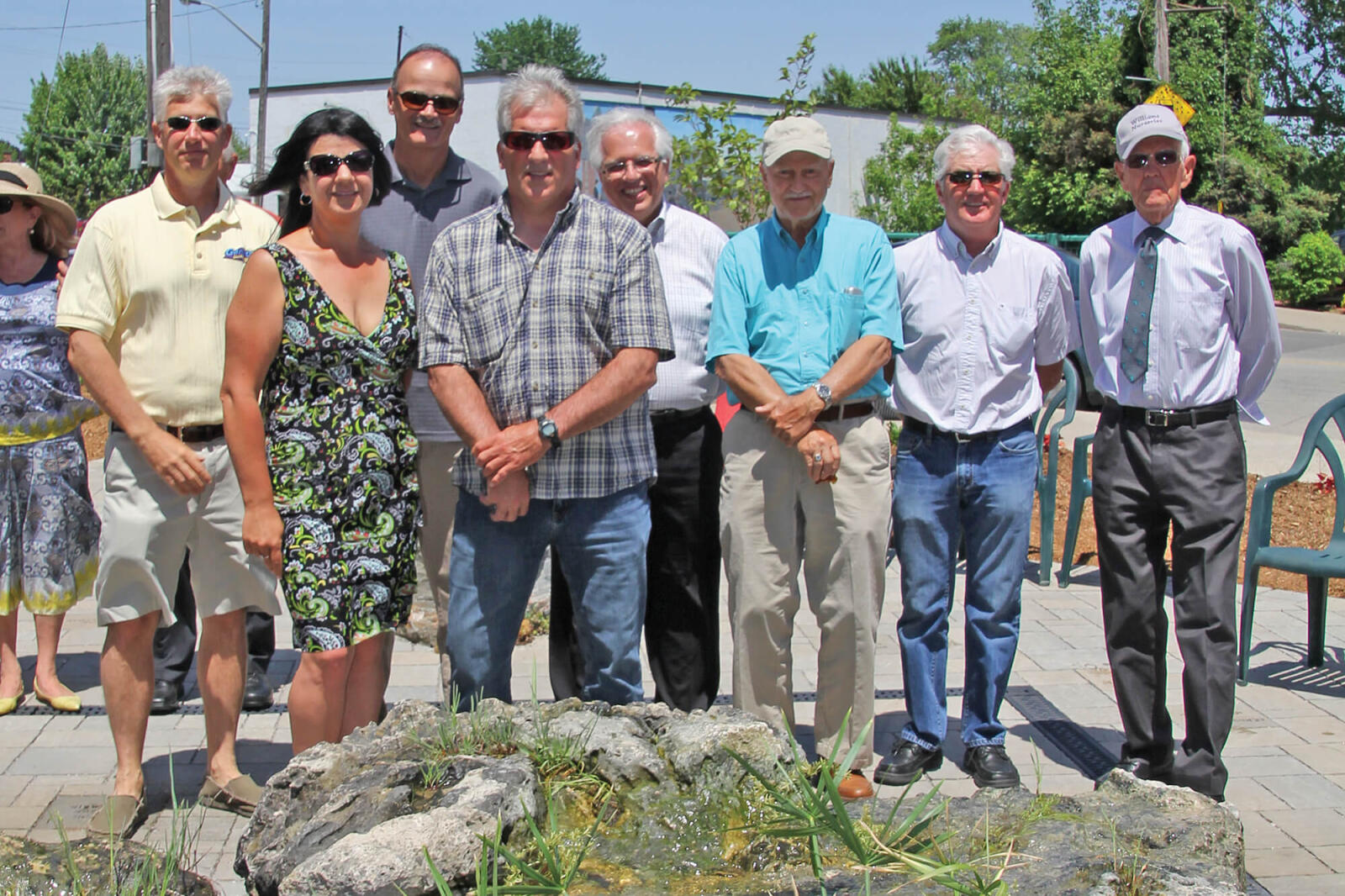 Perry Molema garden opens to the public
By Robert Ellidge

A memorial garden honouring the man who spent his life sharing his passion for water gardening was officially opened in downtown Chatham on May 31.

The Perry Molema Memorial Garden, at the corner of King and William Streets, realizes Molema's dream to one day beautify the downtown core while giving the local community, his friends and family a place to stop, relax, reflect and enjoy the type of water garden he traveled the world to create and promote.

Molema's family, friends, colleagues and local officials gathered to share stories of the man who was so influential on their daily lives.

"This garden really is here for everyone," said Sherry Molema, Perry's wife. "The garden is a reminder of his life, and our life with him."

Chatham Mayor Randy Hope called the new park one of the most prestigious areas in the community. The mayor added the park is a good example of how great things can happen in the downtown area when volunteers and the business sector come together to make a positive change.

Molema was 56 when he died in 2012 of injuries sustained in a car crash in Chatham. He was the owner and operator of Colonial Nurseries and Garden Centre, and president of Aquascape — Ontario.

Aquascape's Greg Wittstock from Chicago talked about visiting Chatham without Perry around. "This garden is here as a permanent, living testament to his love of water gardening and for living life."

Wittstock also acknowledged the work of Aquascape's Sasha Hunter and Chuck Catton, who spearheaded the project with the help of many volunteers and businesses who donated their time, materials and money to complete the project.

Landscape Ontario executive director Tony DiGiovanni shared Perry's influence on his life and the landscaping industry. "Perry actually taught me how to perceive the world in a positive way," says DiGiovanni, who then recalled a story Perry had shared about a client of Colonial Nurseries. "We are really in the business of enhancing people's lives," Molema told DiGiovanni, who now shares that realization with everyone and anyone he talks to. "Perry obviously practiced what he preached," said DiGiovanni, "because he enhanced many people's lives."

Ernest Williams from Aquascape said, "A day like this just happens because of the folks who love Perry, love the industry and work together to beautify a community for everyone to enjoy."

Long-time friend and colleague Stuart Gilles, from New Brunswick, said, "I am sure he would say it's a very peaceful and tranquil place where he would be proud to leave his spirit."

A plaque honouring Molema was unveiled by his wife Sherry, and daughters Melissa and Lindsay.

Dan Garlatti from Garlatti Landscaping said Perry was the reason he got into ponds and gardens and is proud to say he knew Perry.

Don Tellier, formerly of St. Clair College and now president of Landscape Ontario's Windsor Chapter, said Molema was a huge supporter of the Chapter's events, the college and of the Windsor Essex Kent area in general. "He will be sorely missed," said Tellier.

Paul Rancourt, from Tydan Landscape, said Molema introduced him to rainwater harvesting and pond building to create beautiful water features 17 years ago. Rancourt contributed to the installation of the memorial garden.

Joe Genovese from Genoscape, stated, "I owe everything to Perry for showing me what kind of passion he and others had about water."

Funding of the garden began with a $5,000 donation from Landscape Ontario that eventually became a nearly $250,000 memorial, all donated by friends, family and co-workers. The garden showcases large rocks and water features. It now serves as an attraction to the area, can accommodate weddings, or simply provide a place for someone to relax.