December 15, 2013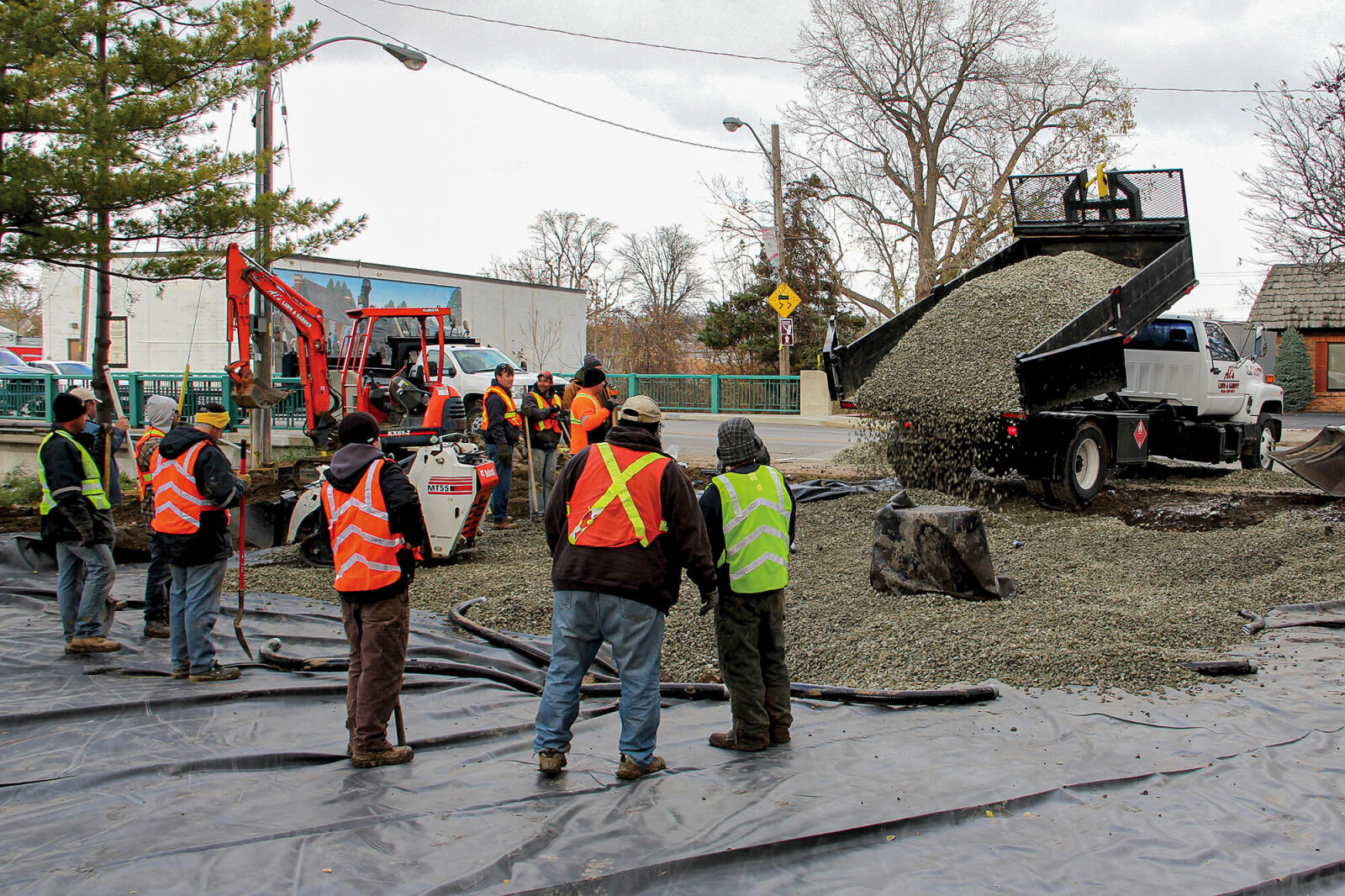 Memorial for Perry Molema is a tribute to his life and work
By Robert Ellidge
Less than a year after a traffic accident took the life of long-time Landscape Ontario member and water gardening pioneer Perry Molema, friends, family and colleagues from across the country constructed a memorial garden in downtown Chatham — fulfilling one of Molema's lifelong dreams to beautify the city he cared so much about.
Constructed in just under a two weeks in November at the corner of King Street and William Street, the 7,600 sq. ft. memorial is located in Zonta Park — named after the Zonta Club of Chatham-Kent Ontario, an all-women's club of professionals working to advance the status of women.
Tom Beaton, manager of Parks, Cemeteries and Horticulture Community Services Division for the Municipality of Chatham-Kent, said the Zonta Club was "just in the process of creating a memorial garden in the park for recognizing famous women." The club wanted the park dedicated to women who have made outstanding contributions in the community.
Since Molema and his wife Sherry both had strong roots in Chatham and were both advocates for the downtown core and its businesses, the Zonta Club, "fully supported the project and was willing to share the opportunity and kick-start plans for the rest of Zonta Park," said Beaton.
The area chosen for Molema's memorial acts as a gateway to the park and is "the perfect location to memorialize all of the contributions Perry has made to the municipality. Perry was always ready to give product and his time. This is an opportunity to give back," says Beaton.
The idea for the memorial first started in January 2013 during the Congress trade show. Since then, two of Molema's colleagues and long-time friends, Aquascape's sales representative Sasha Hunter and Chuck Catton, technical service advisor, teamed up to get the project going.
Big dreams
Hunter created the design for the park and says one of the main challenges was trying to figure out where to start. "The project didn't have a budget number attached to it," she said. The goal was to have all of the funds, materials and labour provided in-kind and through donations. "We went grand, thinking we could always scale-back the project," says Hunter, following words of advice Molema had instilled in her years ago. "Perry always told us that if you want something to happen, visualize it and it will happen. That's exactly what we did. We dreamt big and didn't have to scale anything back," said Hunter.
Both Hunter and Catton put the word out about plans for the memorial and donations started coming in. But before any construction could commence, organizers needed approval from town council. "We were originally supposed to be on the town council agenda on Sept. 23. It kept getting pushed back and pushed back with final approval coming on Nov. 4," says Hunter. "Only a week before the project began, did we actually know we had approval. The last six months have been extremely stressful, but seeing everyone here makes it all worthwhile."
Throughout those hectic months, before the official go-ahead, donations and support continued to grow. "Originally we were going to recognize the larger contributors by having their names engraved on the largest of the rocks," says Hunter. "We were hoping maybe five or six people would contribute $1,000 or more for this."
At the time of construction, there were over 30 of these contributors, posing a design problem for Hunter. "It was a good problem to have," said Hunter. "The solution was to engrave their names on pavers spread throughout the garden. The support from people has been overwhelming," says Hunter, including from people all over the world in places like Istanbul, Turkey and well across Canada.
Molema's passion for water gardening was sparked long before he started travelling the world to promote it. Catton recalls how and when Molema was first attracted to the idea of water gardening, when he and Molema watched a promotional video the received in the mail. "We finished watching this video from Aquascape. Perry and I both looked at each other and thought if this is going to do half of what it says it can do, we want to be a part of this," says Catton. "We actually installed a water garden in Perry's backyard and he had always said he would never put a water garden in because it was too much work and too much hassle. Within two weeks, he was praising how awesome the garden was. The next thing you know, we were installing the systems for existing customers," says Catton.
Molema secured the rights to distribute the Aquascape system not only in Ontario, but all of Canada. With Catton doing the installations and Molema's contagious passion and excitement, they were able to establish water gardening as a popular and successful part of the landscaping industry, creating a huge network of distributors all across Canada.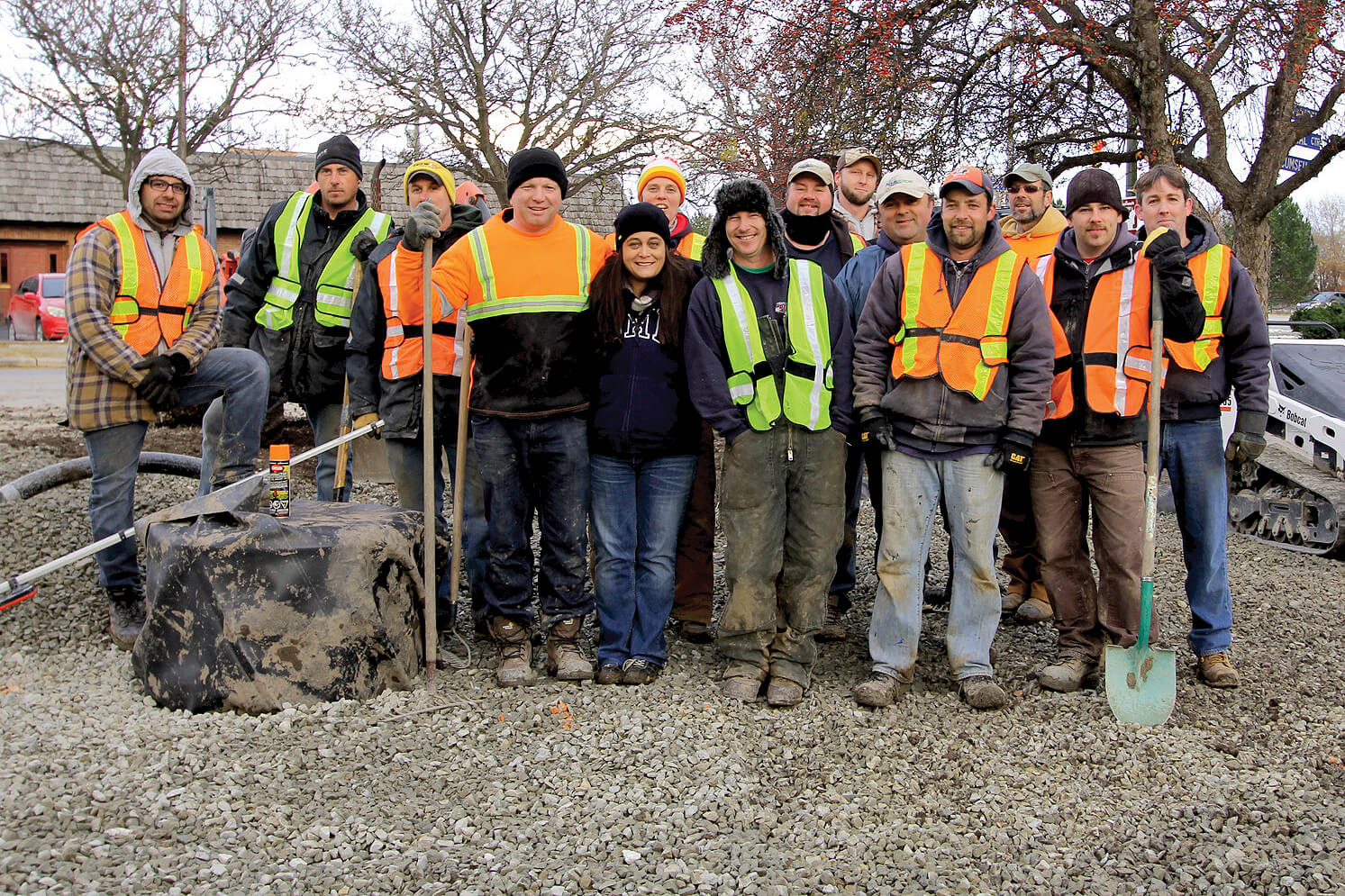 Volunteers to help build a park in memory of Perry Molema came from across Canada.
---
Best representative
A member of that network in Eastern Canada is Stuart Gillies, owner of Maritime Green Product and Sun Nurseries in New Brunswick, who says Molema "was the best representative, and best ambassador for growing the water gardening industry."
Gillies, as with so many others, got into the water gardening business as a direct result of his exposure to Molema and his passion for ponding. "Everywhere he went, he (Molema) was not only an ambassador for Aquascape and for water gardening, but for Canada in general. Everywhere he would go, Perry would leave people feeling better than when they first met him."
Gillies is both happy and proud to spend his time working on the memorial as a way to give back to Perry, who spent so much of his time giving back to the city he loved and the people who shared his passion.
From the opposite end of the country, Aquascape's Gord Szolnyanszky from Victoria, B.C. also felt the need to be a part of the build. "I really wanted to help out Chuck and Sasha and all of the people who have put in a ton of time making this happen, and to be a part of a tribute to Perry that will be around forever," he says.
Szolnyanszky plans to come back for a visit in the spring to see the garden in full bloom. "The fact that it is Sasha's design and Chuck installing the garden makes it that much more special and that would mean a lot to Perry, too," says Szolnyanszky.
The focus of Hunter's design is a large 8,000 lb. bubbling rock that volunteers affectionately nicknamed 'The Chief,' a name used adoringly for those who knew Molema well. The bubbling rock, along with several smaller sitting rocks are enclosed in a 50-foot diameter circle of permeable pavers that will not only recycle the water used for the bubblers, but also collect even more water into the RainXChange system. "The system will use only about 600 gallons of water per month," says Catton, "yet collect about 3,000 gallons per month — capturing more water than it will actually will use."
Plants were personal favourites
The perimeter of the memorial is surrounded by plant material, making the area a special spot where the people of Chatham can sit to relax, and also be exposed to the beauty and benefits of water gardening.
"All of the plants we chose were Perry's personal favourites," says Hunter. These include eastern redbuds, 'Kwanzan' flowering cherry, 'Hameln' fountain grass, 'Kirk Alexander' zebra grass, 'Little Goldstar' black-eyed Susan and 'Peach Flambe' coral bells.
Maintenance for the area will not be an issue for at least the next ten years, as Al Pinsonneault from Al's Lawn and Garden in Chatham generously donated ten years of maintenance for the park.
Catton, along with many others, thinks the location is perfect. "We are so lucky to have this great spot to install this water feature, because Perry was so adamant about cleaning up the downtown area," says Catton. "We spent a lot of time travelling the world together and we were constantly talking about ideas on how we could beautify the downtown core in Chatham. I absolutely know Perry would love it."
Many of Molema's family remain in the area around the park. His wife Sherry and parents, Henry and Elisabeth Molema, visited many times during the construction. "It's very awesome," says Elisabeth. "Perry walked by the area where the park is now located almost every day. He loved Chatham," she said.
"It is his town," says Henry. "He was pretty much born and raised here. The park is way beyond our expectations," he added.
"It is a beautiful tribute and it will be really nice for all of the people of downtown Chatham to come and sit and listen to the water and enjoy," says Perry's wife. "It's making it more beautiful for everybody."
"He had a big heart and the people who knew him the best, love and respected him the most," said Gillies. It's a sentiment that was echoed by many of the friends, family and colleagues who were in attendance for the build.
Plans are underway for an official opening of the memorial to be held in the spring of 2014.