November 2, 2019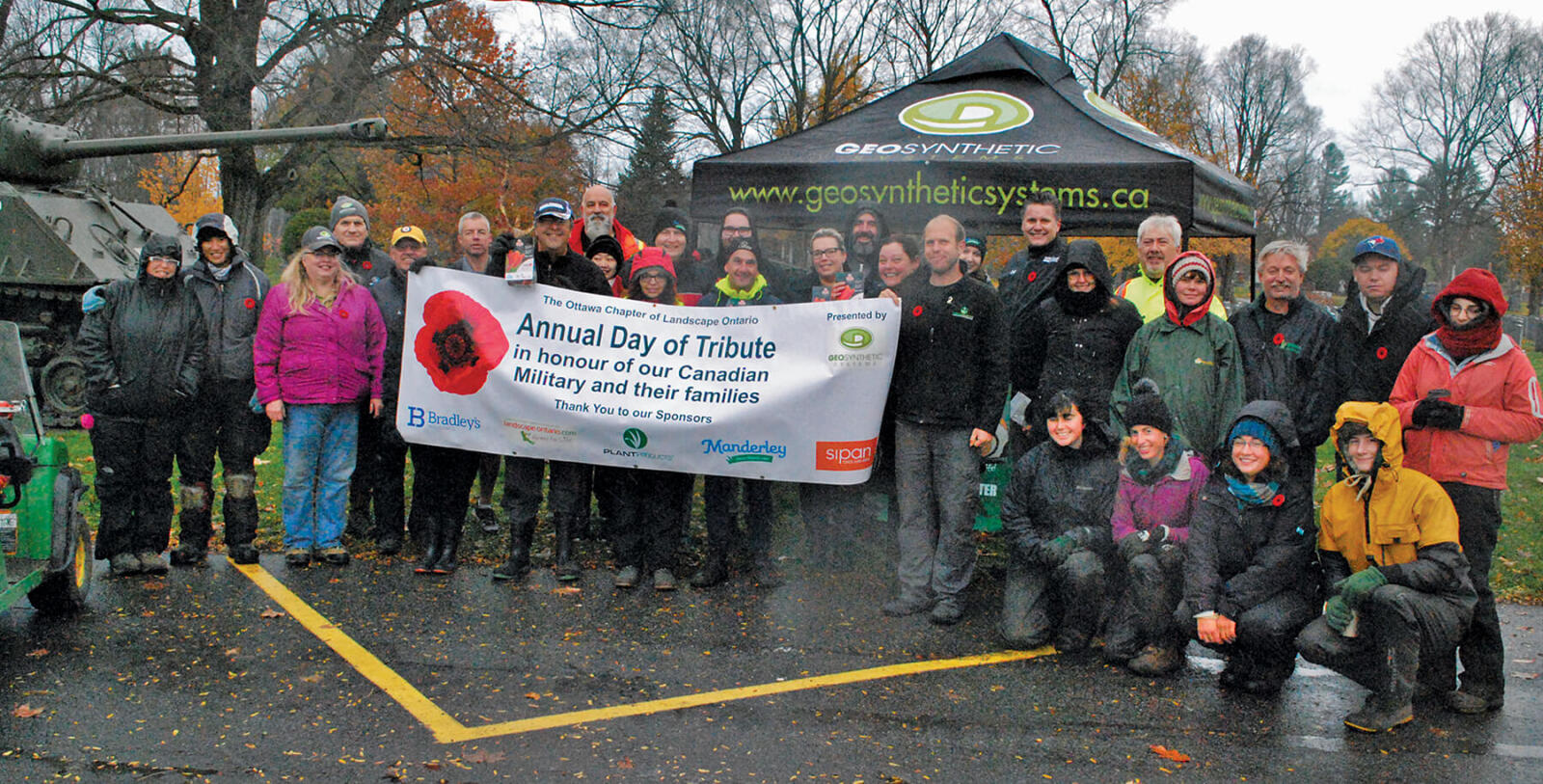 Ottawa Chapter honours Canadian Military for 15th year
Despite three days of rain, volunteers showed up Nov. 1 at the National Military Cemetery at Beechwood in Ottawa, Ont., for the 15th annual Ottawa Chapter Day of Tribute.

Created by Sharon Urquhart of Green Unlimited, the event pairs landscape pros with Beechwood horticultural staff and military for a morning of grounds maintenance and clean up prior to Remembrance Day. The event is just one way to say thanks to Canadian military members and their families.

Event chair, retired Chief Warrant Officer Pete Campbell, welcomed those in attendance and introduced a special guest: Andre Michaud, representative from the Commonwealth War Graves Commission.

Sponsors are a big part of the event. This year, title sponsor, Geosynthetic Systems once again provided volunteers with a sweatshirt, in honour of the military, who encourage attendees to wear red on Fridays. Volunteers also received a Legion poppy. Bradley's insurance provided coffee, muffins and lunch. Landscape supplies came courtesy of General Seed Company, Manderley Turf Products, Plant Products, and Peter Knippel Nursery. Each participant also took home a bag of Liberation75 tulips, courtesy of the Ottawa Tulip Festival.

This year there were two draws for volunteers: a $300 gift card from SIPAN was won by Terence Hills from Manderley Turf Products, and a $100 gift card from Beechwood Cemetery was won by Richard Groen of Green Unlimited.

Ottawa Chapter would like to recognize the following companies who participated in this year's event: Green Unlimited, Nutri-Lawn Ottawa, Lafleur de la Capitale, Geosynthetic Systems, Beechwood Cemetery horticultural staff, Steve Neumann, Karma Creative Solutions, Ottawa Tulip Festival, Manderley Turf Products, Commonwealth War Graves Commission, and Garrison Ottawa.