December 15, 2010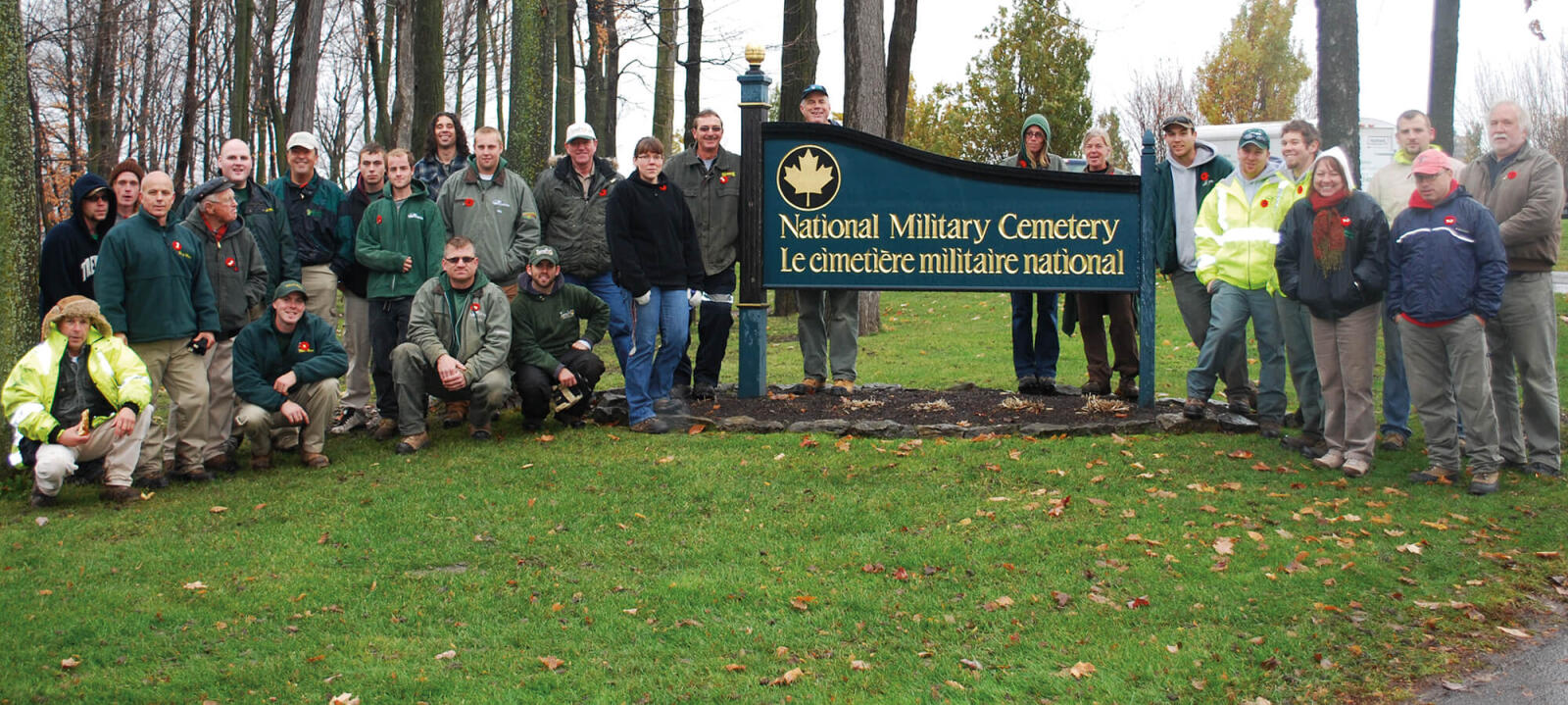 Chapter honours memory of soldiers at 5th annual Day of Tribute in Ottawa
By Martha Walsh
For the fifth consecutive year LO members and associates gathered together in a voluntary effort to honour fallen soldiers and the families of veterans and military personnel. They gave their time, experience, products and manpower on Nov. 5 to beautify the National Memorial Cemetery, which is housed in Beechwood Cemetery in Ottawa. It took place on the first day of the Veterans' Week celebrations in Ottawa.
Sharon Urquhart of Green Unlimited and David Stewart of Greenscape once again were the local industry members who organized the manpower and supplies for the special day. Urquhart said, "What better way to show we care about our nation's history and the pride we feel for our soldiers, than to make a gesture that cares for their final resting place. We are pleased that the value of our industry serves our community in this way."
Members also participated in memory of their own families who are interred there, or who have served in the military. Dave Stewart stated that he participates every year because, "It is the right thing to do to honour those who are here and their families."
Commencing with a sponsored coffee bar by local associate Bradley's Insurance, participants this year were also given commemorative poppies and 'Support our Troops' pins, donated by Norleans Technologies.
The Day of Tribute began with opening greetings from Sharon Urquhart. Also present were military members, Commander Marie-France Langlois, deputy director of the Directorate of Casualty Support Management, Chief Warrant Officer Dan Bradley, Manager of the National Military Cemetery, and Warrant Officer David Hannigan, Canadian Forces Liaison Officer to Beechwood Cemetery. Dominique Boulais was also present representing the Commonwealth War Graves Commission. Present from Beechwood Cemetery were Roger Boult and Nicole Bedard. Rounding out the list of dignitaries were Landscape Ontario vice president Tim Kearney CLP, LO's director of public relations Denis Flanagan CLD, and Ottawa Chapter president Sarah Johnston.
Once the introductions, greetings and thanks concluded, members commenced with the process of aerating, fertilizing, seeding and general garden bed maintenance. Equipment and material were donated by local industry professionals, including participation this year from Upper Canada Chapter member Thornbusch Landscaping. Paul Doornbos CLP, CLT and his team of five employees arrived from Lansdowne. They were joined by 36 other Ottawa Chapter members all participating in the day's activities.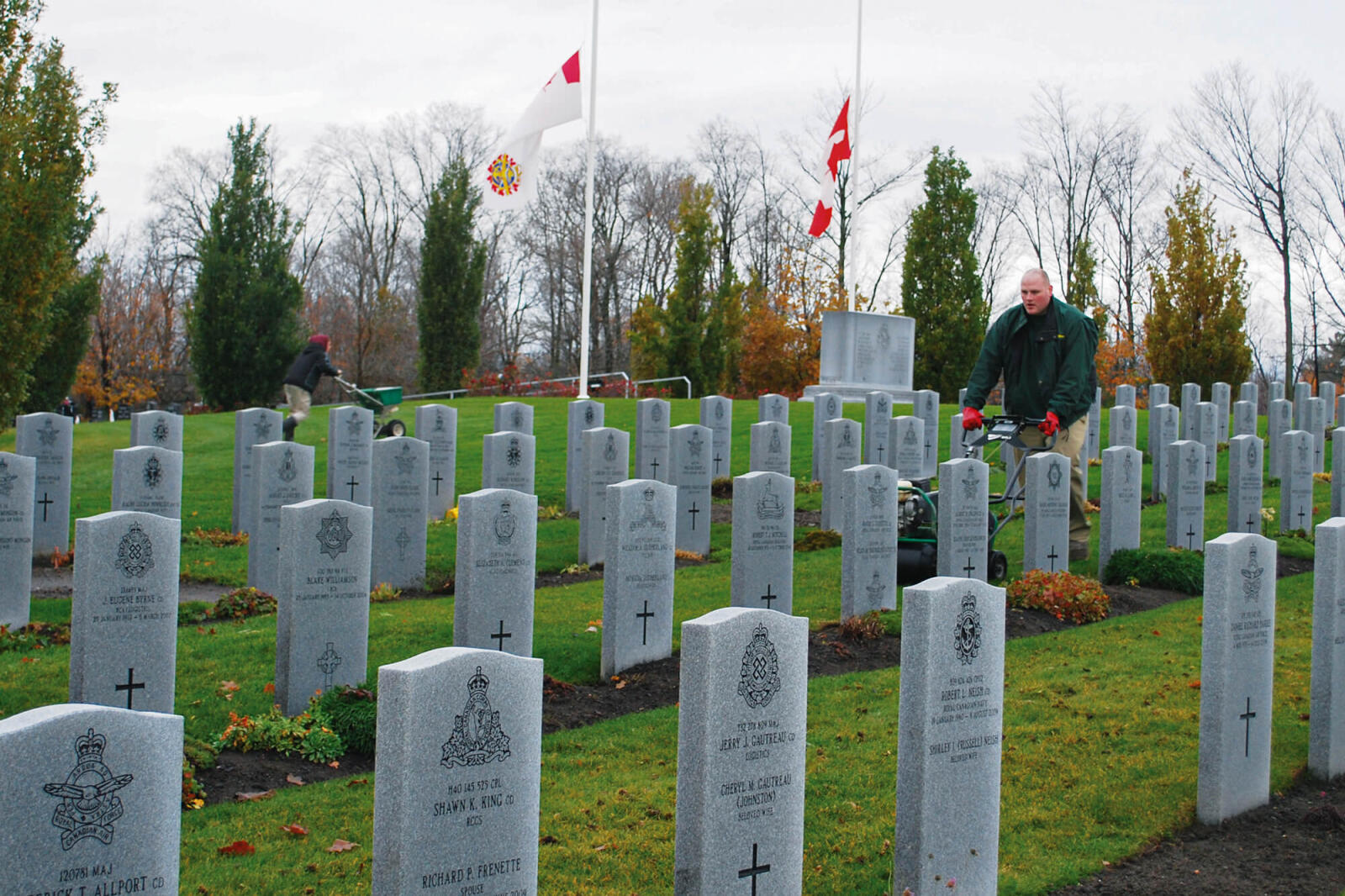 LO members aerated, fertilized, seeded and performed general garden bed maintenance at the Beechwood Cemetery in Ottawa.
---
The nasty weather held off until noon, at which time lunch was provided thanks to the sponsorship of Norleans Technologies.
A huge and heart-felt thank you to the following firms that provided product, machinery and volunteers: Bauer Landscape and Garden Maintenance, Clintar Landscape Management — Ottawa, Garden Creations of Ottawa, Nutri-lawn, Weedman, Terrapro, Greenspace Services, Green Unlimited, Peter Smith and Sons, By-town Lawn Experts, Fraser Wilson Inc., Greenscape, Ganden Landscape, Lindsay Landscapes, Thornbusch Landscaping, Bradley's Insurance, Tony Zegers and Plant Products, Peter Knippel Nurseries, Ritchie Feed and Seed and Skeggs Landscaping.
Next year's event is already in the planning stages with hope to expand the Day of Tribute across the Landscape Ontario membership.