April 15, 2017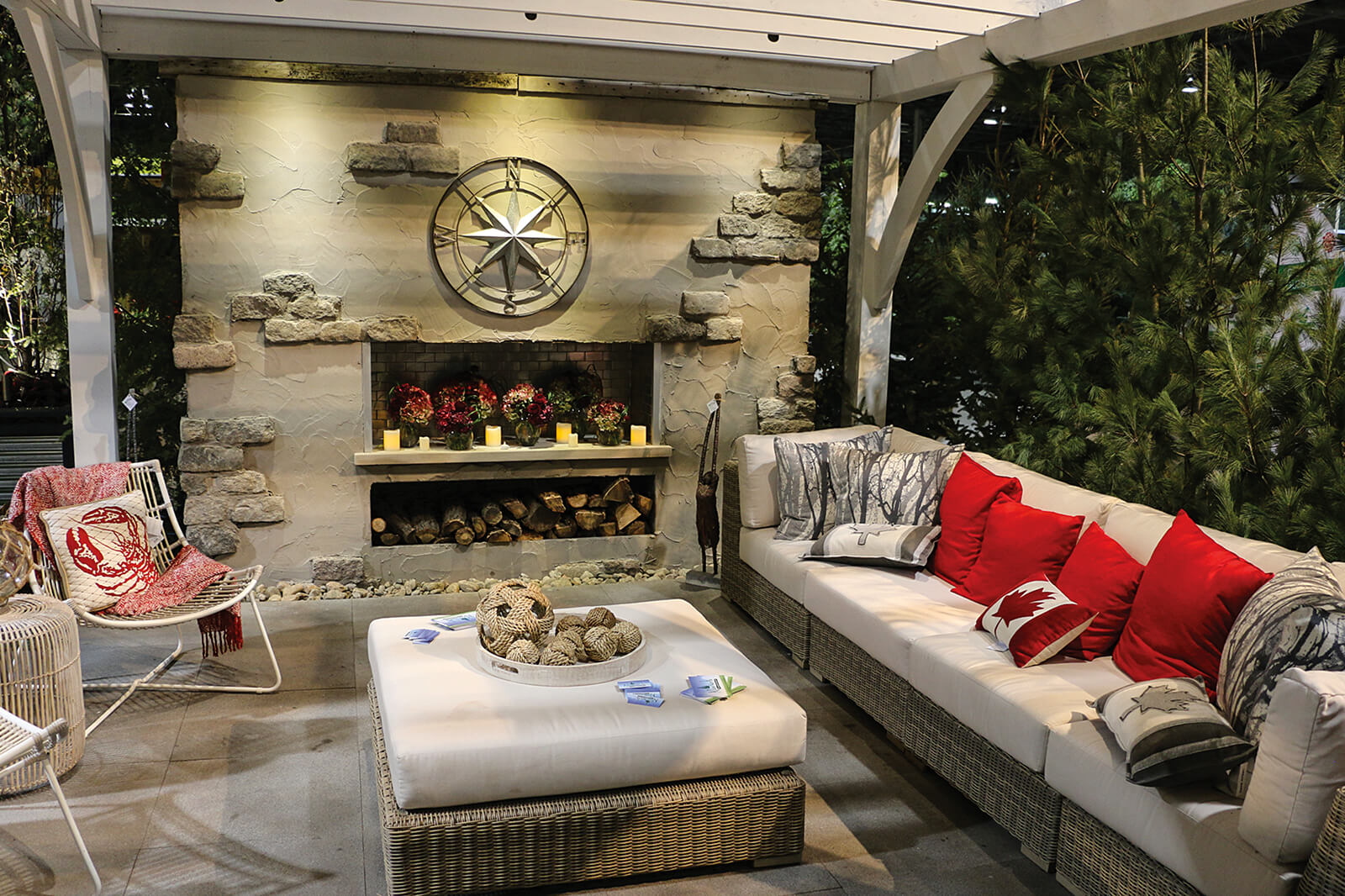 Focus on Canadiana at Canada Blooms 2017
By Scott Barber
The 21st edition of Canada Blooms celebrated Canada's sesquicentennial – 150 years since Confederation – with the theme "Oh! Canada." With red and white flowers featured prominently, as well as landscape designs highlighting the long tradition of gardening from coast to coast, this year's flower and garden festival was an amazing display of the creativity and talent of Canada's green professions.
Held March 10-19, 2017 at the Enercare Centre at Exhibition Place in downtown Toronto, Canada Blooms welcomed a large number of professionals and the gardening public to experience over 30 spectacular feature gardens, floral displays and a wide variety of educational speakers.
"Canada Blooms can only provide a canvas, it is up to the talented garden builders to paint the picture with their gardens, said Terry Caddo, Canada Blooms general manager. "I feel they have produced great pieces of art and the public and garden writers have told me overwhelmingly that these are the best gardens since we moved from the Convention Centre. I offer my congratulations and thanks to the outstanding Landscape Ontario members for making Canada Blooms look like a masterpiece."
The Landscape Ontario garden display this year included four vignettes, representing gardening possibility in the spring, summer, fall and winter seasons. Spread throughout the show floor, the LO vignettes featured a lamp post that included signage promoting the Highway of Heroes Living Tribute campaign.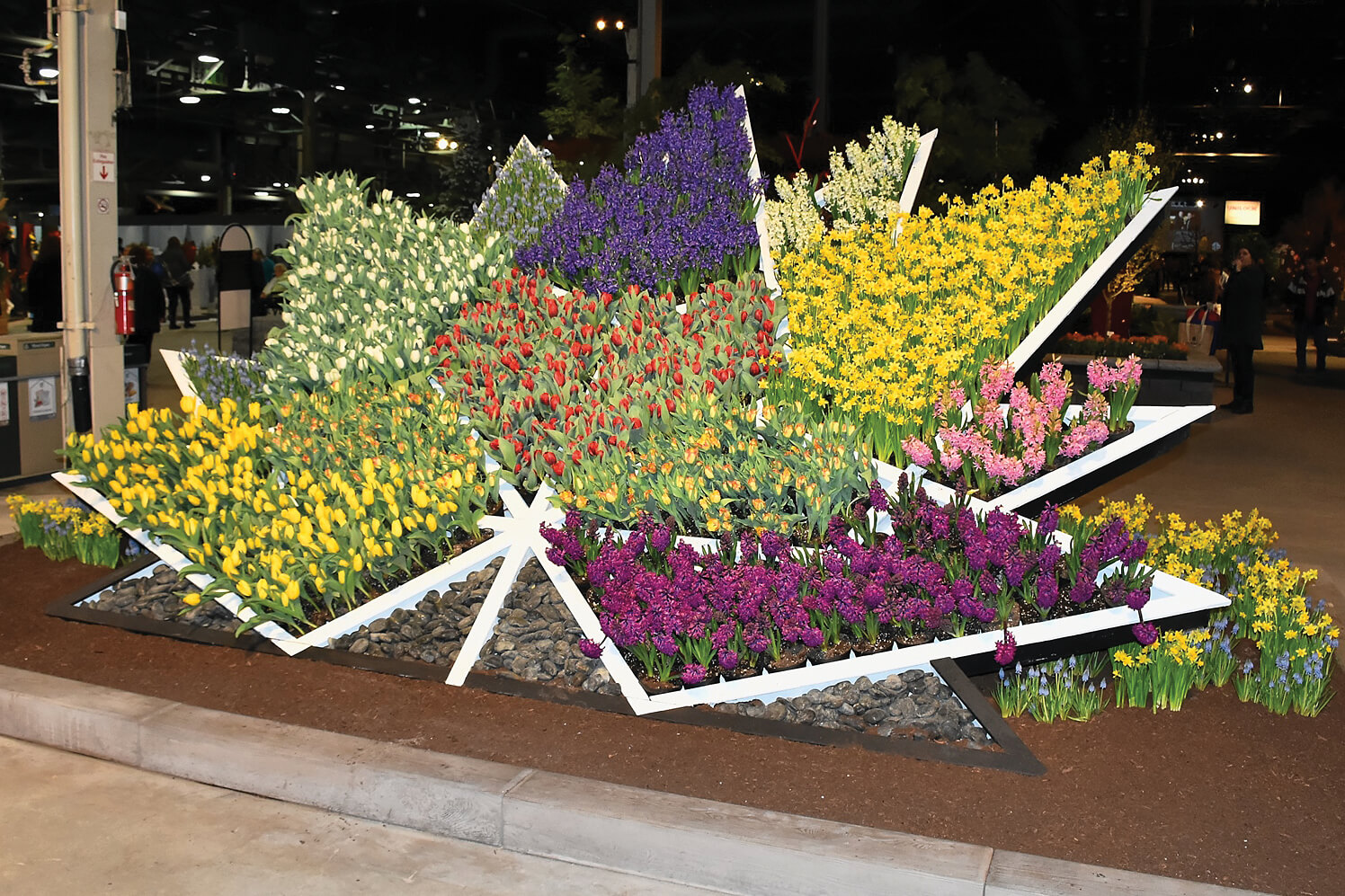 A floral display of the Canada 150 logo welcomed visitors to the festival.
---
"This year's gardens were an opportunity for Landscape Ontario to support the Highway of Heroes Living Tribute campaign and to say a big thank you to Mark Cullen for all that he does for the green professions and the association," said Paul Brydges, Landscape Ontario president. "With the vignettes, our goal was to show the beauty of horticulture throughout the year, while at the same time shining a spotlight on HOHLT, which is such a progressive and worthwhile project."
The feature garden built by Genoscape Landscaping and Design, "The Secret Path," told the story Chanie Wenjack, a 12-year-old indigenous boy who died after fleeing a residential school in Northern Ontario in the 1966.
"We worked with the Gord Downie and Chanie Wenjack Fund," Genoscape president Joe Genovese explained. "The fund is doing really important work across Canada, while at the same time sharing a part of Canadian history that, while dark, it is important for Canadians to recognize and understand."
Genovese added, "With the theme 'Canada 150,' we felt it was important to recognize that it's not all about hockey sticks and Tim Hortons in Canada. This is our history, and understanding it is the only way we can get better as Canadians."
Encircled by large trees, the Northern Ontario-styled garden featured a pathway which wound around a large pond, filled by a natural rock waterfall. A unique log pergola and stacked rock water features, meant to symbolize crying, also set the garden apart. The Gord Downie and Chanie Wenjack Fund logo was also highlighted with the use of an additional water feature.
The garden won the Best Large Garden, Best use of Pathways and Consumers Choice Award, and also took in over $4,000 in donations, which will go to the National Centre for Truth and Reconciliation at the University of Manitoba.
Ryan Heath, co-chair of the Canada Blooms committee and designer with Royal Stone Landscaping and Design, focused on "Canadiana" with his feature garden.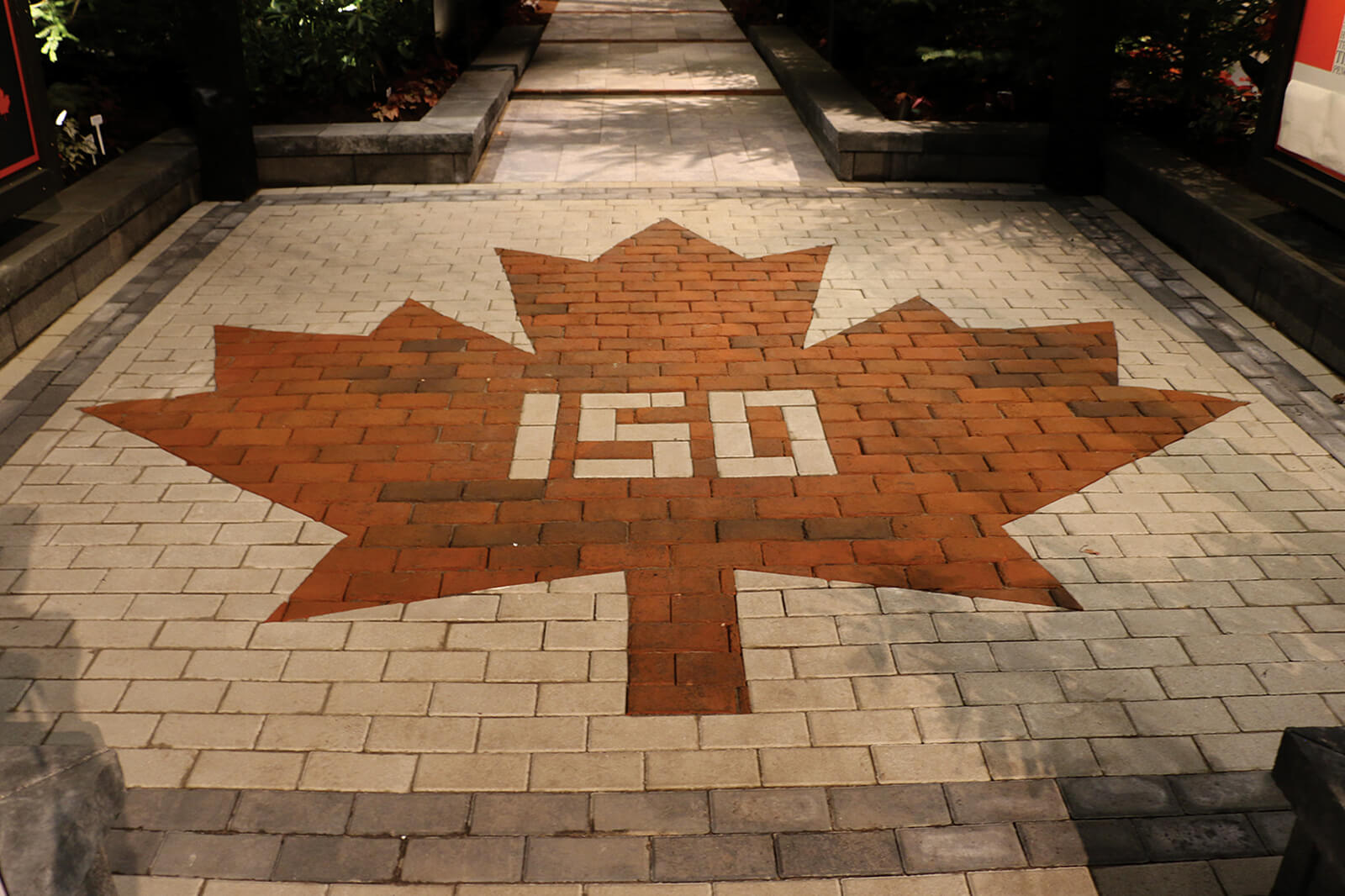 The logo in Ryan Heath's garden involved long hours of intricate stone work.
---
"It's always a balancing act of doing something incredibly creative and different, and at the same time keeping it within the realm of what is realistic for a consumer's backyard," Heath explained. "I can't stretch my imagination to show something that is purely artistic, but couldn't actually be functional in a residential space. So we take the theme and try to come up with something that is eye-catching and appealing, as well as practical and functional as an outdoor entertainment space."
Building a garden at Canada Blooms is a major financial investment, and the marketing potential is important to each participant.
Royal Stone's "Garden of Celebration" won the Workmanship Award, and showed off beautiful stonework highlighted by a maple leaf pattern as well as a waterfall designed to emulate Niagara Falls.
"One of the aspects of the garden this year that we were most proud of was the maple leaf that we cut into the stonework on the floor," said Heath. "It's funny because consumers looked at it and they thought it was kind of cute, whereas other contractors looked at it and totally understood the amount of time and complexity and labour it took to get that done."
Heath and Royal Stone have been garden builders at Canada Blooms for four years, and they feel that this off season has represented one of the busiest for new business in their history.
"The feedback was really positive at the show, and I know everyone is anxious to hear what the numbers were like overall," said Heath. "In general, I feel like the landscape industry is in a really great place right now, and we've seen a lot of interest this off season."
Janet Ennamorato of Creative Garden Designs and David Hubers of Lake Ridge Landscaping teamed up for a unique garden titled, "All That Jazz," which shone a spotlight on Canadian music.
"It started with the idea for a water feature with a saxophone, that David came up with when we worked together last year on the wine bar at Blooms," said Ennamorato. "He was able to source some instruments through Kijiji, and built a stunning water feature. And it really just came together from there. We wanted to have fun with it and to incorporate a variety of elements including water, fire, lighting, and for this particular garden, music!"
Instruments were lent by Steve's Music in Toronto, and Ennamorato put together a playlist of Canadian jazz musicians to really set the garden apart.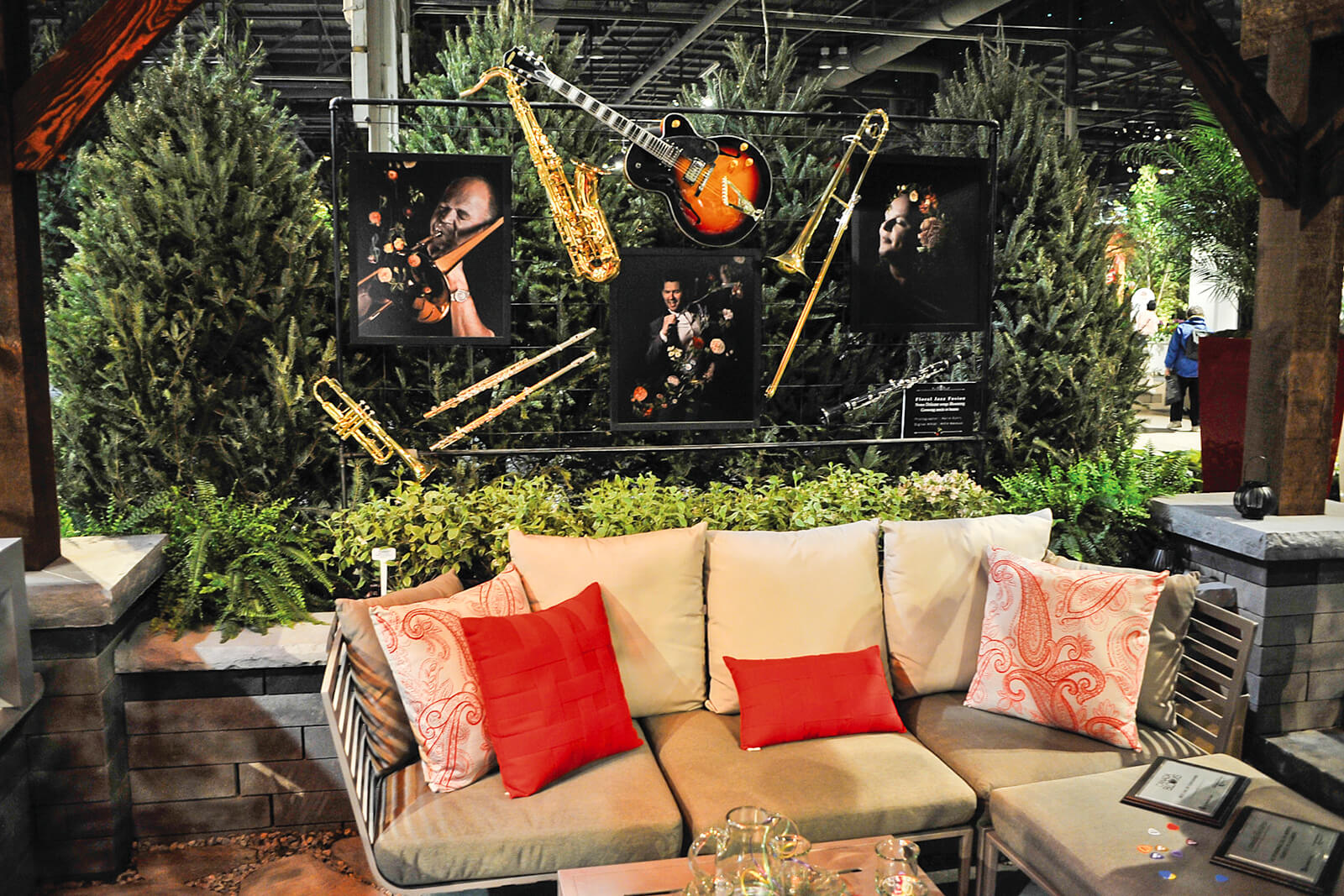 Janet Ennamorato and David Hubers' garden celebrated Canadian jazz artists.
---
"What I wanted to do was definitely showcase the theme of the show and to put forward to the public what Creative Landscape Designs and Lake Ridge Landscaping can do for them and their gardens," Ennamorato said. "I wanted to create an intimate, welcoming garden, and that's why we built a sunken patio, which really crated a transition for the space. And also, we wanted to create a garden that people could visit to see that they can have all of the various landscape elements, water, fire, a focal point, a comfortable place to sit and entertain and enjoy the outdoors on a relatively small footprint."
Any members interested in building a feature garden for the 2018 festival can contact David Turnbull, Canada Blooms director of horticulture, at 416-447-8655.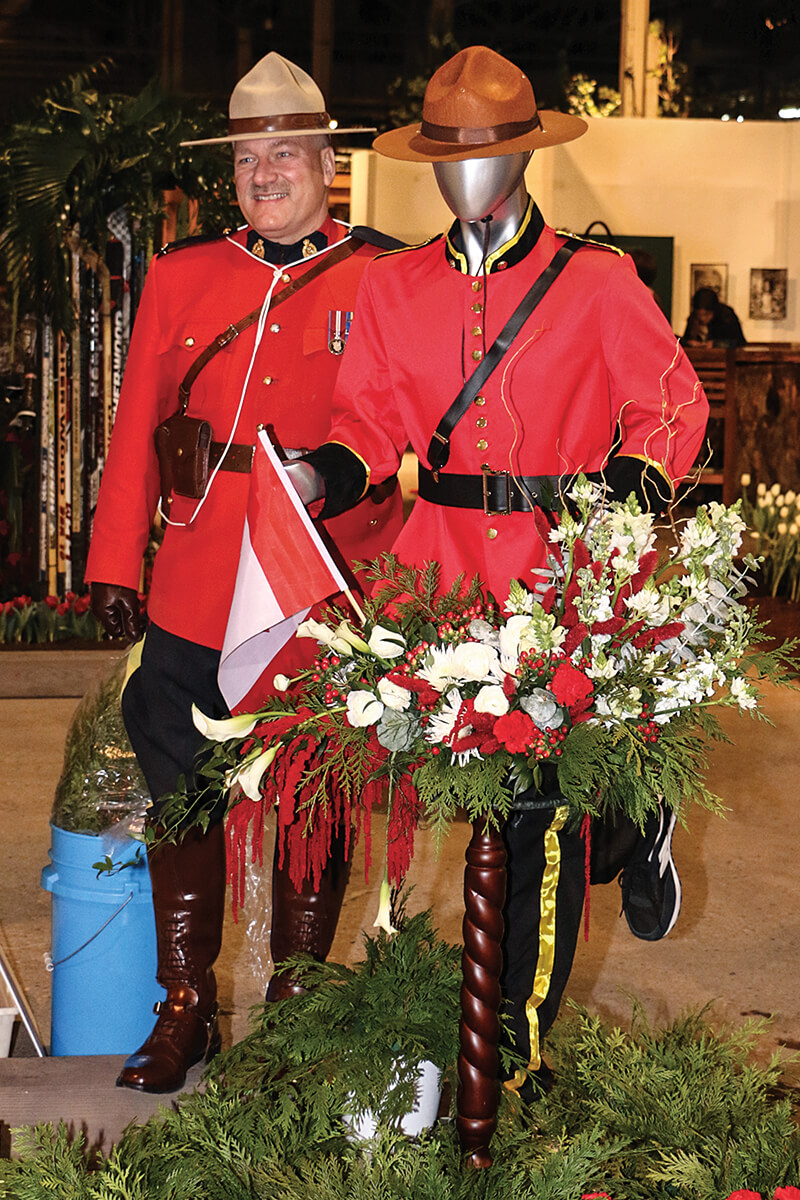 Floral displays also celebrated the festival theme, "Oh! Canada."
---