February 15, 2014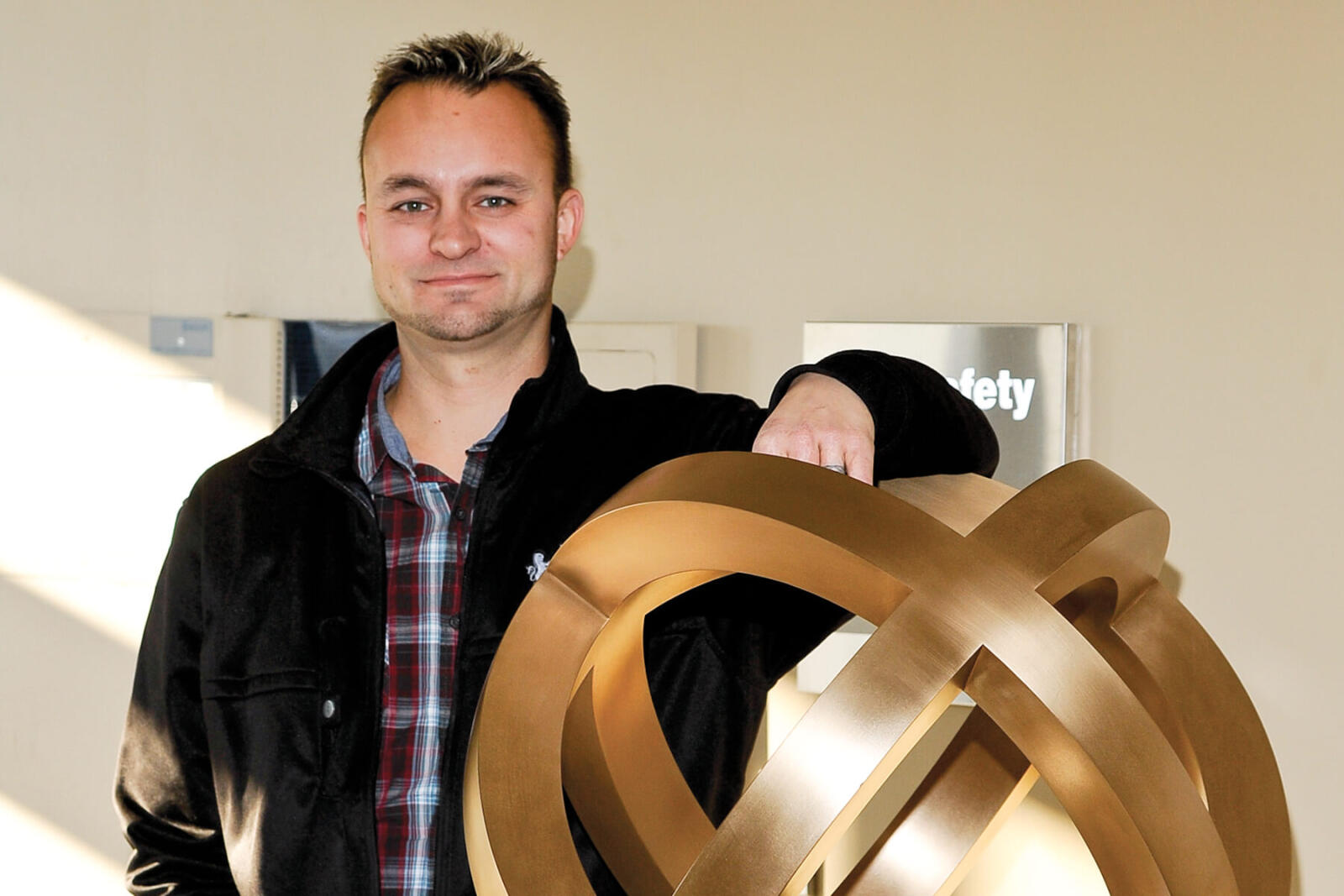 Ryan Heath recognized for efforts to promote and improve association
Ryan Heath CLP, CLD has joined a long list of well-known names from over 53 years of recipients who have received the Frank Ewald Junior Award.
The award is presented to a member of Landscape Ontario who has not yet reached his 36th birthday, while making an outstanding effort in the promotion and betterment of the association.
"I am very flattered and have great appreciation to receive this award," says Heath. He accepted his award at the Awards of Excellence ceremony at this year's Congress from previous winner Dave Braun, the newly named president of Landscape Ontario.
The Frank Ewald Junior Award dates back to 1961 when the Ontario Nursery Trades Association handed it out to its young and deserving members. When the association was incorporated into Landscape Ontario, the tradition continued.
Some well-known names among the recipients include Art Drysdale, Donald Ziraldo, Karl Stensson, Harold Deenen CLP and Hank Gelderman CLT.
Ryan Heath first became involved in the industry at the age of 14. "My dad asked the owner of a garden centre if he could use a kid to help out. I began watering plants, and later drove a Bobcat, working 12-hour days."
It didn't take long until Heath became good at what he did, and he joined the construction crew with the Sharon, Ontario business. "After a while, I tried other jobs, but always found I came back to this industry. I guess it's in my blood."
Tapped for leadership
His involvement with Landscape Ontario began in 2005. "When I started my own business, I realized I needed to become a member of the association," says Heath. He says after being a member over the years, he feels even stronger that young business owners need to join LO. "The first areas a young business owner will learn by being a member of LO are what things you should do, and what things you shouldn't."
Heath says in school he was always taking part in school council activities. "Just after I joined LO, I met George Urvari who suggested that I should attend a Chapter meeting. Next thing you know, I'm a member of a board again."
In 2009, Heath became involved in one of the Chapter's most memorable projects, Rachel's Butterfly Garden, through the Make a Wish program. This was followed by the Canada Blooms core build team. "I really enjoyed the Canada Blooms experience," says Heath.
Over the years, Heath began to serve on the board of the Toronto Chapter in 2008, and the following year was Toronto Chapter's representative on the provincial board. He presently holds the title of second vice president on the Toronto Chapter Board, and is a member of the Landscape Contractors' Sector Group.
He was also heavily involved with the Prosperity Partners program, serving on the committee and as an instructor. "No doubt about it, I drank the Kool-Aid and became very influenced by the Prosperity Partners program," says Heath. He is enthusiastic on the benefits of the program, saying, "I am thankful that as an instructor I was able to impact people who took the course."
"Every successful venture requires champions, and Ryan is without a doubt a champion advocate for the Prosperity Partners Program and LO! Thank you Ryan!," says Prosperity Partners manager Jacki Hart CLP.
Hart went on to say, "As the Prosperity Partners Program manager, I am extremely grateful for Ryan's contribution over many years to the program on many levels. Ryan faithfully attended committee meetings, contributing to the vision and direction of the program with enthusiasm and passion. He also has been a great program instructor, working with members from most of the LO chapters, to help them along their journey to Prosperity."
Heath says that when he ended his business, a very obvious advantage of being a strong volunteer with Landscape Ontario revealed itself, when he was presented with eight job opportunities. He chose Royal Stone Landscape and Design in Woodbridge. Heath serves as the company's designer and project leader.
Heath has no intention of slowing down his work with Toronto Chapter. "I would like to develop plans on how we can attract new members," he says. One area he would like to pursue is moving the location of the Chapter meetings throughout the region. "By moving the meeting location around, we might be able to attract members who don't want to face the traffic issues in the city."
No doubt, with Heath's enthusiasm and energy, the Toronto Chapter membership numbers will continue to grow.
To view the list of past winners of the Frank Ewald Jr. Award, go to
www.horttrades.com/frank-ewald-jr-award
.