December 15, 2015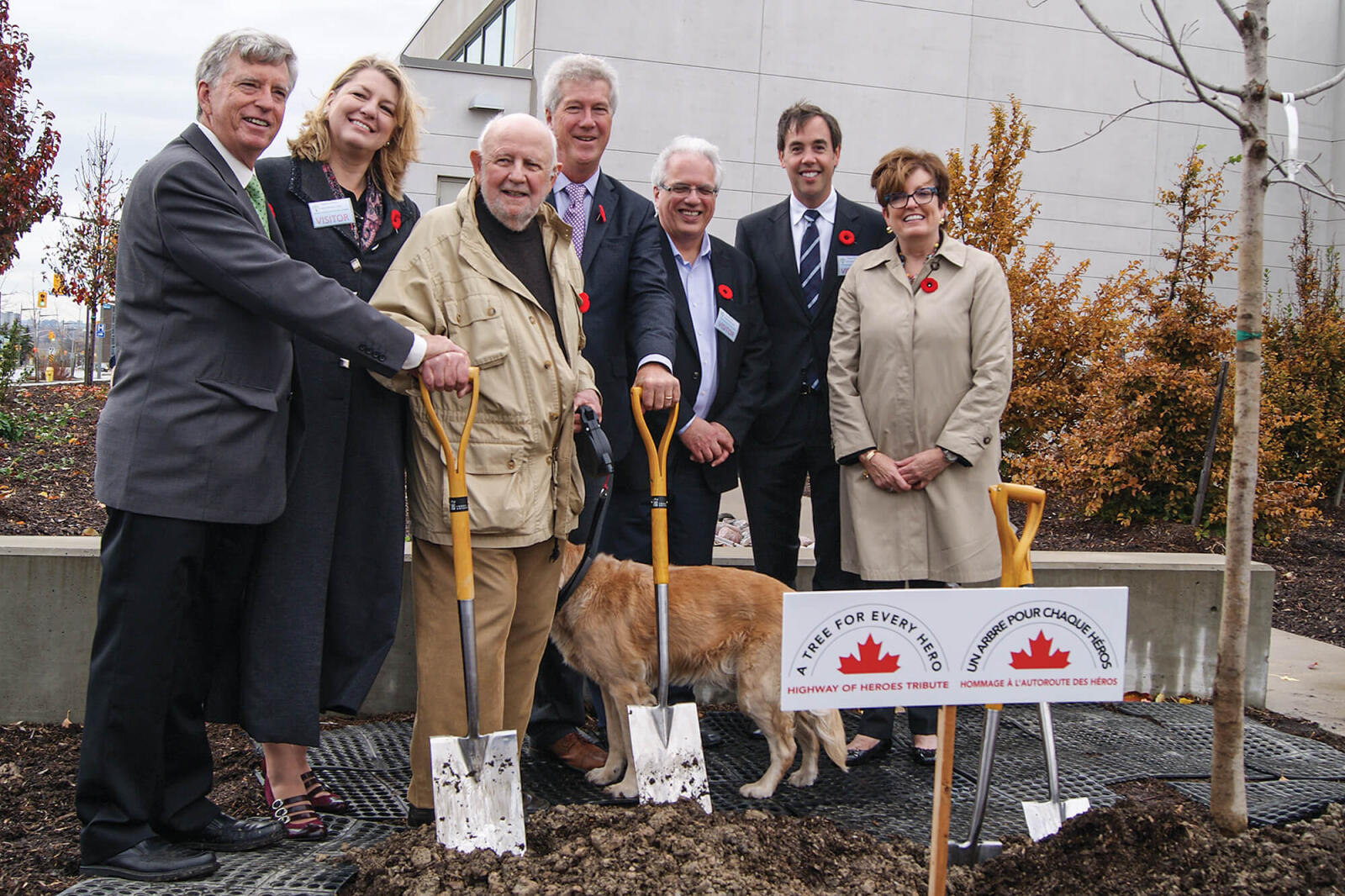 Exciting ceremonies begin Highway of Heroes tree project
Two official ceremonies kicked-off the ambitious campaign Highway of Heroes Tribute, which will honour Canada's war dead with the planting of 117,000 trees along Hwy. 401.
The ceremonies took place Nov. 6 at each end of the Highway of Heroes. It's the section of Highway 401, from CFB Trenton to the Coroner's Complex in Toronto, where Canada's fallen service men and women are repatriated. Since 2007, thousands of people have stood on overpasses to pay their respect as motorcades made their way along the 401.
A coalition of not-for-profit organizations, including lead partners Landscape Ontario and Forests Ontario, is overseeing The Highway of Heroes Tribute Campaign with Mark Cullen as chair. Board members include LO's executive director Tony DiGiovanni and Michael de Pencier, chairman of Investeco Capital and immediate past chair of the World Wildlife Fund. Scott Bryk is the executive director.
The day began with speeches and ceremonial tree planting at the Coroner's Office Complex in Toronto. Taking part in the ceremony were Steven Del Duca, Ontario Minister of Transportation; Eleanor McMahon, Parliamentary Assistant to the Minister of Natural Resources and Forestry; Michael Levitt, MP York Centre; Mark Cullen, Trees for Life; Dave Braun, Landscape Ontario president; Tony DiGiovanni; Rob Keen, Forests Ontario; Ken Jewett, Maple Leaves Forever; as well as members of Veterans Affairs, Wounded Warriors Canada, and past and serving members of the Canadian Armed Forces.
Later in the day, a similar ceremony was held at CFB Trenton, where a large group of military and civilian dignitaries gathered outside the main entrance of the building to plant a tree of remembrance. The location is where mourning families await the aircraft carrying the remains of fallen Canadian soldiers to arrive. It's here that each journey begins along the Highway of Heroes to Toronto.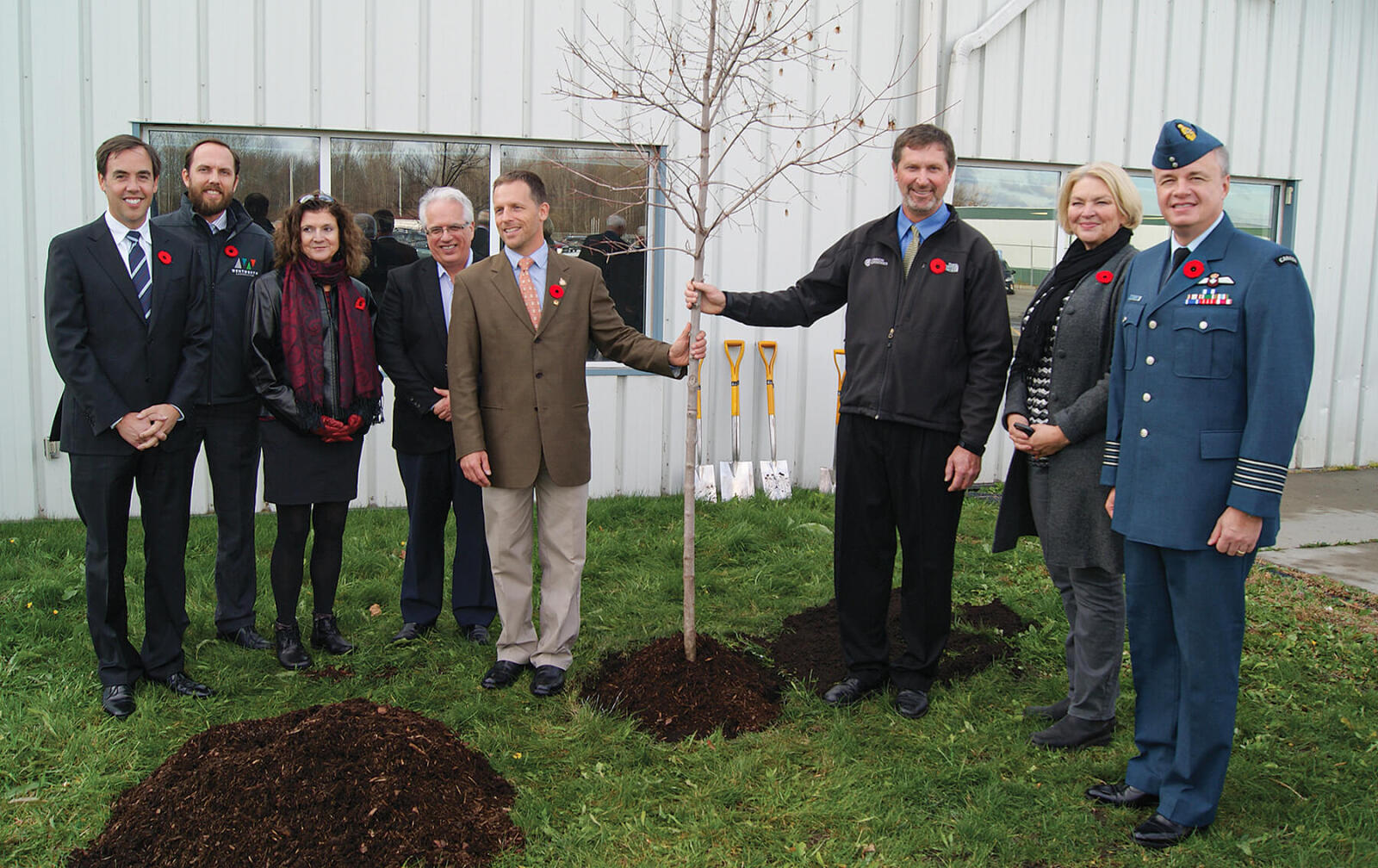 A number of Landscape Ontario members from the Upper Canada Chapter joined the ceremonies at CFB Trenton to launch the Highway of Heroes tree planting campaign. In photo, from left, Dave Braun, LO board president; Jay Middleton, of Scott Wentworth Landscape Group; Judy deBoer-Bell, treasurer of Upper Canada Chapter; Tony DiGiovanni, LO executive director; Scott Bryk, executive director of Highway of Heroes; Stephen Poole, of Connon Nurseries CBV Holding, which donated the tree; Sian Pritchard, of Wentworth Landscape Group, president of the Upper Canada Chapter; and Col. Colin Keiver, 8 Wing, Commander CFB Trenton.
---
"The concept of acknowledging Canada's fallen in this way is the result of a discussion that started in my column in the Toronto Star over three years ago," says Cullen.
"The idea of growing trees to symbolize Canada's war dead is poignant. A properly planted tree can live a long, long time. It's giving life because it converts carbon monoxide, filters toxins out of rainwater and makes the conversion to oxygen. I find a metaphor in that the people who gave their lives for Canada, so you and I can live in a free and democratic country, gave us life," said Cullen.
In Toronto, Minister of Transportation Steven Del Duca said, "This project allows us to honour the men and women who have given their lives in service of our country. At the same time, it allows us to continue the greening of our highways for healthier communities and a lasting legacy for future generations."
Eleanor McMahon, representing Minister of Natural Resources Bill Mauro, stated, "This partnership offers a unique opportunity to honour Canada's fallen soldiers and build on the successful Greening of the Right of Way program on Ontario's highways." The MPP for Burlington said she was a big supporter of the Highway of Heroes the first time Mark Cullen spoke to her about the idea. "He had me at hello," she said.
It was announced at the Toronto ceremonies that Landscape Ontario provided the first donation toward Highway of Heroes with a pledge of $75,000. "I really love to dream of possibilities," said DiGiovanni. "This is one dream that will give me great pleasure to see come to fruition." He says that support for the project by LO members is overwhelming.
The planting of the 117,000 trees is expected to begin in the spring of 2016, and take three years to complete at a cost of $20-million. "I'm optimistic we can reach our goal of $20 million," said Cullen. The Tribute project has already received more than $500,000 in donations.
Highway of Heroes executive director Scot Bryk says tree species planted in the corridor will include sugar maple, beech, white pine, white cedar and white spruce. "We're interested in planting the appropriate tree that will survive," says Bryk. He added that will include proper soil preparation and professional planting standards.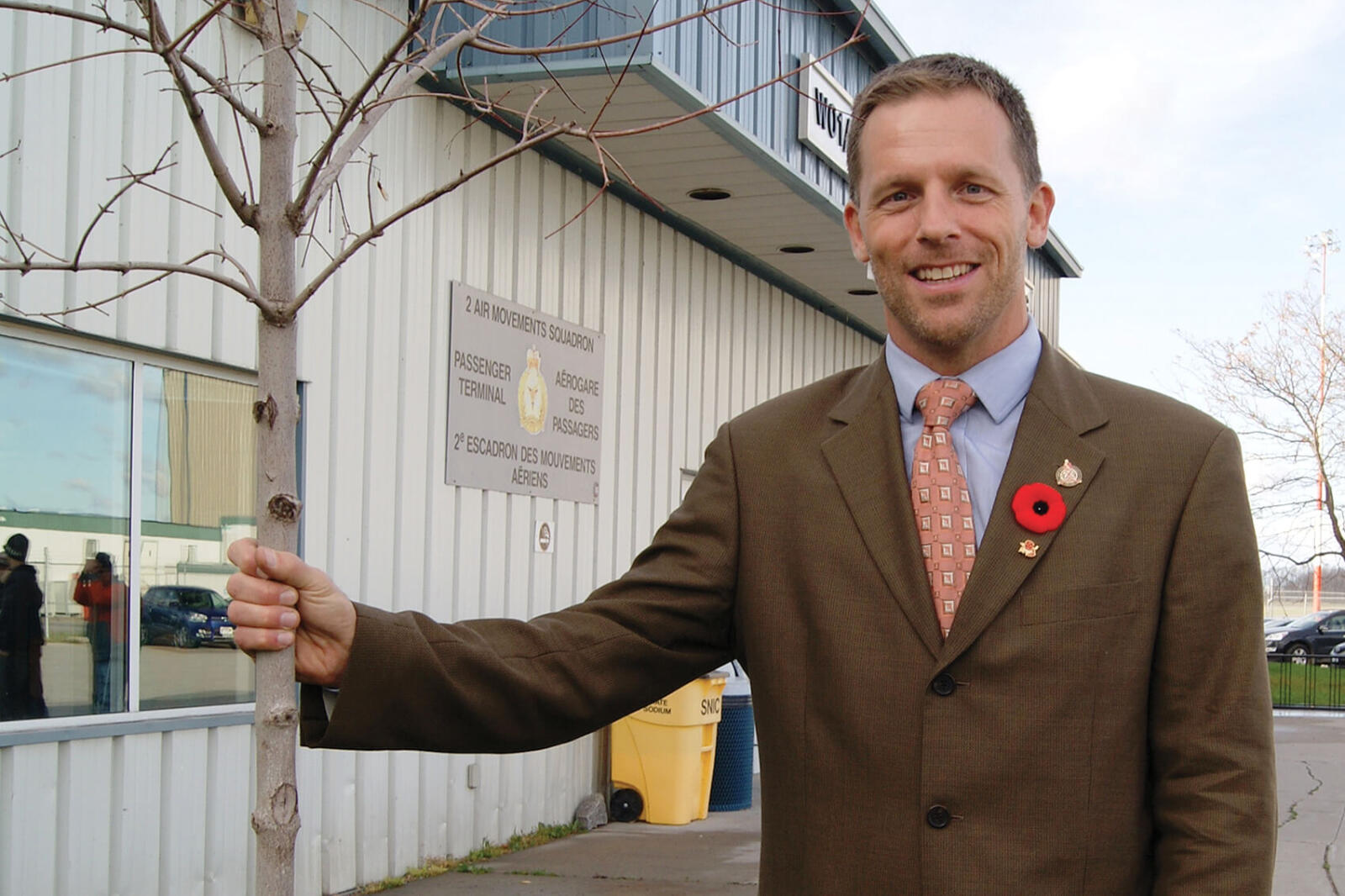 Scott Bryk is the new executive director of Highway of Heroes Tribute.
---
The Highway of Heroes Tribute has established an agreement with the Ministry of Transportation to plant the trees. There are over 200 specific planting sites identified by a comprehensive Landscape Master Plan that was designed by Ron Koudys of Ron Koudys Landscape Architects in London. The project is modelled after the Veterans Memorial Parkway in London.
It was the success of the London project that inspired DiGiovanni to suggest to Mark Cullen that a similar method could be used to enhance the Highway of Heroes.
Following the completion of the 117,000 trees planted, the next phase will include planting more than two million trees on private land that runs adjacent to the Highway 401 corridor."It will involve a lot of coordination with land owners and will likely take a lot longer than five years," said Cullen. The planting of more than two million trees will represent each person who has ever served in the Canadian Armed Forces.
The Highway of Heroes project is a great tribute to the men and women in uniform, both past and present," says 8 Wing/CFB Trenton Commanding Officer Colin Keiver.
Bryk says said the success of the project will depend on donations from local residents, businesses, municipalities and community-based organization. "We need people to be involved and learn what we are all about. We're looking for volunteers, donations and cash support from every corner of the country," says Bryk.
Bryk is excited about the opportunity to see, what he describes as a meaningful project, succeed. "I couldn't have designed a better job for myself," says Bryk. "It covers all my interest areas, military history, horticulture, environmental protection."
A professional biologist, Bryk served as president of the Grounds Guys, until the company was sold. "My education and background, along with my experience running the company puts me in a good position as executive director of Highway of Heroes," said Bryk.
Asked what members of Landscape Ontario can do to help with the project, Bryk listed donations of trees, soil, mulch and at some point access to trucks and equipment. "Most of all we need them to stay interested in this project." He also cited the opportunity for members to tell the story to their audience about Highway of Heroes Living Tribute. "The opportunity exists that our (LO) members can collectively reach over 100,000 people."
Those interested may see more information, or to donate at
hohtribute.ca
.