July 15, 2014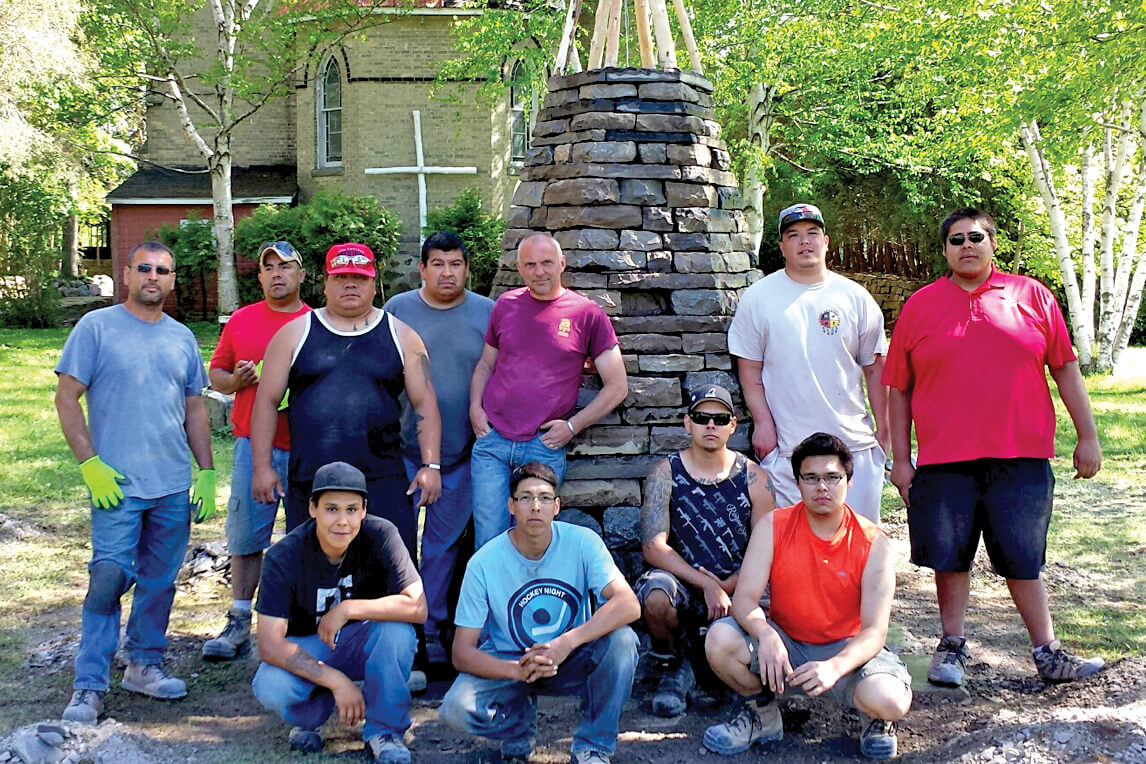 Dry stone course completes inspiring project at Saugeen
Dean McClellan, well-known by many LO members for his work on dry stone displays at the past few Canada Blooms, has held courses and special projects across Canada.
He says the latest project at Saugeen First Nation, near Southampton, "is one of the most exciting things I've ever been involved in."
On May 22, the first of many phases to restore the stone and landscaping at the Saugeen First Nation #29 Amphitheatre was celebrated. Then on May 24 and 25, McClellan held a two-day introductory dry stone walling course similar to what he held at LO last summer.
"About 20 members of the public attended the course, as well as all 10 of the Saugeen walling students. And, we even had other nearby reserves send some folks down to take part," says McClellan.
He and Andrew Loudon, master craftsman and chief examiner for the Dry Stone Walling Association of Great Britain, were instructors. LO is the agent for the British Dry Stone Walling Association. They were joined by fellow professionals Patrick Callon, Kenny Davies and Menno Braam. All three took part in the certification course last year at LO and at the Willowbank School of Restoration Dry Stone Festival at Niagara-on-the-Lake.
At the unveiling of the amphitheatre, local dignitaries, elders, residents, students, traditional drummers and dancers all marveled at the new staircase that led them to the amphitheatre seating.
Chief Randall Kaghee welcomed everyone to the celebration, noting it was a privilege to have guests join the Saugeen First Nation to acknowledge the hard work that has taken place over the past several months.
Said McLellan, "There is nothing like this site anywhere. It is incredible and there are other stonemasons who are volunteering to come here just for the chance to work on it."
"The men of Saugeen are just learning this craft and I've rarely seen this level of craftsmanship for those just beginning." Loudon.
Young Saugeen First Nation men are very excited about the the project and learning a new skill that is almost an art form. "I am going to stay with this project as long as I can," said Nathan Thompson. "I have learned so much and am honoured to be part of this."
Under the leadership of Dean McLellan, Canada's first and only Master Craftsman, the crew trained from Nov. 18 to Feb. 14, when they began the restoration work.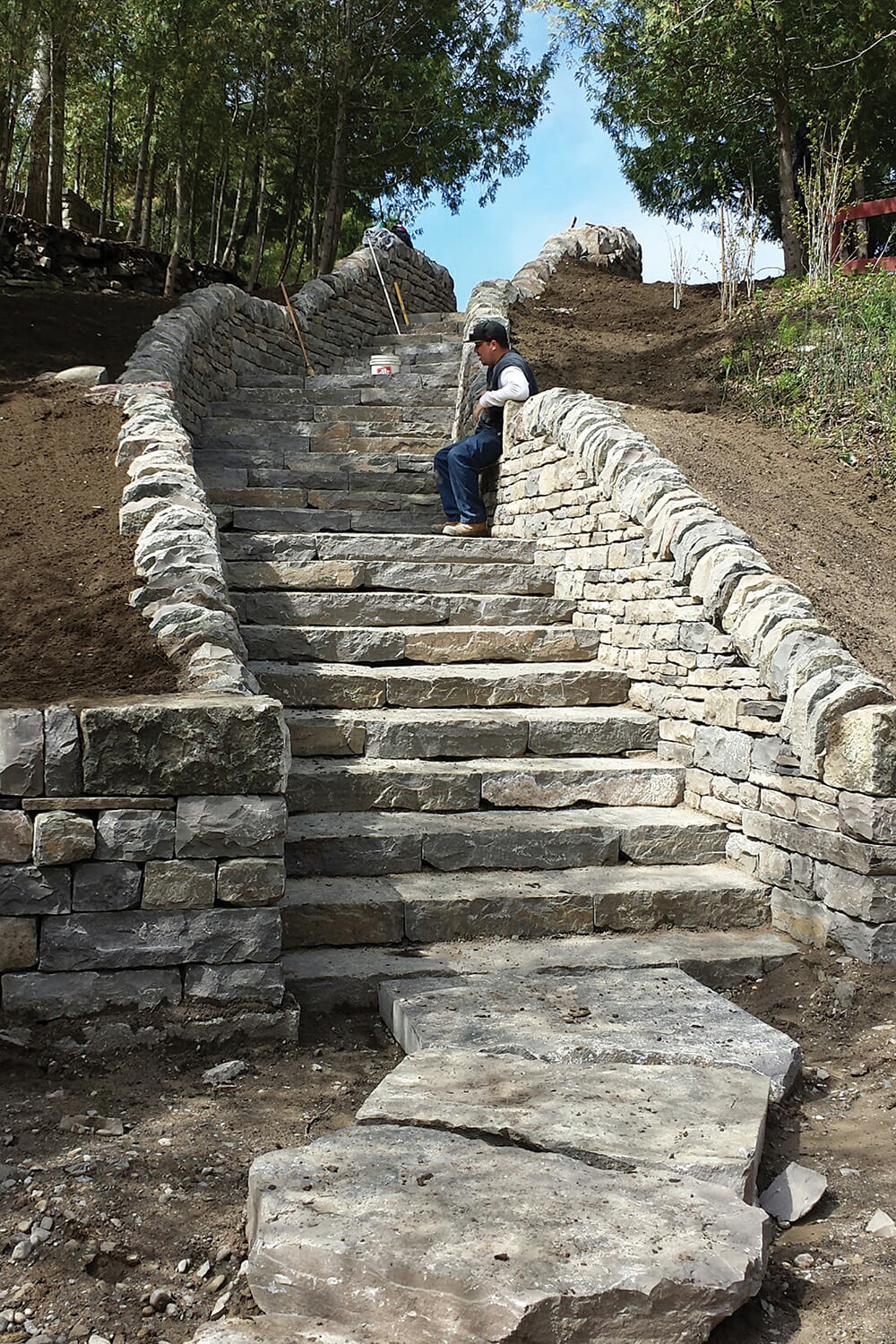 The stone stairway is just one of the many new and renovated structures built by Dean McClellan and his crew at Saugeen First Nation, near Southampton.
---
"The men have been great to work with," said McLellan. "The winter was a long, hard one this year working under the tent with the amount of snow we had."
"It's a privilege to be involved," Loudon said at the unveiling. "I only got here yesterday, but I was following along with the progress online, and I was really impressed. Nothing could have prepared me for how good it actually is. I'm really proud of what they've achieved and what they continue to achieve... it's absolutely fantastic."
Saugeen First Nation's Program Manager and Employment and Training Officer, Jennifer Kewageshig, said the crew will continue to plant shrubs and flowers to showcase the staircase with colours that reflect the culture of Saugeen First Nation.
"What's great about this project," she said, "is it started as a training program and has turned into an apprenticeship program. Many hope to do stonewalling as a trade," Kewageshig added. It is anticipated that it will take three to four years to complete the restoration project.
Also present at Thursday's celebration was Saugeen First Nation elder, Vern Roote who led the audience in prayer. The prayer was followed by drumming from the boy drummers of G.C. Huston and St. Joseph's schools in Port Elgin, and Bruce Smoke and his family who make up the Smoke Trail drummers and dancers of Alderville First Nation.
Upper Canada Stone from Barrie donated almost 50 tons of stone to the event. LO member Perry Hartwick, a co-owner of the quarry, came to see the event and view the amphitheatre under construction.
Five of the Saugeen wallers took their level 1 certification. "I'm happy to say that they all passed, which will allow them to try for their level 2," said McClellan.
The next showcase for McClellan is the Willowbank Dry Stone Festival, Sept. 15 -18 in Niagara-on-the-Lake. There will be courses open to the public, as well as vendors, carvers, live music, and great food.
The first Canadian National Dry Stone Walling Championship will also take place in Niagara-on-the-Lake, along with another test day for interested wallers to try for their level 1 or 2 certification. For more information, contact Dean McClellan at 519-321-1586, or hlmasonry@ehtel.ca.