September 11, 2023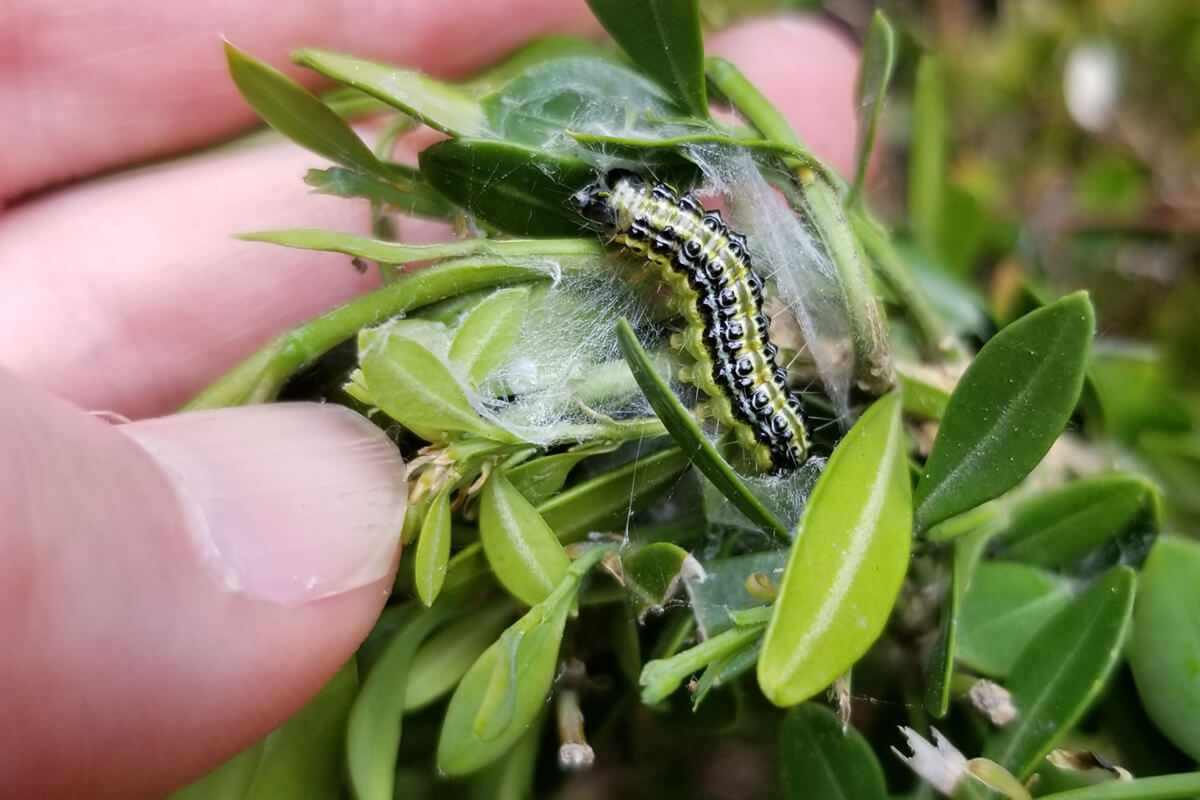 Box tree moth discovered in London, Ont.
By Julia Harmsworth
When homeowner Susan Skelton went outside to water her hostas in London, Ont., on Aug. 8, she was faced with three destroyed boxwood shrubs.
"One boxwood was completely brown — it looked like saw dust — and the other two were half eaten," said Skelton.
Unsure what to do, Skelton called her friend who is heavily involved in horticulture. Her friend sent her a picture of box tree moth caterpillars and told her to check her shrubs. Sure enough, Skelton's boxwoods were full of the tiny caterpillars.
"They're amazing. I think they're eating from the inside out. They're voracious," she said of the pest.
She sprayed her boxwoods — and her neighbour's — with BTK (
Bacillus thuringiensis kurstaki
) twice, one week apart. It worked: now there are black caterpillar carcases hanging off her shrubs.
Skelton's boxwoods turned brown.
Skelton had never heard of box tree moth before, and neither had her neighbours. "Now I'm trying to educate people on how to identify them," she said.
The box tree moth (
Cydalima perspectalis
) is an invasive pest that feeds exclusively on boxwood shrubs (
Buxus
). If you do not find and remove these pests quickly, they can destroy your boxwoods.
You can read a comprehensive guide to detecting and acting on box tree moths
here
. Generally, you should inspect boxwood plants for chewed leaves, larvae, webbing, and caterpillars from May to September. You can use this
identification card
to help identify the moth.
If you do find caterpillars actively eating shrubs, apply BTK. Check back in five to seven days, and if they are still there, apply BTK again. BTK is most effective when sprayed three to four times a year.
To prevent the spread of box tree moth, when removing infested shrubs or clippings, put them in a black plastic garbage bag, tie it tightly and place it in direct sunlight for 48 hours. This will kill the larvae so the plants can then be safely added to yard waste bins.
The Canadian Food Inspection Agency (CFIA) confirmed the pest's presence in November 2018 in the southern part of Etobicoke (the southwestern edge of Toronto).
The pest was primarily contained to a small area, but was then found a couple of years later in Scarborough (the city's east end). Since then, it has spread to Windsor and Niagara. In 2022, the federal government added the moth to the
List of Pests Regulated by Canada
.
Most recently, CFIA confirmed instances of the pest in retail locations in Quebec, New Brunswick, Nova Scotia, PEI and Newfoundland in June 2023.
In 2019, Landscape Ontario joined forces with the Canadian Nursery Landscape Association, CFIA, and the Ontario Ministry of Agriculture, Food and Rural Affairs (OMAFRA) in a committee to inform next steps and raise awareness on the issue.
If you wish to hire a professional to spray your boxwoods, we recommend you use our Find a Pro function and choose 'Lawn Care and Spray Contractors' from the drop down menu to find help in your area.