April 8, 2018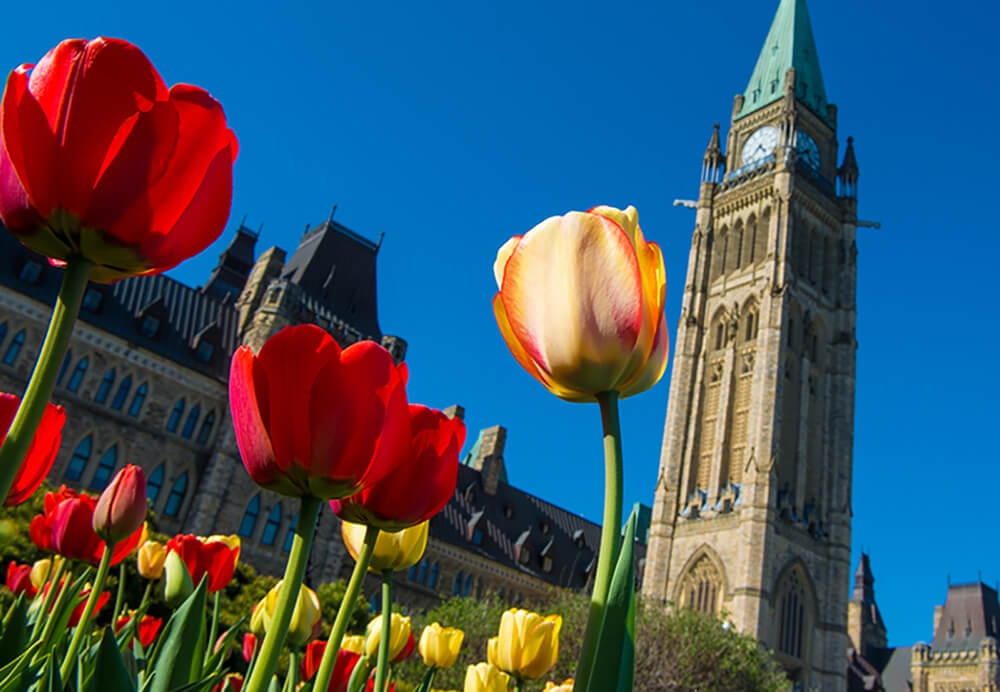 Annual Tulip Festival runs May 12-22
The Canadian Tulip Festival celebrates its 65th anniversary in 2017 and has planned activities for all ages to mark Canada's 150th birthday.
This special edition of the festival also marks a partnership with the Canadian Garden Council to create a "Garden Promenade" as part of expansion plans to showcase and promote Ottawa as a garden tourism destination — a growing segment of the tourism industry.
"Not only is 2017 a milestone year for the festival, it is also the year we welcome back Michel Gauthier who operated the festival for 15 years from 1992 to 2005," stated David Luxton, chair of the Canadian Tulip Legacy, sponsor and supporter of the Canadian Tulip Festival. "Many friends of the festival from over the years know Michel's talent for vision and his passion for the Tulip Legacy. We congratulate him on his vision and passion to expand the Canadian Tulip Festival into a Capital garden experience for residents and visitors," Luxton added.
Displays will be held at various locations, including a Garden Tulip Experience at Commissioners Park featuring live musical entertainment and artists at work among the tulip beds.
Lansdowne Park is the primary festival venue where visitors can take part in a number of events and activities, including vintage military displays, art and floral workshops, a tulip market, and Friendship Stage, where varied music and entertainment, including children's performers and representative acts from the Festival's Tulip Friendship countries will perform.
Massive art installations will also appear on the City Parkade in ByWard Market, Ottawa's central city marketplace.
Self-guided or escorted tours of Ottawa's public gardens exploding with millions of tulips in bloom from the Governor General's residence to the Central Experimental Farm and back to Parliament Hill via Gatineau comprise the Garden Promenade.
A number of special events are scheduled throughout the 11-day festival, including a Mother's Day Dutch Brunch, Swing Dance Night and fireworks.
Started in 1953, the Canadian Tulip Festival is one of the largest events of its kind in the world, celebrating Ottawa's official flower as a symbol of international friendship and peace. The Canadian Tulip Festival is an event of the Canadian Tulip Legacy, a non-profit charitable organization established to celebrate the historic royal gift of tulips from the Netherlands to Canadians after the Second World War.
Tickets for the festival can be purchased online at
tulipfestival.ca
.