October 15, 2019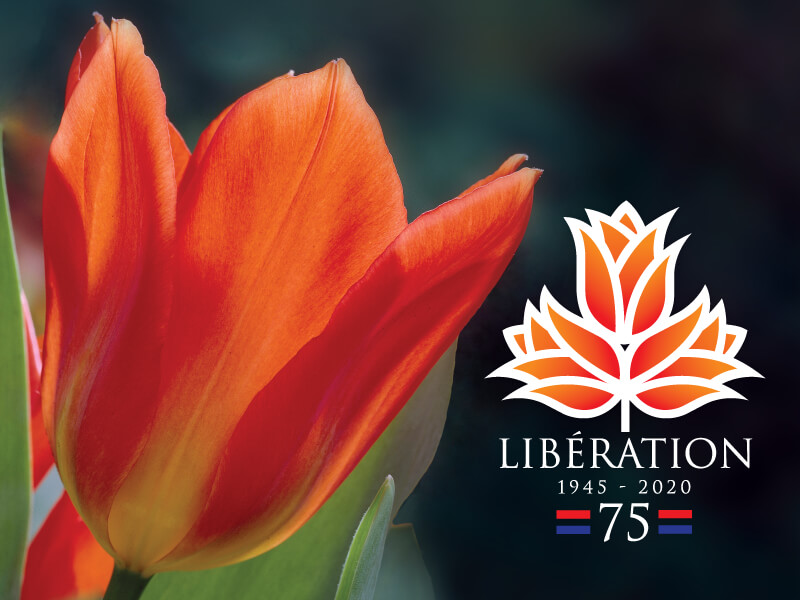 The Liberation75 Commemorative Planting Campaign
The Canadian Tulip Festival is planning to plant 1.1 million tulips to honour the 1.1 million Canadians who served during the Second World War. The Liberation75 Commemorative Planting Campaign is part of the 2020 Canadian Tulip Festival, which will mark the 75th anniversary of the Liberation of the Netherlands next spring.
As part of the campaign, Canadians are encouraged to purchase a bag of 15 "Liberation75" tulip bulbs online for $15. This limited-edition, bright orange tulip with crown-shaped petals is a mid- to early blooming variety that is sure to get noticed next spring. One dollar from every bag sold will go directly to the Royal Canadian Legion. Additional proceeds will support commemoration activities through the Canadian Tulip Festival.
Each bag purchased will also enter the buyer into a chance to win the Liberation75 Grand Prize — two round-trip economy class tickets to Amsterdam from anywhere in Canada KLM flies, plus $2,000 cash.
The Canadian Tulip Festival began as a direct result of the significant role Canadians played in the liberation of the Netherlands during the Second World War. After the war, the Dutch people and Royal Family expressed their thanks to Canada by sending 100,000 tulip bulbs. The Gift of Tulips became a yearly tradition. The Dutch Royal Family and the people of the Netherlands send 20,000 bulbs to Ottawa annually, and this year repeated the original gift of 100,000 tulip bulbs.
The National Capital Commission, the Embassy of the Kingdom of the Netherlands and KLM Royal Dutch Airlines are partners of this year's campaign.
For full contest details, or to purchase bulbs, visit
Liberation75.ca
.