November 15, 2013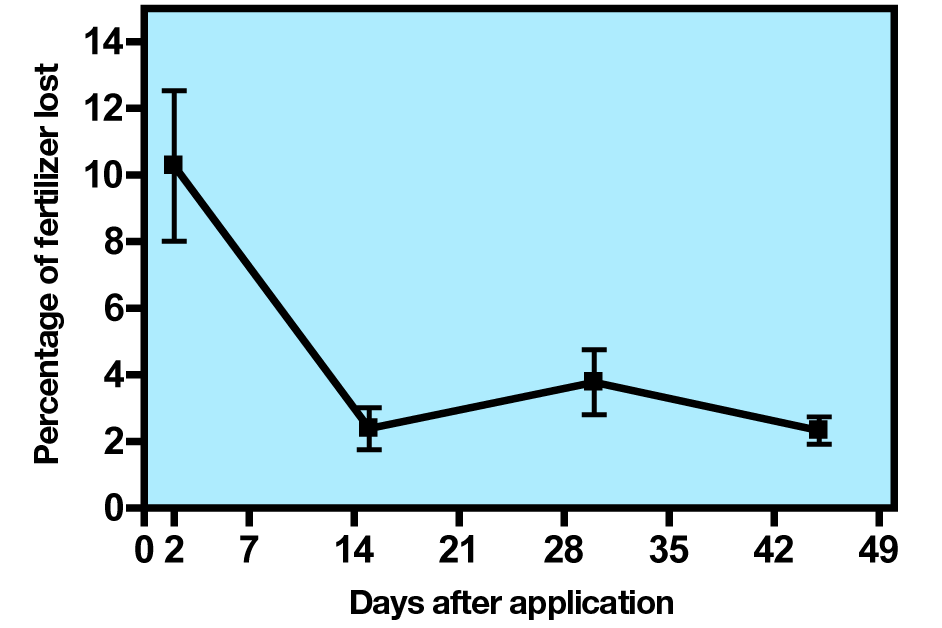 Timing top dressing to reduce fertilizer loss
By Dr. Youbin Zheng, Katherine Vinson, Linping Wang and Dr. Mike Dixon
A common issue with potted nursery plants is the pots tipping over on windy days, or the substrate becoming too dry and the pot too light to support the plant adequately.
When this occurs, there is often a partial loss of the controlled release fertilizer added as a top dressing and the potting substrate. Researchers conducted a trial by top dressing controlled release fertilizer in container grown plants and then tipping the pots over at different durations after the fertilizer application.
Wild rose (Rosa 'Flower Carpet Pink') was grown in two-gallon pots containing Gro-Bark Standard Nursery Mix and using Polyon Nursery Plus Minors 19-04-10, at 36 g per pot.
Results revealed that when pots were knocked over two days after top dressing, about 10 per cent of the applied fertilizer was lost, but after two weeks and thereafter, only 2.3-2.9 per cent of the applied fertilizer was lost from the pots.
In devising a suitable management strategy, there are a few other aspects to consider. Most of the controlled release fertilizers used for nursery top dressing only start to release nutrients when the temperature is above 5°C, with limited activity until the temperature is at least 20°C. Most nursery plant species do not exhibit active root growth and nutrient absorption until the temperature is at least 5°C. Therefore, it is important to time top dressing when the temperature is right. If applied too early, the surface of the growing substrates is still hard and it is not easy for fertilizer to stick to the growing substrates. If you can, it is encouraged not to apply top dressing fertilizer on a windy day, or if there are windy days in the near term forecast. Rough and loose growing substrate surfaces and watering the container after top dressing can also help fertilizer to remain in the pot securely.
For more information, please contact Dr. Youbin Zheng at
yzheng@uoguelph.ca
, environmental horticulture chair for both University of Guelph and Vineland Research and Innovation Centre.
This research was financially supported by Agrium Advanced Technology. Gro-Bark and Sheridan Nurseries provided growing substrate and plant materials.