May 15, 2014
New guide for container nursery crop fertilization
Scientists at Vineland Research and Innovation Centre are helping Ontario nursery growers save money and protect the environment through the identification of optimal fertilizer rates for commonly-grown nursery crops.
In collaboration with nursery growers in the Niagara Region and throughout Ontario, Dr. Youbin Zheng, Vineland's Environmental Horticulture Chair and University of Guelph Associate Professor, Mary Jane Clark, Vineland's Senior Research Technician, Environmental Horticulture; and Erin Agro, Vineland's Graduate Student, Horticultural Production Systems, are discovering the best fertilization practices for container nursery crop production.
"Sheridan Nurseries is pleased to support Dr. Zheng's research on actual real-life production conditions at Ontario nurseries. The results help us to refine our fertilizer applications, thus reducing the environmental impact and costs," says Bart Brusse, container manager for Sheridan Nurseries in Georgetown.
The team has found that each nursery crop has its own preference for controlled-release fertilizer rate. When the rate is increased, some shrubs, such as rose of Sharon and Pee Gee hydrangea, show a significant increase in growth, others including spirea show moderately increased growth while some dwarf winged euonymus do not respond to fertilizer rate. Additional results can be found in a new comprehensive guide located on
Vineland's website.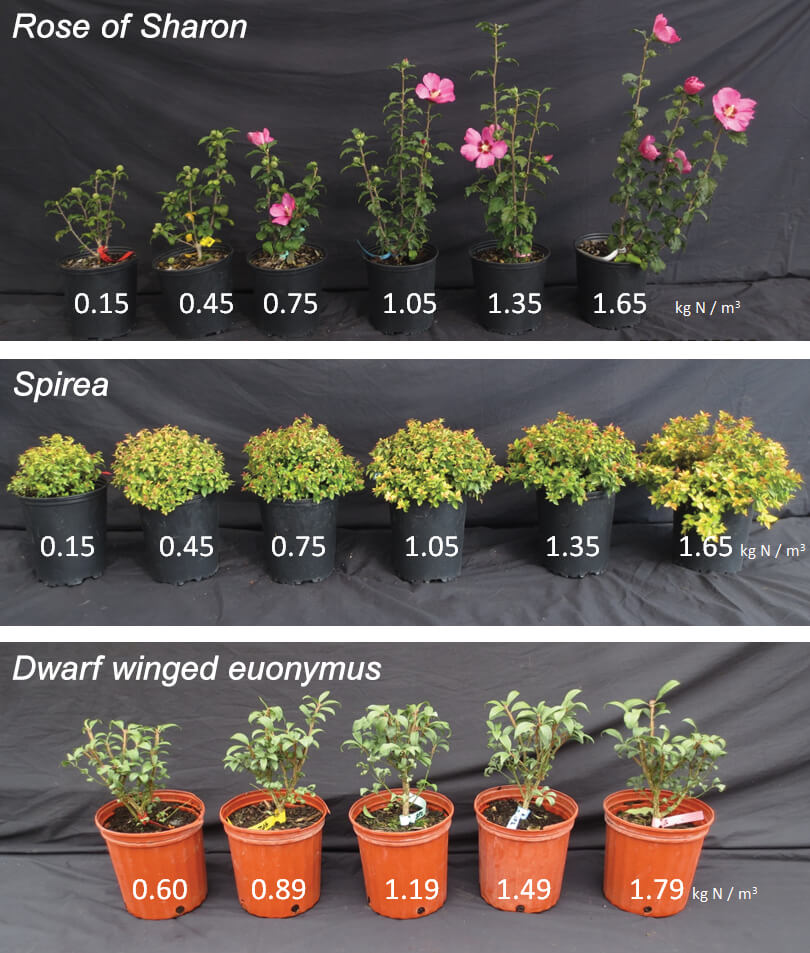 Each nursery crop has its own preference for controlled-release fertilizer. When the rate is increased, rose of Sharon shows a significant increase in growth, while spirea has moderately increased growth and dwarf winged euonymous does not respond to increased fertilizer rate.
---
"I'm very happy to have been involved in this research these past two years," says Chris Pieper, owner of Pieper Nurseries in Dorchester. "A robust fertilization program means cost savings by using only minimal amount of fertilizers, while getting maximum results. It also helps promote a better environment."
"From this project, we learned that additional research, including more fertilizer types, plant species, growing substrate and different climate regions, is needed to help growers optimize their fertilization strategies and minimize environmental impacts from nutrient runoff," says Dr. Zheng.
Vineland's industry-focused research creates positive results for the Canadian horticulture industry. For more information on this research program, please contact: Dr. Youbin Zheng at 905-562-0320, ext. 765,
youbin.zheng@vinelandresearch.com
.
Funding for this project has been provided by Growing Forward 2, a federal-provincial-territorial initiative, Agriculture and Agri-Food Canada through the Canadian Agricultural Adaptation Program (CAAP), Landscape Ontario, and Agrium Advanced Technologies.