October 15, 2017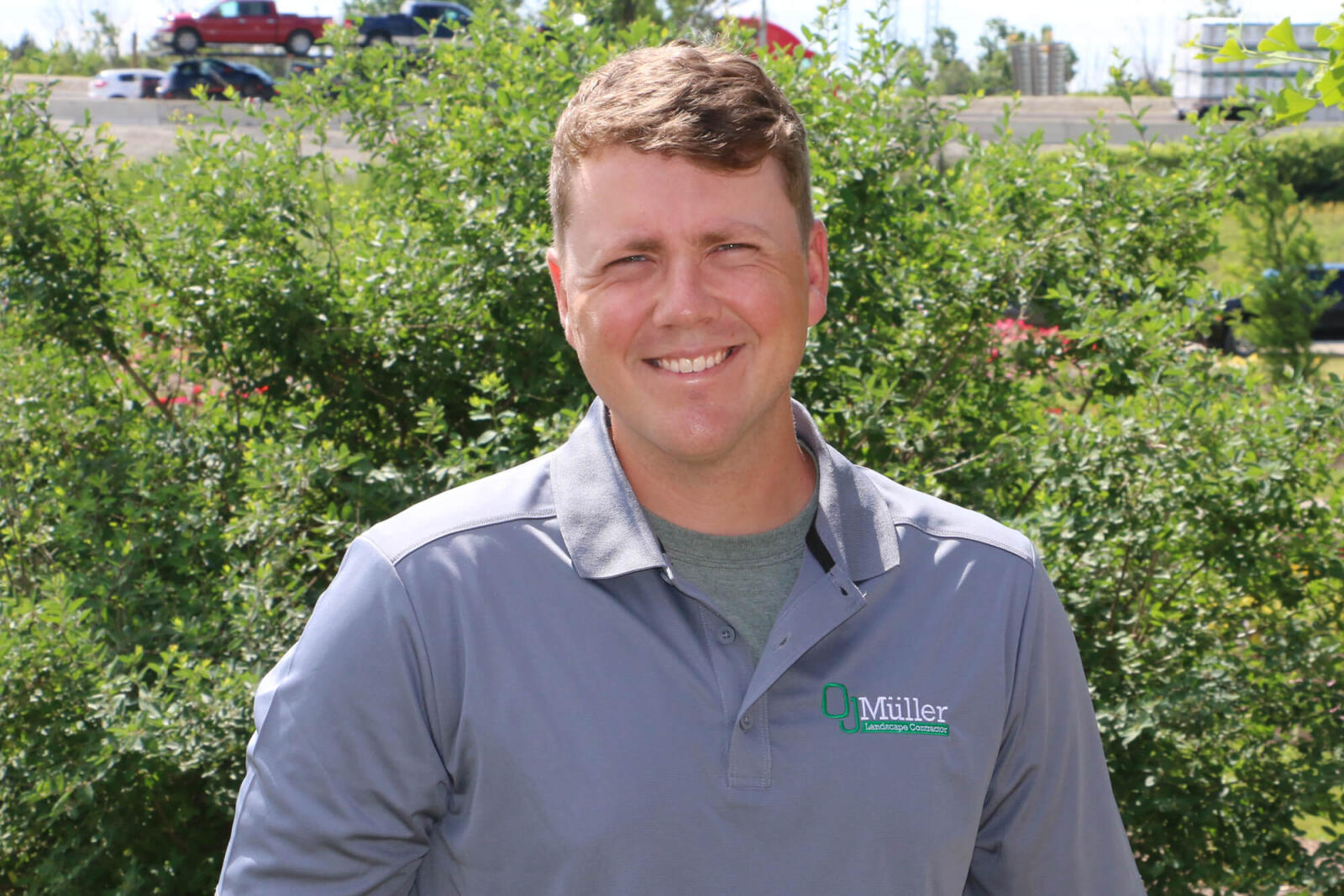 As a third generation employee in the family landscaping business, Chris Muller has grown up surrounded by plants and nature. Now a volunteer on Landscape Ontario's Durham Chapter Board, Muller is taking aim at getting the word out to fellow Millennials about the rewarding work and real difference to be made in the landscape and horticulture professions.

A green career was not in the plan
Muller says informally, he has worked for his dad, John Muller, since he was about six years old.

"My memories of being a kid on Saturday morning aren't of sitting around watching cartoons. I got to go to the farm and sort pots and water the flowers," Muller says, for which he got paid a donut and a hot chocolate.

Muller says he was "encouraged to pursue other interest growing up," and earned an Honours Degree in English from the University of Guelph.

"I took a totally different path," Muller says, but eventually ended up right where he started, officially working for dad, who had taken over the business from his father, the late Otto Muller, who started the business in 1980.

Right time to give back
Muller credits Durham Chapter Provincial Board Representative Brian Baun, owner B.K. Baun Landscape in Ajax, Ont., for getting him involved at the chapter board level. "I've known Brian for a long time, informally," Muller says, remembering those early years tagging along with his dad.

Muller ran into Baun one year at Congress, where Baun explained the chapter was looking for new, younger board members.

"It seemed like a real welcoming group that was open to new ideas," Muller says of that conversation with Baun, "I thought it was something that I could really contribute to."

Muller accepted the invitation because he felt the time was right. "I'm at the right point in my life where I can give back to something a little bit bigger than myself," he says.

Muller says with his dad John as quarterback for the family business, organizing and running things and his brother Matthew the hands-on, mechanical part of the business, their dynamic allows for many opportunities. "We are fortunate that I am able to give a lot of my time to LO, and I am very happy to do it, but we are able to do that because the business has made it a priority. It's just something that is very important to us."

Messaging to Millennials
"I think the biggest reason that brought me in was to have a few new fresh ideas. We are looking at ways of attracting more new young people and it's a challenge I am willing to take on," Muller says.

The biggest challenge in attracting young people is "there are a lot of exciting things here for young people that I think they are just not aware of. This industry, as much as it's about building things with your hands, it's also about building things that last and grow, and not just in the plants and in the ground, but in people too. Our biggest challenge is getting that message out there."

Muller's advice to someone thinking about or starting a career in the profession is to first work for someone else. "Find somebody that you like the work they do and you can learn their techniques" while also being creative and bring something new to the table.

Muller says with such a big industry, "you are never going to learn it all. There's so much to learn, so much to try, so many things to see. You are never going to be bored, that's for sure."

Muller loves the creative nature of his work and the willingness of people to try new ideas. With his generation of Millennials now a part of the workforce, he explains they have a genuine need to "feel involved and invested in the process" of running the business. He says if employers take the time to share that knowledge of processes and operations, they may be rewarded with new ideas and new approaches from their younger employees that will benefit business owners as well.

"I think there's a lot of merit in just listening to what young people have to say because we get stuck in our ways a bit sometimes in this industry," Muller says.

A generation growing up with the constant sight of urban sprawl, Muller echoes another value of Millennials, the need for their work to make a genuine difference to society and the environment.

"As our downtown core gets more built-up, the value we place on green space becomes even more important. If we have an opportunity to play some part in that, how could you turn it away?"

In addition, Muller says the physical nature of the work and constantly learning also appealed to him. "I liked the idea that I wouldn't be doing the same thing every day. I like having different challenges."

And what does Muller like best? "I love planting trees," he says.