March 15, 2016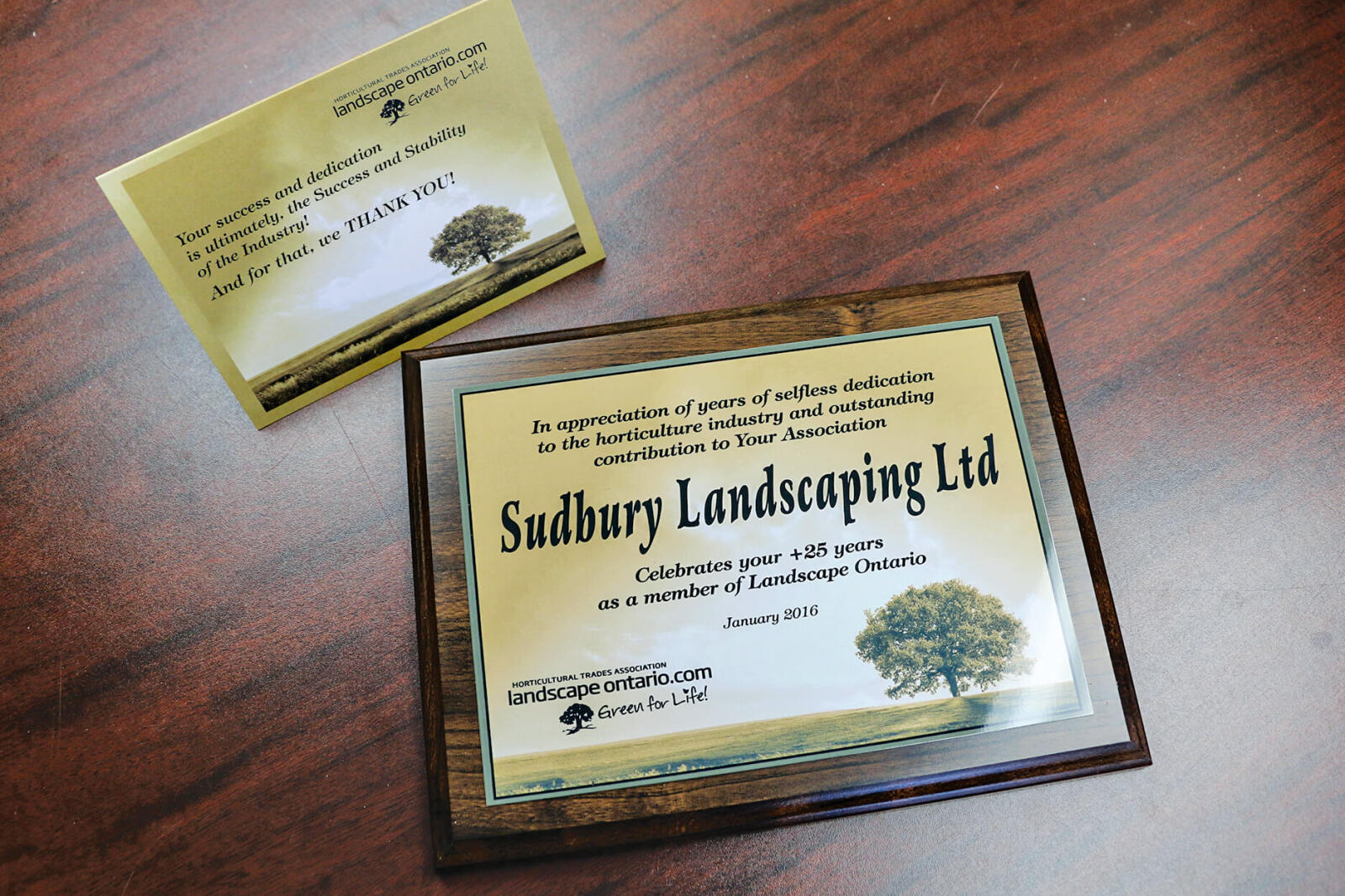 Celebrating 10,000 years of dedication
By Denis Flanagan CLD
LO Manager of Membership and Public Relations

At the start of 2016 we brainstormed a few ideas to recognize companies who have been members of Landscape Ontario for 10 and 25 years. When we checked our records, we then discovered there were over 500 companies who had reached the 10 year mark and 212 companies who had reached the impressive achievement of being a member for over 25 years. That's over 10,000 years collectively of experience, professionalism and dedication to the industry. Now that's something to celebrate — and we are doing just that. We have created special plaques for the quarter century club, some of which were presented at the AGM in January during Congress. The remaining companies are being invited to chapter meetings to be recognized and receive their plaque. We will also be highlighting these members in the special summer membership edition of Landscape Ontario magazine. Further in the future, we hope to include a recognition wall at the Milton office for all those companies who have achieved these impressive milestones.
I had the pleasure of attending the Durham Chapter meeting on Feb. 2 when some of their milestone members in attendance were put into the spotlight. They received a standing ovation from their peers. I took the opportunity to ask each recipient what they thought their company had gained the most from their many years of membership. Interestingly, the first three people I asked were not even born when their families first joined the association. Regardless of that, they still had some insight.
Chris Muller, O.J. Muller Landscape Contractor, said, "I believe my family was pretty stubborn in the early years and not very open to new ideas. By joining LO it completely changed their thinking and was helpful in growing a successful business."
David Tillaart from Dutchmaster Nurseries said, "Networking, meeting potential customers, attending meetings and personally I gained a great deal from joining the growers sector group."
Scott Lloyd from Lloyd's Landscaping answered, "Our family business through three generations has gained a lot from our membership, making full use of the benefits programs, the educational courses, and in recent years, getting involved in the LMN program."
John Moore from Baltimore Valley Produce and Garden Centre, said, "Being in the competitive world of retail, it's essential to have tools to help the bottom line. We have had great return on our investment through the merchant discount programs, telephone service discounts , and by participating in the CLP certification courses."
Brian Baun from B.K. Baun Landscape said, "One of the main advantages has been the educational opportunities; conferences, seminars and chapter meetings. Keeping up-to-date with new products and techniques is essential. In recent years, I have had the opportunity to give something back to the association through volunteering on the chapter and provincial boards."
I'm looking forward to attending many chapter meetings and events this year to record more success stories from our special milestone members. Congratulations to each and every one of you, and thank you for your continued membership.