March 15, 2016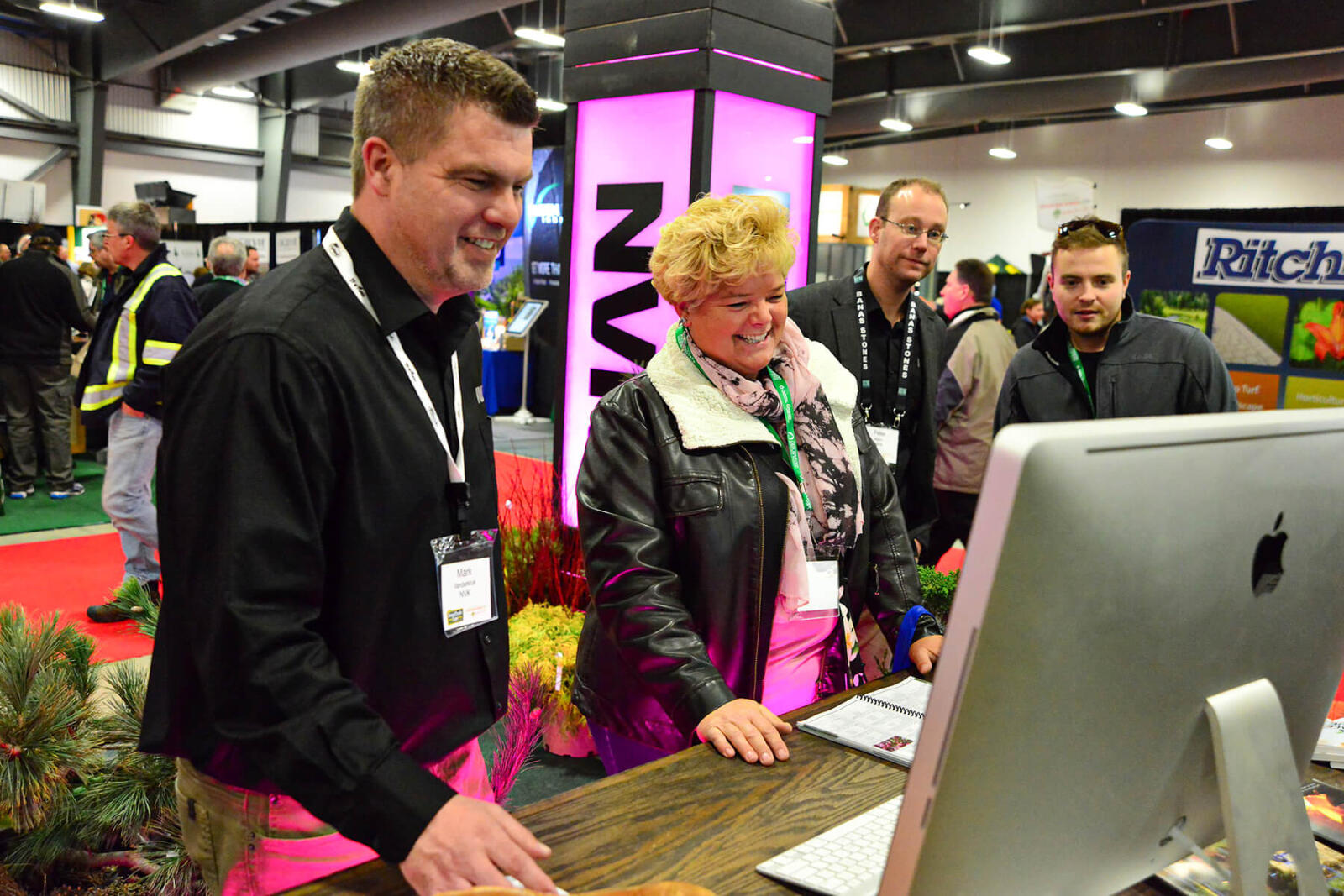 Ottawa Chapter holds another successful GreenTrade Expo
Industry members from all over Ontario and Quebec gathered on Feb. 10 at the EY Centre for the 23rd edition of GreenTrade Expo, Ottawa's premiere trade show event.
From its humble beginnings with only a few eight foot tables and 12 exhibitors in a hotel meeting room, GreenTrade Expo now occupies a 40,000 sq. ft. exhibit hall showcasing 115 exhibitors. Presented by Permacon, the event has become Eastern Ontario's most attended trade show.
GreenTrade has also become a destination for members of the landscape industry to gather. Again this year, the LO designers group held a meeting the day prior to the show. Designer group chair Chris Mace and LO executive director Tony DiGiovanni met with Ottawa area designers to discuss communication strategies and changes facing the industry.
Also continuing this year was the second annual Ottawa Awards of Distinction suppliers gala, presented by Permacon. This year's event took place in a new venue within the EY Centre. With over 175 attendees, the evening was hosted by GreenTrade Expo show chair Bruce Morton of CityScape, and Ed Hansen of Hansen Lawn and Gardens. The duo provided comic relief throughout the evening and provided support to the presenters of the new special awards added to the program.
The Jim Bauer Legacy Award, sponsored by Bradley's Commercial Insurance, recognizes a member company who has been in business for at least 20 years, along with 10 years of being a member in good standing of Landscape Ontario. Jim Bauer, the awards namesake and a founding member of the Ottawa Chapter, presented legacy awards to the following Ottawa and Upper Canada Chapter member companies: Garden Creations of Ottawa, Greely Sand & Gravel, GreenThings Landscaping 2010, Gunn-Duncan Landscaping, Hansen Lawn & Gardens, The Lawn and Garden Company Carleton Place, M. Davis Landscape and Design, Nutri-Lawn Ottawa, Simply Landscaping and Garden Design, Permacon, Peter Knippel Garden Centre, RJ Rogers Landscaping, Techo-Bloc, Nature's Way Landscaping, The Scott Wentworth Landscape GroupWestern Landscape Services and Yards Unlimited Landscaping.
The second new award, The Joan Johnston LO Community Volunteer Award, sponsored by Greely Sand & Gravel, recognizes individual members who have demonstrated an outstanding commitment as volunteers to the Landscape Ontario community. Joan Johnston, who has volunteered extensively in the Ottawa Chapter as a past president of the association (and who is one of only two women to serve as president), presented the awards to: Paul Doornbos, Richard Rogers, Tim Kearney, Sarah Johnston, Terry Childs, and Kennedy Johnston.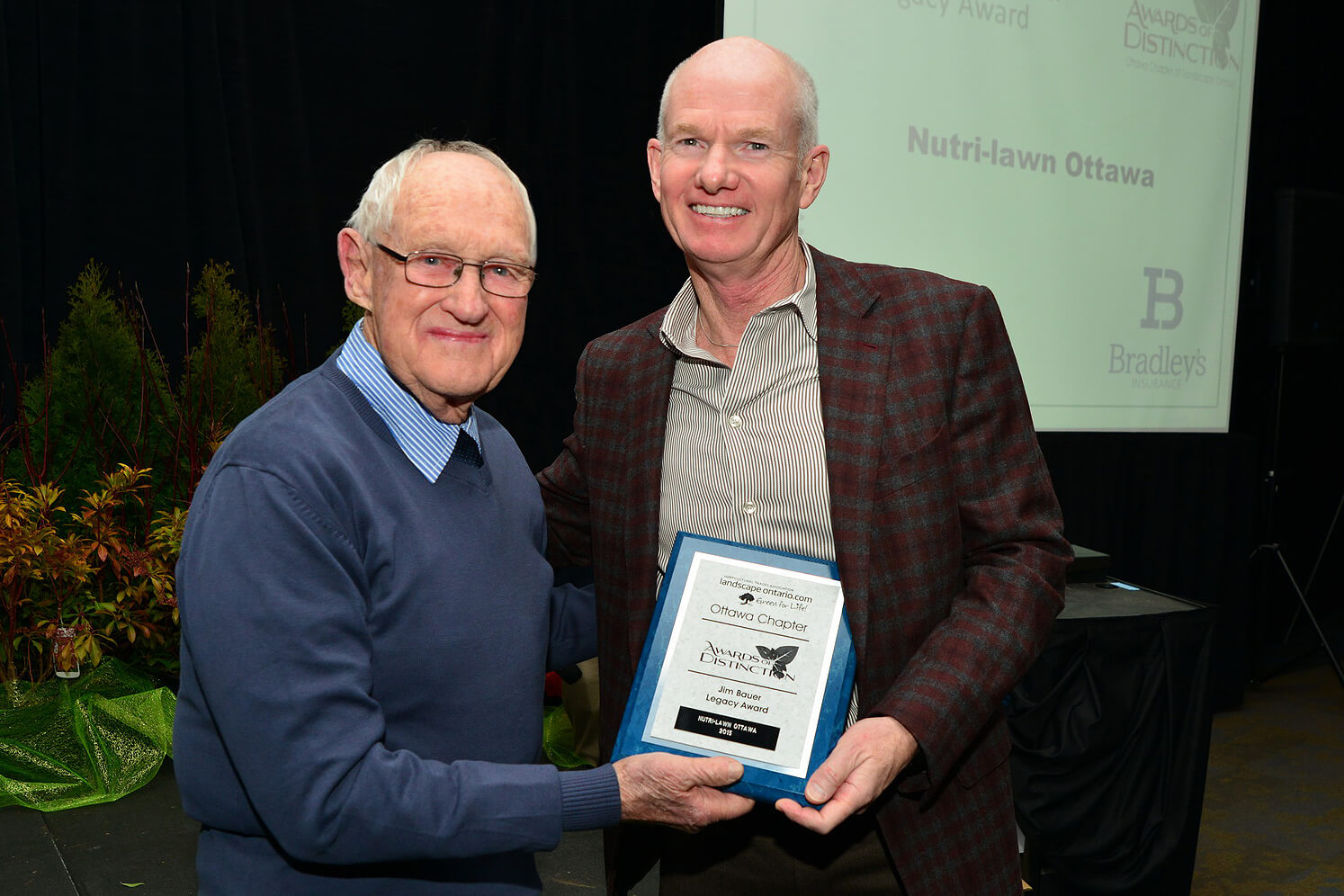 Jim Bauer (left) presents a new award bearing his name to Thom Bourne, owner of Nutri-Lawn Ottawa.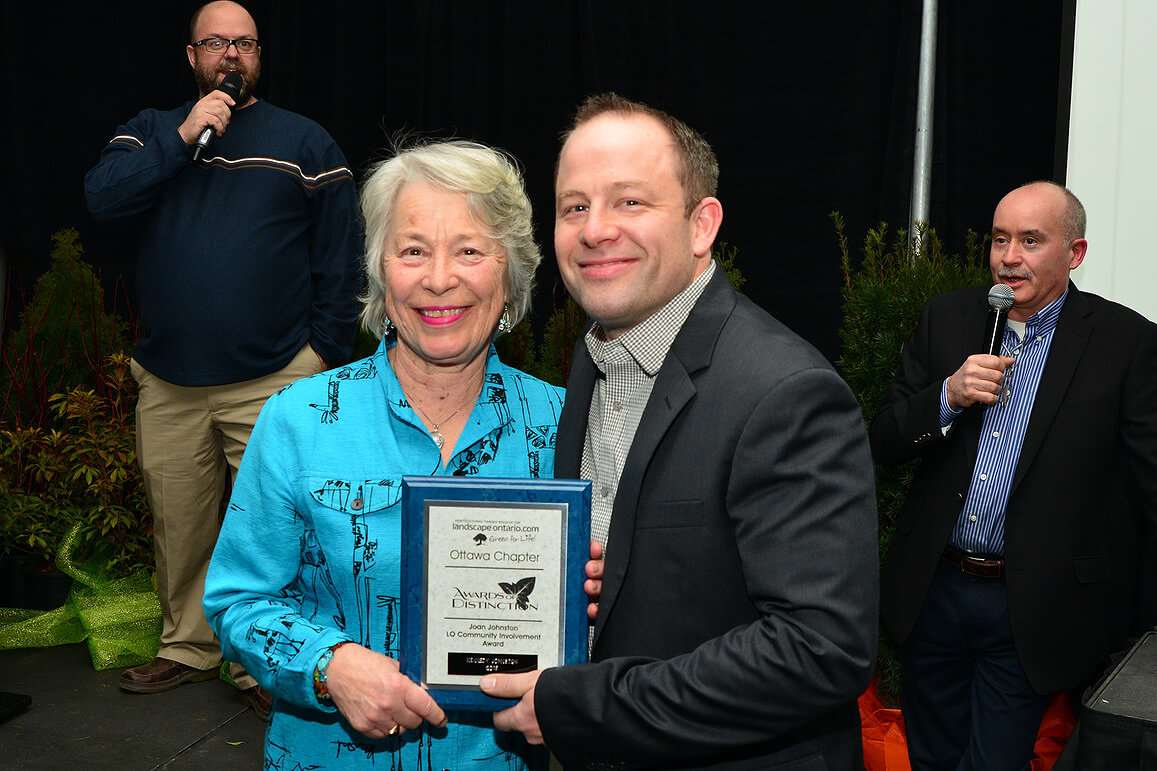 Joan Johnston (left), presents a new award bearing her name to her son Kennedy Johnston. Hosts Ed Hansen (far left) and Bruce Morton (far right) emceed the awards gala.
---
The evening of recognition continued with the second annual supplier awards for 2015. Sponsored by Surgenor Truck Group Supply, awards were presented to the following companies in their respective categories:
Plant Material Supplier: GreenLife Nursery
Hardscape Material Supplier: Cohen and Cohen Natural Stone Landscape
Equipment and Materials Supplier: Geosynthetic Systems
Supplier to the Landscape Trades: Ritchie Feed & Seed
Landscape Industry Salesperson: Kirstin Headrick, Go Mobile Communications
The gala evening continued with music provided by local fusion blues and jazz band "The Feel" and a Vegas style casino night sponsored by SiteOne Landscape Supplies. Two pairs of Ottawa Senators tickets, donated by Jesse Gimblett of the Ottawa Senators Hockey Club, were won by Treavor Freamo of Bernwood Contractors and Consultants, and Laurie Irvine of Go Mobile Communications.
The trade show component of GreenTrade Expo continues to be well-attended by all sectors of the landscape and horticultural industry as it provides networking opportunities and education for both business owners and employees alike. The popular MTO contractors breakfast, sponsored by Connon CBV, Tubman's Chev, and Manderley Turf Products, was well received by over 75 attendees. The MTO booth on the trade show floor continues to be a popular resource — explaining the proper safety requirements for trailers used widely by the landscape industry.
The perennial networking location of the coffee bar, once again co-sponsored by Bradley's Commercial Insurance and Geosynthetic Systems, was designed by Ottawa board member and landscape designer, Ashley Cochrane, and constructed by Geoff Pratt, owner of RJ Rogers Landscaping, and his crew.
Students from the Algonquin College horticultural program, under the tutelage of Steve Neumann and Tommy Wingreen, were once again an integral part of the show. The students helped set up the coffee bar, the Landscape Ontario booth, floral displays, as well as the registration area and take down of the show. A huge thanks to Connon NVK for providing the floral product for the show and to the Algonquin College horticultural program for providing the spring flowering bulbs that were used throughout the show and the awards gala.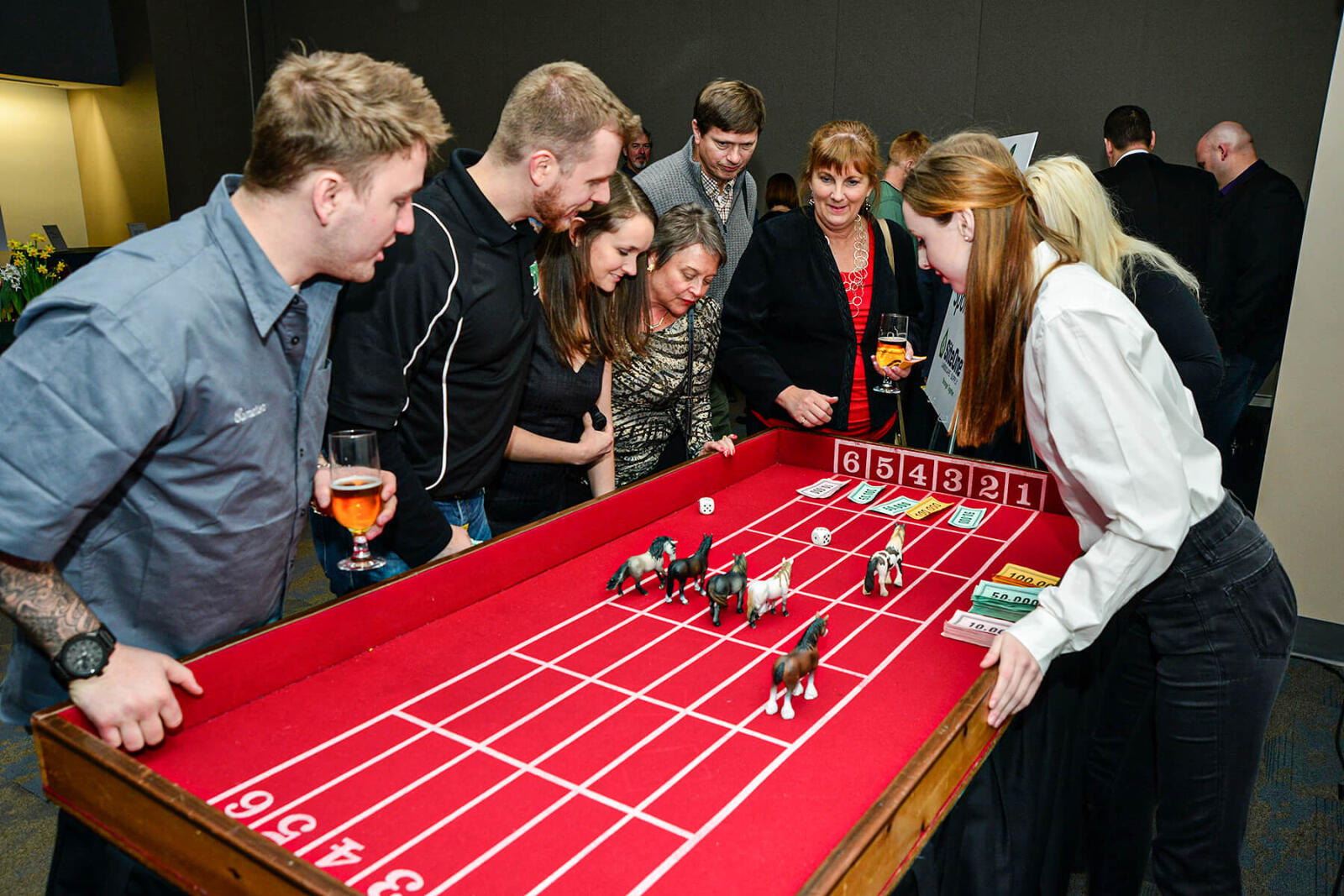 This year, the awards gala featured a casino night.
---
The Landscape Ontario booth was well-staffed, providing yet another great networking component to the show, giving local members access to LO executive director Tony DiGiovanni, current LO president Paul Brydges, and trade show manager Heather MacRae. Joining them in the booth this year were Theresa Whalen, Eastern Ontario Marketing and Communications Coordinator, and Sally Harvey, Eastern Ontario Regional Manager.
The educational seminars continue to inform the industry at GreenTrade, with many new and returning speakers being part of the free business education series which took place throughout the day: Portia MacDonald-Dewhirst, Executive Director, Canadian Agricultural Human Resource Council, spoke about investing in peopler; Terry Ledden and Paul Quinney, Sandler Training, discussed selling versus estimating; Mark Burleton, Manager of Grounds and Greenhouses, National Capital Commission, spoke about sustainable heritage landscapes; and Joan Johnston, co-owner, Knippel Garden Centre, presented some new varieties of hydrangeas.
Bruce Morton, GreenTrade Expo show chair, expressed his sentiments of this year's show, "We are delighted how the show went this year. The awards gala was a fabulous party and a great opportunity to celebrate our terrific suppliers. Everybody had a ball. The new awards recognizing members were well-received and a great way to honour those who have supported Landscape Ontario for many years. I've had a lot of great feedback and enthusiasm about the potential for increasing the show to two days next year, and I know we have a first rate team of people who are working to make that a reality."
Show attendance saw a slight increase over last year and show organizers are thankful the weather co-operated again this year.
GreenTrade Expo 2017 will take place February 8 and 9 at the EY Centre, Ottawa (close to the MacDonald Cartier international airport). For more information visit
greentrade.ca
.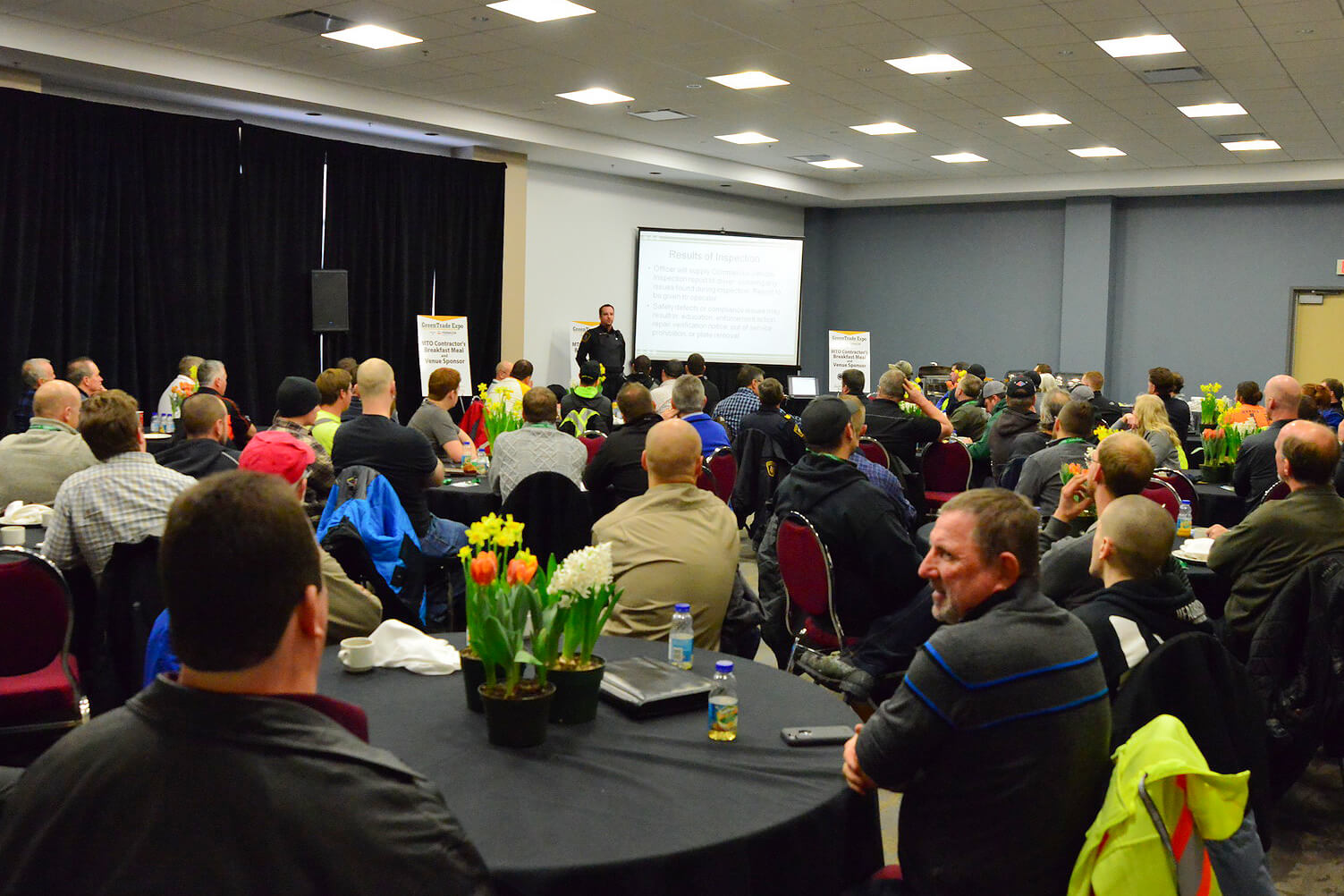 The ever-popular MTO breakfast continues to draw a large crowd.