December 3, 2019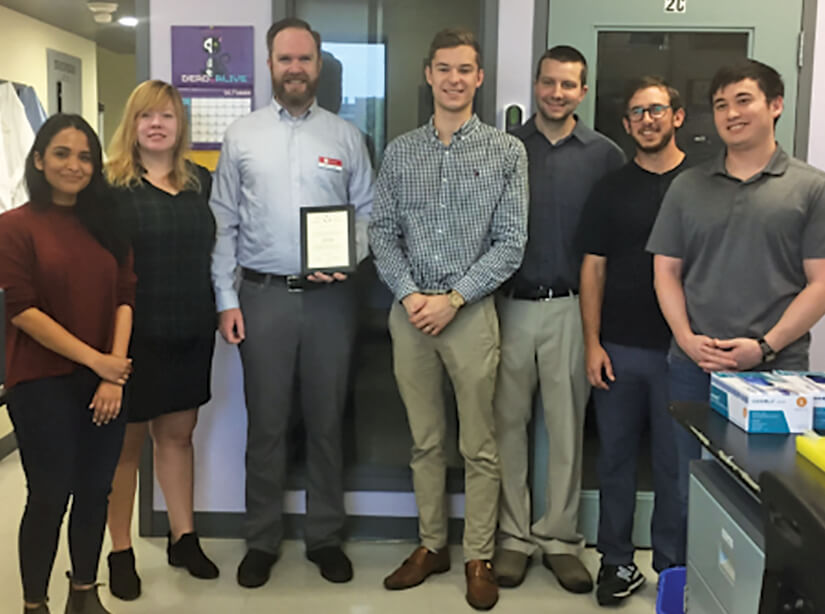 New approach to controlling invasives
An interdisciplinary team of researchers at Vineland Research and Innovation Centre in Vineland, Ont., discovered a new approach to control and eradicate invasive plants and weeds. Vineland's innovative solution utilizes the unique natural chemistry of invasive plants as a source of new sustainable control.
"Using
Vincetoxicum rossicum
, commonly known as dog-strangling vine, as a model system, our team is assessing whether natural plant chemistry can control invasive species threatening our natural and agricultural spaces," said Darby McGrath, Vineland's Research Scientist, Nursery and Landscape.
Vineland is collaborating with curator Jon Peter and the Invasive Plant Committee at Royal Botanical Gardens (RBG) to explore some of its sites invaded by dog-strangling vine, and to understand how these invasive plants affect soils and plant communities.
"Royal Botanical Gardens is excited to be assisting Dr. McGrath and Dr. David Liscombe and their teams at Vineland on this important research. Understanding and controlling invasive species is a high priority for us. Dog-strangling vine, in particular, is a serious threat to natural habitats in our area," said David A. Galbraith, RBG's Head of Science.
Positive results from this project will help combat invasive species and provide new, effective tools for municipalities and landowners to reclaim natural areas.
The research was funded by the Ontario Trillium Foundation, an agency of the Ontario government.
---
GreenTrade Expo comes to Ottawa
Delegates from the Ontario/Quebec border area are looking forward to GreenTrade Expo, coming to Ottawa's EY Centre on Feb. 12-13. This show attracts over 1,400 attendees and over 100 exhibitors, and has been staged by Landscape Ontario's Ottawa Chapter since 1993. Associated opportunities include an MTO Contractors Breakfast, an Awards of Distinction Gala and educational sessions on new plants and inspiring gardeners. Visit
greentrade.ca
for details.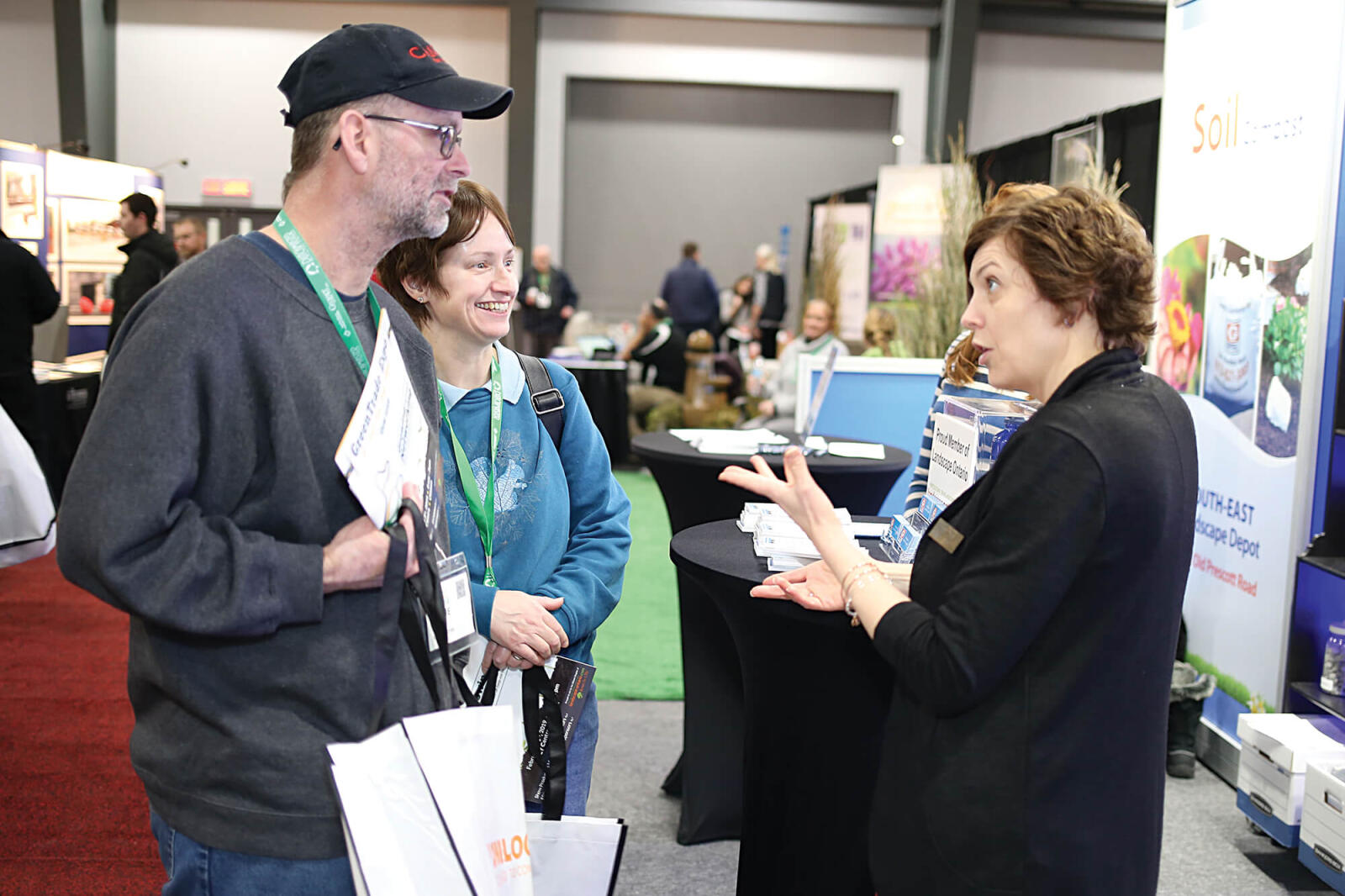 GreenTrade Expo, will be held at Ottawa's EY Centre on Feb. 12-13, 2020.
---
Miska opens Atlantic pickup location
Miska Trailer Factory has opened a new pickup location in Dartmouth, N.S. The Hamilton, Ont.-based trailer manufacturer says the new pickup location will provide the company's Eastern Canadian customers with in-stock inventory in Nova Scotia, and better access to trailers in Hamilton, Ont. Miska Trailer President Joseph Vandenhurk said, "I'm proud and excited that we have added a convenient option for our friends in Eastern Canada. Miska Trailer Factory has a deep Canadian Heritage of building quality trailers in Canada's Steel Town, Hamilton, Ont."
---
Ontario considers changes to slip-and-fall lawsuits
The Ontario government is poised to significantly reduce the statute of limitations for slip-and-fall claims from two years to 10 days. Bill 118,
Occupiers' Liability Amendment Act
, put forward by Progressive Conservative MPP Norman Miller, is currently being reviewed by the standing committee on regulations and private bills.
"The Bill amends the
Occupiers' Liability Act
to provide that no action shall be brought for the recovery of damages for personal injury caused by snow or ice against an occupier, an independent contractor employed by the occupier or, in the case of a tenancy described in subsection 8 (1) of the Act, a landlord, unless, within 10 days after the occurrence of the injury, written notice of the claim and of the injury are served."
Exemptions include cases where the injury from the slip-and-fall results in death or where a judge finds there is a reasonable excuse for the delay.
---
Pesticide Act amendments proposed by Ontario Government
The Ontario Government is proposing amendments to province's
Pesticide Act
, including the removal of the Ontario Pesticide Advisory Committee (OPAC).
"We are proposing to end Ontario's duplicative classification of pesticides and align with the federal government's pesticide categories, as other provinces do," the Ontario Government stated in a media release. "Health Canada's PMRA is resourced and equipped to review and register pesticides for all of Canada, something all other provinces have recognized. Ontario would continue to maintain Ontario's general regulatory requirements, including licensing and permitting realigned to the federal categories."
The general cosmetic pesticides ban will be retained, including existing exceptions, but a single list of permitted pesticides would replace the current classes.
"Eliminating Ontario's classification process would also remove administrative cost and time delays associated with the application and classification process, improving the efficiency in accessing pesticides for sale and use in Ontario," the government stated. The amendments also add cemeteries to the exception list for cosmetic pesticide use.
The comment period for the amendments was set to end on Dec. 12, 2019.
---
AIPH releases grower shortlist
The International Association of Horticultural Producers (AIPH) announced the finalists of the International Grower of the Year (IGOTY) Awards 2020, which takes place in January at IPM Essen in Germany. Ten ornamentals growers from eight different countries (China, Ecuador, Hong Kong, Israel, Kenya, South Africa, the Netherlands and the UK) have reached the final.
The IGOTY 2020 finalists are Anthura, BellaRosa, Citrina Sales BV, Danziger Guatemala, Hangzhou Huazhiyun Agriculture Investment, Hasfarm Holdings, Kernock Park Plants, LVG Plants, Miao Fu Holdings and Oserian Development.
The IGOTY Awards 2020 consists of four categories: finished plants and trees, cut flowers and bulbs, young plants and sustainability. Within each category, bronze, silver and gold awards will be given. One overall winner will be awarded the Gold Rose and crowned International Grower of the Year 2020.
An international jury of industry experts, led by Tim Edwards, AIPH Vice President, assessed the competition entries against specific criteria relating to economic performance, innovation, market insight, sustainability and human resources.
---
MasonLift and Atlas Polar form ML-Truck Equipment
MasonLift has partnered with Atlas Polar Company to create a new authorized sales and service dealer network for Hiab cranes, Moffett forklifts, and Multilift Hooklifts in British Columbia. The new company, ML-Truck Equipment, will launch Dec. 11, 2019. The company will be based in Abbotsford, B.C., and is supported by MasonLift service locations across the province.
MasonLift President Roger Sutton said, "MasonLift is proud to partner with Atlas Polar to launch this new business. And the offering of specialized truck-mounted equipment sales and service here is a great way to meet every customer's needs. With over 150 years of joint industry experience behind us, no one will be better placed to provide it."
"Atlas Polar introduced the first articulated truck-mounted crane to Canada — a Hiab — in 1953, and never looked back," said Bob Parr, President. "For us, it's all about quality, so partnering with MasonLift to create the sole distributor in B.C. for Hiab, Moffett and Multilift brands was the perfect relationship. Our new relationship with MasonLift, the most reputable and experienced forklift equipment company in British Columbia, is equally smart, logical and practical."