January 15, 2015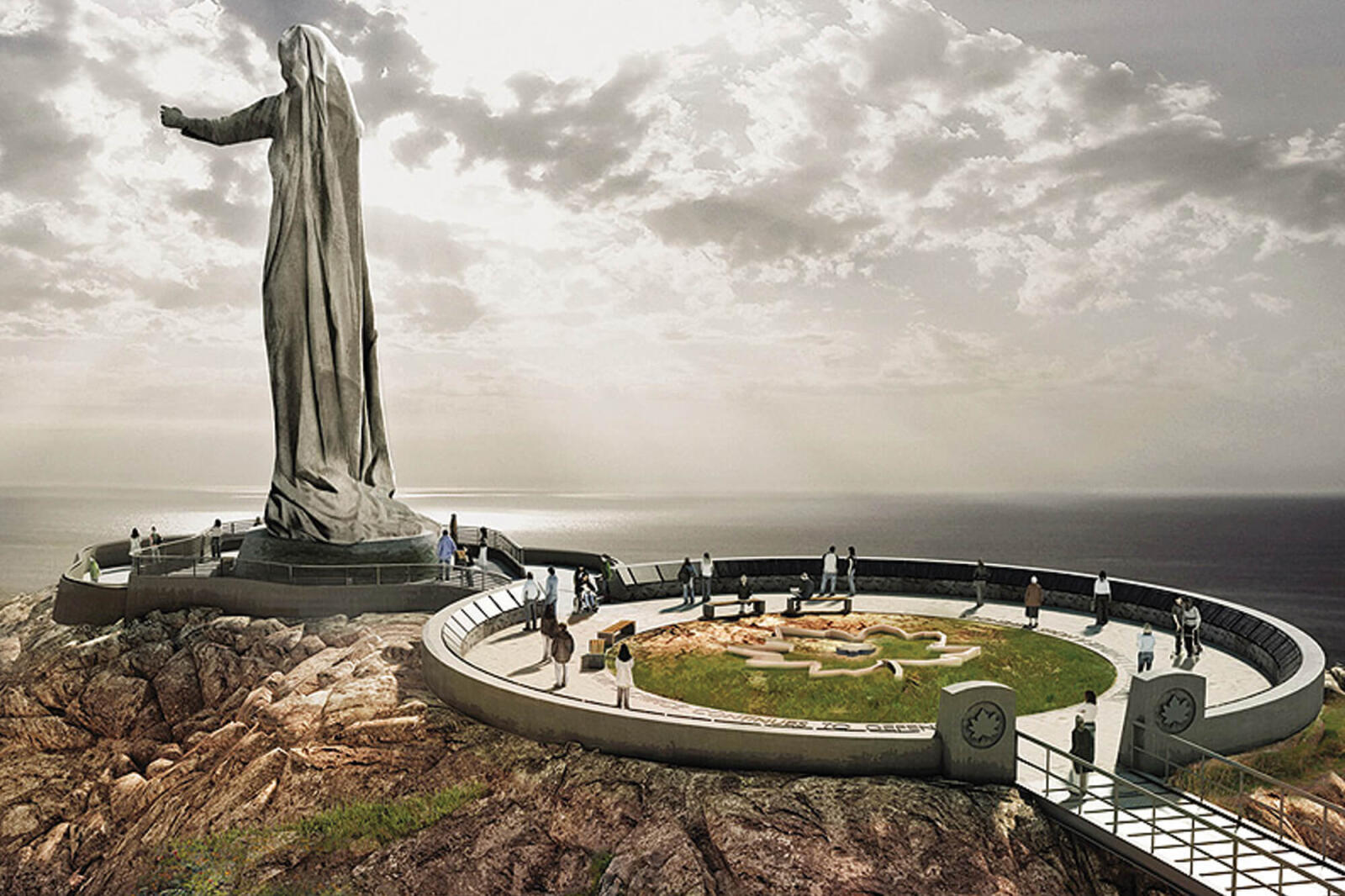 Never Forgotten National Memorial
Tony DiGiovanni CHT
LO Executive Director
A few months ago one of our Toronto members, Bernie Wolfe of Crystal Lawn Care, called me.
Bernie is involved in an amazing project to build a Never Forgotten National Memorial called
Mother Canada
on Nova Scotia's beautiful Cabot Trail.
The memorial is respectfully modelled after the statue
Canada Bereft
in Vimy, France. Both memorials are a solemn place for remembrance and gratitude. Both are a tribute to thousands who sacrificed their lives in the service of their country.
Mother Canada
will be situated on the opposite coast looking out across the vast Atlantic Ocean facing
Canada Bereft
.
Bernie wanted to know if Landscape Ontario would help in realizing this vision.
I told Bernie that our members are known for their contribution ethic and generosity. London Chapter has done a remarkable job helping with London Veteran's Memorial Parkway. Ottawa Chapter has long organized a wonderful Day of Tribute at Beechwood Cemetery. Mark Cullen's Trees for Life Group has started discussions with the Ministry of Transportation in an effort to landscape the Highway of Heroes. It would not take too much effort to organize an industry community-build to landscape the
Mother Canada
site.
Since the initial meeting with Bernie, we have taken the proposal forward to the Canadian Nursery Landscape Association, which coincidentally held its meeting steps away from the proposed site in Cape Breton. The CNLA board loved the idea and was anxious to help. We had the same reaction at the Landscape Ontario board meeting.
The concept immediately touches people emotionally. Most of our members have had some experience with the loss caused by war. Many of our Dutch members have a strong sense of gratitude to the Canadian liberators who helped to restore peace in the midst of the turmoil and pain of World War II. For this reason, Landscape Ontario involvement has expanded beyond the landscaping, and we look forward to assisting with fundraising.
On Dec. 10, a small committee made up of Bernie Wolfe, John Bakker, Tiffany Byrd, Paul Brydges, Lee Ann Knudsen, Allan Dennis and Hank Gelderman got together to develop a fundraising plan. The goal is to raise $500,000 from the industry to help make the vision a reality.
The committee looked at all of our touch points in an effort to identify how to raise awareness and funds for this project. If you have any ideas or would like to contribute, please let me know.
Actions reflect well on all of us
On another topic, did you see the CTV Consumer Alert segment about the homeowner who had a painful experience working with a contractor? Make sure you read the cover story on page 4 of this issue. If you have not seen the CTV newscast, it is worth going to this link at
http://gfl.me/x2mR
.
There is an old saying, "A picture is worth a thousand words." There is also another saying, "Action speaks louder than words." The action taken by Chris Ray of Humber Valley Landscaping, and his team of caring suppliers, industry members and wonderful students from the Humber College Landscape Technician program spoke very loudly about integrity, pride, honesty, respect and trust. The industry owes them a debt of gratitude. Their actions reflect well on all of us. Here are some comments from our LinkedIn group.
"I saw this on the news and was so proud of all who stepped up. It certainly showed how professionals perform. Well done!" Kathy Thomas, of Green Thumb Landscaping of Burlington.
"Wow!!!! Way to go Chris and everyone involved. Tony...this clip should be sent everywhere for people to see. It should also lead off our Awards of Excellence program at Congress and a special award given. Everyone benefits from this amazing gesture. Our family of LO members are walking around with a little bit more of a spring in their step today." Tim Kearney, of Garden Creations of Ottawa.
"A tremendous thank you to Chris Ray and all the wonderful companies and especially the students. This should stand out on their resumes! Many members of Landscape Ontario do wonderful contributions to and for the industry at large. I wish they could all get the same recognition as this project. What stood out for me the most was the professionalism of the company, the workers and the finished work. Our industry could not afford the cost of such a positive commercial.
Congratulations all around." J. Paul Lamarche, president, JPL Consulting of Newmarket.
"Awesome job by everyone who contributed to help the couple. Makes me happy to see things like that happen and people who love their job and to finish it till the end. Amazing story." Ryan Boyd Foreman at Greenlife Landscaping of Greely.
---
Tony DiGiovanni may be reached at
tony@landscapeontario.com
.