January 15, 2015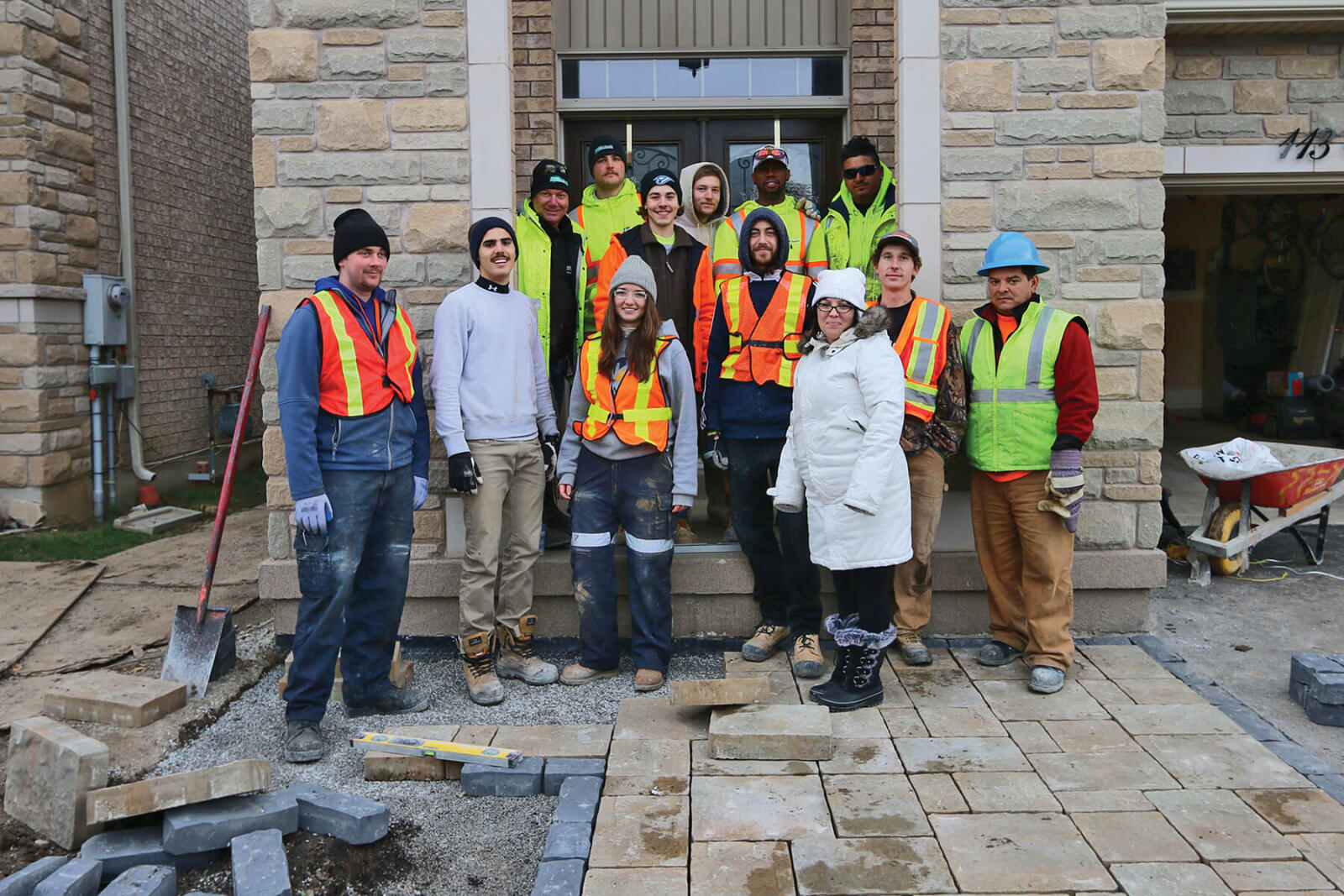 Chris Ray comes to the rescue while showing industry's professionalism
Chris Ray, owner of Humber Valley Landscaping in Markham, doesn't often have the opportunity to watch the six o'clock news on TV. Being a professional landscaper, he's seldom home at that time.
But back in September, a rare opportunity found Ray at home in front of his TV, when CTV's On Your Side with Pat Foran came on the screen. It was about a landscaper who had left a Brampton couple with an incomplete job and allegedly taken their money.
"I became so angry because it made our industry look bad," said Ray, a member of Landscape Ontario who holds CIT and CLP certifications. As he sat watching the show, Ray realized he had to do something.
"I estimated that it would take two days to go in and fix the problem," says Ray. Once he moved forward, he received help from Landscape Ontario, a number of industry members and Humber College. They all stepped up to help Ray complete the project at the home of Cory Allard and Chris Brazel. "We had the opportunity to turn a bad experience into a good one," said Ray.
"When I made contact with Chris Ray, I was amazed that he was all ready to go," says homeowner Cory Allard. After Ray contacted CTV, the broadcaster contacted Allard to let her know Chris Ray's intentions.
The job was booked for Nov. 27 and 28. "It was cold, wet and muddy," said Allard. "I couldn't believe the conditions Chris and his crew had to work under."
At the end of the two days, the project was more or less complete. On Dec. 3, the CTV News crew was on the scene to interview the homeowners Cory Allard and her husband Chris Brazel, and Chris Ray. "I was really nervous that the site wouldn't look like a disaster area," says Ray. "Just a few hours before the TV crew arrived, it was a muddy mess. By the time the cameras were on scene it looked terrific.
"I am very impressed with the support I received from the landscape community," says Ray. "They're such an amazing group of people." The companies that stepped up to help with the project include: Humber Valley Landscaping donating labour, equipment, project management, tools, and overall coordination; Permacon donating all of the stone; Farmer Jacks in Stouffville donating the disposal bin and gravel; Hawkins Contracting donating gravel; Titanium Contracting donating equipment, truck and labour; John Deere Landscape donating landscape fabric; Fairgreen Sod donating sod and soil, and Fine Design Living donating polymer sand.
Humber College Landscape Program sent seven students. They are Mares Mihai, Daniel Keith, Eva Wells, Shaq Brown, Zack Elliott, Derick Medeiros and Doug Jackson.
Humber Landscape Technician program coordinator Richard Zoltek said the project was a great opportunity for the students. "We are always willing to help out in a crisis, or for some charitable event," he said.
Cory Allard said she was left without words to express her reaction to the completed project. "It definitely has restored my faith in the professionalism of the industry," she said.
In reflecting on the experience, she recounted how she thought she had done her homework and checked with the Better Business Bureau. "When I approached CTV, I wasn't looking for a free landscaping job. I went public, because I didn't want to see what happened to me, happen to someone else."
Chris Ray said that for him personally the project was the right thing to do. He feels that the situation is an example of the benefits of hiring professional members of Landscape Ontario and strengthening the Landscape Industry Certified program.
From the industry's point of view, Chris Ray provided a great example of the talent, creativity and professionalism that members of Landscape Ontario demonstrate on a daily basis. Only this time the news media was there to tell the story.
The broadcast can be found online at
http://gfl.me/h2mn
.