August 15, 2014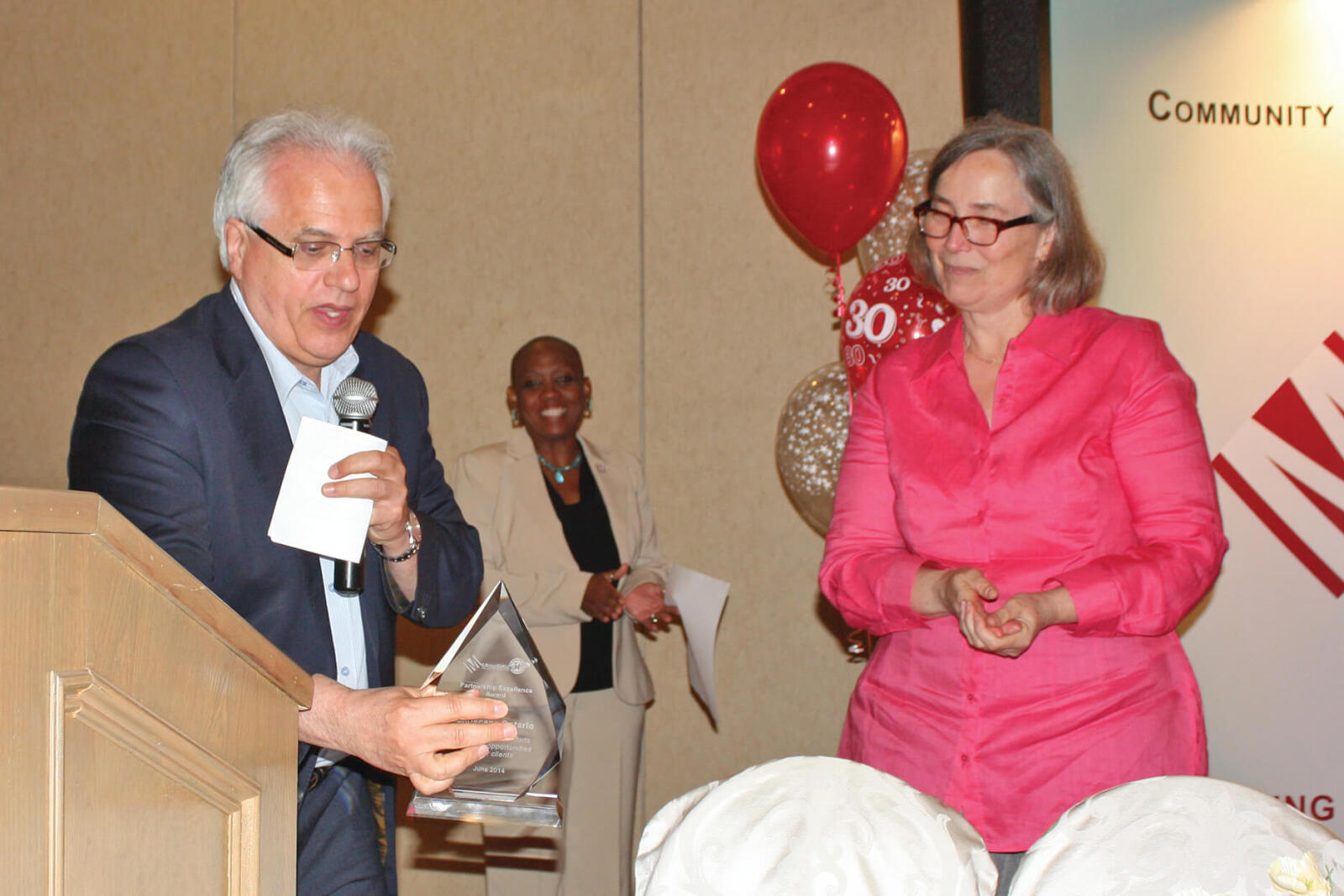 Microskills honours LO with award
Landscape Ontario proudly accepted the Partnership Excellence Award from Community MicroSkills Development Centre at a special presentation on June 26.

According to MicroSkills, the award was presented to Landscape Ontario for its "unwavering commitment to ensuring that women are participating in this important industry in Ontario's economy."

On hand to accept the presentation was LO executive director Tony DiGiovanni. "MicroSkills is a wonderful organization which focuses on helping women find employment. Tonight I sense the passion, mission, goodwill and family atmosphere in the room," he said.

In announcing the award, Micro Skills stated, "As the province's premier horticultural trades association, Landscape Ontario has partnered with MicroSkills since 2008 to support our Horticulture Technician Pre-apprenticeship Program for Women. In this role, Landscape Ontario has made significant contributions to every facet of the program: design, delivery, access to employers networks and apprenticeships; health and safety, site tours — the list goes on...but beyond this, LO has fully embraced the women who graduate from this program as valued assets to the industry, ensuring that they participate in the sector's key trades and professional development events, and offering additional technical training, and scholarships to promising graduates."

In presenting this award, Community Microskills Development Centre Director of Women Services, Jane Wilson, acknowledged Landscape Ontario's "forward looking and pro-active work on human resource development strategies to build a profile of career paths and leadership opportunities that can only benefit our graduates.

"Lastly, we sincerely appreciate the willingness of LO to support and participate in community based initiatives that strengthen women's participation in the trades. LO is an important member of our Women in Trades Network. It was a key partner in developing a recent Tradeswomen Mentoring Event. We were so pleased to have Landscape Ontario's Manager of Education and Workforce Development, Sally Harvey, as a mentor and participant," stated Wilson.

The MicroSkills director concluded her introduction, "This partner is a guiding light in doing the work that is necessary to address systemic barriers and open doors to women in the trades. We would like to thank Landscape Ontario."

DiGiovanni said he was there on behalf of Sally Harvey to receive the award. "I feel great pride, not only for their wonderful words about Landscape Ontario, but especially for the acknowledgment of Sally Harvey's immense contribution. Thank you Sally for making all of us look good," said DiGiovanni.