June 15, 2015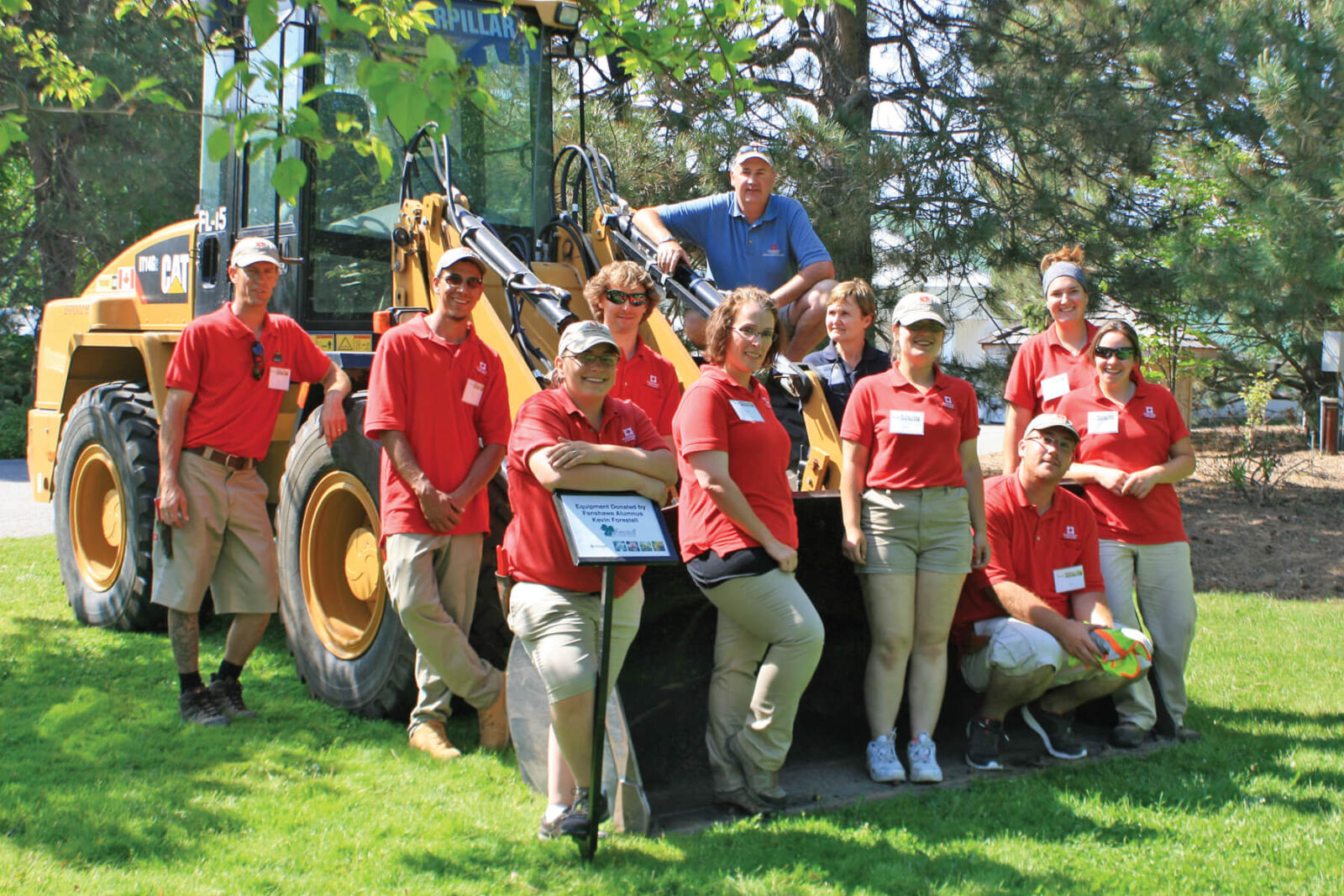 Michael Pascoe inspires many in industry
While the vast majority of Landscape Ontario members form and shape landscapes, Michael Pascoe CLT does the same with young people wanting to enter the industry.
The Fanshawe College professor is well-known throughout the industry for more than just his teaching efforts. His list of accomplishments, inside the association and out, is long and impressive.
Within the association, Pascoe has served on the London Chapter Board, the Landscape Ontario Provincial Board, is a strong advocate of certification, a speaker at Congress, chair of Cultivate and Connect, a volunteer at Canada Blooms, London's Veterans Memorial Parkway project, an Awards of Excellence judge and much more.
Outside the association, the list of accomplishments is even more impressive. He developed and maintains The A. M. (Mac) Cuddy Garden in Strathroy, and the Fanshawe College Distinguished Teaching Award, the Landscape Ontario Past Presidents Award and the Leadership in Faculty Teaching Award from the Province of Ontario. He was also the first Canadian to win a Perennial Plant Association Award for his work on the Cuddy Gardens and the London Urban Regional Design Award for his work on the London Life corporate offices.
Over the years, Pascoe has created a database and website,
canadaplants.ca
. The site contains a database of plants and plant-related information that Pascoe gained through his experience in the garden and landscape and his travels throughout the world. "All of the plants on this website have been viewed 'up close and personal' — this is not a collection of images from the Internet, but a resource of real experience," says Pascoe.
Pascoe plans to include most plants that can be grown in Ontario gardens, including cultivated plants, as well as weeds, annuals, perennials and all woody plants. A unique aspect of the database is Pascoe's opinion on plants that he has grown and observed from his own garden.
LO executive director Tony DiGiovanni writes in his column this month about graduates of Niagara Parks School of Horticulture who have inspired him. Of Pascoe, DiGiovanni writes, "Through his enthusiasm and energy, he has built Fanshawe into a very important school for horticulture. He instills the same enthusiasm and professionalism in his students that was instilled in him by Niagara. Michael inspires me, too."
Pascoe's number one passion is teaching his students about horticulture and the industry that awaits them. "We produce a product," says Pascoe when discussing his view of a professor's role. He works hard to transfer his passion for the industry on to his students.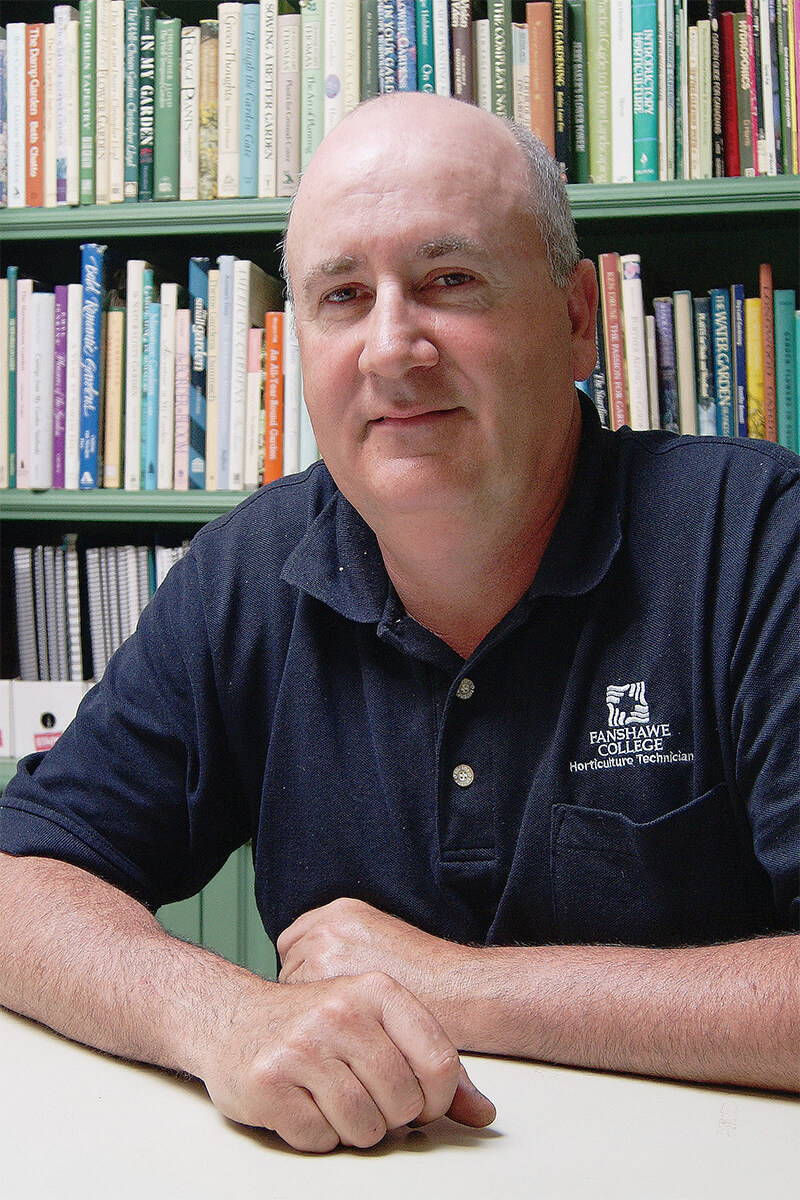 Michael Pascoe
---
His record shows a good success rate with graduates working throughout the industry. A website dedicated to rating professors, reflects that many of Pascoe's students understand and accept that passion. His overall rating is 4.5 out of 5.
"You want to learn about plants from this man," reads one review. "Tough guy, but cares. You learn a heck of a lot, but you got to go to class." Another review reads, "High expectations, but has our interests at heart." Another student succinctly suggests, "Awesome...just shut up when he speaks!"
Landscape Ontario's Manager of Education and Labour Development Sally Harvey states, "When I think of a professional, respected and passionate industry leader and educator who inspires, connects and advances the horticulture industry, Michael Pascoe's name immediately comes to mind." She continues, "Michael's unique insight into education and industry, have contributed to the success of not only the horticulture students at Fanshawe College, but also to the industry at the chapter, provincial and national levels."
New degree program
Pascoe's next strategy on his education path is to create a degree program in Horticulture Landscape Management. He sees the program incorporating the Landscape Industry Certified CLP program. "The degree program will meet all the requirements, and include practical and theory with horticulture and management. "There is a lack of candidates in the mid- to high-level management positions with horticulture skills," says Pascoe.
Creating this new program is all part of the ongoing push by Pascoe to create a positive public opinion toward the horticulture industry. "Many parents I deal with are reluctant to see their offspring enter the horticulture industry," says Pascoe. He notes that when they see the opportunities available to graduates, most change their opinion about the industry that their children have chosen.
Pascoe shares an anecdote about the time he brought the dean of Fanshawe College to tour Congress. "The dean didn't have a real high opinion of our industry, until he saw at Congress the vastness and all the varied aspects that our industry includes."
Hired in 1991
Another of Pascoe's passions is Cuddy Gardens. His first involvement with the garden began in 1991 after graduating from the Niagara Parks School of Horticulture. Mac Cuddy, who made his fortune as the world's largest producer of turkey eggs and poults, hired Pascoe to lead a maintenance crew of five. Cuddy wanted the property to reflect a high quality of horticulture and landscape management.
Pascoe also attended the University of Guelph, University of Sussex and the Royal Botanic Gardens, Kew. He holds an MSc with distinction in Plant Conservation.
Pascoe remembers being responsible for 100 acres of lawn at Cuddy's. It wasn't long until Pascoe and his crew began developing what today is considered one of the top gardens in Canada. It is now a botanical garden designated by the Botanic Gardens Conservation International.
Following A. M. Cuddy's death in 2006, his wife Patricia donated the gardens and house to Fanshawe College. Today it is managed by the Horticulture Technician Program.
A walk through the gardens with Pascoe, results in a history lesson for the visitor of how one area was once a parking lot, or a former tennis court, along with the host pointing out one of the many rare, exotic and endangered plants in the garden.
There are also many new additions such as the dry stone wall and pot-in-pot tree growing area.
An area that Pascoe points out with pride is the Louise Weekes hosta collection, which features over 150 types of hosta. The collection was bequeathed to Cuddy gardens following Mrs. Weekes' death. "Because we are a botanic garden, we can't accept a donation without documentation," explains Pascoe. It turns out the home gardener had every plant well documented with meticulous notes over the years.
Another area of pride is the rock garden, which was built at a cost of $50,000. This display contains some very unique alpine plants from around the world with a very creative use of stone.
Lucas Michielsen, one of the first students to graduate from Michael Pascoe's class at Fanshawe, now manages Cuddy Gardens. "He is as avid a plant enthusiast as I am," says Pascoe. Michielsen works with crews of students during the year accomplishing both work to complete projects and maintenance, as well as teaching students about horticulture.
When asked if they had the perfect job, both Pascoe and Michielsen answered the question with big smiles. "We are indeed fortunate," said Michielsen.
Many in the industry feel they are fortunate to have the likes of Michael Pascoe working to encourage young people to make horticulture their future.

Michael Pascoe looks at the work students have completed to install a pot-in-pot system at Cuddy Gardens.