April 15, 2015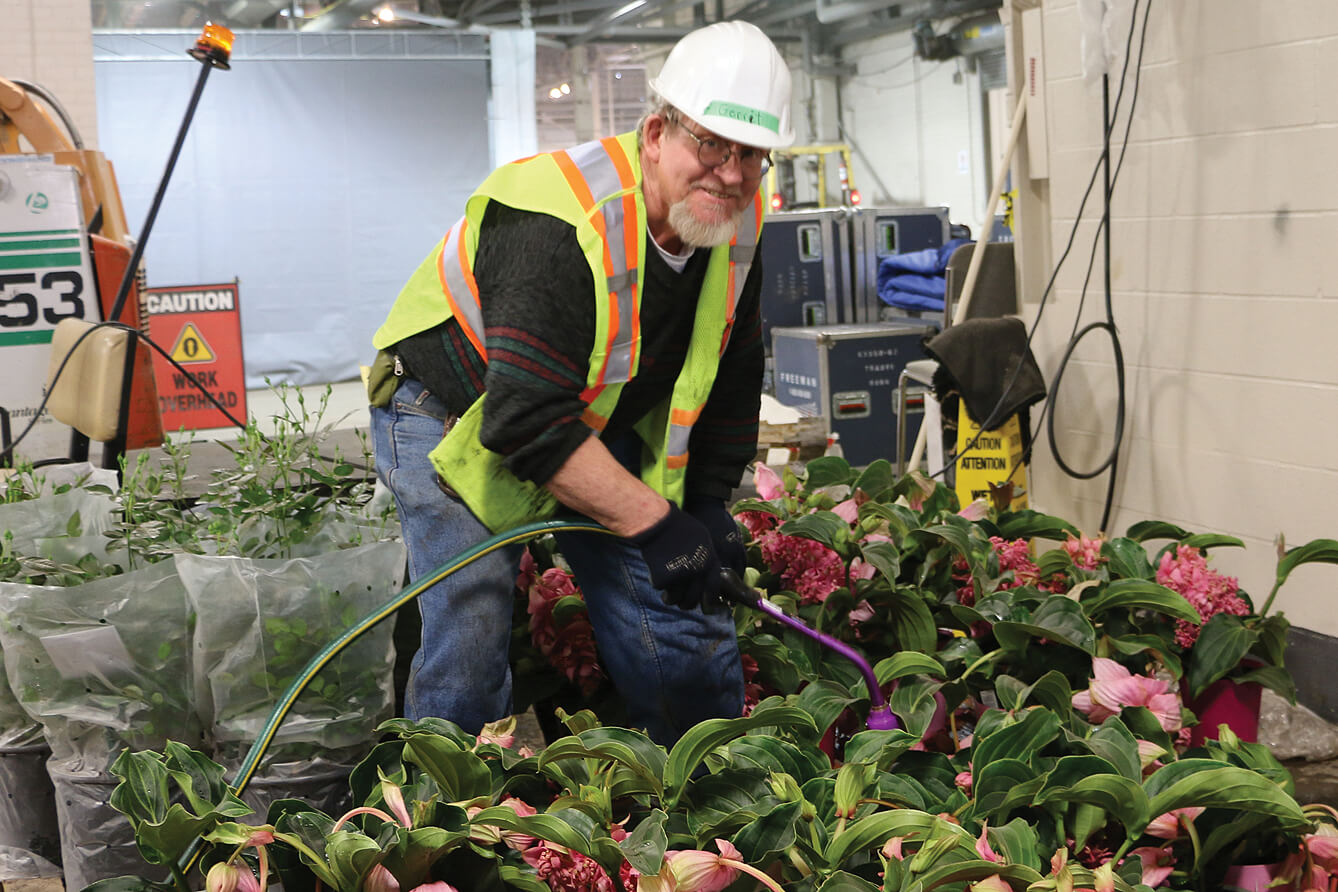 Many contributions help create Landscape Ontario's gardens at Canada Blooms
OTIUM EXERCISE GARDEN
CONTRIBUTORS
Brydges Landscape Architecture, Creative Concepts, Dean McLellan Stonework, Edengrove Landscapes, Entire Landscapes, Fanshawe College, Floristerra Greenhouses and Landscape Centre, Garden Retreats, Ground Effects Landscapes, Highland Builds, Illumicare Group, John Bland Stonecraft, Landscape Design/Ryerson University, Lee's Landscaping, Patrick Callon Landscape Designer, Premier Landscaping and Design, Saugeen First Nation #29, Shawn Gallaugher Design, Thomas Custom Masonry, Turf Care Products Canada, Wentworth Landscapes, Whistling Dwarf Stonework

SPONSORS
Beaver Valley Stone, Boot's Landscaping and Maintenance, John Deere Landscapes, Shawn Gallaugher Design, Sport Court Ontario, The Toro Company, Tufx-Fort, Unilock, Upper Canada Stone Company

TEARDOWN TEAM
Christopher Clayton Landscape Architect, Crewson Corners Landscaping and Home Maintenance, Crystal Bins, Crystal Lawn Care and Snow Removal, Dreamscape Landscaping and Irrigation, Edengrove Landscapes, Entire Landscapes, Floristerra Greenhouses and Landscape Centre, Garden Retreats, Ground Effects Landscapes, Grounds Guys Landscape Management, Highland Builds, Illumicare Group, Landscape Ontario London Chapter members, Rural Roots Landscaping, Ryerson University, Shawn Gallaugher Design, Turf Care Products Canada, Turf Management Systems, Vanderley Landscaping, Weed Man.

VOLUNTEERS
Brian Bailey, Evan Bailey, Jason Beatty, Mike Bilotte, Matt Binns, John Bland, Gerald Boot CLP, Ryan Bosscher , Menno Braam, Paul Brydges, Connie Cadotte CLD, Alex Calero, Patrick Callon CLT, Ken Davies, Gavin Dawson, Frank Del Vecchio, Jen Dodson, Nathan Drumm, Jeremy Feenstra, Brian Ferreira, Matt Ferreira, Steve Ferreira, Ang Fry, Shawn Gallaugher , J.P. Galle, Paul Gaspar, Kara Gibbons, Will Goertzen, Paul Grotier, Keith Heaton, Tyler Heemshrek, Steven Hernandez , John Higo, Barry Hordyk, John Hordyk, Scott Jackson, Richard Jacobs, Kate Jonkman, Sean Kampen, Shannon Kellerman, Darren Kimewon, Ryley Koebel, Tim Kraemer, Jon Laurin, Andre Lemieux, Justine Lodder, Josh Mccarthy, Dean McLellan, Don McQueen, Mike Melo, Lucas Michielsen CLT, Damian Morello, Joe Morello, Jim Philip, Daniel Pigeon, Jon Pink, James Riddell, Ronnie Ritchie, Robyn Saunders, Jared Swaving, Doug Silk, Scott Sim CIT, Dale Thomas, Dallas Thompson, Russell VanVeen, Don Voorhees, Mike Voortman, Scott Wentworth, Andrew Wilson

STUDENTS
Amanda Armstrong, Elizabeth Birks, Laura Cascagnette, Diane Chesla, Alex Dela, Anina Frick, Sara Hopkins, Chadwick Huggett, Anzi Hui, Karen Keay, Stacey Kirkbride, Jessica Munroe, Ana Reim, Ricardo Terra, Toshio Ushioguchi-Pigoit

Surf and Turf Garden

CONTRIBUTORS
Creative Concepts and Mike Voortman; Designs by The Yard and Beth Edney; Ground Effects and Ang Fry, Keith Heaton, Robyn Saunders, Ryley Koebel; Illumicare Group and John Higo; Lawn Life Natural Turf Products and Ken Pavely; LawnSavers Plant Health Care and Kyle Tobin; Ryerson Apprentices, Jessica Munroe, Laura Cascagnette, Alex Dela; Sunnybrook Health Sciences Centre and Rohan Harrison, Carlos Gomes; Turfcare Products and Scott Sim; Turf Systems and Alan White; Weed Man Canada and Steve Tschanz; Wentworth Landscapes and MaryAnn Davies, Jim Philip, Steve Ferreira, Matt Ferreira, Brian Ferreira, Andrew Wilson

SPONSORS
Allstone Quarry, Designs by The Yard, Frogh Marina, Illumicare Group, Nursery Sod Growers Assoc. of Ontario, Permacon Group, Toronto Historic Distillery District, Turfcare, Vissers Sod Farm

BLOOMS 2015 SUPPORTING SPONSORS
Active Life, Allstone Quarry, Aquascape, Aviva, HUB and Sinclair Cockburn, Beaver Valley Stone, Bennett Golf Cars, Bloemen Décor, Canada's Garden Route, Compost Council of Canada, CTV, Dufferin Aggregates, Floral Dimensions, Garden Making, Gro-Bark, Harrowsmith Almanac Gardening Digest, Intercontinental Hotel, Isuzu, Jill Jensen Botanicals, Less Mess Enviro bag, Nestle, New Vision Greenhouse Services, Permacon, pick Ontario, Pro-Mix, Stephenson's Rental Services, The Toronto Star, The Veggie Guy, Unilock, Winkelmolen Nursery

If we missed anyone, please notify us and we will include the name in the next issue of Landscape Ontario magazine. Thank you to all of the volunteers who represented the industry in the Landscape Ontario Canada Blooms feature garden during the show.