November 15, 2012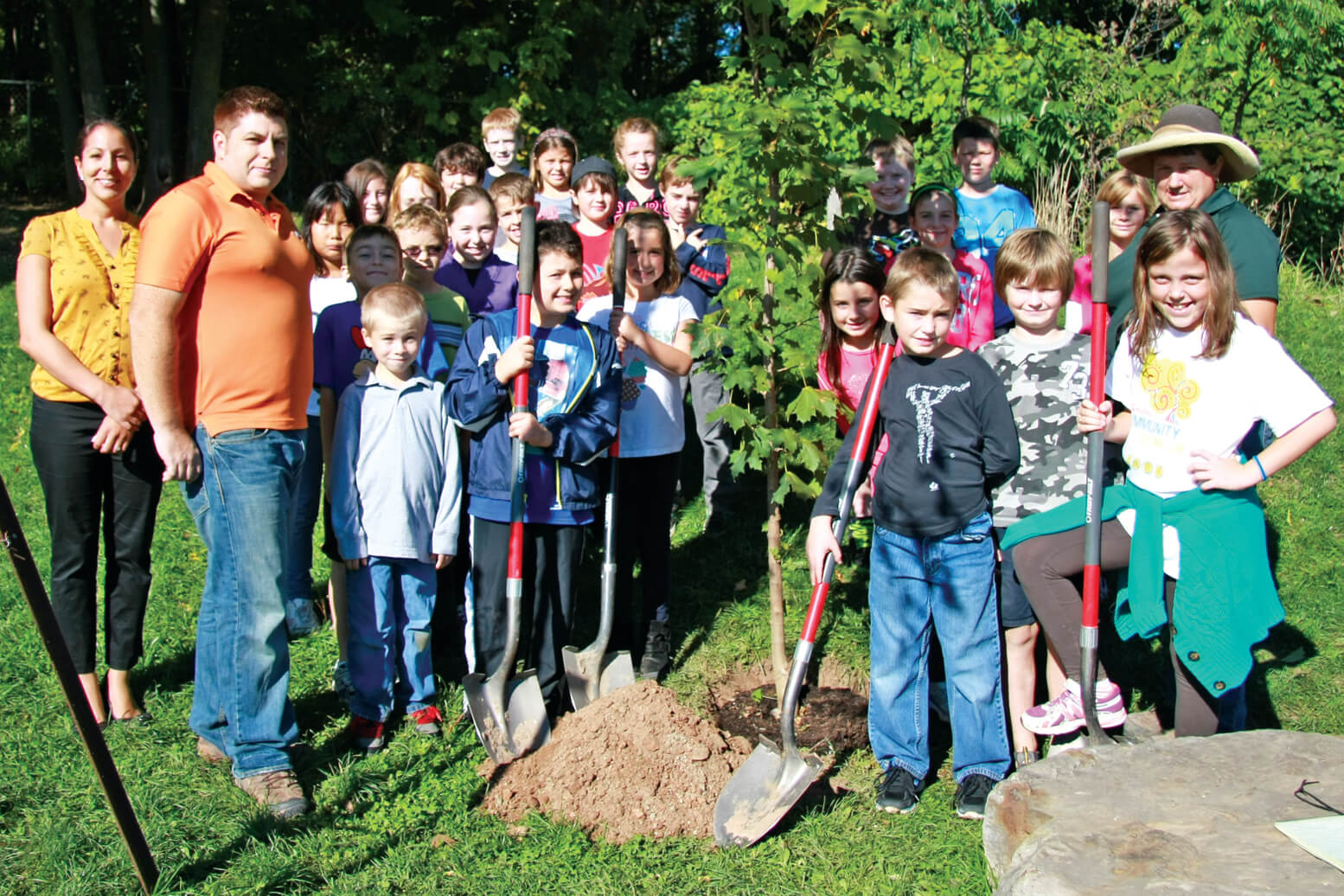 LO members celebrate National Tree Day
For the second consecutive year, Landscape Ontario members marked National Tree Day with plantings at provincial schools.

Organized by CNLA, it is estimated that 80 schools took part in the event on Sept. 26. On March 2, 2011, the House of Commons passed Motion-575 to declare the Wednesday of National Forest Week, as National Tree Day.

Mark Mastantuono of Clintar Landscape Management, said, "We celebrated National Tree Day by planting a sugar maple at Alexander's Public School in Burlington. This is the second year we have participated with this school and many of the teachers and students remembered us from last year. The ginkgo that we planted last year is doing well. The principal, staff and students appreciate our involvement with them."

Similar events took place across Ontario that day. In Grimsby, Ridgeview Garden Centre of Beamsville donated the tree and Aura Landscaping of St. Catharines donated the labour to plant a tree at St. John School.

"I wanted to teach the kids about giving back to the environment," said Aura's Scott Duff. The event was covered in the local newspaper, Niagara This Week.

"Association members demonstrated the true spirit of our industry by partnering with local schools to teach students about trees by donating and planting one on school property," said Joe Salemi CNLA's membership services manager who coordinated the event.

LO members that registered for the event include Sheridan Nurseries, Eco Landscape Design, D. F. Wilby Tree Surgeons, Not so Hollow Farm, Enviroscape, Proscape Landscape Design and Construction, Nu Image Lawn Care, Paysagement Trillium Landscaping, Greentario Landscaping, Sycamore Landscape, Western Landscape Services, Aura Landscaping, Clintar Landscape Management, Botanical Designs and Installations, Lee's Landscaping, Leaf Landscape Solutions, OGS Landscape Services, Lawn Savers Plant Health Care, Kimmick Landscaping, Sullivan Lawn and Snow Services, Snips Landscape and Nursery, Willowbrook Nurseries and Uxbridge Nurseries.