April 15, 2016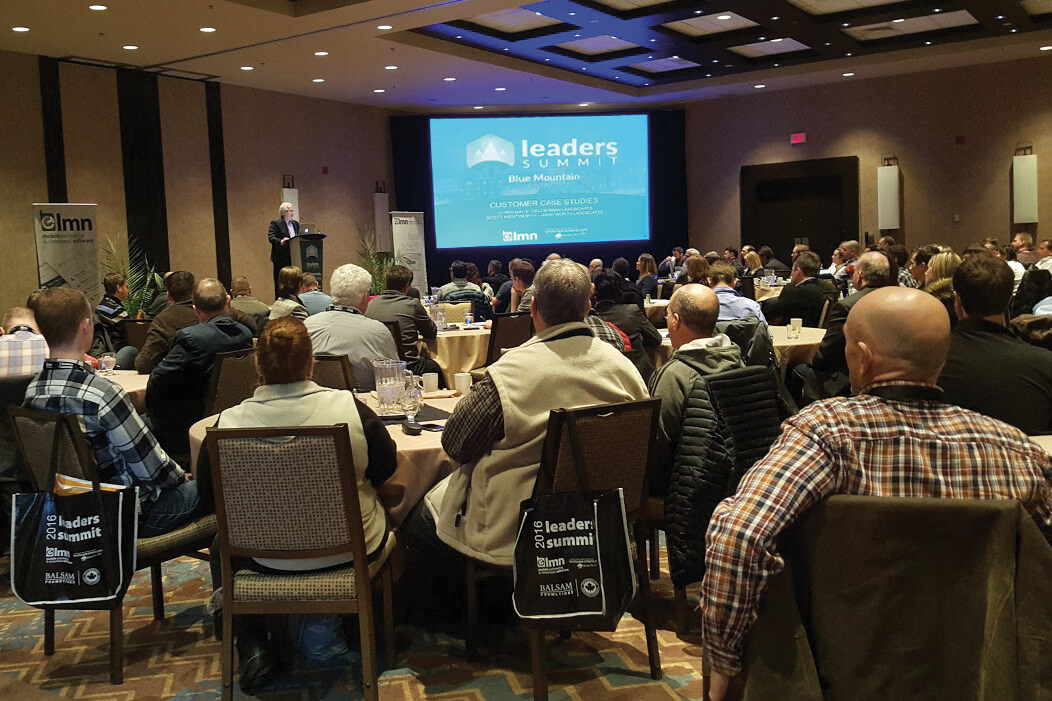 LMN and LO empower professionals at Leaders Summit
Landscape Ontario and LMN partnered to host a Leaders Summit for green professionals Feb. 16-17 at the Blue Mountain ski resort in Collingwood, Ont. The retreat style event addressed challenges facing landscape business owners and suggested solutions to problems based on proven systems and processes.

Over 100 green industry professionals enjoyed a busy docket of educational sessions along with numerous social events, designed to promote networking and provide opportunities to check out Blue Mountain's renowned selection of outdoor recreational activities.

"The Leaders Summits are a series of new events hosted by LMN around North America and what better place to kick off the inaugural event than here in Ontario with our longstanding partners and supporters, Landscape Ontario," said Mark Bradley, CEO of LMN and TBG Environmental. "We wanted this event to be different. Not only did we want to show proven processes and systems that successful landscape companies use, but we wanted to have attendees leave with meaningful workbooks and forms that create the systems and training aids to implement these new systems."

Breakout sessions covered a range of topics, including: finding, hiring, training and motivating the right people at the right time; how to plan a project to maximize profitability during the execution phase; making money with a values based culture; assessing your company's profitability with six key performance indicators using a simple job costing system; how to create a waste elimination program and turn waste in profit; and how to make 2016 the year to get better.

Jacki Hart and Tim Kearney from LO's Prosperity Partners Peer to Peer Network ran a breakout session that showed business owners and key managers how to evaluate the success of their role within their own companies.

The first keynote speech was provided by Scott Kress, an author, leadership consultant and adventurer who was the 51st Canadian to reach to summit of Mount Everest.

Jeffrey Scott, a successful green industry professional turned business consultant, gave the second keynote speech on relationship-based upselling and cross-selling.

Scott's talk aimed at helping business owners increase their sales numbers and profit margins by learning how to sell more maintenance work to design and build clients, as well as high-profit add-on products and services. Scott also shared war stories and case studies from his own landscaping days back in Connecticut.

Wentworth Landscapes and Gelderman Landscape Services were also on hand to talk about family-owned businesses in the landscape industry.

LMN says they plan to host another leaders summit in the winter of 2017, and they are working to bring the event across North America in the future.