July 15, 2011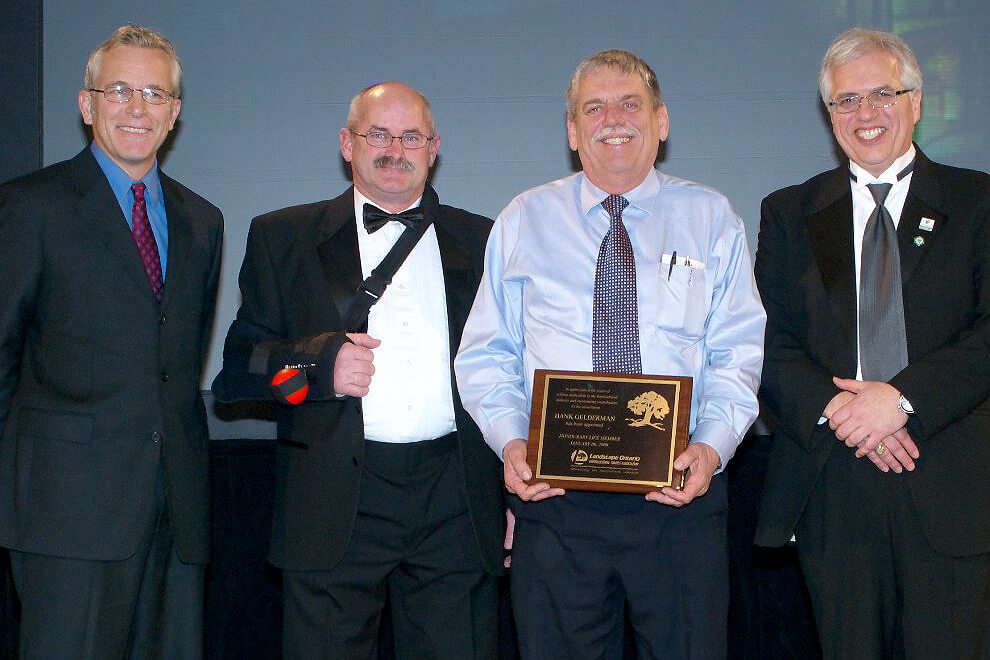 Life member ready to begin a busy new phase
Hank Gelderman has spent his life operating a successful company, Gelderman Landscaping of Waterdown, and in volunteer service towards his community. Now he is leaving behind his business life, as he enters into retirement. But, his definition of retirement has nothing to do with sitting around in an easy-chair.
His plans call for lots of travel, devoting many hours of volunteer time toward community and church groups, mentoring industry members and enjoying his grandchildren.
On June 23, over 250 friends, colleagues and fellow LO members gathered to wish Hank Gelderman all the best in his retirement. On hand to offer him and his wife Jacoba best wishes, was LO executive director Tony DiGiovanni.
He read a letter from LO president Tom Intven that began, "On behalf of the board and members of Landscape Ontario, it is my honour and pleasure to offer up congratulations to Hank Gelderman on his retirement. Hank is an amazing person. He is so incredibly generous. He is a willing and able mentor. Hank is a positive person who always looks at the bright side of everything. He always has a good word to say. I don't think I have ever heard a bad word about anyone come out of his mouth. Hank truly has lived according to the golden rule: 'Treat others as you would like to be treated' – a testament to his deep-rooted faith."
The LO president went on to write, "We hope and trust that now that your responsibilities at work are diminished, you will continue to devote time to mentoring the next generations of LO members."
In an interview the following day, Gelderman confirmed that he will continue mentoring. "I feel so blessed to live in such a wonderful country, that I feel I need to pass on what I have learned to others."
He will also continue to volunteer his time, energy and knowledge on numerous committees, church functions and mentoring efforts for the many industry and charitable organizations, including Landscape Ontario.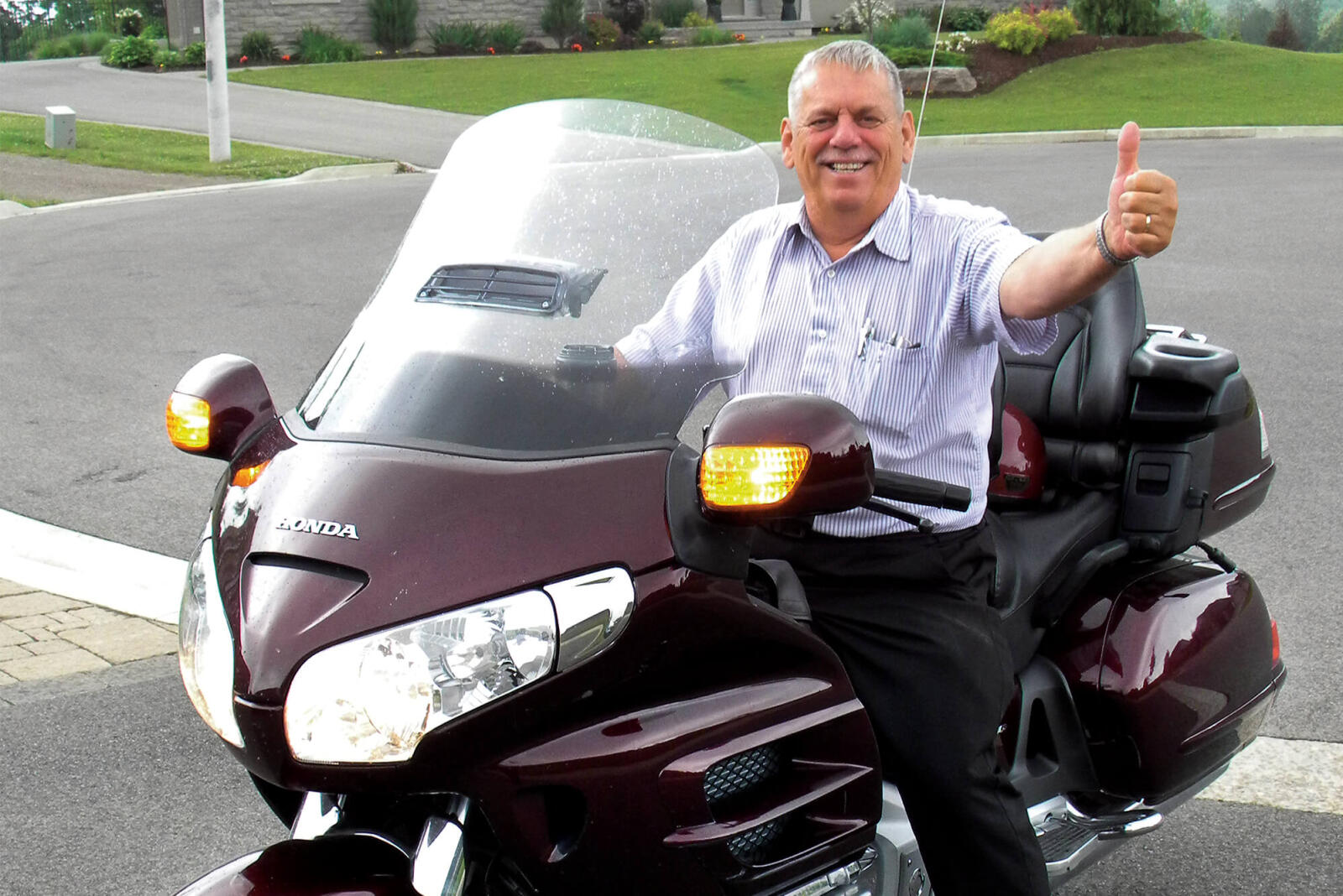 Hank is pictured on the cover of this issue of the magazine.
---
By bike, boat and plane
Travel is also a big priority, especially upon his Honda Goldwing motorcycle, along with a trip on the Trent Canal this summer, a visit to Holland, enjoying some ATV and snowmobile fun, and in between all this, spending some quality time with his grandchildren.
One of the highest and most prestigious awards given out by Landscape Ontario went to Hank Gelderman in 2009, when he was named an Honourary Life Member. At the presentation, it was noted that he served on countless committees, boards, chapters, sector groups and task forces, and exemplified professionalism and integrity. "His strong faith and caring nature are a blessing for those fortunate enough to know him," said past president Bob Adams at the presentation.
Began work at 12
Hank Gelderman had an early introduction into the industry. His father Jan Gelderman, a Dutch immigrant, founded Jan Gelderman Landscaping in 1955. When he developed severe asthma and was hospitalized, Hank, at the age of 12, was taken out of school and pressed into service, cutting, digging and planting. Because he wasn't old enough to drive, his parents hired a driver to take him around to jobs. In 1973, he joined the business full time and became a partner. Jan Gelderman passed away in 1993.
Back in 2005, Hank Gelderman seriously began thinking about retirement. A year later his son-in-law, Nathan Helder, joined the company and began the process to take over Jan Gelderman Landscaping. The company today has been re-named Gelderman Landscaping and has grown to employ over 60, with a fleet of 30 trucks.
It wasn't a hasty decision to step away from his company. It's been in the planning stages for the past six years. Last year, the
Globe & Mail
published an article outlining the process used by Hank Gelderman and his son-in-law in transferring the family business. The article was published on October 4, under the heading, Secret to succession: 'You've got to let go.' To see a copy of the story, go to
http://bit.ly/gelderman
.
Gelderman says he was fortunate to be there when his industry enjoyed unprecedented growth. He feels that it all began with Expo, back in 1967. "If you look back at some of the amazing landscapes created there by people like Horst Dickert, you can see from where the growth began across the country." He also feels the famous golden arched hamburger giant created a buzz among the public with its beautiful landscaping. "If you remember, when McDonald's first began, the restaurants were beautifully landscaped. That inspired many members of the public."
Asked which part of his business he enjoyed the most over the years, the answer is immediate, "Financial. Handling the business side was my strength. I hired good people who knew much more about landscaping than I did."
Friends, family and colleagues all agree that however Hank Gelderman spends his retirement, it will be with class.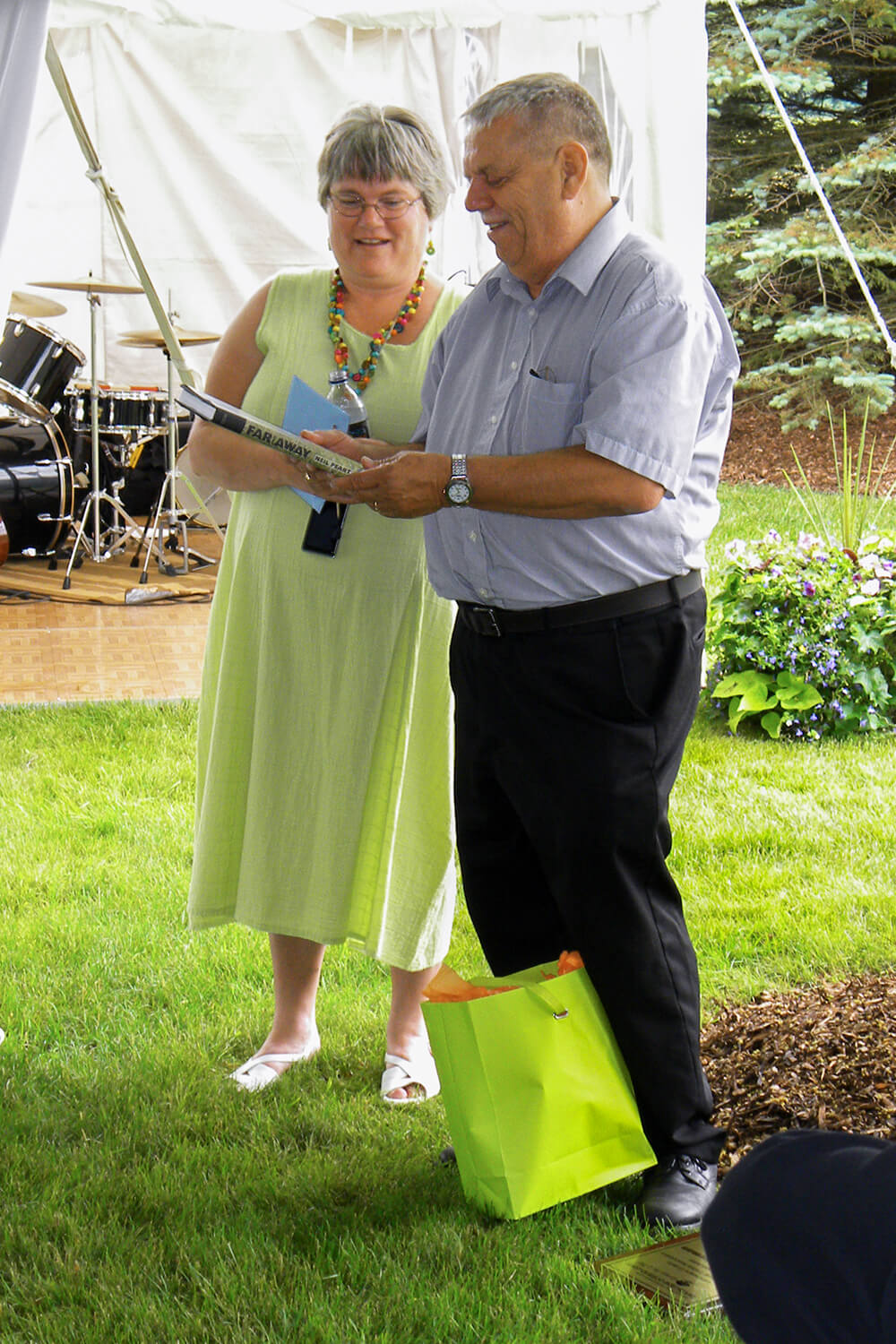 At a special event to honour Hank Gelderman's retirement, he and his wife Jacoba receive a gift from Landscape Ontario.