November 3, 2016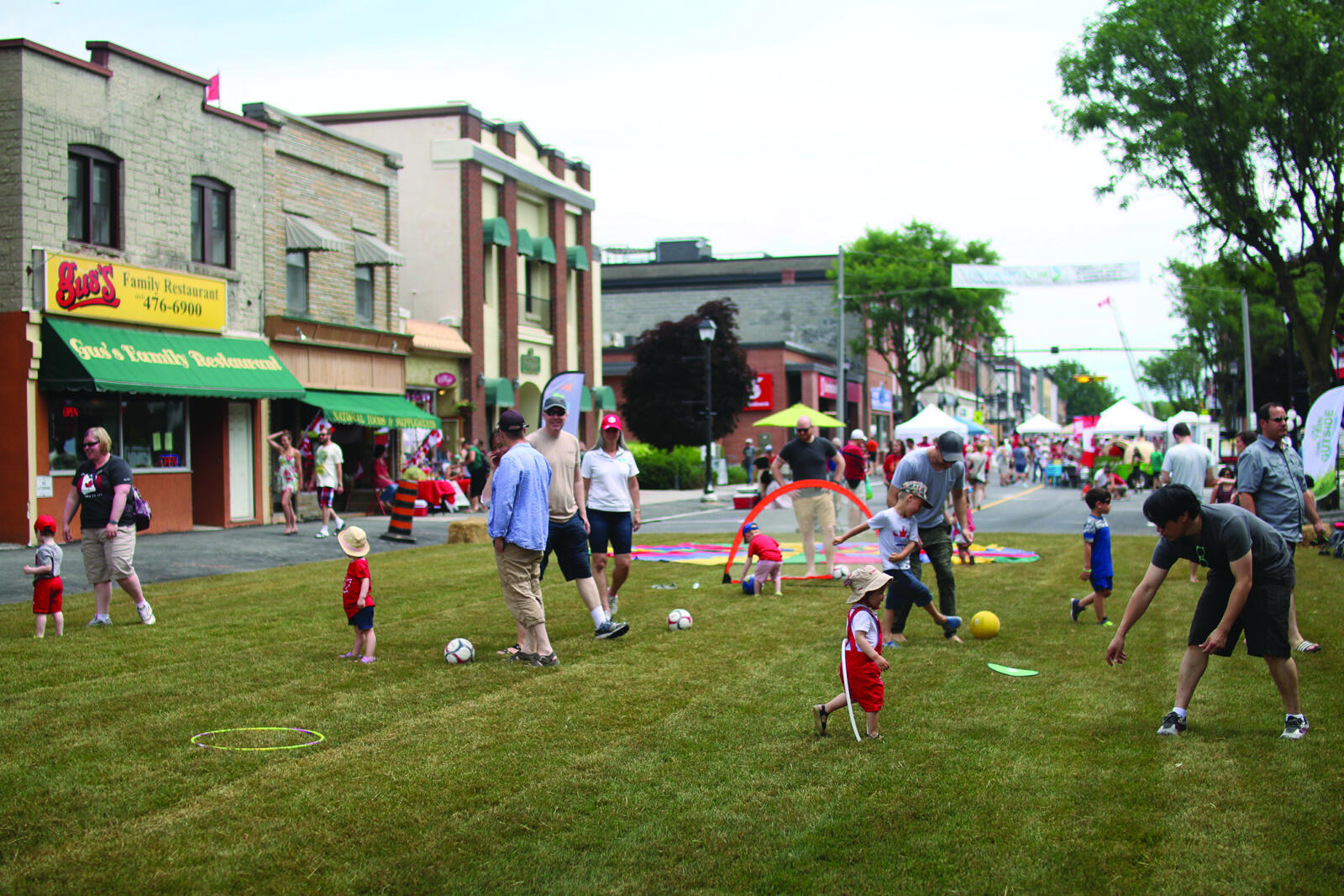 Landscape profession takes aim at reconnecting people with nature
By Robert Ellidge
When part of a downtown street is suddenly closed off to vehicle traffic and transformed into a lush green lawn in a matter of minutes, local residents immediately take notice. The once colourless, off limits area instantly becomes a place where impromptu activities break out: a game of soccer, a yoga class, or even a game of tag.
Welcome to the Green Streets Challenge. An idea "just strange enough that it catches people's attention," describes Andy Paluch, Executive Director of Come Alive Outside. The mission of the Ohio-based, non-profit organization is to reconnect people with nature in communities across North America.
Back in 2011, Come Alive Outside held an inaugural meeting of about 100 contractors, says Paluch. Their goal was to figure out ways the landscape professions could play a vital role in reconnecting people with nature to live healthier lives.
Landscape Ontario member Scott Wentworth, president of Wentworth Landscapes was at that meeting in Chicago. Wentworth came away inspired and he and his team, based in Picton, Ont., later came up with the idea for the Green Streets Challenge.
At that time, Wentworth was celebrating its 20th anniversary in business and was doing some community work on a fitness trail in Picton. Scott Wentworth says "it seemed to make sense to connect that project with a movement that was much larger than something that was just within our community, knowing that could add to the whole Come Alive Outside movement."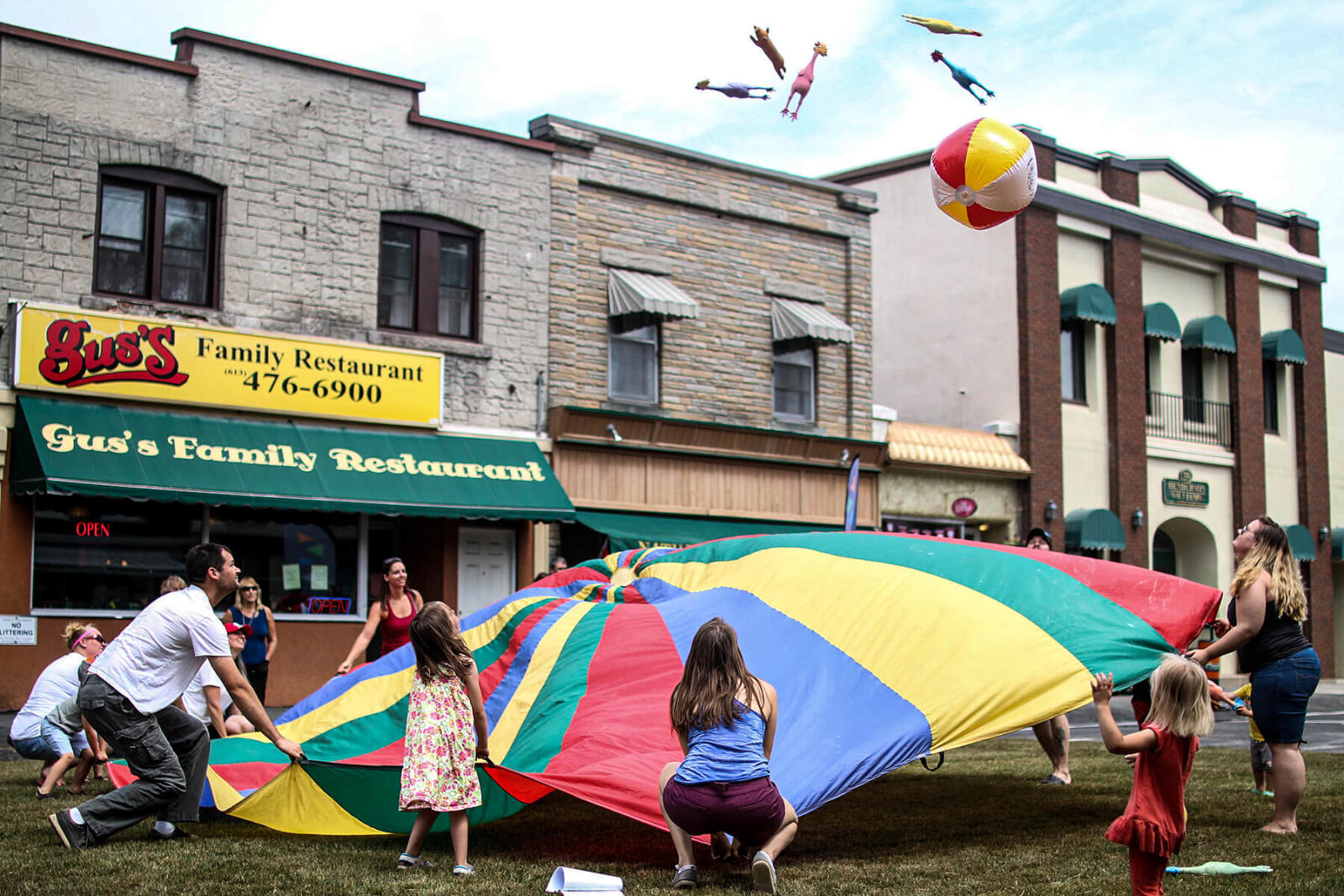 Families, friends and and neighbours take full advantage of a closed off street in Picton on July 1.
---
Celebrating Canada Day outdoors
Wentworth approached city council and presented data on the social health issues connected with the sedentary lifestyles of today's youth, with a request to declare Prince Edward County the first Come Alive Outside community in North America —wrapping in the fitness trail and a Canada Day celebration that would see an area of the downtown core sodded with the purpose of "teaching kids the lost art of unstructured play," Wentworth says.
Wentworth's request was met with unanimous approval and that first Green Streets Challenge in 2011 has been repeated each year since.
Wentworth says it makes life much easier to hold such an event by partnering with a municipality or local BIA, something Paluch is very passionate about as well.
"The really cool thing that is happening right now," says Paluch, "is connecting the landscape profession within a network of partners within their community, lending their expertise to partners that are really concerned with the same problem."
Wentworth is so passionate about being a part of those solutions that he also serves as Vice President on the Come Alive Outside Board of Directors and has embraced the mission of meaningful work in his company culture at Wentworth Landscapes.
He says his team understands that a simple thing like laying down sod for a client not only benefits them — visiting friends, family and neighbours will also benefit when using the area. Add the environmental benefits of turf to the community and the Wentworth Landscapes' team culture of meaningful work and contributing to a much larger goal is realized.
"It's an intuitive message," Wentworth explains. "You don't have to tell people we have an epidemic of obesity and diabetes and kids who are disconnected with nature."
Both Wentworth and Paluch agree, that message was much harder to get across five years ago when they started.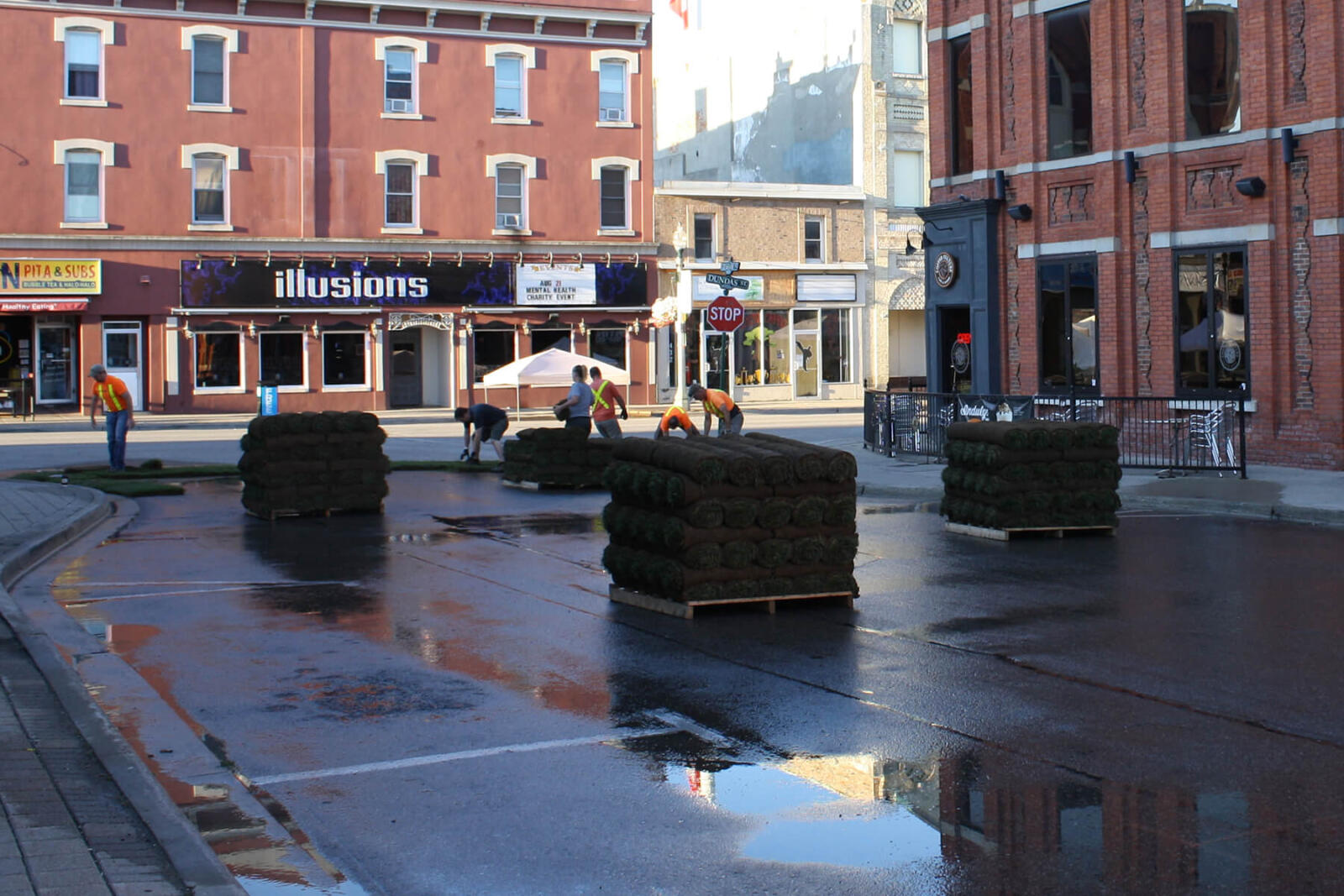 Downtown Woodstock was transformed for the day using eight skids of sod, seven people and about 30 minutes.
---
A growing movement
Following the success of events in Picton, other communities in Ontario have taken on the Green Streets Challenge. In early August, the City of Woodstock held their first Green Streets Challenge as part of its annual Summer Streetfest. The idea for the Woodstock event started when Reta Horan, Assistant Supervisor of Parks, in charge of horticulture for the City of Woodstock Parks Department heard about the work of Come Alive Outside from Andy Paluch while attending Congress 2016.
Working for the City, Horan spearheaded the project, using her connections with the downtown business association who runs the street festival. Horan felt it was the perfect opportunity to stage the event.
With the venue secured, Horan then connected with LO member John Perriman, owner of Mountview Services in Princeton, Ont., who then secured the sod from Middlesex Sod Supply. Perriman's crew of seven laid down the eight skids of sod on the morning of the streetfest in about a half hour.
Perriman says the transformation of about 5,600 sq. ft. instantly drew attention. "The sod was a big draw for the Streetfest. Lots of people were asking about it and taking pictures to share with friends and family on social media. I think the message was well received," he says.
"The downtown BIA loved it because everyone was raving about it. It became a destination. The whole community really loved it," Horan says.
Once the sod was rolled up, it was installed the next day at a new park that didn't have a large enough budget for sod, only seed. "Our community is really growing," says Horan, which means a lot of new parks being constructed and having the sod really makes a difference.
Horan is already planning the event again next year and says the event this year may help to create awareness for some of the other programs held in the summer.
Come Alive Outside Design Challenge
The Come Alive Outside Design Challenge is another event Wentorth has been involved in for a number of years. The most recent one held in mid-October, engages landscape design students from several colleges and partners them with landscape companies to actually build their designs at local schools.
"How to get more young people into the profession is another message that the program addresses specifically with the Design Challenge," Wentworth explains. "College students then become ambassadors for the industry."
Wentworth says by connecting educators, students and professionals via the Design Challenge, it helps to attract more young people to the landscape professions — exposing them to the many positive effects their work has on the community.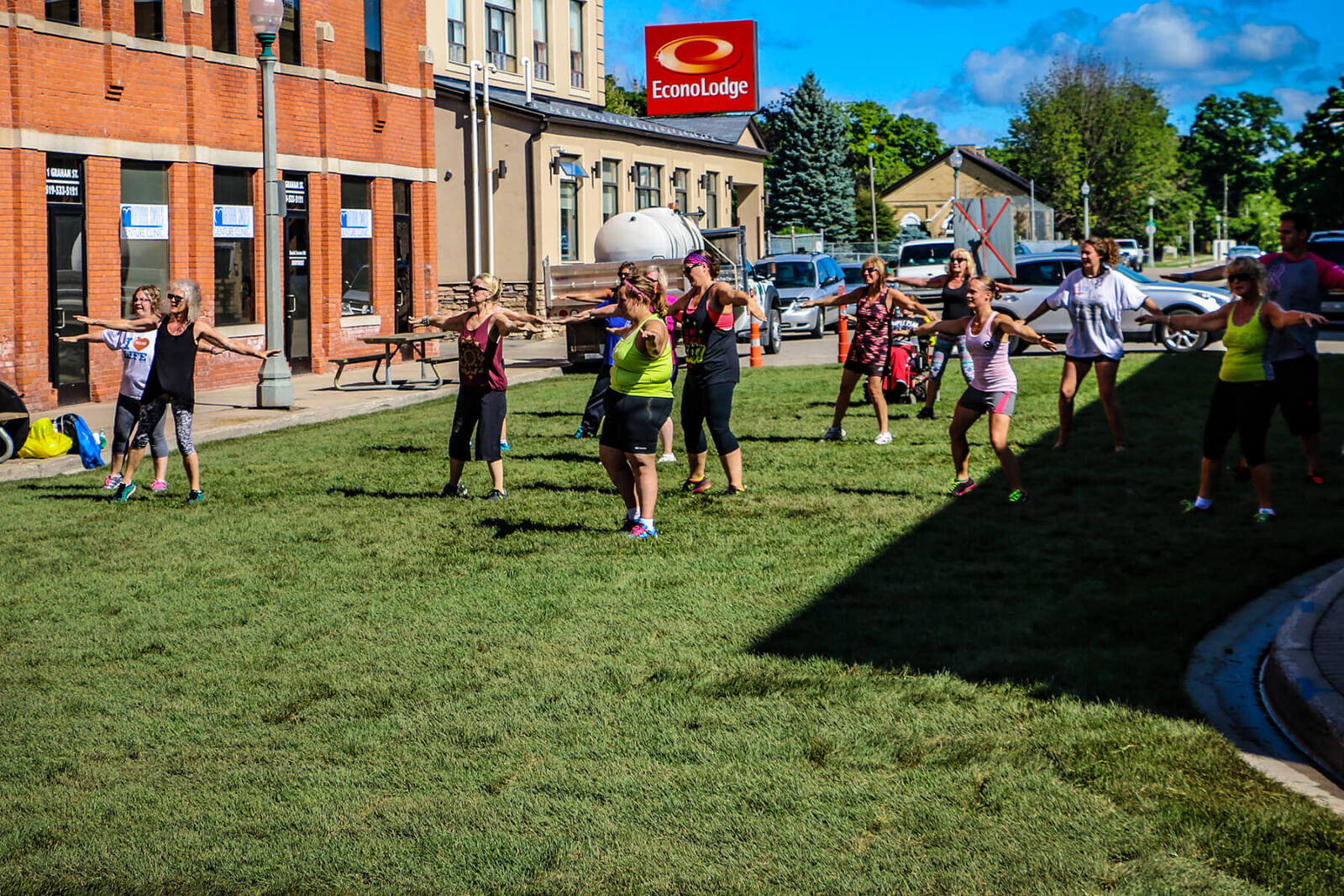 The Woodstock Summer Streetfest featured exercise classes, soccer and random play.
---
Future goals
The long term goal of the Green Streets challenge is to show health care professionals, pediatricians, educators, city planners and government that the landscape professions can be the real experts who offer real world solutions for reconnecting people with nature in order to create healthier, happier lifestyles. Paluch says "we are not there yet," but with more events being held and more conversations started as a result, a shift in thinking is not far off.
"For us, the goal is to see more and more companies coming on board and embracing the shared mission. It's really a hugely impactfull thing and when it comes down to the front lines of reconnecting people with nature, there is nobody in a better position than landscape professionals," says Paluch.
In mid-August, the Green Streets Challenge also took place in Huntsville, Ont., garnering a lot of attention from local media and residents.
"When you have a hospital and a children's museum and a landscape professional all working together, that's a really exciting thing," says Paluch.
More information on Come Alive Outside and the Green Streets Challenge and Design Challenge, in addition to many resources, can be found on their website at
comealiveoutside.com
.