February 15, 2014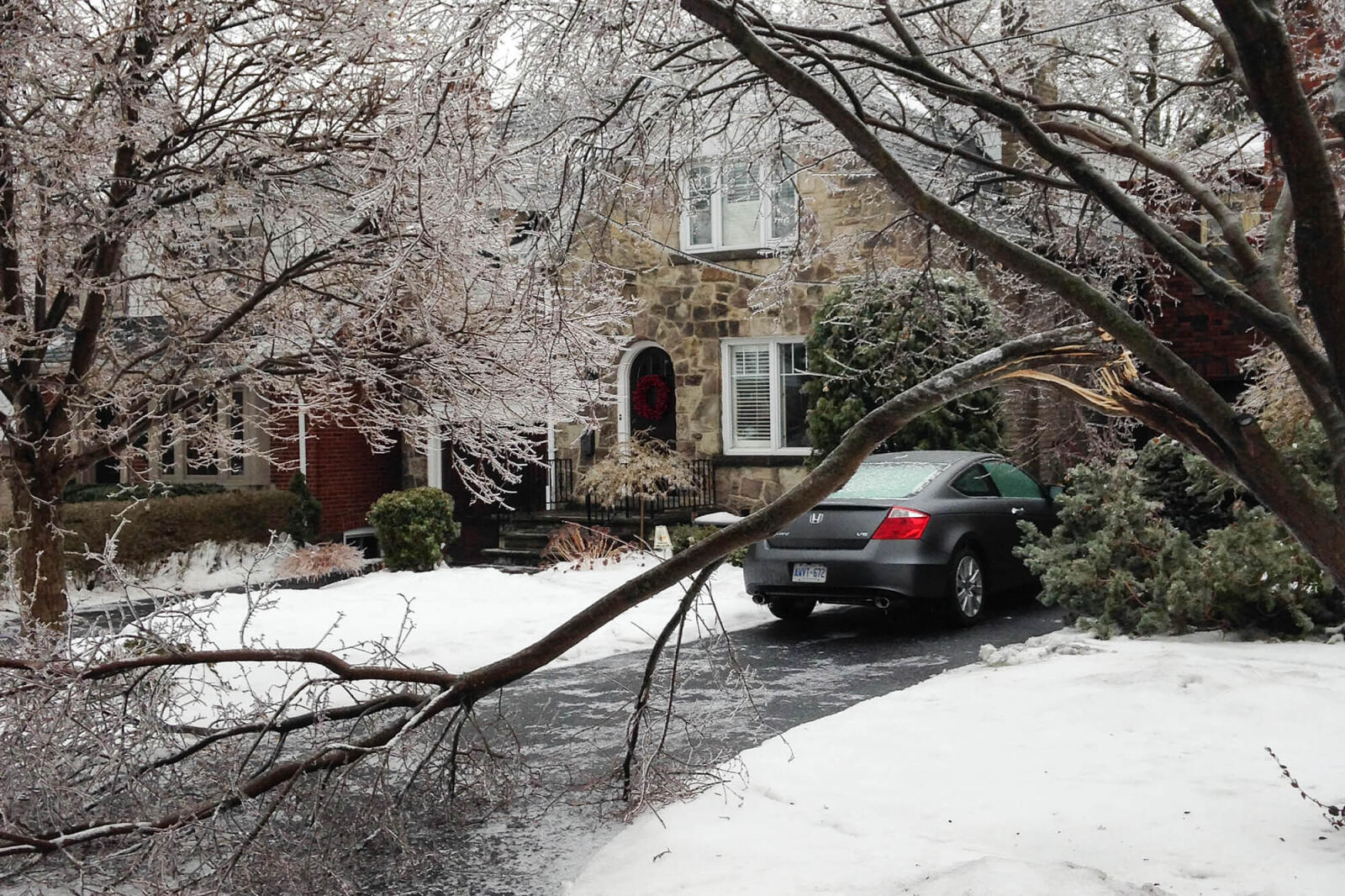 Ice storm may benefit trees
While the ice storm that hit Toronto in December was devastating, it there may be some benefits to the city's tree canopy.
Trees for Life is part of Urban Tree Coalition Canada, made up of not-for-profit organizations. Landscape Ontario is one of those groups.
Mark Cullen, Volunteer Chair of Trees for Life, says one benefit from the ice storm is the wonderful opportunity to connect with the media, the public and government officials on important arboriculture issues. "With dead or damaged trees in the face of the public, we have been given a golden opportunity to talk about the benefits of our urban tree canopy as it relates to health and wellness, the environment, economy and social behaviour."
Stephen Smith of Urban Forest Associates says, "I've barely seen any oaks, sugar maples, walnuts, or even ash that are broken. Usually it's the trees that already had defects in them that broke, and not all of them broke anyway. Even sick ash I know of didn't fall. Some deadwood fell off, but usually nothing more. All the young trees of nearly all species did fine; it was the bigger ones that were damaged."
Mike Rosen, President of Tree Canada and a veteran of the 1998 ice storm that hit eastern Ontario, says there may be some benefits at damages caused by ice storms, as opposed to mid-summer wind storm damage.
"In winter, trees are dormant and further injury by insects and disease is less likely than if the injury occurs during the growing season," says Rosen. "Recovery depends on the health of the tree, the amount of maintenance before the damage, especially preventive pruning, and the extent of the damage. Healthy, well-maintained trees with few damaged branches should recover, and in time the crown may even appear normal."
Stephen Smith says he sees Manitoba maples, crack willows, white mulberries, white elms and silver maples in some areas that were damaged. "Most should be OK with pruning. Really old and brittle black locusts were hit hard."
Not surprisingly old Norway maples sustained a lot of damage. "Those trees I saw are all relatively old and not well cared for. Most had girdling roots and were not pruned properly through their lives (lion-tailed). They weren't healthy specimens and would have come down over the next 20 years anyway. In other areas, the Norways didn't do too bad." Smith says some white birches were hit hard also. "Young ones were bent over completely, but many have stood back up. Older clumps have lost a lot of their tops. Pruning may be able to correct them."
Smith says that on properties where trees were well cared for, they fared better than the ones that are neglected or only pruned when damage occurs. "A storm like this always sorts out the weak and strong. The ones suited to our local climate did very well, not surprisingly. Nice to see our consistent message to care for your trees and plant species suited to the local climate playing itself out." says Smith.
Smith predicts the city will lose about 20 per cent of the existing tree canopy by the time the removals are done. "Time to plant new shade trees. I and others are very concerned that people will fear all the medium to large sized trees around them now and ask for removal and replacement with small ornamentals. We have to work against this in all discussions with the public," says Smith.
"More than likely, if the tree was healthy before the storm, it is still going to be healthy after the storm," says Rory Quigley, President of the International Society of Arboriculture Ontario, and an arborist with the Town of Cobourg.
"An assessment of your trees done every three to five years is the best way to protect yourself against costly property or tree damage caused by ice and wind storms," says Paul Ronan, the executive director of the Ontario Parks Association. "An arborist can quickly identify structural weaknesses that will not withstand extreme weather conditions, a service that will cost significantly less than the aggravation of insurance claims, structural house, garage or fence damage not to mention the liability and personal or public safety risks from falling limbs, branches and trees."