October 9, 2018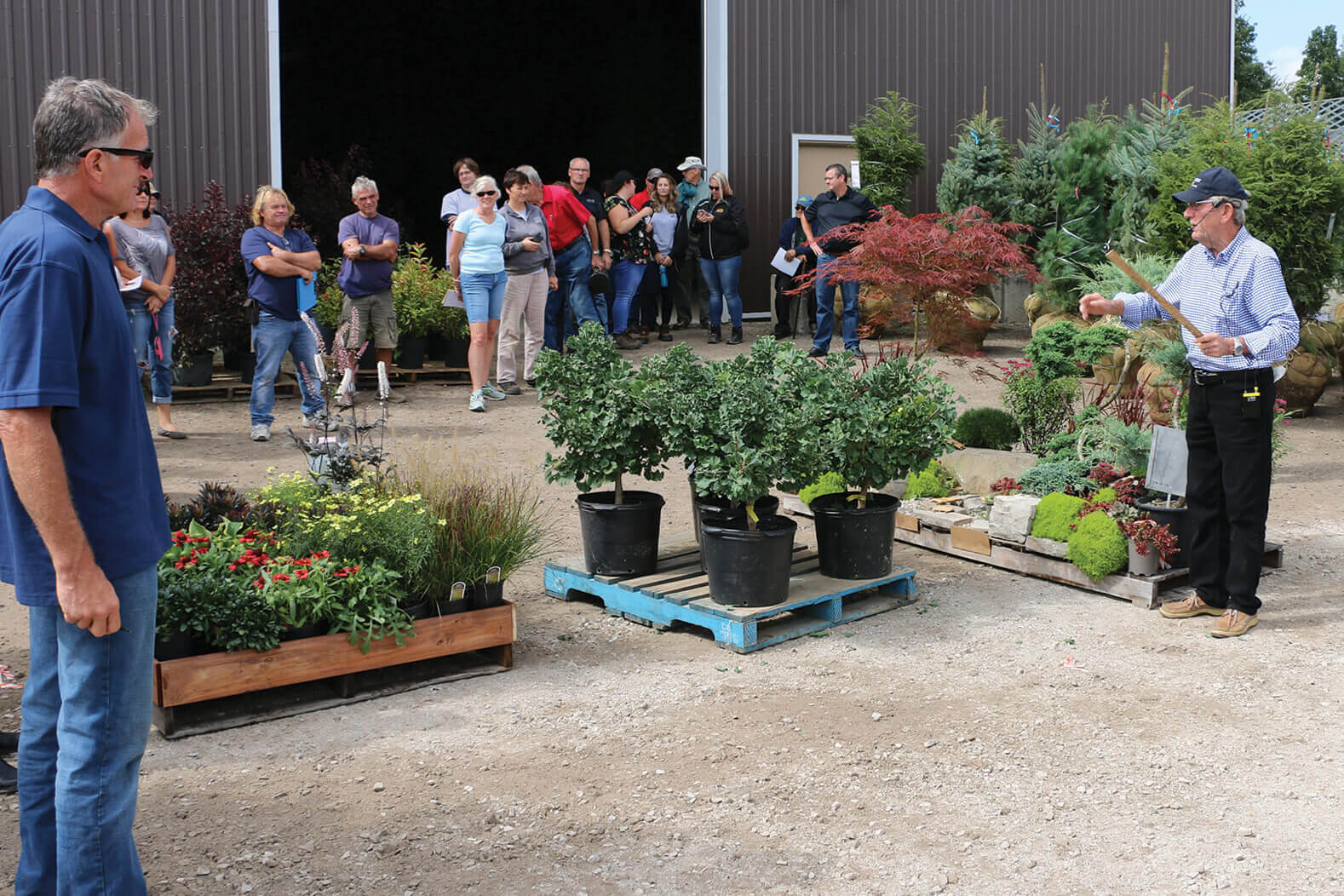 Growers Group hold another successful industry auction
An incredible host, great location, amazing food and gorgeous plants delighted participants of the 40th annual Industry Auction at NVK Holdings in Dundas, Ont., Sept. 13.
Presented by the Landscape Ontario Growers Sector Group, the annual event helps to raise money for horticultural research, scholarships and sector development and promotion. All plant material and items up for bid in the live and silent auction are donated by growers and suppliers. This year, over 250 skids of plant material and various silent auction items were auctioned off to the highest bidder.
Run concurrently with the
LO Growers Awards of Excellence program
, LO members in the grower sector are able to enter plant material in various categories to be judged live, on-site the morning of the auction. Winners are then recognized at the start of the auction with winning entries first up for bid and all winners presented with a certificate.
Once again, auctioneer Jim McCartney kept things light and moving at a steady clip. McCartney tried to coerce the crowd into the opening bid by saying, "Anyone who has not been to a live auction before, please raise your hand."
The smooth-running auction was also due in large part to volunteers from LO's Growers Sector Group, including auction operations manager, John Moons, aided by Steve Burgess, Jeff Gregg, Jeanine West, Serge Leclair, Jennifer Llewellyn, Bill Putzer, John Mantel, and Glen Lumis.
Of course the event would not be possible without a host. Thanks to NVK Holdings and its incredible team for all of the behind-the-scenes work that ran in conjunction with that of the Growers Group volunteers. You should all be very proud!
The success of the event each year also relies heavily on the generosity of donors. Thanks to: AVK Nursery, Bakker (JC) & Sons, Blue Sky Nursery, Braun Nursery, Brookdale Treeland Nurseries, Canadale Nurseries, Dutchmaster Nurseries, Ground Covers Unlimited, Hillen Nursery, Kobes Nurseries, Langendoen Nurseries, Millgrove Perennials, Nisco National Leasing, NVK Holdings, Pieper Nurseries, Putzer (M) Hornby Nursery, Royal Botanical Gardens, S-P Packaging, Sheridan Nurseries, Somerville Nurseries, Timm Enterprises, V Kraus Nurseries Limited, Willowbrook Nurseries, and Winkelmolen Nursery.
In addition to getting great deals on quality nursery stock, each successful bidder was also entered into a special draw held at the conclusion of the auction. Congratulations to John Moore, owner of Baltimore Valley Produce and Garden Centre, winner of a Samsung Smart Watch, donated by Plant Products.
Landscape Ontario's Growers Sector Group would like to thank all donors and participants, as well as NVK Holdings and all their amazing staff.
More reading:
LO Growers Awards of Excellence winners announced at 2018 Industry Auction.