March 15, 2014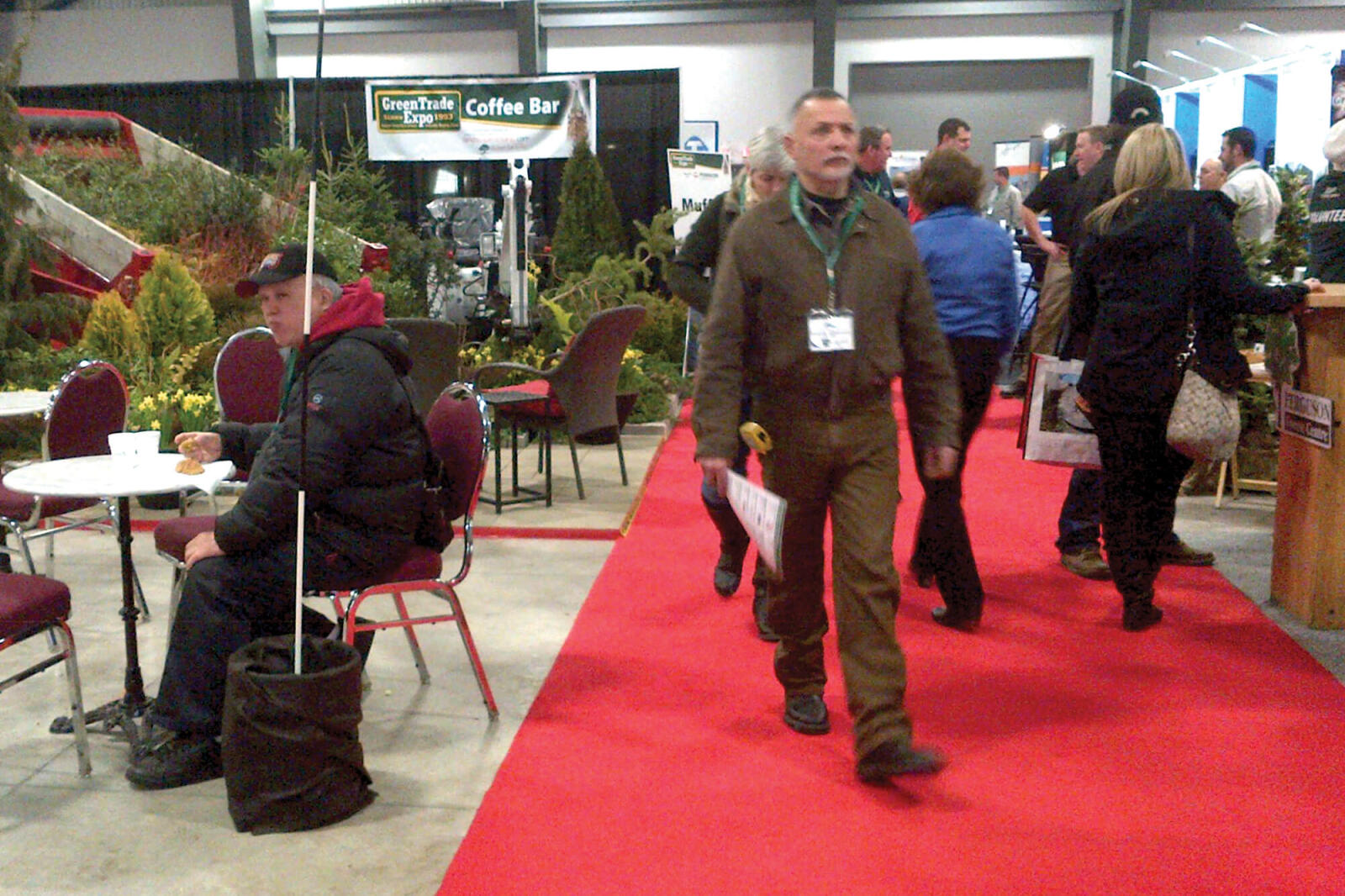 GreenTrade Expo's popularity continues to grow
Celebrating its 21st year, Ottawa Chapter's GreenTrade Expo, presented by Permacon, took place at the Ernst and Young Centre on Feb. 12, with a record attendance.

In Ottawa, snow is always a concern, but this year Mother Nature smiled once again; the skies were clear and the sunny day brought out a record crowd. The early morning minus 15-degree temperatures didn't deter attendance either, which included industry professionals from all over Eastern Ontario and Western Quebec to Montreal.

Chaired by Bruce Morton, the day began with the ever popular pre-show MTO Contractors' Breakfast, sponsored by Jim Tubman's Chevrolet, Connon Nurseries CBV Holdings, and LS Training Systems. With a record 90 attendees at breakfast, the program was presented by local MTO officers Graeme Cook and Richard Sauvé. A very popular part of this event is the opportunity for attendees to have their questions answered about legislation that will affect their business and employees.

Attendance at GreenTrade Expo continues to be free, along with complimentary business education seminars. This year's seminars were sponsored by Connon Nurseries NVK Holdings, Sheridan Nurseries and SYNLawn, and saw record attendance at all four presentations. The first seminar was about the new Ontario Health and Safety amendments presented by Sheila James of Workplace Safety and Prevention Services.

The seminar on Expert Pruning Techniques was presented by Mark Burleton, International Society of Arborists. Burleton is the head of grounds and green spaces for the five official government residences under the National Capital Commission. For the past three years, he has held sold-out seminars for the Ottawa Chapter. The discussion also included questions on emerald ash borer.

New this year was a business round-table moderated by Ottawa Chapter president Ed Hansen and including Ottawa fitness guru Tony Greco and business entrepreneur Ion Aimers, creator of Montana's, The Works and ZaZaZapizza franchises. Over 65 attendees learned of the panelists' business successes, including being part of and giving back to your community, management techniques to make your business a success, and taking time for yourself. They also related that having a mentor, as well as being one, was a huge part of their success.

Back again by popular demand was Paul Zammit from the Toronto Botanical Gardens. Sponsored by Sheridan Nurseries, Zammit revealed how to save money in your business by choosing the right plants for growing conditions.

A special CLD event was co-chaired by Chris Mace CLD of Gelderman's Landscape Services, Waterdown; and Beth Edney CLD of Designs by the Yard, Toronto. Both are members of the LO Landscape Designers Sector Group. The event covered the history and progress of the Certified Landscape Designer Program and meeting local designers allowed for further industry engagement from a provincial perspective.

This year, the popular coffee bar area was co-sponsored by Bradley's Commercial Insurance and Geosynthetic Systems, with food sponsored by Bobcat of Ottawa and Lanark Cedar. It included a garden created by Ottawa-area designers Jason Smalley CLD, Stephanie Scott and Erin van Gilst. The garden was installed with help from students in the horticultural program at Algonquin College. The show floor floral designs were created by Ottawa designers Sundaura Alford CLD, Sonja Hirsig CLT and Rhonda Derue.

Special thanks to the following companies who provided product and equipment for the designs: Algonquin College Horticultural Program, Connon Nurseries NVK Holdings, Peter Knippel Nursery, Ritchie Feed and Seed, Geosynthetic Systems, Primo Trailers, Bobcat of Ottawa, Cohen and Cohen Natural Stone and Permacon Ottawa.

GreenTrade Expo's volunteers included horticulture students from Algonquin College, under the guidance of Steve Neumann, and the University of Guelph Kemptville College, under professor Claude Smith. The students were under the guidance of volunteer coordinator Melanie Cristiano from GreenScape.ca. They were front and centre working at the registration and show entrance areas. Special thanks to Canlok Stone, show bag sponsor; Dutchmaster Nurseries, show badge sponsor; Greely Sand and Gravel, show guide sponsor; GreenLife Wholesale Nursery, coffee cup sponsor; The SAM Group, branded apparel sponsor; and BLR Safety and Manderley Turf Products, pre-registration prize sponsors.

Participating in the show from home office, Ottawa and other chapters were LO executive director Tony DiGiovanni, Landscape Ontario president Dave Braun, Georgian Lakelands Chapter president Lexi Dearborn, Ottawa directors Chris Burns, Chris Urquhart, Patricia Stanish, Mark Mallette and Michael Fulcher. The day ended with a post-show event, The Feminine Factor in Horticulture, led by Beth Edney CLD.

Ottawa Chapter invites everyone to the 22nd edition of GreenTrade Expo on Wed., Feb. 11, 2015 at the Ernst and Young Centre in Ottawa.