March 15, 2017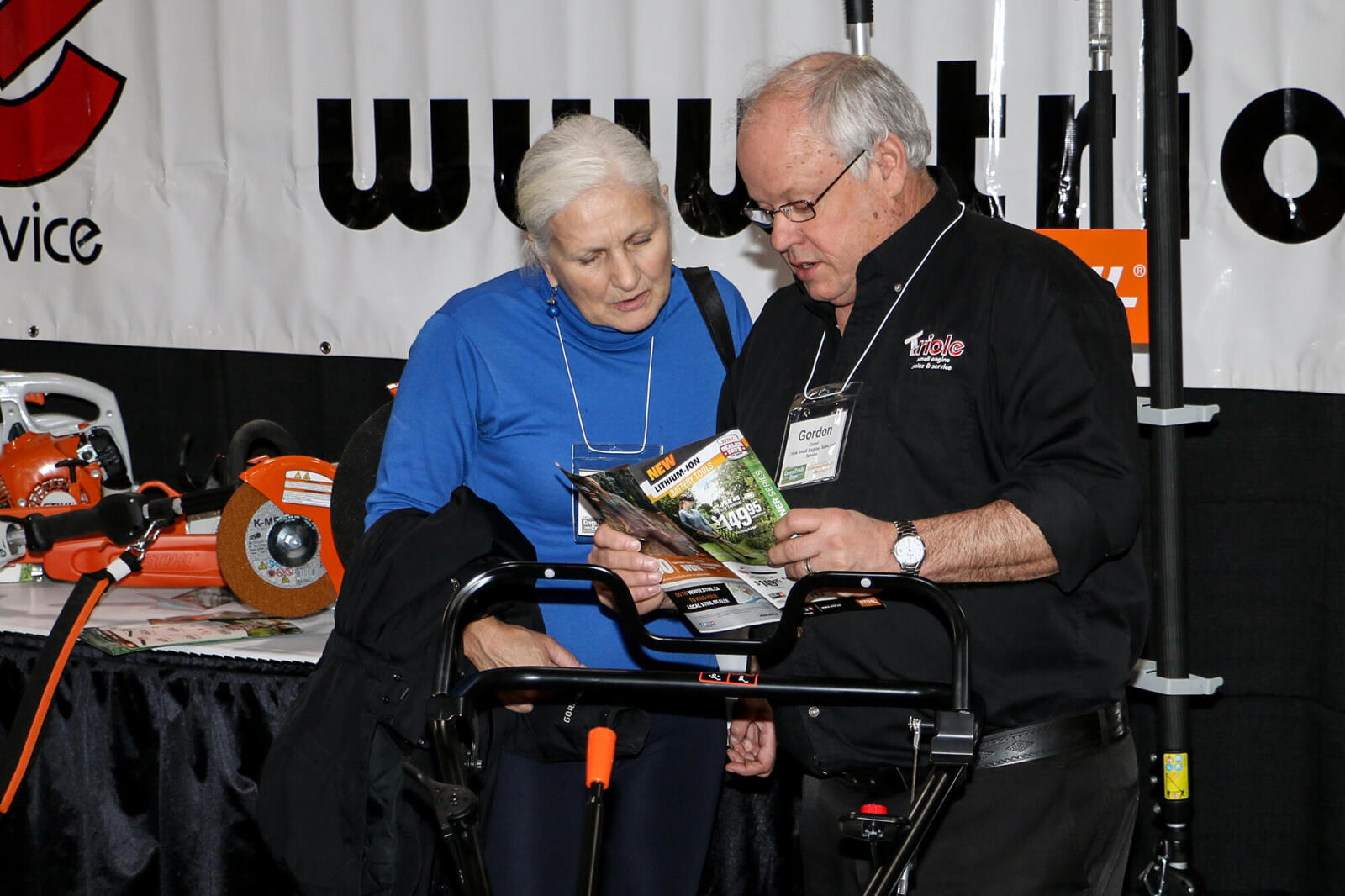 GreenTrade Expo connects the landscape profession
By Robert Ellidge
The 24th edition of GreenTrade Expo, held at the EY Centre on Feb. 15 in Ottawa, Ont., continued the long-standing tradition of being the primary gathering place for landscape professionals in Eastern Ontario to network, share ideas and do business.
The night before, Landscape Ontario's Ottawa Chapter held a gala and casino night at the venue, honouring individuals and suppliers within the Ottawa and Upper Canada Chapters at the third annual Awards of Distinction. Presented by Connon Nurseries CBV, the special event began with a social hour and dinner, followed by the presentation of awards. Hosts Bruce Morton, GreenTrade Expo chair and Ed Hansen, Ottawa Chapter director, announced the winners while also entertaining the audience of about 125 people with humour and personal stories. The duo even engaged the audience in a poetry reading contest to coincide with Valentine's Day.
Nominations for all awards were received via online entry that opened in mid-January. All LO members were able to nominate other members within the chapters and then vote on those nominated to determine the winners. Supplier awards were handed out first. Winners are: Best Plant Materials Supplier, Manderley Turf Products; Best Hardscape Materials Supplier, Greely Sand & Gravel; Best Landscape Equipment and Accessories Supplier to the Trade, Geosynthetic Systems; Best Supplier to the Landscape Trades, Bradley's Insurance; Best Salesperson of the Year, Andrew Colautti, Cohen and Cohen Natural Stone and Terence Hills, Manderley Turf Products (a tie).
Awards for individuals were handed out next. The Joan Johnston LO Community Volunteer Award recognizes individual members who have demonstrated an outstanding commitment to the LO community. This year's recipients are: Sundaura Alford, A Cultivated Art; Jim Bauer, Bauer Landscape & Garden Maintenance; Dan Clost; Mike Fulcher, Permacon; Chris Urquhart, Green Unlimited; Sharon Urquhart, Green Unlimited.
The Jim Bauer Legacy Award, sponsored by Greely Sand & Gravel, recognizes member companies who have been in business for at least 20 years and a member of LO for at least 10 years. Jim Bauer, founding member of the Ottawa Chapter was on hand to present awards to: B&T MacFarlane Ottawa, Central Precast, Connon Nurseries CBV, Green Unlimited, Harmony Gardens Landscaping, Manotick Tree Movers, Manderley Turf Products and Twin Equipment.
Sharon Urquhart from Green Unlimited received the Joan Johnston Award for her many contributions over the years, which included founding the annual Ottawa Chapter Day of Tribute that sees volunteers work closely with members of the Canadian Military to prepare Canada's National Military Cemetery for Remembrance Day proceedings. Urquhart said she was "amazed, humbled and truly honoured" to receive the award which was also "a big surprise." Urquhart added, "I really respect Landscape Ontario and all of the work they do and the people who work in this industry and to be included in that group is a great thing."
Urquhart said the idea for the annual Day of Tribute actually occurred with some discussions at GreenTrade Expo back in 2004. Inquires and discussions followed and the first event was held in 2005 to coincide with the Year of the Veteran. Urquhart says the goal is to have all LO chapters hold similar events in their local communities to honour Canada's military and their families.
After the award presentations, attendees were entertained by the live band, Werth It! while they tried their luck with large amounts of pretend money at a casino night sponsored by Gifford Associates. Winnings were then converted into raffle tickets for a chance to win various prizes.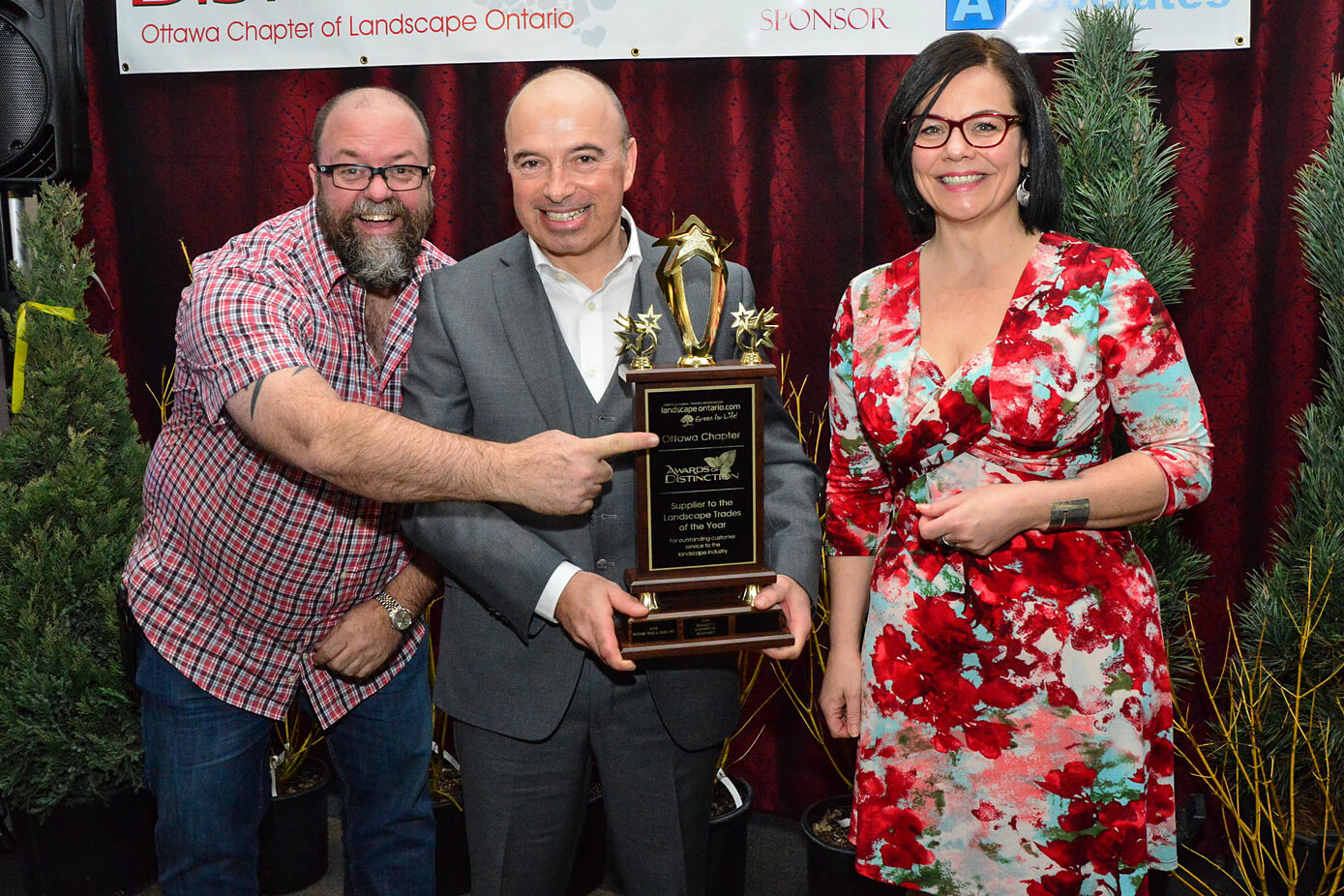 (L-R) Awards co-host Ed Hansen poses with Stacy Elliott and Jeannie Ryan of Bradley's Insurance while accepting their award for Best Supplier to the Landscape Trades.
---
Contractor breakfast
The following day, GreenTrade Expo's educational program began at 7 a.m. with the annual, and very popular, MTO Contractor's Breakfast session. Presented by Bradley's Insurance and Manderley Turf Products, MTO officer Marc Stang updated the 80 contractors in attendance about changes to safety regulations and commercial vehicle safety.
Following the MTO session, the trade show officially opened at 9 a.m. GreenTrade Expo chair Bruce Morton said despite 12 cm of snow, the weather was not able to slow down the show. "Our attendance was down a little bit because of the weather, but the key decision makers attended the show and were there to do business," Morton said.
The educational program continued throughout the day with presentations by many local experts. Among them, Wendy Trudel from the Community Employment Resource Centre in Kanata, informed attendees about the Canada-Ontario Job Grant (COJG). The program provides up to $10,000 per employee for training that provides new skills to help elevate the workforce and assist with employee retention.
Trudel said one major benefit to business owners is the ability to work one-on-one with a local employment office, rather than having to deal directly with a branch of the government in Ottawa.
Mark Nesbitt, president of Nesbitt Training and Consulting attended Trudel's session and said the program is really designed to benefit companies with under 50 employees. "The government has recognized the issue of business owners trying to find good help and have now made funding available," Nesbitt said. "The grant also provides the opportunity for those who are already good at their job to now learn something new and reach the next level."
Nesbitt confirmed the process is very user-friendly. "If I can do the application, anybody can; and it literally takes three weeks to a month to get paid," he said, which is helpful to smaller companies who can't afford to have a lot cash flow being used for training expenses.
Other presentations throughout the day included sessions on snow removal insurance, employment insurance, landscape and garden designs and using plants for screening. LO's Landscape Designer Sector Group also held an update meeting with sector chair Chris Clayton and LO president Paul Brydges.
The trade show floor had over 100 exhibitors from across Ontario and Quebec doing business with local contractors. One of them, Benjamin Rehmann from Rehmann Interlock in Gatineau, Que., attended the show to see "what other companies have to offer in order to make his company better." Rehmann says being able to see products and equipment at the show that he didn't even know existed is a reason why he returned this year. Rehmann says he just purchased an Isuzu truck for his business after seeing it for the first time at the show last year.
Students help out
GreenTrade runs smoothly in part to the hard work and dedication of LO's Ottawa Chapter members, but also due to a very strong relationship that provides students from Algonquin College to help set up and run the show. Steve Neumann, long-time member of the Ottawa Chapter board, currently serving as treasurer, is also co-coordinator of the horticulture industries program and apprenticeship program at Algonquin College. Neumann has been involved with GreenTrade for many years and said the idea came about a few years ago to get the students involved. "The day of GreenTrade, we cancel all classes for the day and each student is expected to be at the show for at least a four-hour shift to help out with various aspects of the show," Neumann said. A total of 51 students helped with registration and other areas of the show and seven apprentices helped the day before with move-in.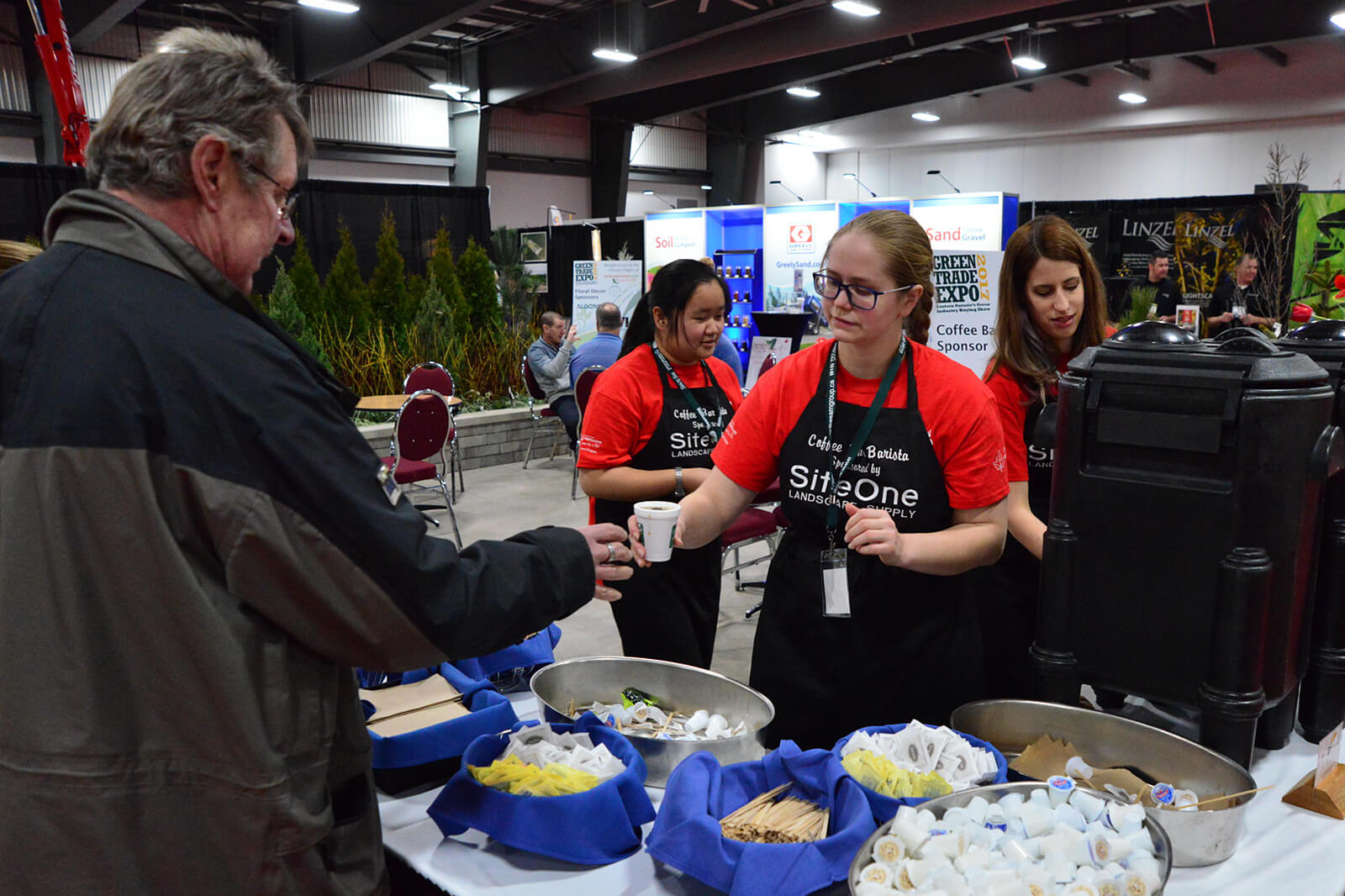 Students from Algonquin College help out at the coffee bar and many other areas of the show.
---
Neumann said not only does working at the show help with the mandatory co-op portion of the program, it also helps the students to make connections with future employers. "It's a great way for students to sell themselves and it's a great way for us to give back to industry for all of the support we get," said Neumann.
Neumann said simply walking around the show, students are "exposed to seeing how connected this industry is" where competitors share stories and help one another. "It's that interaction that is key for these students to find out."
First-year horticulture industries program student Cory Couturier said attending the show is a fantastic way for him to start networking with the close-knit group of contractors in the area. "Getting out here and meeting people are ways to get into the industry and make contacts," Couturier explained. "You might apply for a job and they may not need you at the time, but they may know somebody who does." Couturier hopes to eventually specialize in urban farming and wants anyone who is anyone in the city to plant or grow something in order to give back to the world.
Morton said the chapter is extremely pleased with the outcome of the events and already have plans in motion for 2018. "Our warmest thanks to the Algonquin College students and to all our volunteers who helped set up and run the show. Thanks also to our generous sponsors, without whom we would not have a show."