March 15, 2012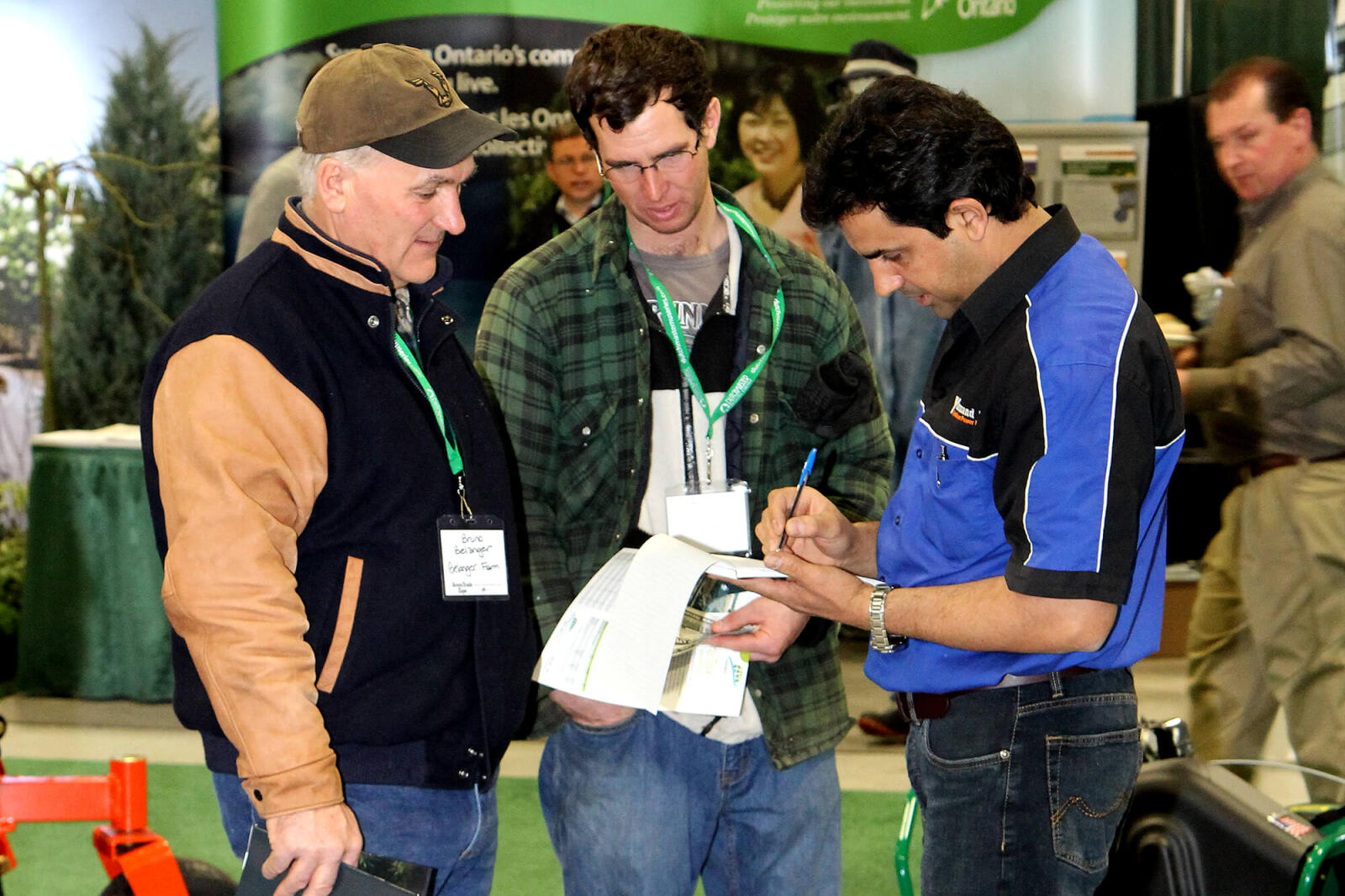 GreenTrade continues to grow
By Martha Walsh

GreenTrade Expo continues to grow in importance among industry members as the trade show to visit in eastern Ontario.

The 19th annual GreenTrade Expo was presented by the Ottawa Chapter and Ginsberg, Gluzman, Fage and Levitz LLP Chartered Accountants on Feb. 15.

This year GreenTrade called the newly constructed CE Centre in Ottawa home. The exceptional meeting and trade show facility helped make the 2012 version of GreenTrade a real success.

The day was smooth sailing supported by generous sponsors, over 90 knowledgeable exhibitors and energetic volunteers from Kemptville College, Greenscape Watering Systems, Your Exponential Potential (YEP), Clintar Landscape Management, Full Dimension Group, Kings Creek Trees, Prebbel Enterprizes, Yards Unlimited and many members of the Ottawa Chapter.

Landscape Ontario president Phil Charal was an honoured guest for the day. Meeting members and exhibitors, his connecting presence with the rest of the Landscape Ontario team was welcoming to all attendees. GreenTrade Expo 2012 show chair Bruce Morton stated, "We had a strong and capable team, and everyone gave their all to make the show successful."

Exhibitors this year had the opportunity to participate in a pre-show sales training seminar given by Terry Ledden from Sandler Training on how to optimize and maximize exhibitor experience.

The Ministry of Transportation (MTO) contractors' breakfast began the day at GreenTrade. The event was sponsored by Bradley's Commercial Insurance, Unica and Jim Tubman's Chevrolet. For the second consecutive year, Marc Stang of the MTO communicated recent updated regulations concerning the landscape industry.

As visitors entered the show they received Dutchmaster Nurseries sponsored name badges, Canlok Stone show bags and a show guide sponsored by Greely Sand and Gravel. Attendees who pre-registered were given the opportunity to win several door prizes, including Mustang Feel the Rush Experience, co-sponsored by Calabogie Motorsports Park and Permacon Ottawa, and a 23-inch Dell computer monitor, courtesy of Intellisyn Communications.

Attendees entering the show room were greeted by award-winning designer Beth Edney's lush whimsical display that welcomed spring and a design innovation that included Urns by Barracuda. The urns were designed by Ottawa Chapter designers. Complementing the experience on the floor, was the coffee bar and treats sponsored by Twin Equipment, Manotick Tree Movers, Petersen's Turf Farm, Peter Knippel Nursery and Weave World Homes.

The trade show floor, which sold out quickly, hosted a wide breadth of exhibitor excellence in all areas of the landscape and horticultural trades. Also present were associates providing the necessary services in technologies, new products and innovative solutions to address the business needs of all attendees. All areas of the industry were represented.

The Business Builders Education series once again included a variety of free seminars for the attendees throughout the day. The education stage and venue was sponsored by Connon NVK Holdings. It included the ins and outs of a reliable IT system, sponsored by Intellisyn Communications. Other seminars included marketing tips from Full Dimension Group, workplace safety by Sheila James of WSPS, strategies for sales from Sales about Face and social media from Yeah Yeah Online.

GreenTrade once again set the industry standard of information, networking, opulent surroundings and fun. Our thanks go out to all of our sponsors, superior exhibitors and dedicated volunteers who worked together to make GreenTrade Expo 2012 a resounding success.