April 15, 2016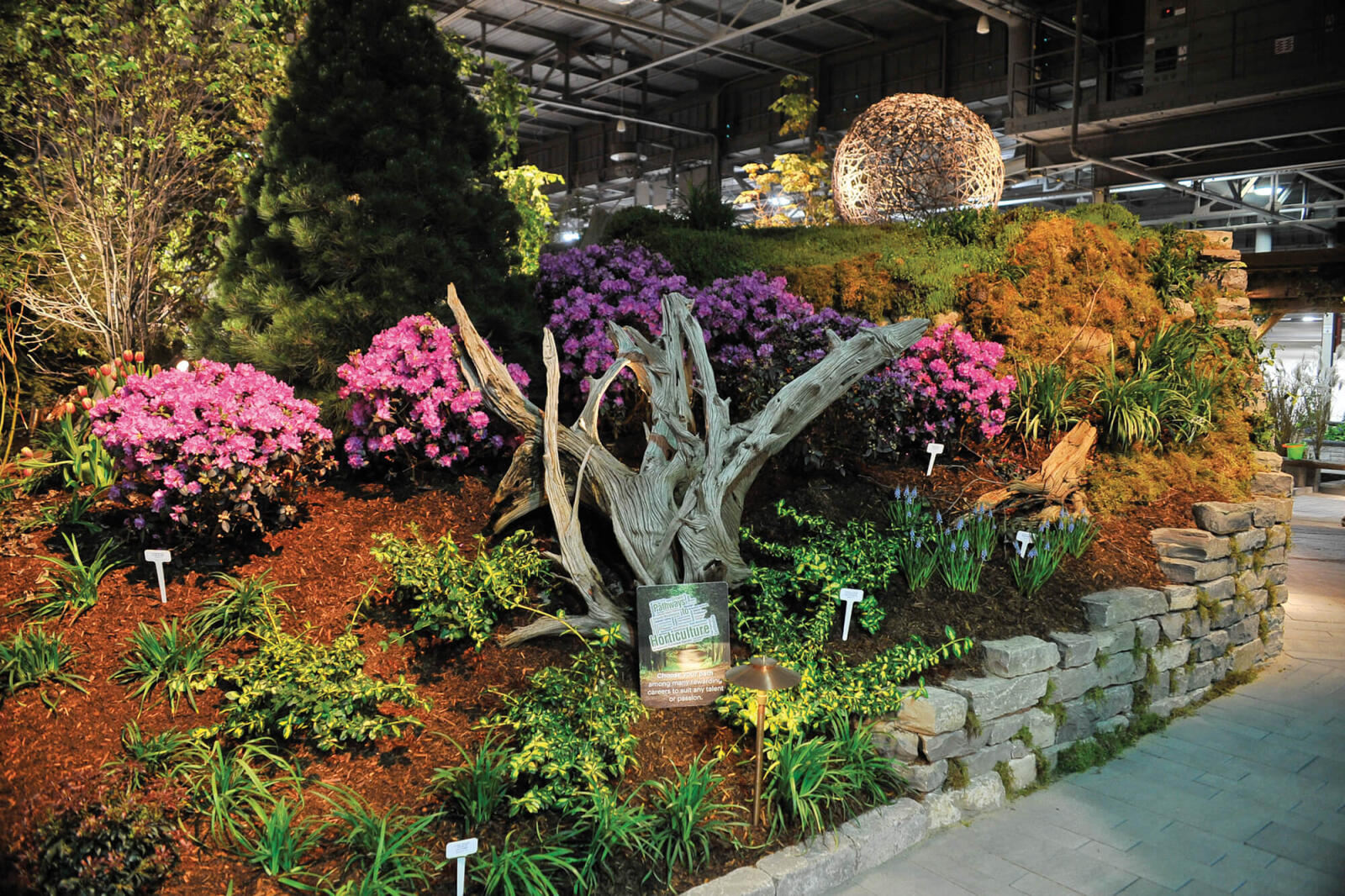 Green profession delivers wow factor at Canada Blooms
The 20th edition of Canada Blooms, themed "It's a Party!" featured a lot of new and inspiring ideas that attracted a large number of people from both the profession and the gardening public from Mar. 10-21 at the Enercare Centre in Toronto.
Canada Blooms general manger Terry Caddo said the 2016 edition of the 10-day festival was a huge success. "As Kathy Dembrowski, the co-founder of Canada Blooms said, 'the wow factor is back in Canada Blooms.'" The crowds at the show were very large and many garden builders booked post-show consultations says Caddo.
The Landscape Ontario garden "Choose Your Garden Path," designed by the team at Brydges Landscape Architects and built by a collective of over 30 member companies and dozens of volunteers (see page 7), showcased the many sectors that make up the landscape profession. The garden also included videos and literature for youth to consider a career in a profession that also makes a beneficial contribution to the environment.
"This year's garden theme was very well received by both our professional members and the public at large," says LO president Paul Brydges. "Many adults approached me to ask questions about opportunities for a career change. Interestingly, many of those people were women or corporate professionals in marketing or project management. There were also many students from high school and college that were interested in learning about career opportunities that can make a positive influence on the environment."
One of the many elements in the LO garden was a large water feature built by Jackson Pond Management. Amanda Goddard was one of their four staff members who spent four days building the feature.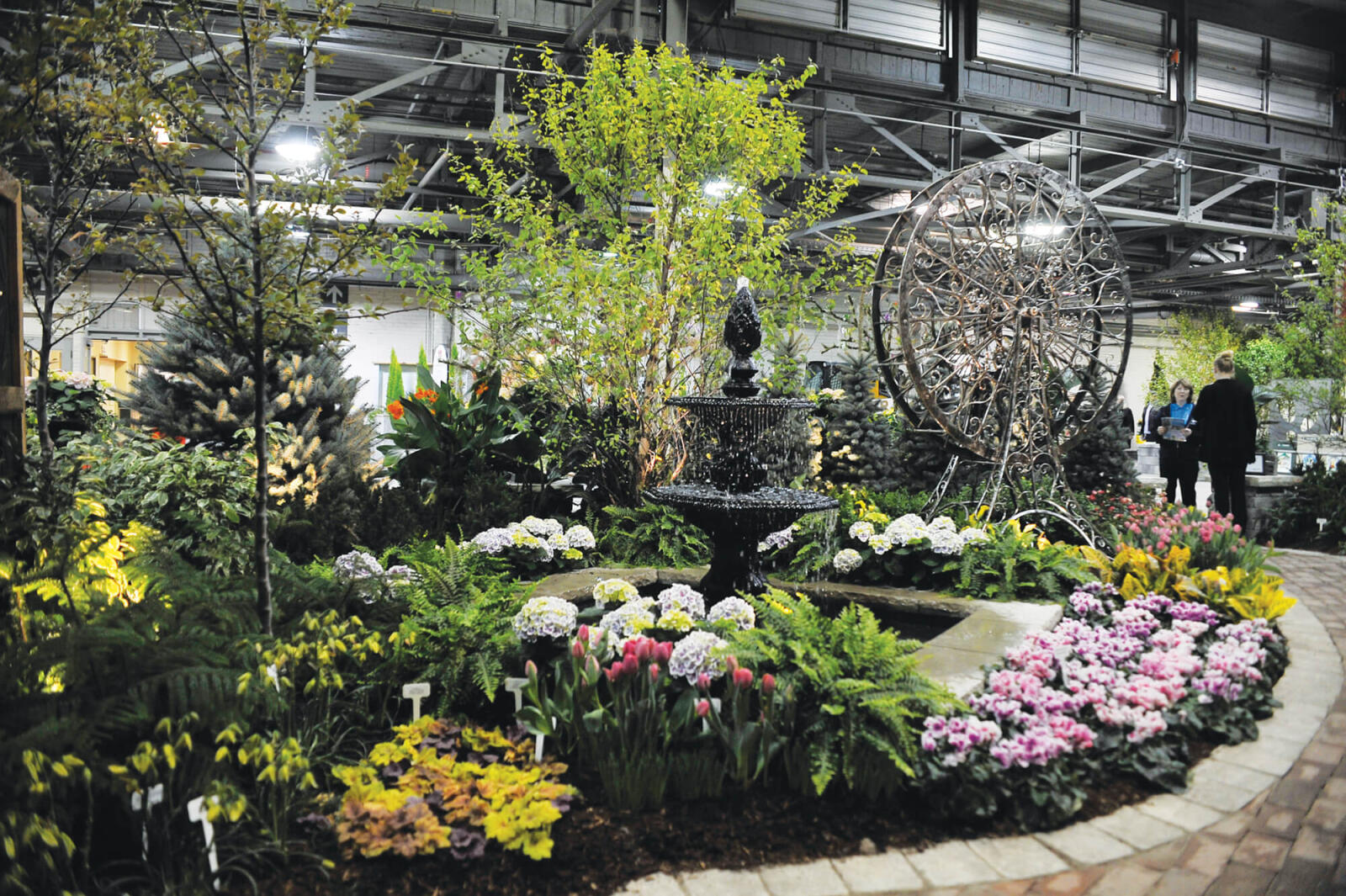 This Victorian-inspired garden by Vandermeer Nursery and Earth Art Landscapes featured a ferris wheel and used many reclaimed materials.
---
"The water feature has four different waterfalls within it. They are called tiers and we categorize it as a pondless waterfall so there is no pond feature. For some people this may be beneficial in their backyard if they don't want to include fish." The other appeal of the design, says Goddard is the use of natural wood and plant material to make the water feature look as though it was created by Mother Nature. Goddard has been attending Canada Blooms for many years and says when owner Phil Jackson told her about being a part of the build team she was "over the moon excited." Being a part of a build team is "something that's been a dream of mine that I've always wanted to do because I always come to the show to see it. To now see it start from a concrete floor to the finished product, then visiting the show was amazing," Goddard says.
After the show, many of the elements of the LO feature garden were then sent to Ottawa as part of a 30,000 sq. ft. feature garden in the Ottawa Living Landscapes show where the "Choose Your Path" messaging lives on. (See the next issue of LO magazine for complete coverage). Over at the "Carnival of Colour" feature garden by Vandermeer Nursery and Earth Art Landscapes, designer Regine Marsh echoes show co-founder Dembroski's comments about a rejuvenated show.
"A lot of the comments I heard about the show this year are people saying 'this is what Canada Blooms used to be like,'" Marsh says. She believes people walking through her garden are drawn in by the amount of plant material, and specifically, the amount of colour in her garden. "It's a great way of showcasing what the nursery has in stock." Marsh says the interest level of visitors is very high for her services. She points out the large number of postcards people took from the garden. The postcards include a coupon that can then be taken to Vandermeer so the nursery can also track how successful their promotion was at the show.
n addition to the colour, Marsh's Victorian-inspired design includes a popcorn cart, carousel horse and a ferris wheel. She also included an old dining room set that was completely covered in sedum which she began working on the week before Thanksgiving. The garden also made use of old barn board for the pergola, reclaimed wood around the window screens and reclaimed brick on the pathway. Marsh says in her design she tries to use "little elements that people can actually visualize in their own garden" which provides mass appeal and provides interest to the garden. "It's amazing how many people remember us based on the troll garden theme we had last year," she adds.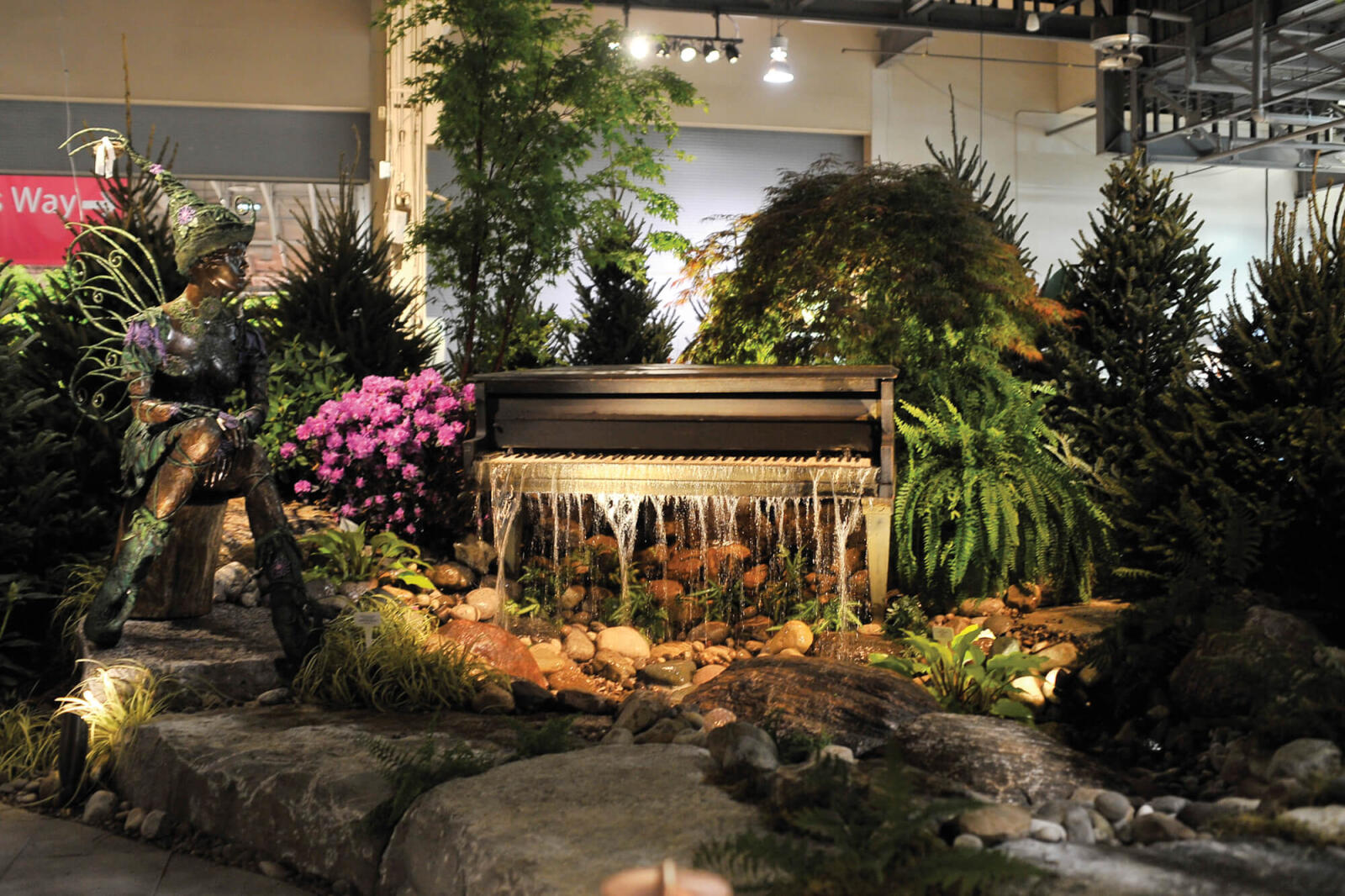 A piano re-purposed as a water feature drew a lot of attention in the feature garden by Near North Landscapes.
---
Blake Tubby from Arbordale Landscaping took time out to see the show and meet with fellow LO members at Industry Night on Mar. 17. "I think it's actually a great show," says Tubby. "It's a good opportunity for homeowners and for industry professionals to come together as well as for prospective industry professionals to come and see what the landscape profession really has to offer." Tubby also enjoys the diversity of the gardens, mixing modern styles and traditional styles and spotting new styles and materials introduced at the show. "It's always refreshing to see what's new and it's also a great way to hone in on your own design skills and pick up tips and tricks for your own designs," Tubby says. The messaging in the LO feature garden of the industry really being a team of professions appears to be resonating with both the public and LO members. Tubby echoes those sentiments when talking about the use of landscape lighting at the show, "I think [lighting] has come a long way," Tubby says. "We are no longer just landscape lighting. We are electricians now and lighting technicians. We are no longer just sticking fixtures in the ground. Now lighting is just as much of a feature in the landscape as any other feature." Certified floral designer,
Jennifer Harvey from Gatto Flowers says one of the main draws of Canada Blooms is the show's ability to continue to inspire visitors. "I'm seeing a lot of ingenious things like a piano being used as a water feature and a lot of recycled wood — things you wouldn't traditionally think of being used in a garden and when you can use or illustrate something like that in a different way it's very inspiring." "I think it's the busiest show I've ever been a part of," Harvey says, also noting "There is more plant material and more colour this year and flowers everywhere."
Any members interested in building a feature garden for the 2017 festival must submit a letter of intent to Canada Blooms by April 17. If you have any questions, please contact David Turnbull, Canada Blooms Director of Horticulture, at 416-447-8655.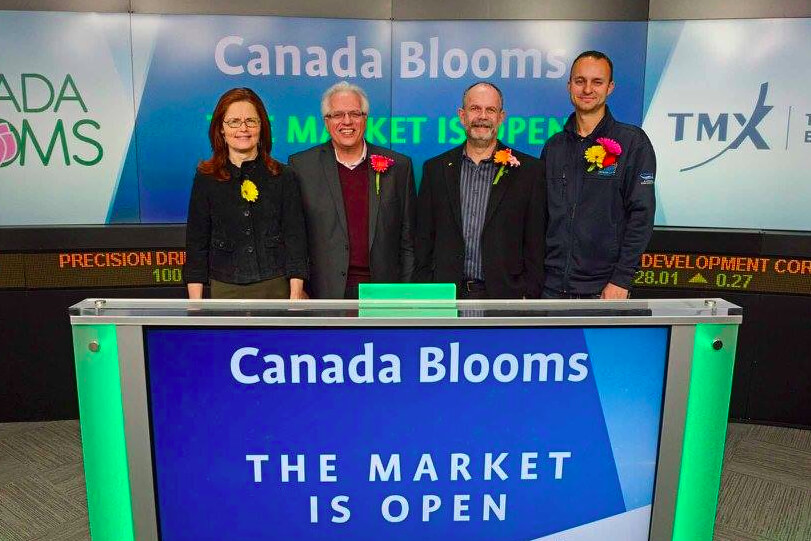 On Mar. 16, Canada Blooms opened the Toronto Stock Exchange (TSX). The countdown included members of LO, the Garden Club of Toronto and Canada Blooms. Pictured above (l-r) are Janet Ennamorato, Tony DiGiovanni, Paul Brydges and Ryan Heath.
---