January 15, 2017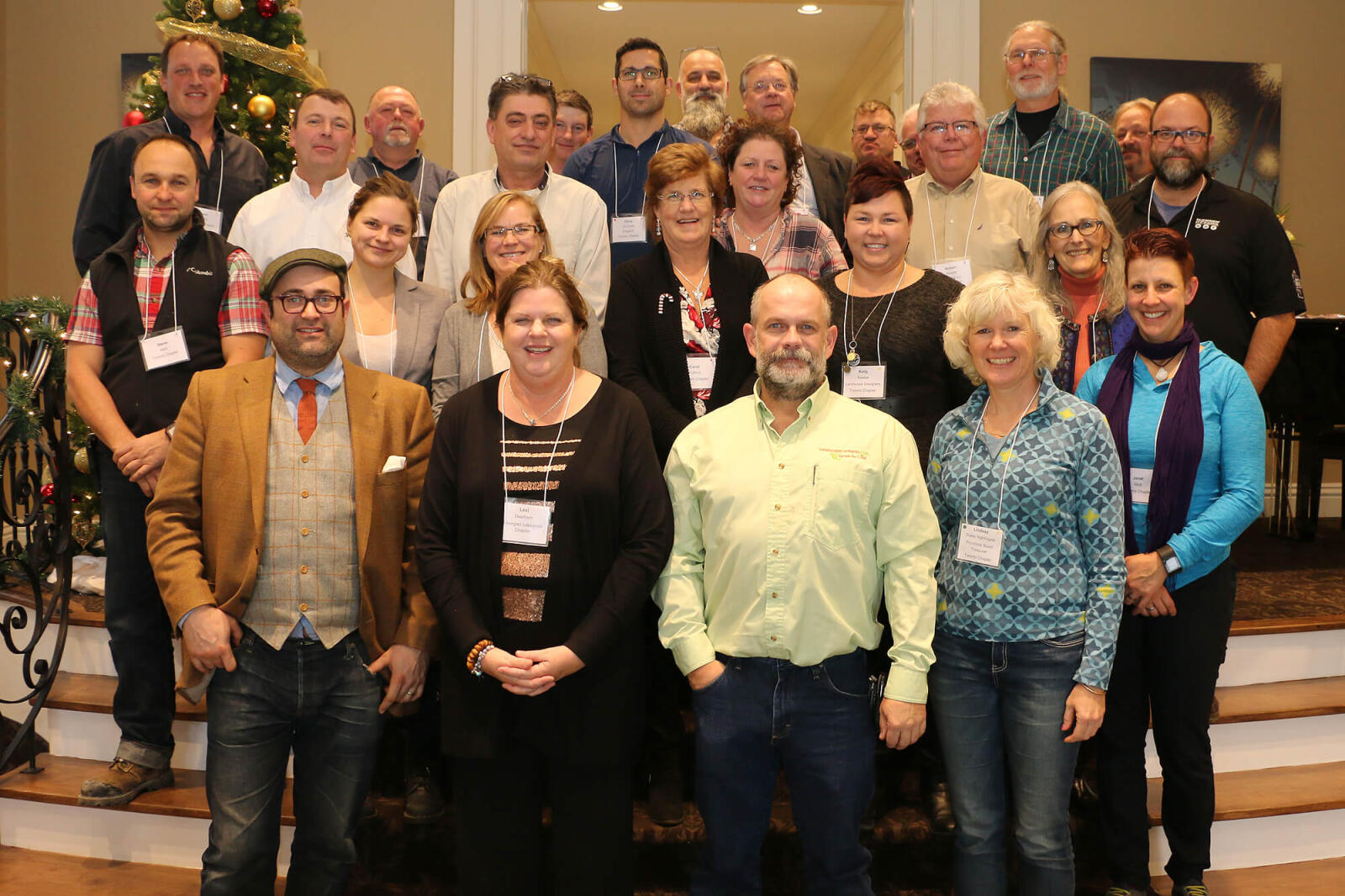 Over 40 Landscape Ontario members who hold positions on chapter and sector group boards met at the Milton Banquet & Conference Centre on Dec. 8. to discuss ideas and issues to help shape the future direction of the association.

Known as Governance Day, the annual gathering of members from across the province — as presidents, vice presidents, secretaries, treasurers, directors, etc., also serves to clarify the roles and responsibilities of each position and strengthen the communication between elected volunteers and the membership in general.

The full-day event was moderated by outgoing Governance chair Lexi Dearborn, who kept things moving briskly as she encouraged participants to contribute and learn. Her talent for leadership added humour and style to the event — since it fell on a special day, the group was delighted to sing Happy Birthday in Lexi's honour.

After a brief welcome from LO president Paul Brydges, Dearborn provided an overview of the responsibilities of each position on the board and stressed the importance of keeping detailed minutes at meetings — both to keep home office and members informed and to act as a record when requesting any special funding.

The meeting followed a new format this year: Chapter and sector board members were split into six groups, with three of the groups arguing in favour of a unique topic or issue and the remaining three groups taking the opposing view, regardless of their own personal opinion.

The debated topics ranged from dues categories and pricing, to the effectiveness of promotional materials, to the adoption of holding virtual meetings in a digital age.

Groups then presented their side of the argument, some in a very entertaining way and some with a very pragmatic approach. Dearborn, acting as both judge and jury, then allowed each side an opportunity for rebuttal, and put the issue to a popular vote in order to get an indication on which view members in the room sided with the most.

Toronto Chapter president Jonas Spring presented his group's case for keeping the current LO member categories and dues structure in place, citing that LO members pay about half of what some other associations are charging for their annual dues. Spring's group was surprised to learn from LO executive director Tony DiGiovanni that LO's net dues revenue only contributes about $700,000 towards the associations $5 million annual operating budget.

Following the debates, Durham Chapter president Norm Mills presented a list of issues he has witnessed over his four decades in the landscape profession that seem to be a factor on an annual basis. They included: access to labour, non-members undercutting members on pricing, chapter meeting attendance, a defined pension plan for LO members, and government regulation/licensing of professional contractors. Some of the issues were discussed in an open forum, with DiGiovanni offering some background information and acting as moderator.

Toronto Chapter's Lindsay Drake Nightingale told the group the best part about serving on LO's Provincial Board of Directors as current treasurer is the opportunity she gets to see everything that is happening within the association on a provincial level.

Ottawa Chapter past president and provincial board rep Ed Hansen, who will be taking over the Governance chair position from Dearborn, says his current position allows him the opportunity to hear what all of the other chapters and sectors are working on.

Upper Canada Chapter president Paul Doornbos echoed Hansen's comments and says another benefit of being involved at the board level is it allows him as a business owner to react to and implement changes well in advance, because those potential issues and changes are identified much earlier on at the board level.

The event concluded with DiGiovanni providing 10 highlights for the association from 2016, including the Highway of Heroes Living Tribute, a strong partnership with the Ontario Association of Landscape Architects (OALA), the London Chapter project with the Canadian Navy and a record number of new member applications.