July 15, 2010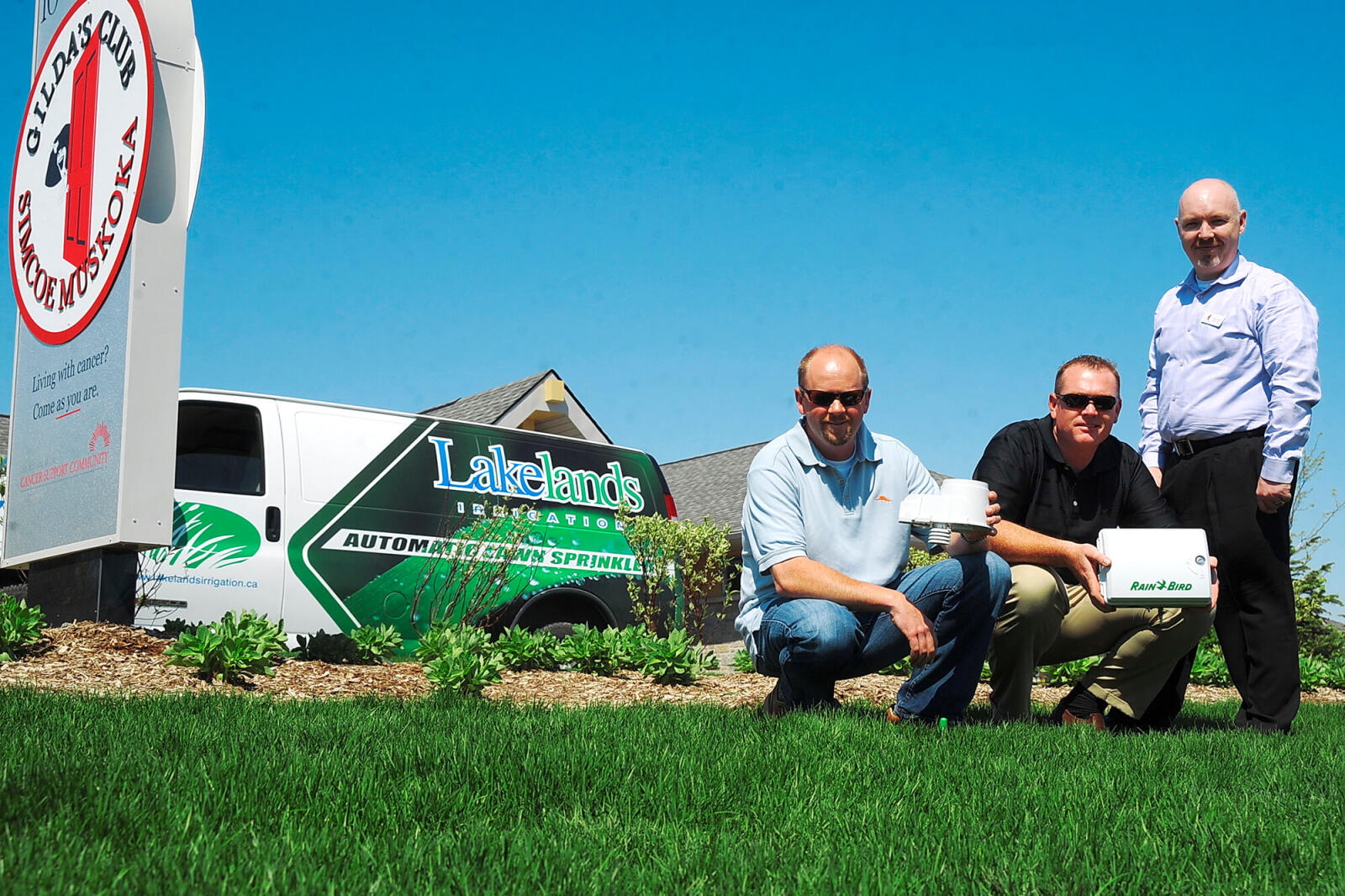 Gilda's Club receives state of the art irrigation
Thanks to Earle Graham of Lakelands Irrigation of Elmvale and Rain Bird, Gilda's Club in Barrie has a state of the art irrigation system.
"Over the past year it has been amazing who has come out of the community to help us," said James Thomson, executive director for of Gilda's Club.
As reported in the
June 2010 issue of Horticulture Review
, the Georgian Lakelands Chapter of Landscape Ontario contributed time, material and funds to create the beautiful landscaping at Gilda's House.
After the landscaping crews left the site, another group provided a complete irrigation system for the property, complete with the newest technology. With a number of delays, the irrigation component was one of the last things to go in.
"We're honoured to put it in place and show people what the future will be," said Earle Graham, who donated product and installation services for the first commercial installation of its kind in Barrie.
"Traditional irrigation systems work on timers that schedule watering perhaps every other day in the early morning. With this installation, the timing concept has been left behind. Smart controllers divide the property into zones the have specific factors to determine the amount of water required including location, soil type, plant type and sun exposure. It also monitors weather including the amount of rain fall to determine whether the sprinklers are even required to come on," said Graham.
"In the past five years there's been a big shift in how we look at and use water," said Mike Ross of Rain Bird, who donated the irrigation products to the project. "Many of the technological advances are coming out of California where water shortages have led to mandated water conservation."
The system is programmable, much like a house thermostat, allowing the human factor to be removed from the process. "Overwatering can be just as bad as underwatering," said Ross. "With this system, it only uses the amount of water the plants need."
The cost is higher than a traditional timer system, but with a typical installation providing a 35 per cent reduction in water costs, it is estimated that paybacks are approximately two years. "The faster we adopt this technology the better. In ten years there will be no more timers in the industry," said Ross.
"It's really about beautification because the members of Gilda's Club need to feel good and have a healthy atmosphere. A healthy green space adds to the aesthetics of the building. The project is also about showcasing the latest the industry has to offer, so other businesses and institutions will know it's out there." said Graham.