June 15, 2010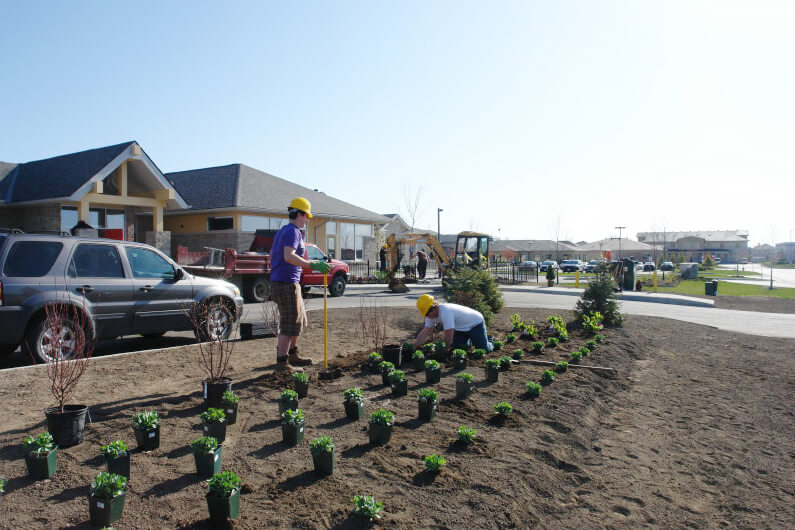 Chapter donates $70,000 in labour and material to Gilda's
After many hours of donated time and material, valued at over $70,000, the Georgian Lakelands Chapter brought it's Gilda's Club project to a conclusion in late April.
It was the largest project that the Chapter had taken on in its few short years of existence. The landscape project was divided into two phases. Phase one took place in October of 2009, with phase two taking place this year. "It was a large endeavor," said Nick Solty, past president of the chapter. "I thank all those who helped bring the project to a close."
The chapter became involved with Gilda's Club in 2008, as part of a 72-hour building blitz that saw a house completed from start to finish in that time. Proceeds raised from the sale of the house went to help to fund the main project, a drop-in centre at Gilda's Club of Barrie. The drop-in centre will be run by a group of volunteers, along with health care professionals.
"We, as a chapter, chose this project because Gilda's Club Barrie will serve all of Simcoe County, Parry Sound-Muskoka, Grey Bruce and Dufferin Counties," said Solty. Gilda's Club provides networking and support groups and workshops for children, teens and adults, educational seminars and social activities for people fighting a battle with cancer. It is a place where people of all ages gather to learn more about cancer, to share their experiences with others and, and in respecting its namesake Gilda Radner, to find opportunities to laugh.
The Chapter volunteers had 12 students from Banting High School in Alliston come out to plant and lay sod around the front of Gilda's Club. "Thanks to those who helped to get the plant material there, Warren Patterson from Botanix and Michael LaPorte CHTC from Clearview Nursery. Also many thanks to Jeff Lee for having his equipment and two of his employees on site. We were able to unload and lay out all the plant material prior to the students arrival. Thank you Lexi Dearborn, Bob Adams, Jeff Lee and his daughter Abbey, who allowed the students' to keep to their task of planting and sodding. Ross Allin, Bob Adams, Lexi Dearborn, and Jeff Lee did a fantastic job supervising and instructing the students on how to plant efficiently. Earle Graham and Lakelands Irrigation have been frustrated that they haven't been able to get the proper water hookup from inside the building to get the irrigation system going. We managed to get an initial watering on the sod and thanks to Sheila Allin, Ross Allin and Jeff Lee, the plant material and sod all received a good soaking on Saturday morning. A big thank you goes out to Heather Williams for organizing everything for us," said Solty.
The Chapter received excellent coverage from A Channel TV and the
Barrie Examiner
. To see the
Examiner
article, go to
http://bit.ly/91IMNt
.