September 15, 2015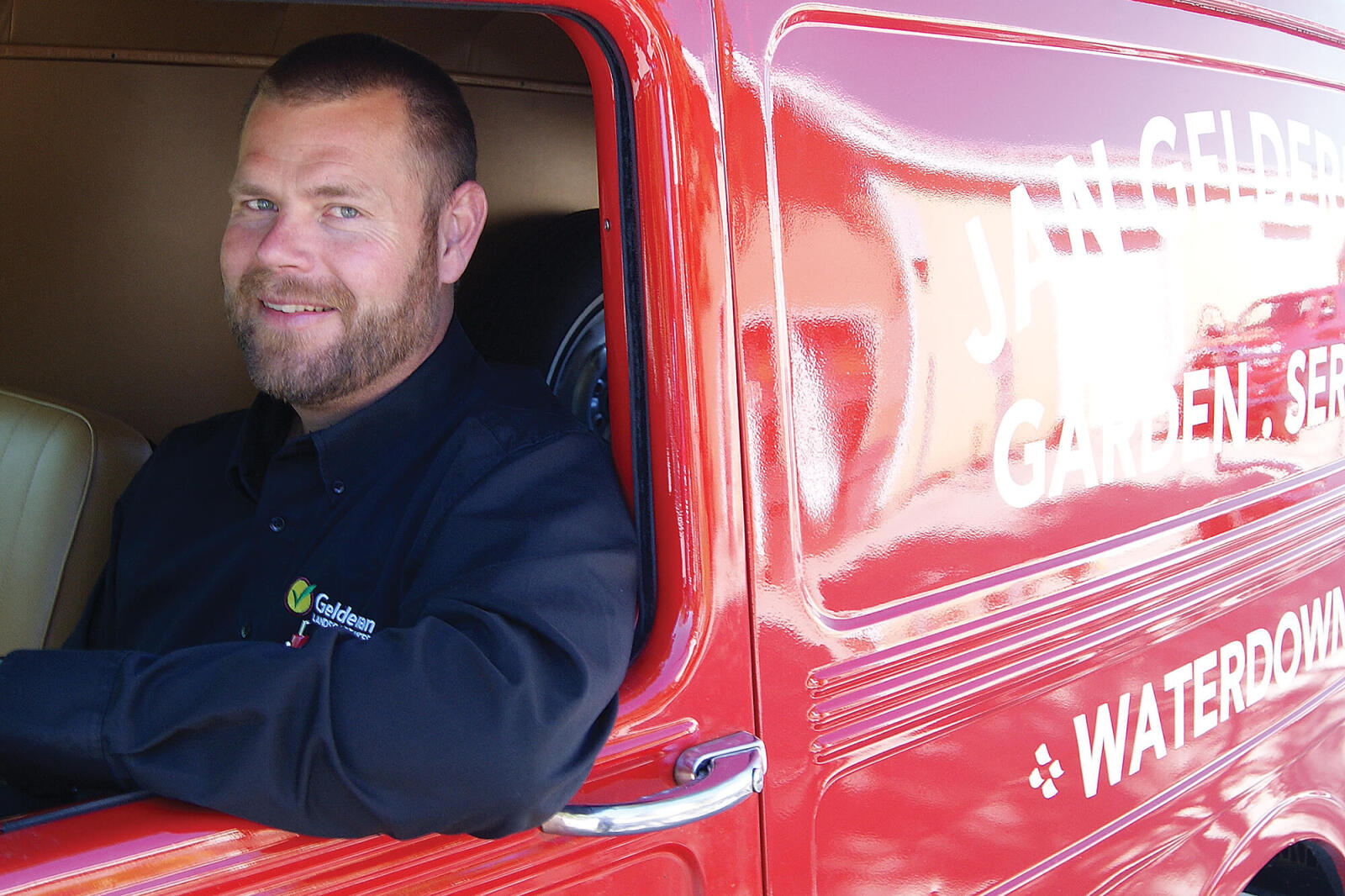 Gelderman Landscape Services celebrates a 60-year legacy
Nathan Helder, president of Gelderman Landscape Services in Waterdown, strongly believes in the philosophy of former president of Ford Motor Company and former chair of Chrysler, Lee Lacocca, who said, "I hire people brighter than me and then I get out of their way."
But for Helder there is more than simply hiring smart people. "Once you have the right people, then they must understand the structure that is in place and that they are empowered to make mistakes, and grow from those," says Helder.
He must be doing something right. Gelderman Landscape Services has gone through a significant and steady growth in business over the past few years. It's doubled its income and number of staff members.
Helder attributes many reasons for the growth, but he notes one area is niche thinking. "I look for new and better opportunities in this industry," says Helder. "When many in the industry zig, I tend to zag the other way."
He gives an example of how the company focuses on maintenance contracts for condos and residential landscape design and construction. Helder points out that Gelderman focuses on high-end clients providing them with strength in communication, punctuality, cleanliness and high-quality work.
"We call it the Gelderman Way. It's based on the tried and true method that is 60 years old," says Helder. At the same time Helder has instituted a clear plan that allows his team to drive the process. "Gelderman's is not about Nathan, it's about its team."
With the business celebrating its 60th anniversary, Helder looks back on both the company's beginnings and his start at Gelderman.
In 1955, Jan Gelderman founded Jan Gelderman Landscaping. He provided lawn maintenance in the spring, and landscaping and stone work in the summer and fall. It was a one-man operation with one crew that worked for over 20 years. He passed away in 1993.
To commemorate the 60th anniversary, Helder had a replica of the 1948 Jeep Willys, driven by Jan Gelderman, completely restored. It honours the humble beginnings that saw success based on hard work, pride, skill and a strong faith.
Those attributes were handed down to Jan's son Hank, who took over the business in the early 1970s at age 21. By 2005, the company had 30 trucks and more than 60 employees. It was that year at the company's 50th anniversary celebration, that Helder approached Hank Gelderman about buying some shares into the company. "Hank told me that there was only one share to buy at Gelderman's," remembers Helder.
"When I came on board in 2006, I had absolutely no landscaping experience. My background was dealing with farmers. I knew people and how to deal with finances," says Helder.
"It took me a few months to think about taking over the company," says Helder. "My wife had never worked at the company as a kid, nor did she have any interest in the business, and I had no landscaping experience." Helder's first involvement with the company actually began in in 1998, when he married Hank's daughter, Michelle.
When Helder finally made the decision, he remembers that the butterflies that had been hanging around his stomach all the time he was debating the issue of purchasing, disappeared.

Members of the Waterdown staff gather for a group photo.
---
In 2010, the
Globe and Mail
featured an article on succession planning in business, using Nathan Helder and Hank Gelderman as examples. The article states, "The beauty of the deal was in the details. For instance, the company's value was determined as of 2005, and the two parties agreed it would increase two per cent a year subsequently. Growth beyond that would accrue to Mr. Helder, rather than adding to the total value of the firm. That solved a common problem in which successors buying shares over time have to pay more for the company if they are successful in building it up."
Hank Gelderman stayed on to guide his son-in-law in the business until 2011, when he officially announced his retirement. See July 2011,
Horticulture Review
.
Helder remembers he ended his job on a Friday, and started at Gelderman's on Monday. He says, "I was like an eagle my first year, swooping into each department asking questions and observing what everyone was doing."
Knowing he needed to learn all the various tasks directly on-site and observing how and what was taking place, Helder worked at all the jobs. "I also had to earn the staff's respect." His hands-on approach also provided him with great respect for the industry.
During that year, Helder also realized he didn't know many people in the industry. That opportunity presented itself when Helder was contacted by Landscape Ontario Executive Director Tony DiGiovanni. "Tony wanted me to help organize an environment stewardship committee, which would include members from every sector in the industry. I became chair, and quickly began meeting many of our industry's professionals." He also served on the Show Committee, Landscape Contractors' Sector Group, Foundation and Prosperity Task Force Committee.
On the business side, Helder met Mark Bradley, president of Landscape Management Network, who provided great assistance. "I also connected with Jeffrey Scott of The Leader's Edge. He (Scott) was just starting out, and I had a great opportunity to see how business is run U.S. style," says Helder.
Nine years later, Helder has created his own consulting business, Southbrook Consulting. He says he has just a few clients, because he doesn't want to take away too much time from his prime focus with Gelderman's.
Education is a big part of what he does at his business. "We call it Gelderman University," says Helder. Both customers and staff learn lessons at this university. "We teach staff how to work with strategic plans, financial issues and how to budget. The goal is to make better leaders."
Helder also instituted a program that uses behavioural assessment tests to find the right employees. He says that the system is very good at preventing bad hires.
In 2014, Gelderman Landscaping Services expanded in the Kitchener-Waterloo region with the purchase of Outdoor Services in Guelph. The following year, the business name was changed to Gelderman Landscape Services, from Jan Gelderman Landscaping.

Members of Gelderman's Guelph branch gather for group photo.
---
The Gelderman team is excited about its 60th anniversary. The company unveiled its special logo for this year, highlighting the refurbished 1948 Jeep Willys.
The company also sponsored a contest, Share the Care Landscape Giveaway. In July, Gelderman's announced Lisa and Allan Logie won a $10,000 landscape. The promotion stated, "For us, it's a great way to celebrate 60 years of caring for our customers, and 60 years of caring to make our world a more beautiful place! With Share the Care we want to give someone a beautiful new outdoor living space that might not otherwise have one."
On Sept. 17, a special thank you barbecue for industry friends, suppliers and colleagues will take place. The event will celebrate the amazing growth and transition that has taken place over 60 years, while maintaining a legacy of care.