April 15, 2015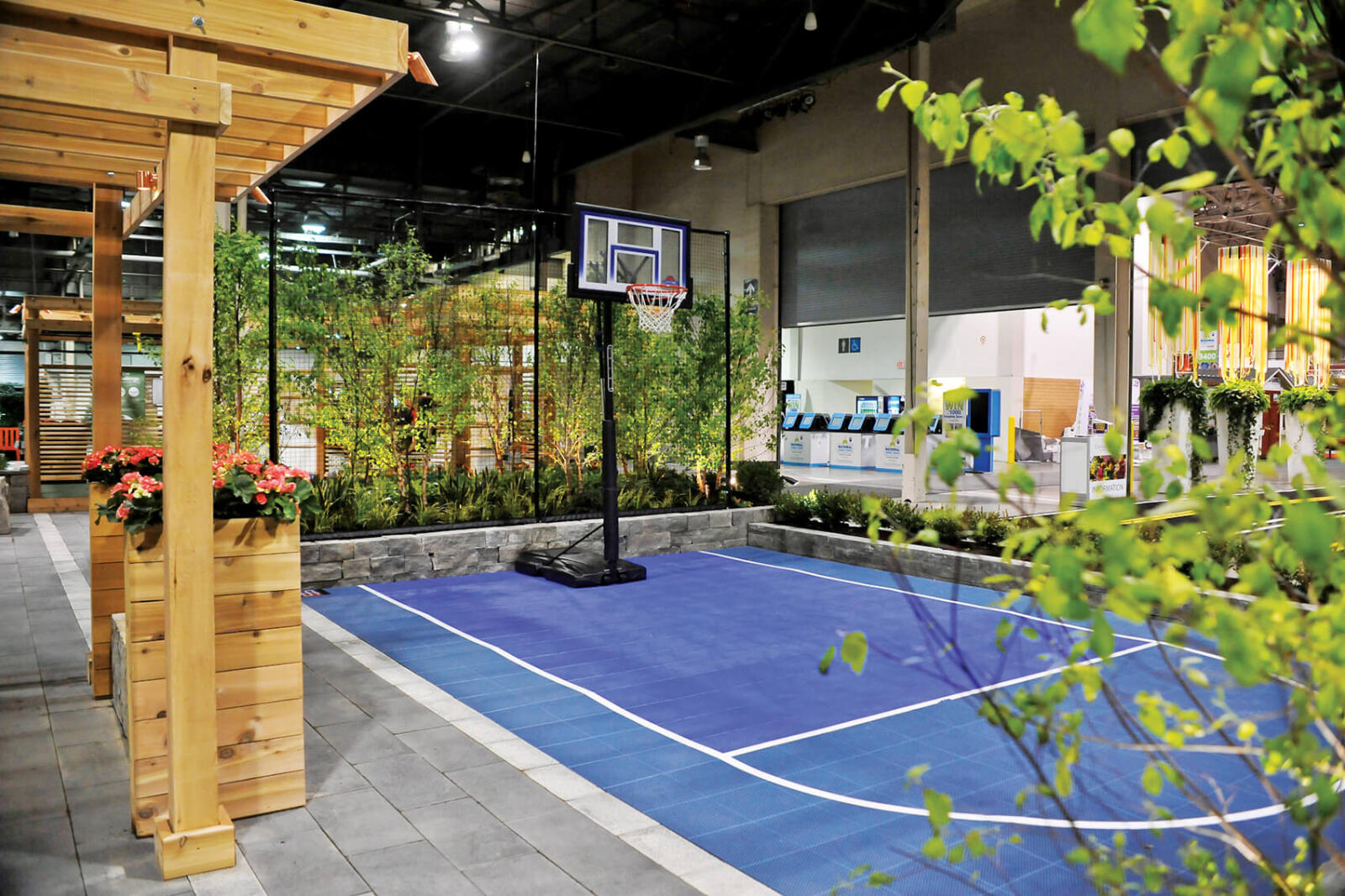 Gardens at Canada Blooms provide wow factor
Gardens at this year's Canada Blooms achieved the wow factor and then some, for those looking to escape the final days on a long and cold winter.
This year's event, with the theme, Let's Play, had a new location inside the Direct Energy Centre, from Mar. 13 to 22, which gave the show a different look this year. Some big changes that the new location brought were lighting and a lower ceiling. The hall also has no underground garage beneath, removing weight restriction for garden builders.
As of this printing attendance numbers were not available, but show manager Terry Caddo said he felt the number was about the same as last year. Attendance was slow opening weekend, but picked up as the week moved along.
Most news reports and blogs reflected well on the show, such as
Canadian Gardening
magazine's comment, "The larger-than-life garden designs on display at Canada Blooms are not to be missed (and how could they). From a giant time clock/living wall (designed by Near North Landscape) to a whimsical troll in an enchanted garden (designed by Vandermeer Nursery and Earth Art Landscapes), there's lots to discover."
Helen Battersby of Toronto Gardens, wrote, "Maybe it's the Let's Play theme at Canada Blooms 2015, but I found myself wishing I were a kid again. Some garden writers might give me a hard time for even daring to think of applying the word "whimsy" to a garden, but many parts appealed to my inner child."
Mark Cullen wrote in his newspaper column, 'Every year exit surveys tell us that the top reason that people come to Canada Blooms is to see these gorgeous gardens. And why not? If you were to have them built in your own yard, you would need almost an acre and it would cost more than $8 million."
The Landscape Ontario Otium Outdoor Exercise Garden drew a great deal of attention with its basketball hoop, punching bag and climbing wall. It definitely captured this year's playful theme.
The Landscape Ontario garden, complete with the exercise components, has been re-constructed in St. James Town in Toronto. Shawn Gallaugher, who designed the Otium Garden, says there is a lack of amenities in the neighbourhood.
In discussion with the community, Gallaugher said he received some inspiring feedback by residents, which influenced some aspects of the LO Otium garden.
Over 25,000 copies of Landscape Ontario's
Garden Inspiration
magazine were handed out at Canada Blooms. The popular magazine was directed toward consumers, showing various projects by LO's nine chapters, Awards of Excellence winners, new plants and listings of member companies.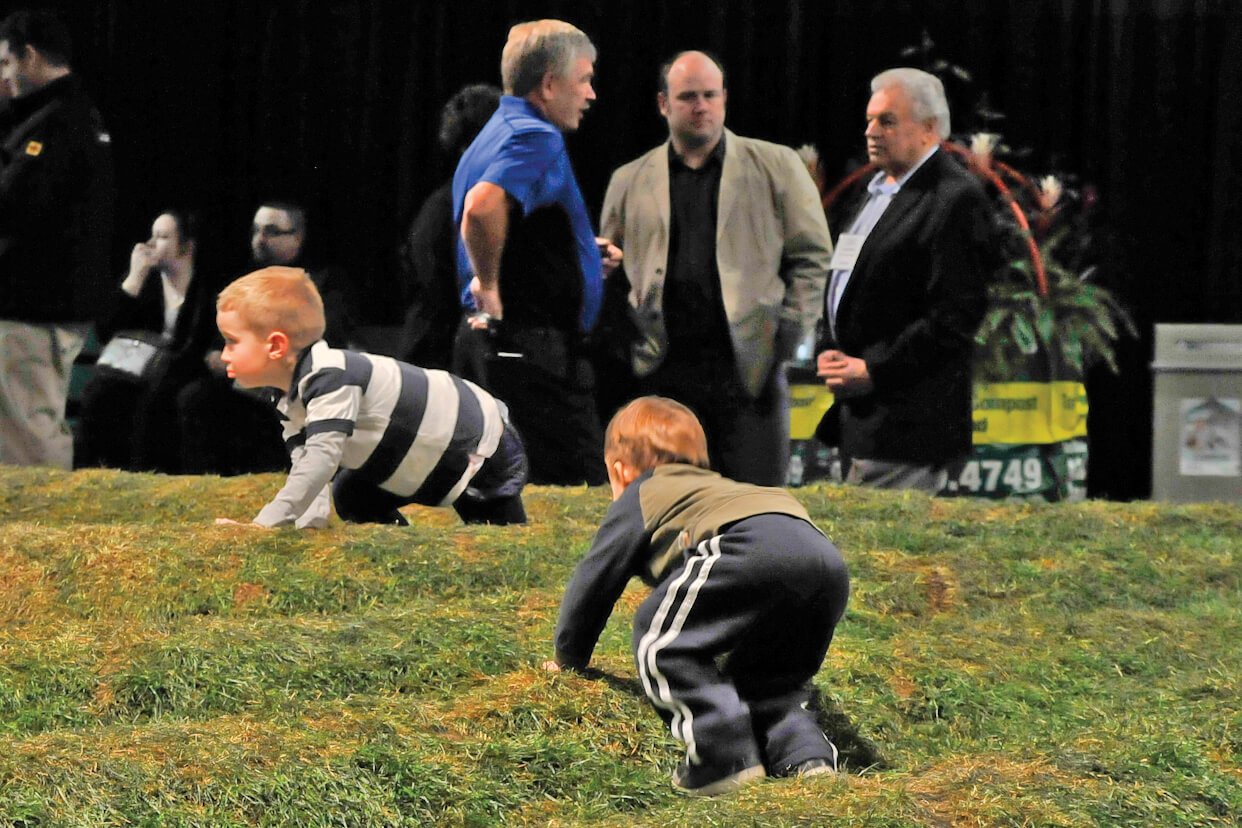 The LO Surf and Turf garden was a great attraction for children who enjoyed running along the wave design.
---
The Surf and Turf Garden, created by Landscape Ontario, Designs By The Yard, Allstone Quarry and Nursery Sod Growers, drew a great deal of interest. The display created rolling waves of turfgrass, which gave children lots of opportunity to 'surf' or roll down the waves. The garden was built to demonstrate some of the many benefits of turf, including water conservation.
On Mar. 20 nearly 20 wounded veterans from Sunnybrook Hospital were welcomed to Canada Blooms. Organized by Joe Genovese of Genoscape in Markham, the veterans enjoyed the tour of Blooms. He had heard from Sunnybrook that a group of veterans wanted to see the gardens and experience a bit of spring at Canada Blooms. Genovese said he was inspired to arrange for the veterans to visit Blooms. Genoscape was one of the companies to create a garden at Blooms, which was voted the People's Choice Award.
Some of the positive comments found on social media included, "What beautiful gardens and an interesting setting this year. The new hall gave it more of a quiet, intimate feel (just what I am looking for in my back yard), and it felt more magical with all the lights in the gardens."
"We had a fantastic time at Canada Blooms this year and are already planning our next year's trip down. Loved all the flowers and the landscaping, and got tons of ideas for this year."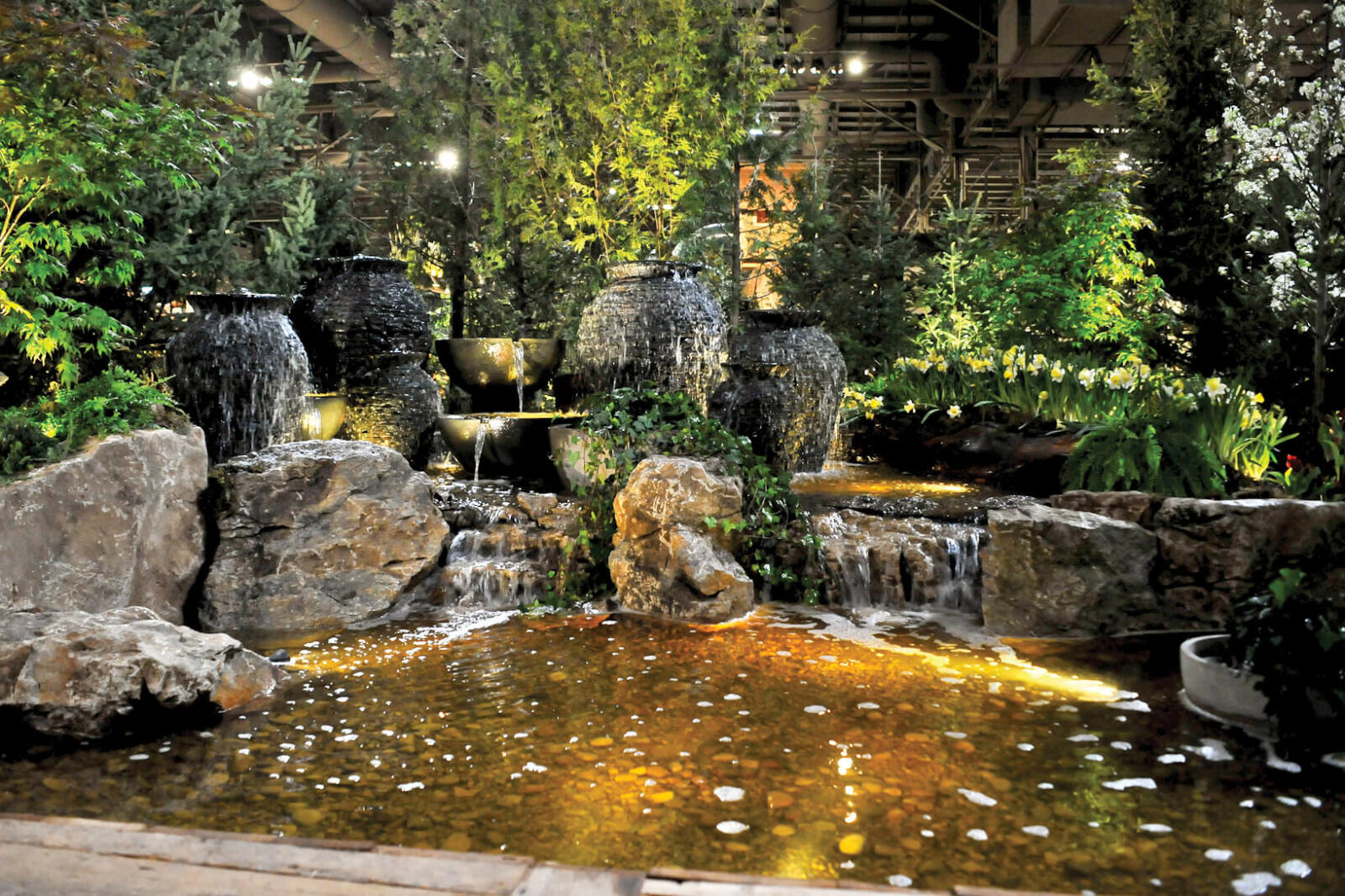 The Genoscape garden received the People's Choice Award.
---
It wasn't just all gardens that attracted visitors to Canada Blooms. An impressive lineup of guest speakers, such as Mark Cullen, Denis Flanagan, Kent Ford, Theresa Forte, Miriam Goldberger, Paul Zammit, Jeff McMann, Tony Post and more, attracted many people to the Unilock Celebrity Stage.
At the end of the show, plants were donated to senior residents' homes in Toronto. Both local media and politicians were on hand to take part in the presentations.
Next year Canada Blooms marks its 20th anniversary, from Mar. 11 to 20, at the Direct Energy Centre, with the theme It's a Party.
Garden builders wanted
To improve plant selection, acquiring sponsors and engagement, garden builders need to apply by the end of April. David Turnbull, Canada Blooms Director of Horticulture, says next year's show marks the 20th anniversary. "It will be bigger than ever."
Those looking at building a garden at the 2016 event should contact Turnbull, at 647-382-2474, by Apr. 30, notifying him of your intent.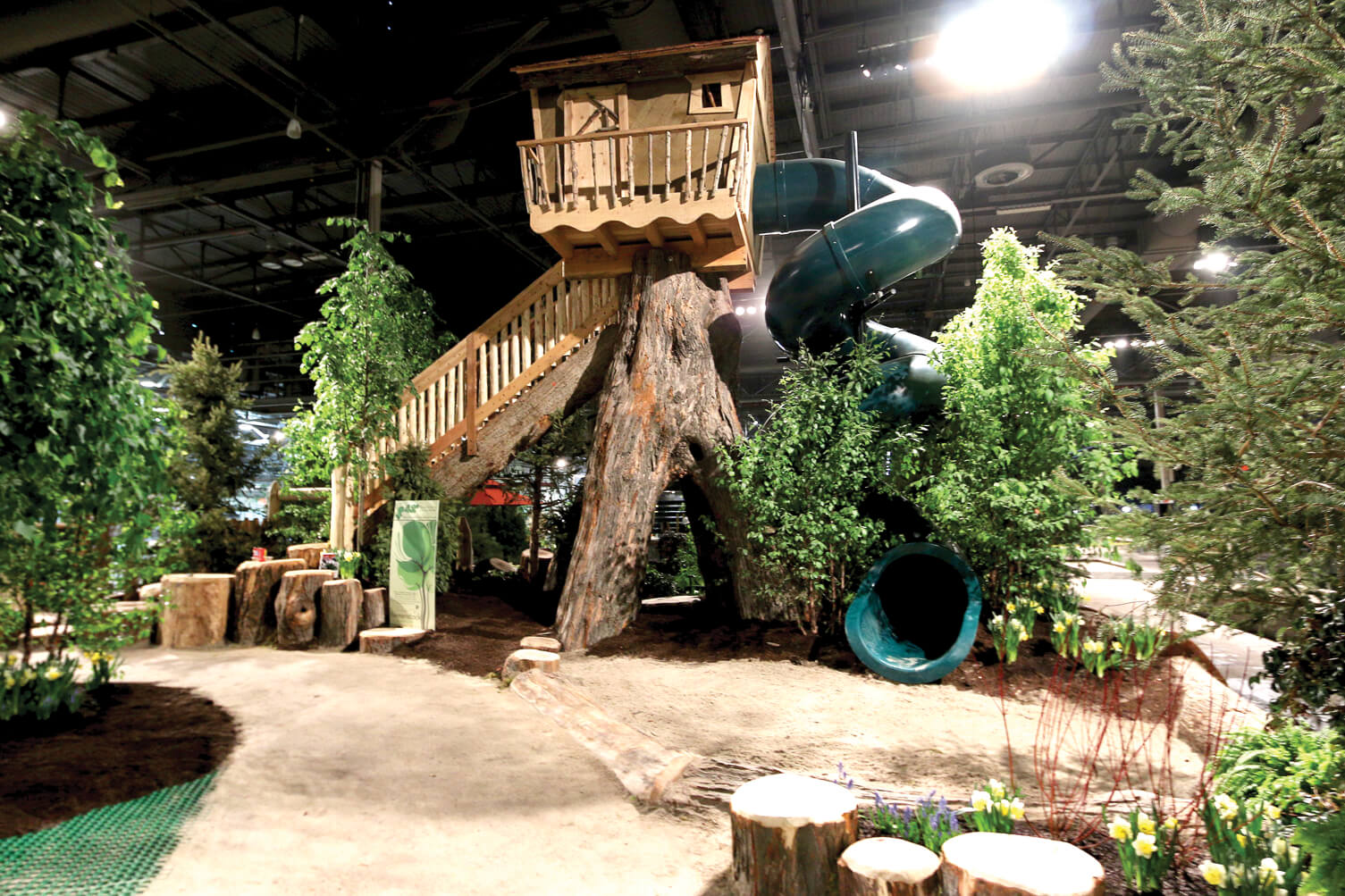 Bienenstock Natural Playgrounds was one of the many gardens that supplied visitors to Canada Blooms with the wow factor. The dramatic tree house drew a great deal of attention.
---
Co-chair of Canada Blooms, Anna van Maris, of Parklane Nurseries in Beaverton, says she wishes more LO members would support Canada Blooms. "It's really too bad more members don't step up to build a garden at the show," said van Maris.
She says that Canada Blooms has done more than any other event to help improve the industry. "Look where our industry was ten years ago compared to now. Canada Blooms has been a huge influence on consumers, showing them the importance of professionally-constructed gardens," says van Maris.
She feels that with all members benefiting from the change, more members need to help with donations of plants, stone and equipment. "Improving Canada Blooms will improve our industry," says van Maris.
van Maris reflects on her company's involvement with Blooms since it began. "We do receive referrals and have gained some clients each year from the show, but that's not why I do the show."
From a company perspective, she says Blooms provides a great opportunity for new people to work as a team before the season begins, along with a few good leads and great press coverage. "Of course we have a bit of fun in the process," says van Maris. The main incentive for her is the opportunity to show the public what great gardens can be created by professionals.
"I do offer my most humble thank-you to all the great volunteers who helped at Canada Blooms this year. There is no other show that depends so much on our volunteers. It's amazing."