April 15, 2016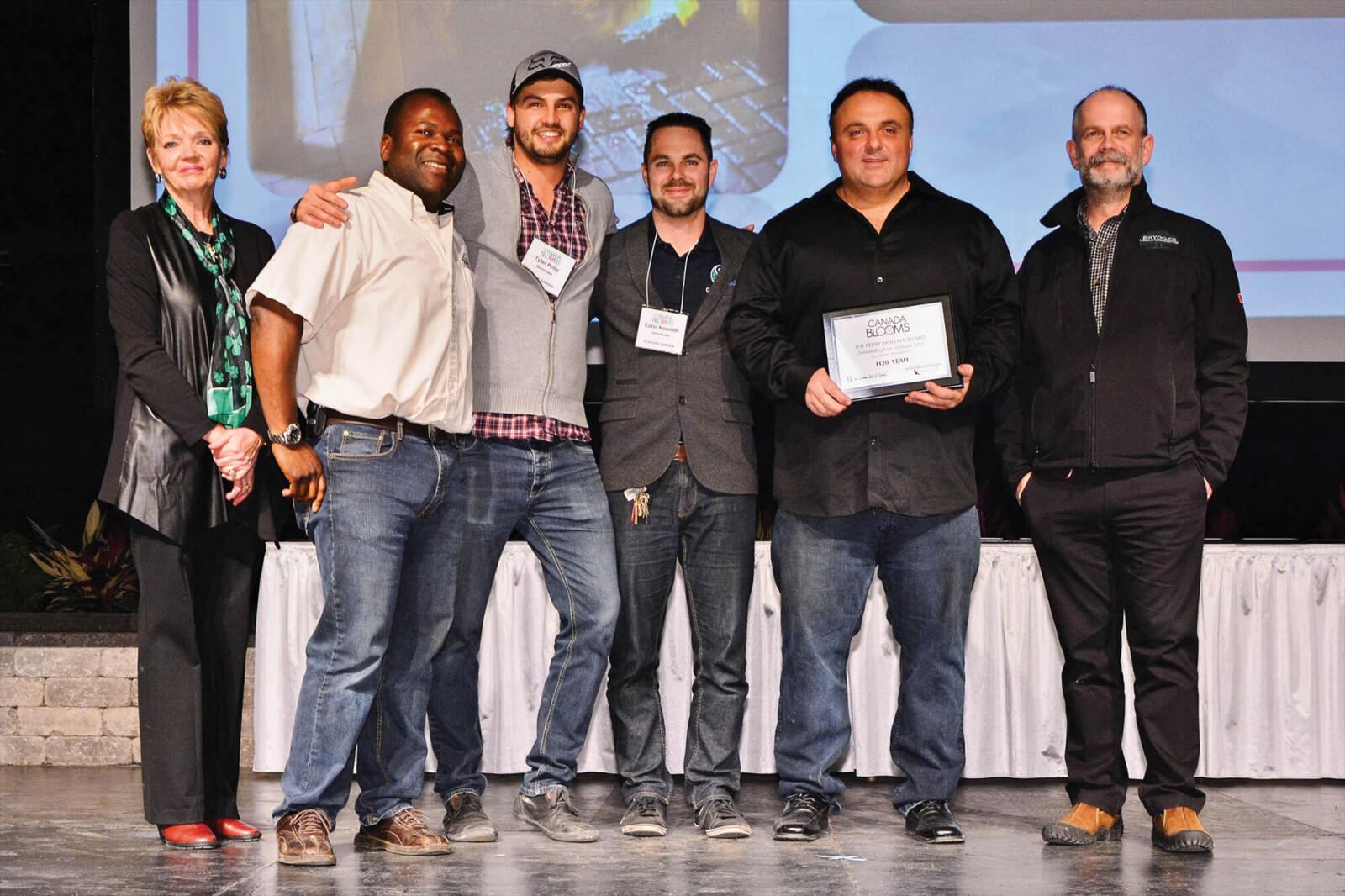 Feature garden award winners at Canada Blooms 2016
True to the "It's a Party!" theme, the 20th annual Canada Blooms festival was a celebration of the green profession and the amazing possibilities the industry provides. Garden displays continued to be a major draw for visitors, and the professionals behind the varied and beautiful displays were recognized at an awards ceremony held Mar. 17 at the Unilock Celebrity Stage during industry night.
Feature garden judges included: Alistair Johnston ISA, Strybos Barron King; Jeff McMann NPD, ISA, CHT, TRAQ, Mount Pleasant Group of Cemeteries; Martin Wade BLA, OALA, CSLA, Martin Wade Landscape Architects; Beth Edney CLD, Designs by the Yard; Carson Arthur, HGTV; Christine Gracey OALA, CSLA, DA Gracey & Associates; Michael Prokopow PHD, OCAD University; Peter Guinane, Oriole Landscaping. Conveners were Ron Koudys BLA, MED, OALA, CSLA, ASLA, RLA (MI), CLD of Ron Koudys Landscape Architects and Landscape Ontario's Kristen McIntyre CHT, CEM.
At the conclusion of final award selections, each judge voted on their favourite feature garden by secret ballot, to be included in the tally for 'Judges Choice Award,' renamed for 2016 to the Tony DiGiovanni Garden of the Year Award. "I am inspired and encouraged by the level of detail and craftsmanship with the imaginative garden designs," said Tony DiGiovanni, executive director of Landscape Ontario.
"The builders expressed their creativity and interpretive, artistic vision of the theme of 'It's a Party' this year in celebration of the 20th year of the festival. Our talented teams of feature garden builders impress me more each year."
The following results are the winning entries at Canada Blooms 2016.
B SQ Design Studio
Unilock Award for outstanding garden, small size
Landscape by Lucin
The S.G. Ulbright Award for outstanding garden, medium size
Outstanding use of pre-cast pavers, presented by Permacon
Genoscape
The Tony DiGiovanni Garden of the Year Award (Judges Choice Award)
The Gordon A. MacEachern Award for outstanding garden, large size
Perry Molema Award for outstanding use of water, presented by Aquascape
The Leslie L. Solty Memorial Award for best overall creativity in garden design
Garden Retreats and QPS Landscape Professionals
Outstanding interpretation of the show theme "It's a Party!" presented by Isuzu Commercial Trucks of Canada Bancheri Bros
Outstanding outdoor entertainment area
Jacobs Gardenspace
Most imaginative garden design, presented by Niagara Escarpment Views
Near North Hardscape
Outstanding use of artistic elements in a garden, presented by Hortus TV
Outstanding outdoor living space
ORCGA and Fern Ridge Landscaping
Outstanding educational garden
Royal Stone Landscaping & Design and AquaSpa Pools Landscape and Design
Outstanding use of trees, presented by Gro-Bark Ontario
The W.E. Bridgeman Award for best overall use of hard landscape elements
University Pro Landscapers, Paving, Pools & Spas
Outstanding use of lighting
City of Toronto
Outstanding use of interior plants, presented by Jill Jensen Botanicals
The Garden Club of Toronto Award for best overall use of colour
Egreen Design
Outstanding use of annuals and/or perennials, presented by Pick Ontario
Brydges Landscape Architecture and the Landscape Ontario Horticultural Trades Association Team
Outstanding use of natural stone, presented by Beaver Valley Stone
Unilock
Outstanding use of walkways
The Dig Safe Builders Award, presented by Ontario Regional Common Ground Alliance
Julie Moore Modern Landscape Design
Outstanding use of innovative elements in a garden
Who Does Your Garden in partnership with Vital Gardens
The Do-Up-The-Doorstep Award, presented by Oaks by Brampton Brick
Fresh Floral Creations
Outstanding floral use of artistic elements, presented by Gatto Flowers
Opening Night Flowers
Best overall floral quality and workmanship, presented by Fiskars
Alma Florist
Best use of floral theme, presented by Bayview Flowers
Vandermeer Nursery and Earth Art Landscapes
The PemierTech Award for best overall use of plant material
J. Garfield Thompson Landscape
The Landscape Ontario Award for best overall quality of workmanship