November 15, 2010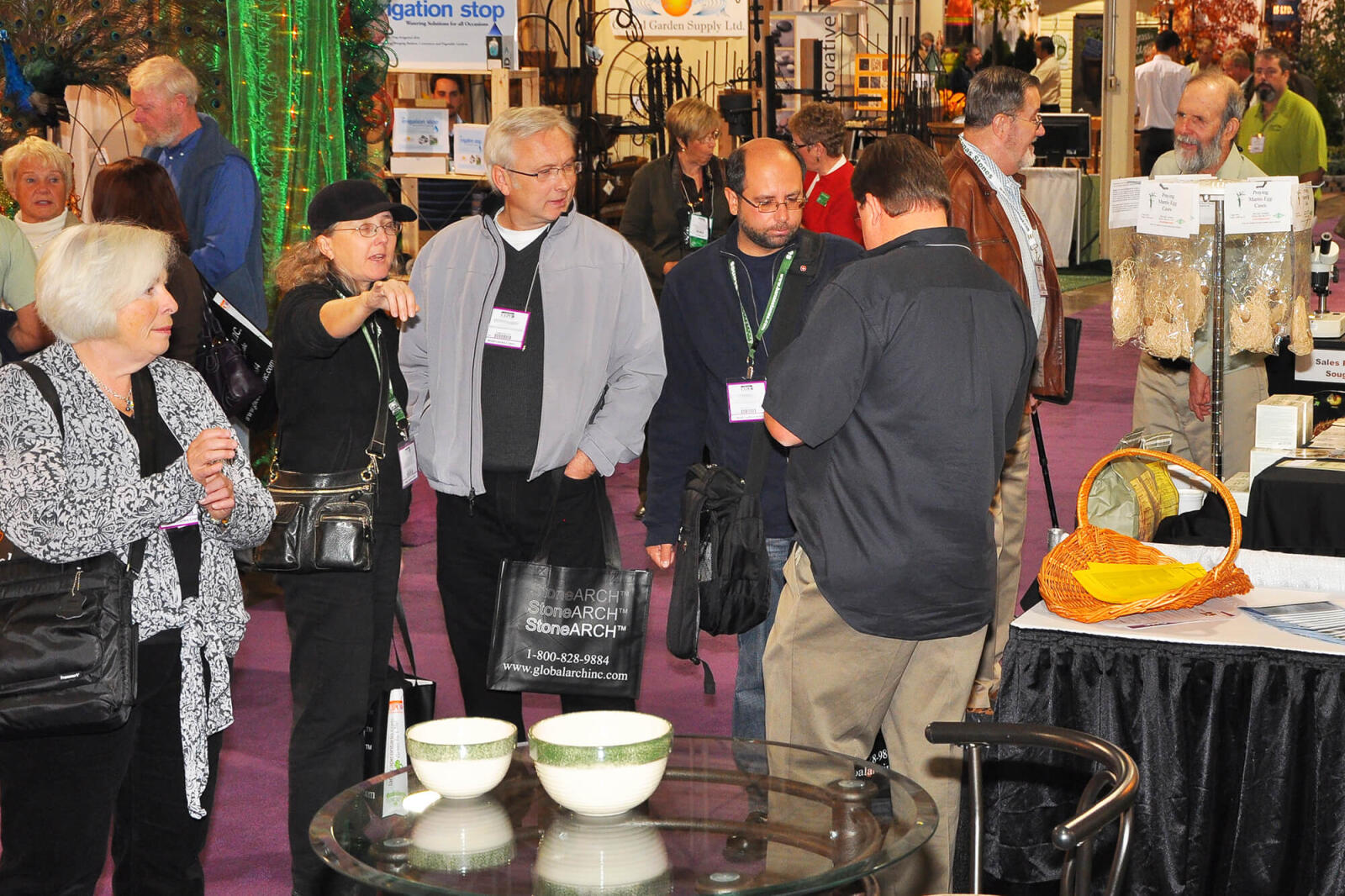 Expo enters new era with a blaze of colour
This year's Expo opened in a blaze of colour and well merchandised displays, capturing the attention of more than 2,800 horticulture and floriculture professionals visiting the show. This was a slight increase in attendance over last year, which is very positive since most trade shows across North America are experiencing declining attendance.
Creative booth displays, hundreds of new plant and product introductions, sector-specific symposia, floral masterpieces and a visit by some of Canada's leading garden writers left attendees feeling excited and inspired.
Expo, formerly known as Garden & Floral Expo, is Canada's fall show for the floral and garden industry. This year's event took place on Oct. 19 and 20 at the Toronto Congress Centre.
"We've worked to enhance the uniqueness of our show, a transformation that began last year with the help of designers such as Albert Graves and Beth Edney," said Lorraine Ivanoff, show manager. "Our goal is to give attendees and exhibitors a world class show that is located within their own market."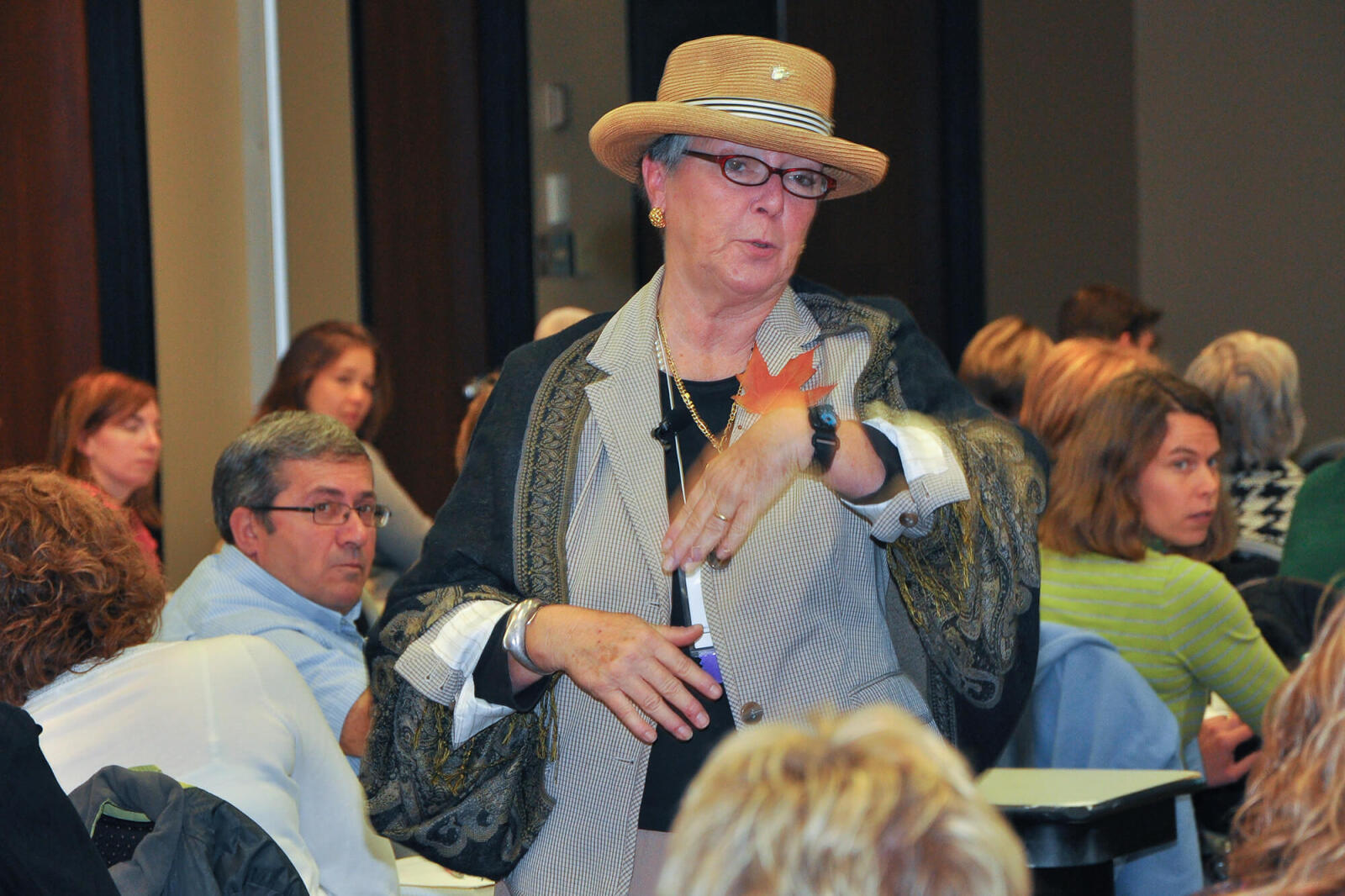 Judy Sharpton wowed the audience at the Garden Centre Symposium.
---
Best booths
Determining winners of the best booth awards was a challenge for the judges, who had to decide from among the many high quality exhibits at Expo. It's more than looking attractive, the booths must also educate attendees. Exhibitors receiving the top marks included, Freeman Herbs of Beamsville for best booth under 200 sq. ft., and Scotts Canada, Mississauga, for the best booth over 200 sq. ft.
"I enjoyed how both booths were visually merchandised to invite people to come in and learn more about the products. Retailers, in turn, can emulate the concepts to make their store product displays more inviting to customers, thereby increasing sales," said Elizabeth McCullough, general manager of Trade Shows, Canadian Institute of Plumbing and Heating. Other booth judges were Jennifer Allaby, senior account executive, Stronco Group of Companies, and Deborah Dugan, vice president of sales and marketing, CONEXSYS Registration.
New product showcase
Over 100 of the latest product additions to the world of ornamental horticulture were featured in the New Product Showcase. Greenstar Plant Products was the major sponsor of this area. Connon Nurseries - NVK Holdings and Medallion Fence contributed plants and fencing that enhanced the products within the showcase. Michael LaPorte, Clearview Nursery, Terry Childs, Nature's Way Landscaping, and Klaas Sikkema, LO alumni member, are congratulated on designing and merchandising the products within the showcase.
The winner of People's Choice for Expo's New Product Showcase, by a landslide at 104 votes, was
Gardens Central
magazine, published by Cornwall Publishing Co. Next up was a tie between Triolife with the Plant Pyramid, and Bosman Home Front's Glider Rocking Chair, each receiving 10 votes.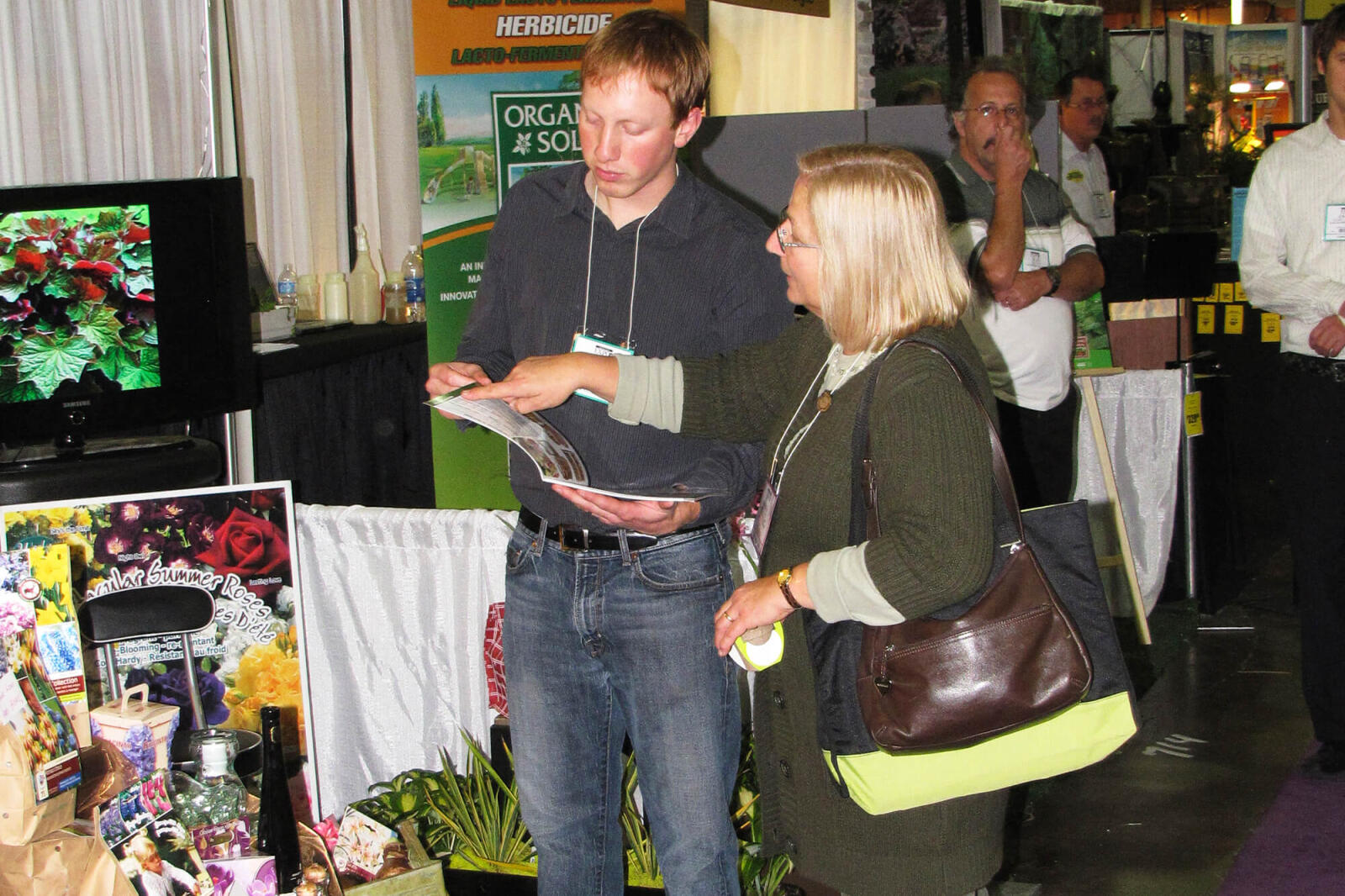 Business, education and networking continue as the strong anchor points at Expo.
---
Flowers dazzle attendees
Albert Graves, artistic director, brought new plant and flower growers, as well as floral industry suppliers to this year's Expo. Attendees experienced first-hand how Ontario growers' specialization, allows quality control that results in larger blooms, more intense colours, enhanced fragrances and longer vase life.
A new addition to the show was the induction ceremony of eight new Canadian Academy of Floral Art (CAFA) members. The members participated in a competition, based on Expo's theme Window to the World. Third prize went to Kara Johnston, New Liskeard, second prize to Maria Lackman of Ottawa, and the 2010 CAFA cup winner Kris Friesen is from Portage La Prairie, Man.
"There is power in the bloom and the Academy is pleased to have been part of Expo's Garden Party and a wonderful evening," said Joel Marc Frappier, president of the CAFA.
Florists were impressed by a design demonstration entitled, Doing What Sells with a Twist, presented by Suzy Caiger, Shannon Jukes and Mona Star, all members of the Canadian Institute of Floral Design. Caiger and her team shared tips on how to create stunning fruit and floral centerpieces to sell for the holidays.
Many attendees put on their retail hats by wearing hair bands and hair pieces created by Dorina Idvorian and her floral design students from the retail floral program of Conestoga College Institute of Technology and Advance Learning. Floridus Design Images supplied the materials and sponsored the students.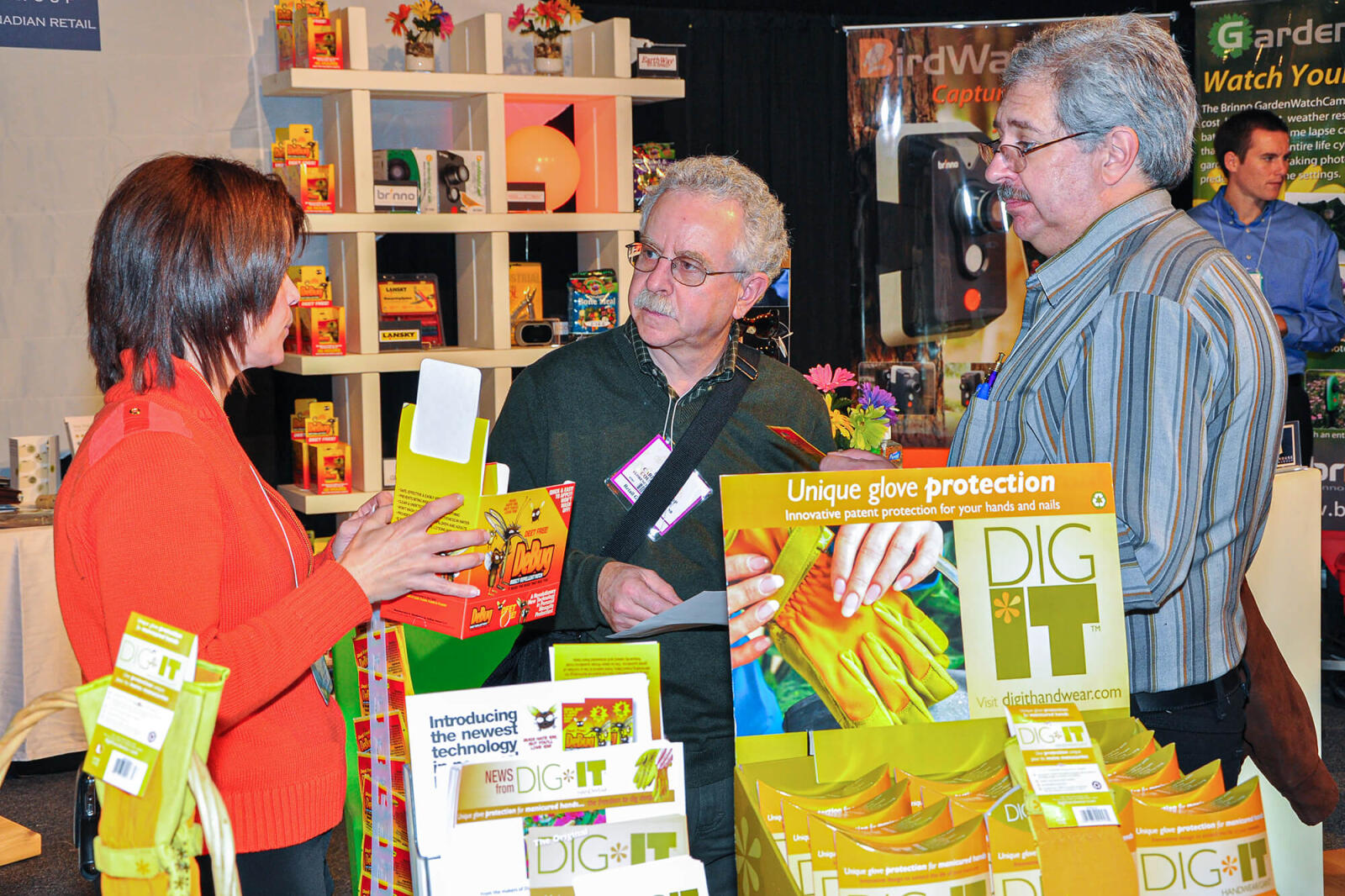 Exhibitors displayed a huge array of products at this year's Expo.
---
LO booth receives rave reviews
Again this year's LO booth received rave reviews. Said LO manager of education, labour relations and membership services, Sally Harvey, "It made our members proud and better still, the booth generated a lot of interest in membership, as well as our products and services, including publications, seminars and our new Hort Protect supplier — Marsh Insurance."
Designed and coordinated by Beth Edney CLD, Harvey stated, "As always, Beth went way beyond the call of duty and is commended for her vision and follow-through on another outstanding project." Members of the LO booth development team included, Beata Feher, Helen Hassard, Joel Beatson, Kristen McIntyre CLT, Martha Walsh, Stephen Krampert, Tom Somerville, Tyler Garrard and Sally Harvey, CLP, CLT. Thank you also goes to the excellent partners in production of the booth, ShowTech, Stronco and the Toronto Congress Centre.
The foundation of retail success is a knowledgeable store staff. Once again, Master Gardeners of Ontario partnered with the show to help garden centre owners and employees gain more knowledge on a variety of plant related topics. Special thanks to Ron Rossini, Dianna and Gary Westlake, Sean James and Robert Pavlis for their insights.
Rodger Tschanz showcased plant samples and shared comments on how the perennials and annuals fared in this past summer's University of Guelph Trial Gardens. Visitors could view the plants at the New Product Showcase and on the Green for Life stage.
Design ideas inspire visitors
From the elegant entrance garden designed by Diana Cassidy-Bush, Fresh Landscape and Garden Solutions of Tweed, to the Green for Life stage, designed by Beth Edney, Expo 2010 vice chair and president, Designs by the Yard, the show abounded with design ideas to implement on store floors.
"Retailers are looking for exciting and creative ideas that they can do themselves in their stores," said Beth Edney. "Collaborating with Albert Graves, our artistic director has given LO the chance to share imaginative concepts with both garden centres and florists. Displays we created at Expo are affordable. Attendees are encouraged to let their imaginations and creativity soar in creating a "wow" experience for their customers. A small creative risk combined with interesting visual displays will motivate customers to buy."
Over 30 members of the Garden Writers Association participated for the first time in a 'connect' meeting at Expo 2010. Members, always looking for products and plants to test and talk about with their readers, were awed by the variety of plants, flowers and products available at Expo. The show is now on their agenda as a must attend annual event.
Thanks to generous sponsors
Experiences at events like Expo are always improved with the support of sponsors. LO is proud to associate with companies that demonstrate commitment to the industry and its members through generous sponsorships:
Garden Centre Symposium: Presenting sponsor, Fafard et Freres and contributors Brookdale Treeland Nurseries, Canadale Nurseries, Canadian Nursery Landscape Association/Garden Centres Canada, Langendoen Nurseries, Manchester Products, Turf Revolution, Valleybrook Gardens (Ontario) and Willowbrook Nurseries.
Landscape Designers' Breakfast: Connon Nurseries NVK Holdings and Permacon.
Entrance Garden: Fresh Landscape and Garden Solutions, Fafard et Freres, Connon Nurseries - CBV Holdings, Permacon dealer - Sprout's Premium Earth Products and Westbrook Floral.
Green for Life Stage, sponsored by Turf Revolution, partnered with Landscape Ontario in offering educational programming to help industry professionals become green for life. Connon NVK and Camilla House Imports contributed to the decor.
Garden Centre Symposium
A great line-up of speakers shone a light on the changing retail landscape. The Garden Centre Symposium audience, on Oct. 18, enthusiastically heard some of the highest quality of internationally acclaimed speakers ever presented at this event.
"A favourite was hard to pick, as their presentation styles differed, but Judy Sharpton had all of us laughing and commenting as she relayed her experiences with garden centre owners who were there to improve their stores," commented the event's chair Perry Grobe of Grobe's Nursery and Garden Centre, Breslau. "Those who didn't hear Eve Tigwell speak on how to improve their businesses, or Doug Green on deciphering the Internet and social media like Facebook and Twitter, really missed out!"
Tom Intven, LO president, closed out the program with a detailed and enthusiastic presentation on what's new in woody plants. Everyone in attendance now has a head start on their competition for spring plant choices.
Special breakfast presentations
Theresa Syer is passionate about service and connecting with people on an emotional level. Her keynote presentation was made at the Landscape Designers Breakfast on the opening day of the show. As a successful entrepreneur, she presented great ideas on how business owners can work with their teams to create outstanding customer experiences.
Over 30 delegates attended Environmental Design: Interior Plantscape Breakfast, for the panel presentation featuring Joanne Young, Greenery Office Interiors, Calgary, Alta., Kathy Fediw, Johnson Fediw Associates, The Woodlands, Texas, and Liz Klose, Canadian Nursery Landscape Association.
Awards of Excellence
Landscape Ontario's Awards of Excellence winners for Garden Centres and Growers were announced at the ceremony luncheon that was held in conjunction with the Garden Centre Symposium at Expo. LO's director of public relations Denis Flanagan announced the winners, with Tony DiGiovanni and LO president Tom Intven presenting the plaques to award recipients. The awards were developed by Landscape Ontario to honour the growers, as well as the retailers.
The following are the winning entries in the 2010 Garden Centre Awards of Excellence:
Canadale Nurseries, St. Thomas:
Merchandising Techniques - outstanding promotional event; outstanding display of plant material - annuals and/or perennials; Outstanding display of plant material - deciduous shrubs and/or trees; Outstanding display of plant material - evergreens and/or broadleaf evergreens.
Cudmore's Garden Centre, Oakville:
Outstanding display of plant material - annuals and/or perennials.
Cut & Dried Flower Farm, Glencairn:
Merchandising techniques outstanding promotional event; Permanent display gardens over 500 square feet
Ego's Nurseries, Coldwater:
Permanent display gardens over 500 square feet.
Mori Gardens, Niagara-on-the-Lake:
Permanent display gardens over 500 square feet; Outstanding display of plant material - deciduous shrubs and/or trees; Outstanding display of plant material - evergreens and/or broadleaf evergreens.
New North Greenhouses, Sault Ste Marie:
Outstanding display of goods – giftware; Outstanding display of goods – hardgoods.
Sheridan Nurseries (Georgetown):
Outstanding display of plant material - annuals and/or perennials; Outstanding display of plant material - deciduous shrubs and/or trees; Merchandising techniques - Creative POP Area (Cash register or immediate surrounding area); Outstanding display of goods – seasonal; Permanent display gardens - over 500 square feet; Merchandising techniques - outstanding promotional event.
The Pond Clinic, Ottawa:
Permanent display gardens - under 500 square feet.
The Growers Awards of Excellence Winners were also presented at Expo. The list of winners was printed in the
August 2010 edition of Horticulture Review
.
"Building on the success and excitement from the 2009 show, I am extremely pleased with the entire trade show department team at Landscape Ontario for keeping their vision of Expo 2010 clear and in the best interest of what the delegate wants to see at a show. This event continues to evolve, grow and become stronger by welcoming many partners to the table in order to be the must-attend event for the horticultural and floricultural communities," said Gilles Bouchard, LO director of events and trade shows.
LO's next big event is Congress, from Jan. 11 to 13. To see more information on the popular trade show, go to
www.locongress.com
.