August 15, 2010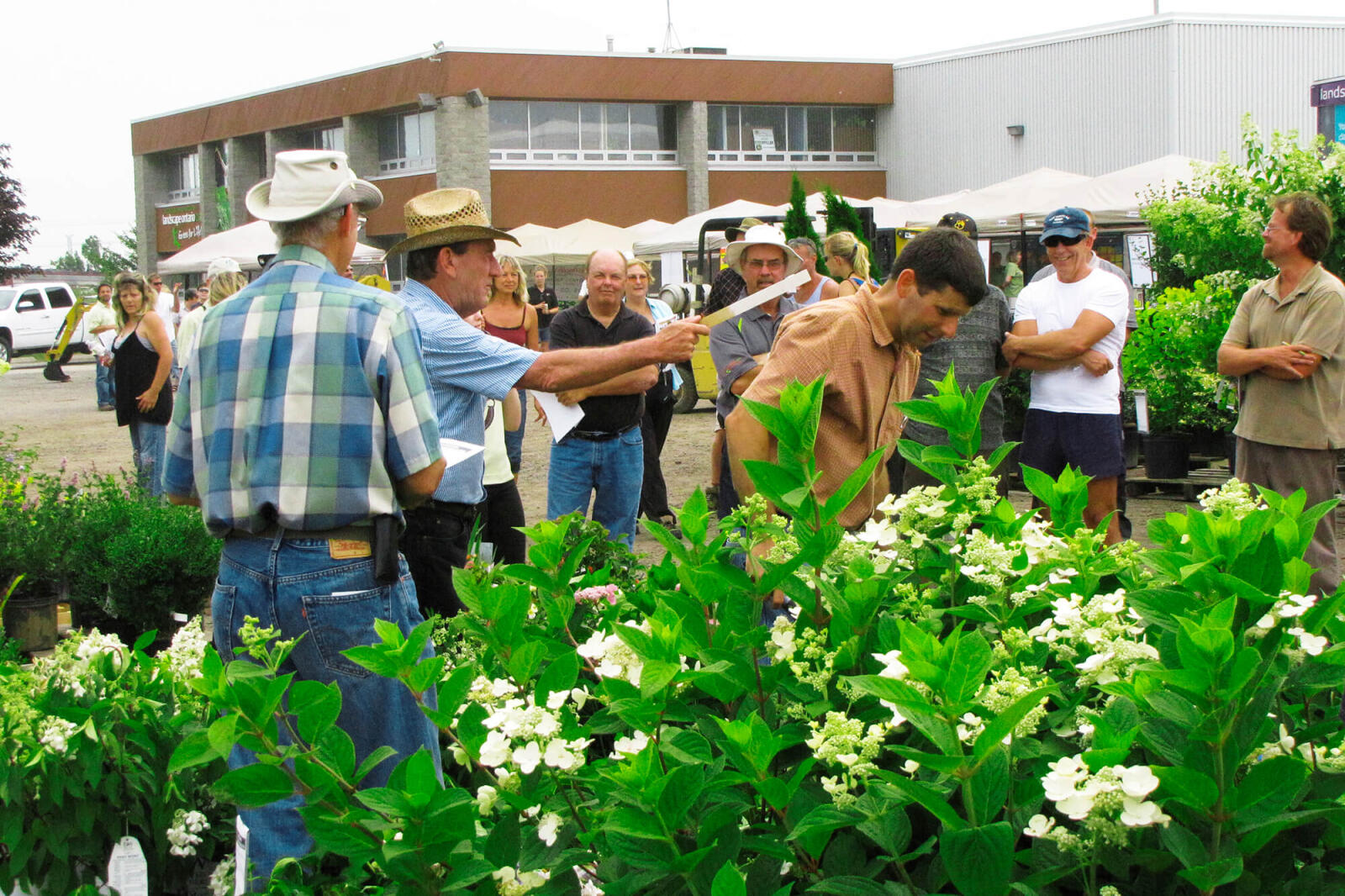 Growers raise over $22,000 at auction
If success is measured in dollars, the 2010 Growers' Group Auction was a resounding success. Compared to last year's auction, it out-raised that event by $4,000. This year's estimate is $22,000, raised through the donated plant material and related products to benefit horticultural research and scholarships.
Organizers were concerned that moving the date forward and onto the property to home office may hurt the event's attendance. That didn't happen. Other areas that saw an increase were the number of bidders and the amount of donated plant material.
Traditionally the auction is held in September, but this year it was moved forward to July 15. It is also normally hosted by a grower, while this year it took place at LO's Milton location.
Also new this year was Endorsed Suppliers Lane, along with two great speakers. Paul Zammit, director of horticulture at the Toronto Botanical Gardens presented new ideas in container arrangements, while Al Green of Dimex, an ICPI-certified paving contractor, spoke on edge restraints. He was sponsored by Agrium Advanced Technologies. As well, LO's recycling depot was open to receive horticultural plastic.
Each auction lot was assigned a raffle number, with all winning bids entered into a draw for a 40-inch LCD TV donated by Plant Products and Premier Hort. Dave Tillaart of Dutchmaster Nurseries held the winning ticket.
Following lunch, sponsored by Agrium Advanced Technologies, and just before the auction began at 1 p.m., announcements were made by Growers' Group chair Mark Ostrowski and LO president Tom Intven. They were followed by LO executive director Tony DiGiovanni and Brian Cocks CLT, who announced his pledge of $100,000 to the Ontario Horticultural Trades Foundation from his estate. A new program will ask LO members to match that commitment. See complete story on page 23.
The Growers' Awards of Excellence entries were judged in the morning and the winners announced at the end of the auction. An Awards of Excellence certificate went to each of the 12 winning lots, which were then auctioned off. The winners will again be recognized during the Retail Garden Centre program luncheon being held at the Toronto Congress Centre on Oct. 18, in conjunction with Expo.
Special appreciation goes to the dedicated members of the awards judging panel, who offered their time and expertise: Jen Llewellyn, OMAFRA; Chris Graham of Kimberley Cottage Garden; Glen Lumis of the University of Guelph; Len Mancini of Holland Park Garden Gallery; Jeff Gregg of V. Kraus Nursery and Francesco Pacelli, LO nursery technical analyst.
2010 auction donors
Product was generously donated by the following companies: Agrium Advanced Technologies, ASB Greenworld, Braun Nursery Limited, Canadale Nurseries, Chase Paymentech Merchant Services, Connon Nurseries/NVK, Downham Nurseries, Dutchmaster Nurseries, Elements Canada, General Motors, Gro-Bark (Ontario), Ground Covers Unlimited, Hofland Gardens, HortProtect, J. C. Bakker and Sons, Kam's Growers Supply, Kato's Nursery – British Columbia, Kobes Nurseries, Langendoen Nurseries, Living Colour Nursery, M. Putzer Hornby Nursery, Mankar Distributing, Marks Work Warehouse, Mori Nurseries, Mulligan Marketing, Nisco National Leasing, Plant Products, Premier Hort, Sheridan Nurseries, Somerville Nurseries, Stam Nurseries, Timm Enterprises, Tradewind International Sales, Verbinnen's Nursery, Vineland Research and Innovation Centre, V. Kraus Nurseries, Willowbrook Nurseries and Winkelmolen Nurseries.
Growers Award Winners, 2010
| | | |
| --- | --- | --- |
| Category | Plants | Company |
| Category 1: Evergreens - Field Grown Upright and Spreading | Taxus x media 'Densiformis' | Mori Nurseries |
| Category 2: Evergreens -Container Grown Upright and Spreading | Evergreens | Willowbrook Nurseries |
| Category 3: Broadleaf Evergreens | Broadleaf Evergreens | Mori Nurseries |
| Category 4: Deciduous Shrubs | Deciduous Shrubs | Sheridan Nurseries |
| Category 5: Deciduous Ornamental Trees 300 Cm Or Less | Quercus palustris 'Pingreen' | Connon Nurseries/NVK |
| Category 6: Deciduous Ornamental Trees Top Grafted/Worked | Syringa Meyeri 'Palibin' | Willowbrook Nursery |
| Category 7: Caliper Trees | Syringa reticulata 'Ivory silk' | Sheridan Nurseries |
| Category 8: Vines and Groundcovers | Vines and Groundcovers | Connon Nurseries/NVK |
| Category 9: Perennials | Perennials | Mori Nurseries |
| Category 10: Unusual and Rare Plants | Tetradium daniellii (syn. Evodia danielli) | Connon Nurseries/NVK |
| Category 11: Design on a Skid | Assorted material | Sheridan Nurseries |
| Judges' Choice | Evergreens | Willowbrook Nurseries |