March 15, 2015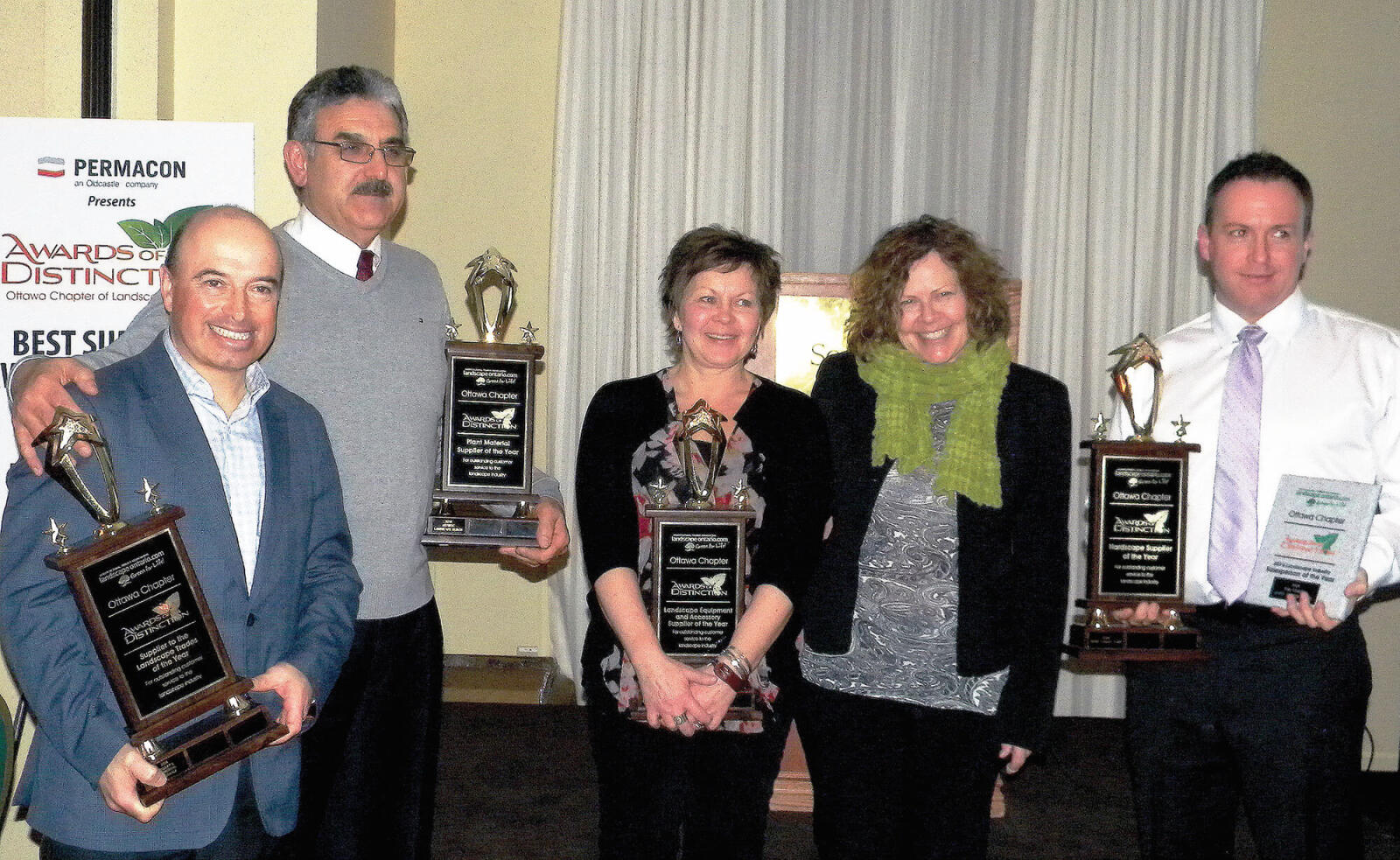 Expanded GreenTrade meets with great approval
Over its 22-year history, GreenTrade Expo has often been referred to as the little trade show that could. After its latest edition, Ottawa Chapter's event no longer fits that description.
Presented by the Ottawa Chapter on Feb. 10, at the EY Centre, in conjunction with Permacon, GreenTrade has become a major annual event in eastern Ontario and western Quebec.
This year's celebrations began the evening before with the inaugural Awards of Distinction Gala and Casino Night, at the Southway Hotel Ballroom.
The Ottawa Awards of Distinction began as an idea, written on a napkin, by Ottawa Chapter past president Ed Hansen, of Hansen Lawn and Garden, after attending Congress 2014. "Ottawa should be recognizing and celebrating local suppliers and members, similar to the Awards of Excellence that take place at Congress every year."
The plan for the awards began to take shape in the spring of 2014, when the GreenTrade Expo committee, Bruce Morton, Show Chair, of GreenScape; Ed Hansen; Sundaura Alford, of A Cultivated Art; and Michael Fulcher, of Permacon; chose the inaugural year to recognize landscape industry suppliers. To add some fun for attendees, the committee included a casino night at the event.
A call went out for nominations of suppliers that fit simple criteria of being members of Landscape Ontario that provide goods and or services to the local industry. Once the nominations were received, the voting process began, culminating in the Award of Distinction Gala on Feb. 10.
The awards night was viewed by a sold out crowd of 127. The evening was hosted by Bruce Morton and Ed Hansen. Morton explained to attendees, "We wanted to recognize our suppliers, for they provide us with the products and services we need to be the best at what we do in our industry."
Tony DiGiovanni, executive director of Landscape Ontario, and Landscape Ontario president Dave Braun brought greetings. The event was presented by Permacon, with category sponsorships from Greely Sand and Gravel, and Upper Canada Stone. The award trophies were sponsored by The Sam Group.
All nominees were recognized at the gala, and those chosen by their peers include: Best Plant Material Supplier, Artistic Landscape Design; Best Hardscape Supplier, Upper Canada Stone; Best Accessories and Equipment Supplier, Geosynthetic Systems; Best Supplier to the Trade for 2014, Bradley's Commercial Insurance; Salesperson of the Year, Rob Redden, Upper Canada Stone.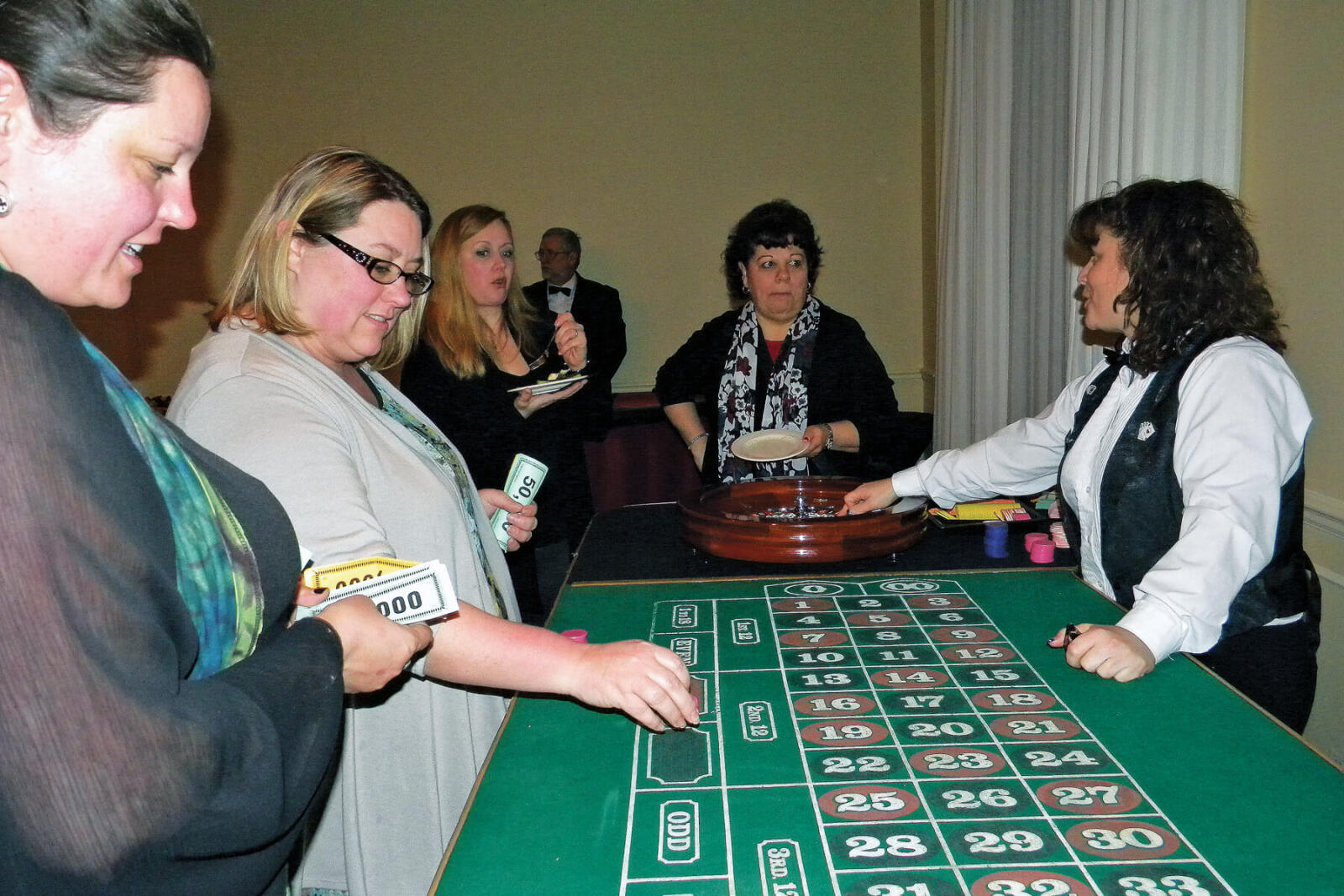 Casino Night was such a popular event at this year's GreenTrade Expo, that plans are already underway to hold it again next year.
---
The evening continued with the Casino Night. As part of the fun, a number of prizes were handed out, including two pairs of 200 level Ottawa Senators' tickets, a weekend trip to Bromont, courtesy of Permacon, and a Landscape Ontario membership, courtesy of home office. Everyone agree that Casino Night needs to be an annual event.
GreenTrade Expo show day began with a sigh of relief for show manager Martha Walsh, as the predicted snow flurries held off. "Ottawa experiences heavy snow storms in February, and we always cross our fingers and hope for the best. We have not had snow on show day for five years, and we hope it continues that way."
The MTO contractors' breakfast attendees were greeted to a cold, but sunny morning, in a room full of their peers. This annual event was sponsored by Connon Nurseries CBV Holdings, Jim Tubman Chevrolet, and Manderley Turf Products, with MTO Officers Graeme Cook and Richard Sauvé informing members of the most up-to-date legislation relative to road safety in Ontario.
Once again the students from the University of Guelph Kemptville campus and Algonquin College Horticultural Industries program were the frontline volunteers of the show. They greeted attendees and handed out lanyards, sponsored by Dutchmaster Nurseries. Show guides were sponsored by Greely Sand and Gravel and show bags were sponsored by Canlok Stone.
The entrance lobby, designed by Sundaura Alford, A Cultivated Art, and installed with the help of landscape designer Don Lewis and horticultural technician Laura Dove, made use of the many tulips to support the show's theme. Attendees were provided coffee, in custom cups, throughout the day, courtesy of Geosynthetic Systems, Bradley's Commercial Insurance and Greenlife Inc., with muffins and croissants sponsored by Lanark Cedar and Bobcat of Ottawa. Attendees were able to network at their very own lounge this year, sponsored by Petersen's Turf Farm. New exhibitors this year included Stone Age Manufacturing from Oklahoma, Blue Imp Recreational Products, John Deere Landscapes, JC Rock, Surefoot Hardscape Products, TBL Deport, Pro-Fleet Care, Arbourdale and Alliance Designer Products.
GreenTrade Expo's special theme was the 70th anniversary of the gift of tulips, celebrated during the show with a dedication ceremony in the coffee bar, presided over by Bruce Morton. Present were LO president Dave Braun; Ottawa Chapter president Sundaura Alford; LO executive director Tony DiGiovanni and included honoured guests The Dutch Defense Attaché Lt. Col. Christa Oppers-Beumer; Jan Bonsink, a former member of the Dutch underground in WWII; and well-known Ottawa Chapter members Jim and Anneke Bauer, who presented a ceremonial gift of tulips to Lt. Col. Oppers-Beumer. The coffee bar was designed and installed by Stephanie Scott, Jason Smalley, Permacon and the students from the Algonquin Horticultural Industries program. Plant materials throughout the show were provided by Algonquin College and Connon NVK.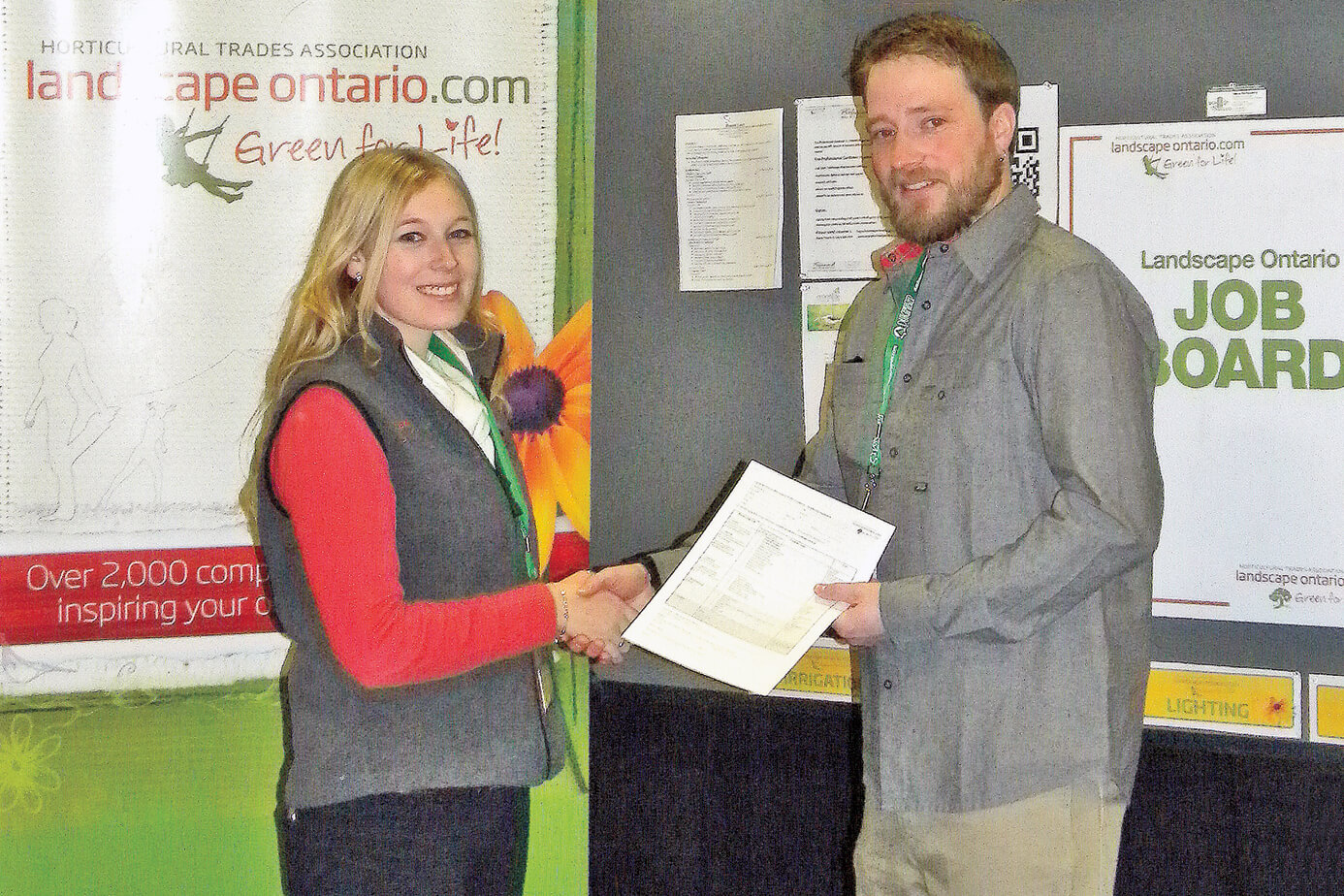 Michael Willis of Roger Willis Contracting received a year's membership as a raffle prize for the Awards of Distinction at GreenTrade. In photo he is receiving his prize from Landscape Ontario Membership Services Coordinator Myscha Burton.
---
GreenTrade Expo free business education seminars, sponsored by Connons NVK and Cohen and Cohen Natural Stone, included noted arborist Mark Burleton, Manager of Grounds and Greenspaces, Official Residences with the NCC, who presented optimal pruning for growth; Paul Zammit, Nancy Eaton Director of Horticulture at the Toronto Botanical Garden. He led attendees through the importance of planting for pollinators.
The business insight panel discussion included Jason Tasse, Chief Operating Officer at Lee Valley Tools, and Ken Merkley, Marketing Manager of Merkley Supply. They led discussions with attendees about retaining great employees, and how such practices tie into their company's philosophy on giving back to the community.
Landscape designers Paul Brydges and Chris Mace conducted a meeting with Ottawa area landscape designers to provide a forum for local representatives to talk about provincial initiatives and networking with peers.
After another successful year, GreenTrade Expo 2015 thanks all the exhibitors for their continued support, attendees for the continued registration, and especially all Chapter volunteers, whose help continues to make GreenTrade Expo celebrate 22 years of trade show success.
The date for GreenTrade Expo 2016 is Feb. 10. All up-to-date information on the show, including the Awards of Distinction supplier nominees and recipients, can be found at
greentrade.ca
.