August 15, 2013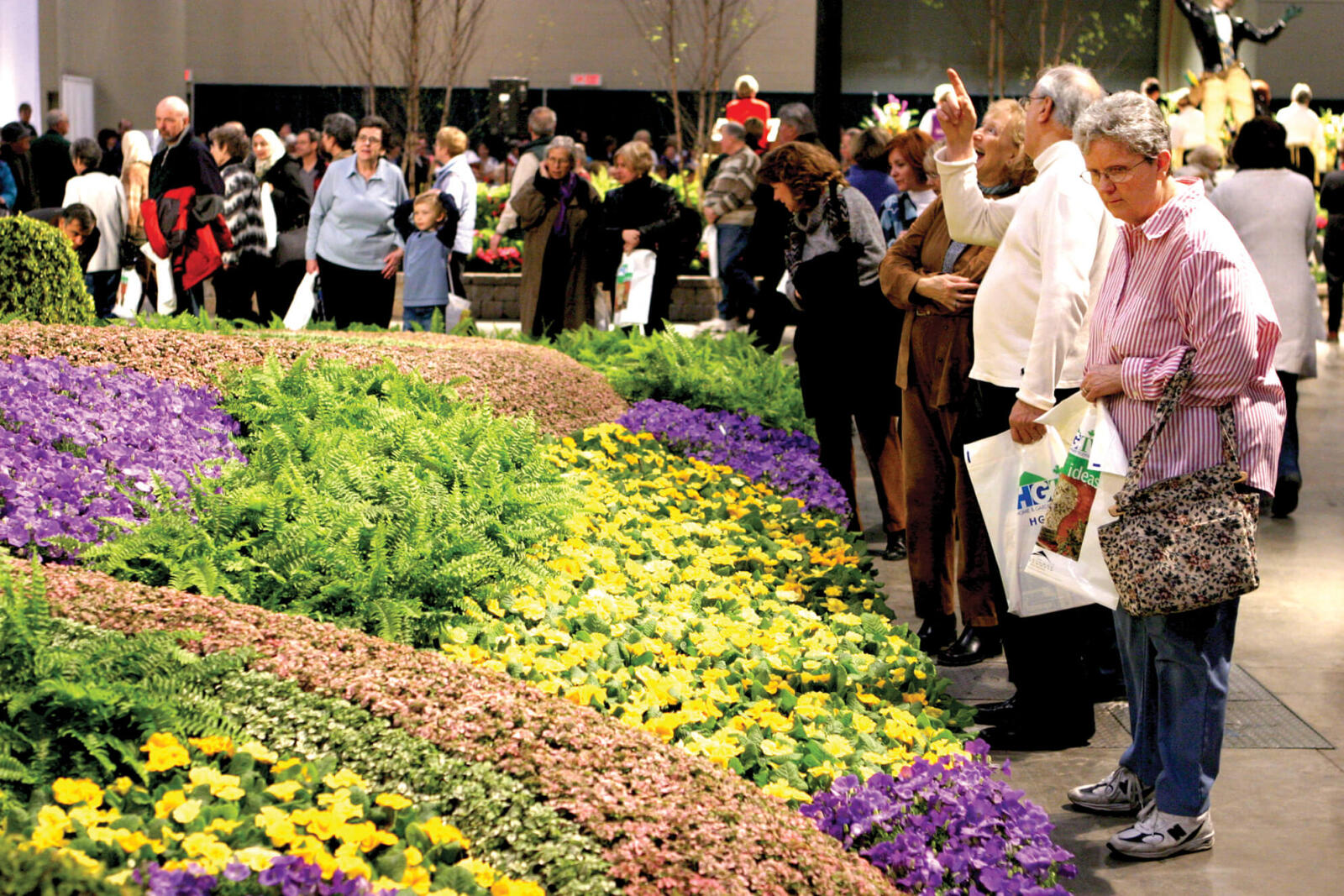 Exciting changes coming to Canada Blooms in 2014
Even though Canada Blooms is seven months away, some exciting changes are taking place now.
Anna van Maris of Parklane Nurseries in Beaverton is a new face on the Canada Blooms board of directors. She replaces Peter Guinane of Oriole Landscaping, Toronto. She has also taken on the duty of chair of the design committee. "Everyone on the board is passionate about Canada Blooms," says van Maris.
Other recent changes include the appointment of Bruce Sudds as director of sponsorship, marketing and communication. LO executive director Tony DiGiovanni CLT will take on the task of acting general manager.
Although it will not be official until the AGM on Sept. 26, Landscape Ontario members appointed to the Canada Blooms board include co-chair Arvils Lukss, Adam Bienenstock, Warren Patterson and van Maris. Members of the board appointed from the Toronto Garden Club are Mary Lou Tigert, co-chair; Anne Watkinson, Libby Scully and Jacqui Miller. Michel Gauthier will serve on the board as an independent.
"I see a real renaissance coming to Canada Blooms," says van Maris. "I'm so excited about the changes planned for the show." She says improving Blooms is a long-range plan. "There are a few things to fix and it won't happen overnight."
Although there are no official specific plans at this point, van Maris says that she will present ideas and timelines to the board in September. She says her ideas right now concern design, sponsorship and bringing in more builders.
"The public wants to see more gardens," says van Maris, "and that will only happen with more builders." She wants to see Blooms develop plans to entice more builders. "No better year for builders to get into the show than this year."
Canada Blooms has announced the theme for the 2014 show is 'Wild.' Artistic Director Colomba Fuller says, "Given the diversity of the meanings of wild, we are waiting with much enthusiasm to see how our talented garden designers, builders and floral superstars will interpret the theme to create their stunning showcases."
The show will take place from Mar. 14 to 23, 2014, at the Direct Energy Centre, where it will once again co-locate with the National Home Show.
USA Today, in its review of the top garden shows in North America, named Canada Blooms as the "north-of-the-border equivalent of the Philadelphia Flower Show and England's Chelsea Flower Show." Canada Blooms was the only event outside of the U.S. to make the list.
Anna van Maris comes to her new volunteer position with a great deal of experience as a garden builder. She has exhibited at the show for a number of years. "I have found a number of great reasons to have a garden at Blooms," says van Maris.
She lists one benefit as the opportunity to go one-on-one with the public. "There are over 100,000 people going through Blooms," says van Maris. She cites this as one of the few opportunities where garden builders or designers can communicate with that many people in one place.
"The most important benefit of having a garden at Blooms is the opportunity to have team building within the company," says van Maris. "The benefits trickle down throughout the year. In a way, when we (her staff) build our Canada Blooms garden, we become our own clients. We challenge each other to push the envelope."
Anyone interested in building a garden at Canada Blooms this year may contact Anna van Maris at
anna@parklane.on.ca
, or the Canada Blooms office at 1-800-730-1020.
---
Ford and Beadle return to Blooms after 15 years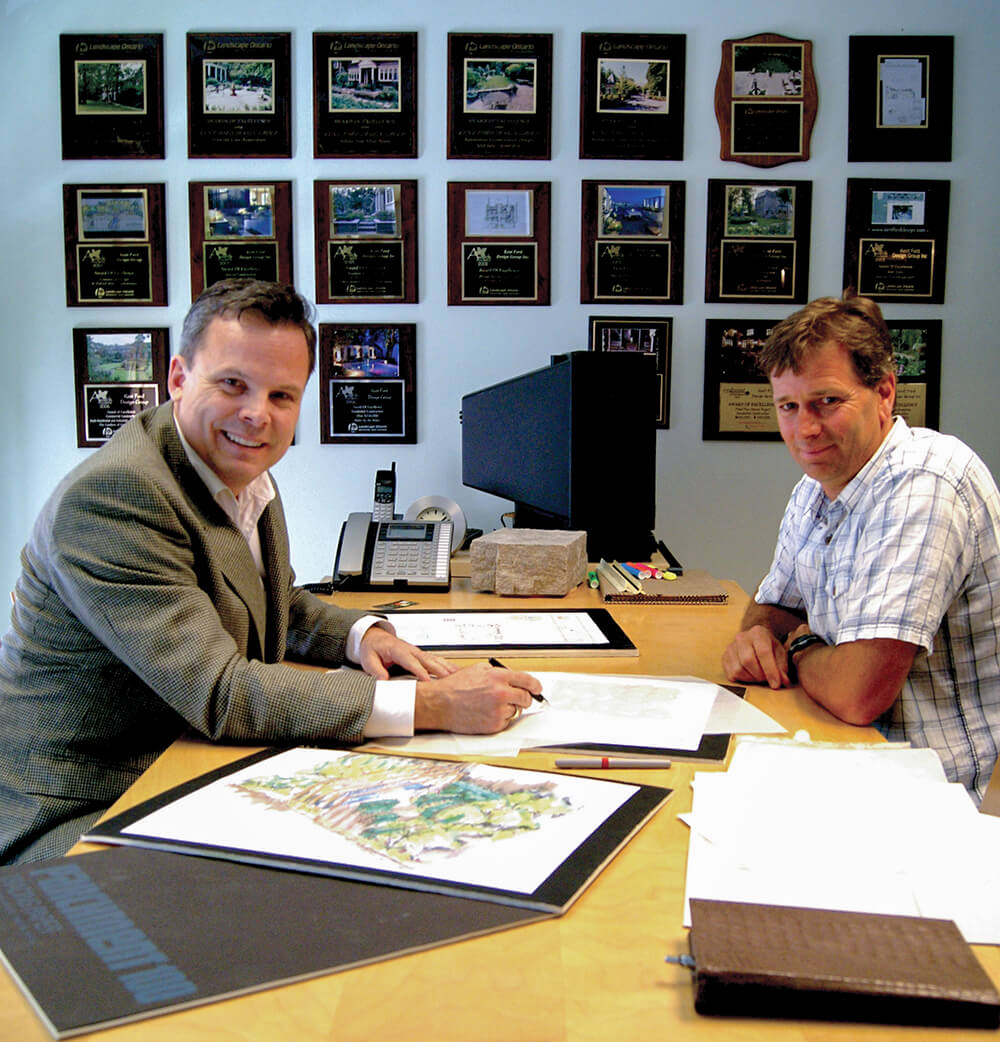 Kent Ford and Mike Beadle returned to Canada Blooms this year after a 15-year absence.
---
Two LO members bring a unique perspective to building gardens at Canada Blooms. After an absence of 15 years, Kent Ford CLD of Kent Ford Design Group, Toronto, and Mike Beadle of M&S Architectural of Gilford returned to build a garden at Canada Blooms 2013.
The pair decided to return to the show after a brief conversation last winter. "Next thing you know, we signed on to build a garden at Blooms," says Ford. He created the design, while Beadle took on the task of building the creation.
The pair won two awards for the garden, The Leslie L. Solty Memorial Award for best overall creativity in garden design and Best Use of Bulbs, presented by Tradewinds International Sales.
Both men agree that the garden was expensive and time consuming, but there are some benefits from having a garden in the show. "We estimate that about 470 man-hours were spent constructing the garden at a cost of around $30,000," says Ford. "I think you need to look at the dollar return from a long-term basis. You may not see any return for some time."
Beadle says there are more benefits from having a garden at Blooms than just financial. "Part of having a garden at Blooms is to serve the betterment of the association and industry. While the public sees what each company can produce, it also has a greater appreciation for the creativity and skill of this industry."
Although Ford and Beadle don't plan to enter a garden this year, they say they may look to be involved at Blooms every three years.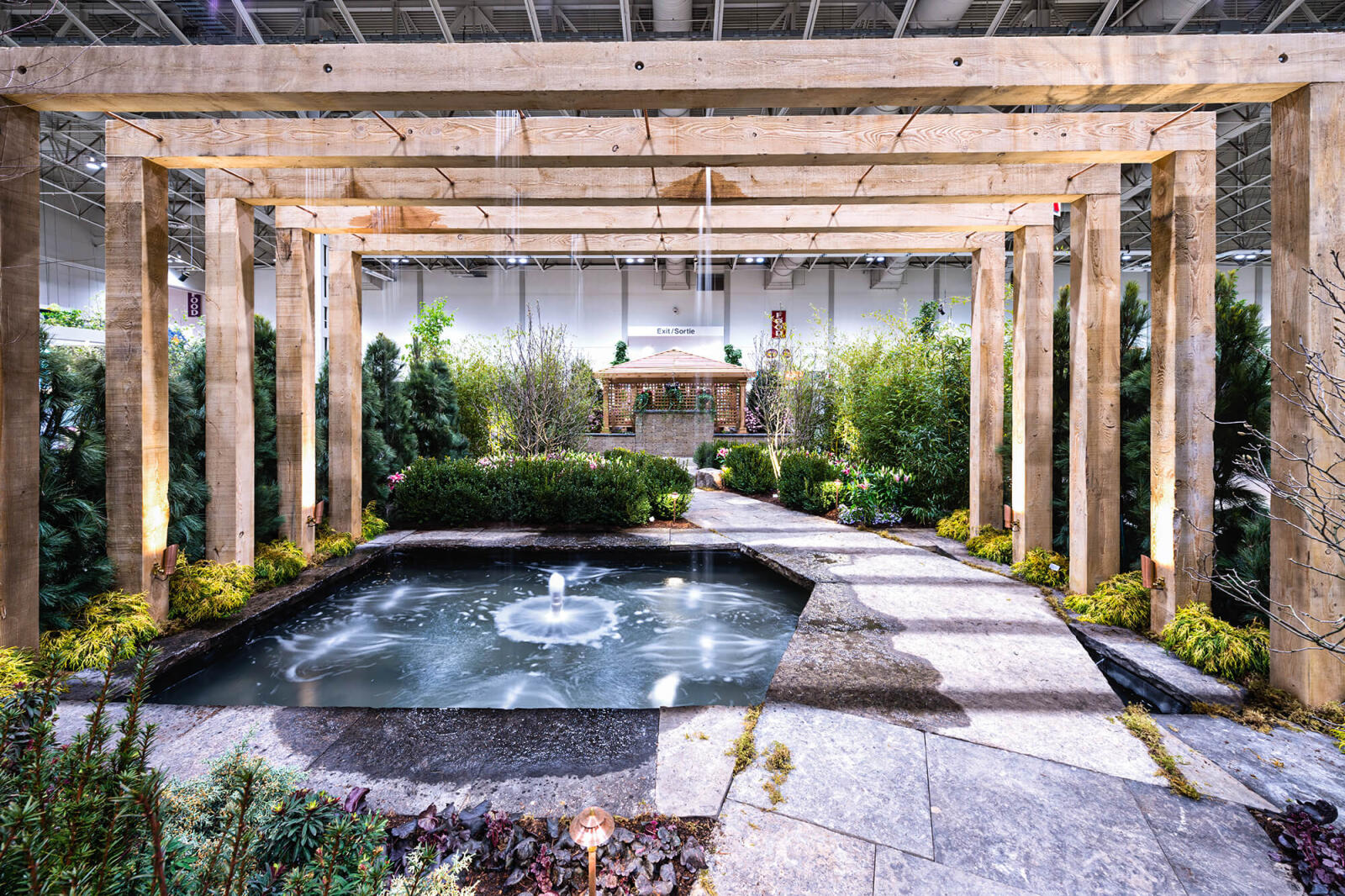 The unique water feature in the garden by Kent Ford and Mike Beadle, entitled Hope Springs Eternal, grabbed the attention of visitors to this year's Canada Blooms.
LO seeking designer and supervisor for Canada Blooms garden
Canada Blooms is looking for a few good men and women. Actually, it's someone to take over the duties of designer, as well as construction supervisor, for the Landscape Ontario garden at Canada Blooms.
Paul Doornbos CLP, CLT and Paul Brydges have fulfilled their two-year commitments, and now Blooms needs new talent to step forward to take on the duties.
Anyone interested in the the challenge may contact LO executive director Tony DiGiovanni at
tonydigiovanni@landscapeontario.com
, or Sally Harvey, LO manager of education and labour development, at
sharvey@landscapeontario.com
.