July 15, 2014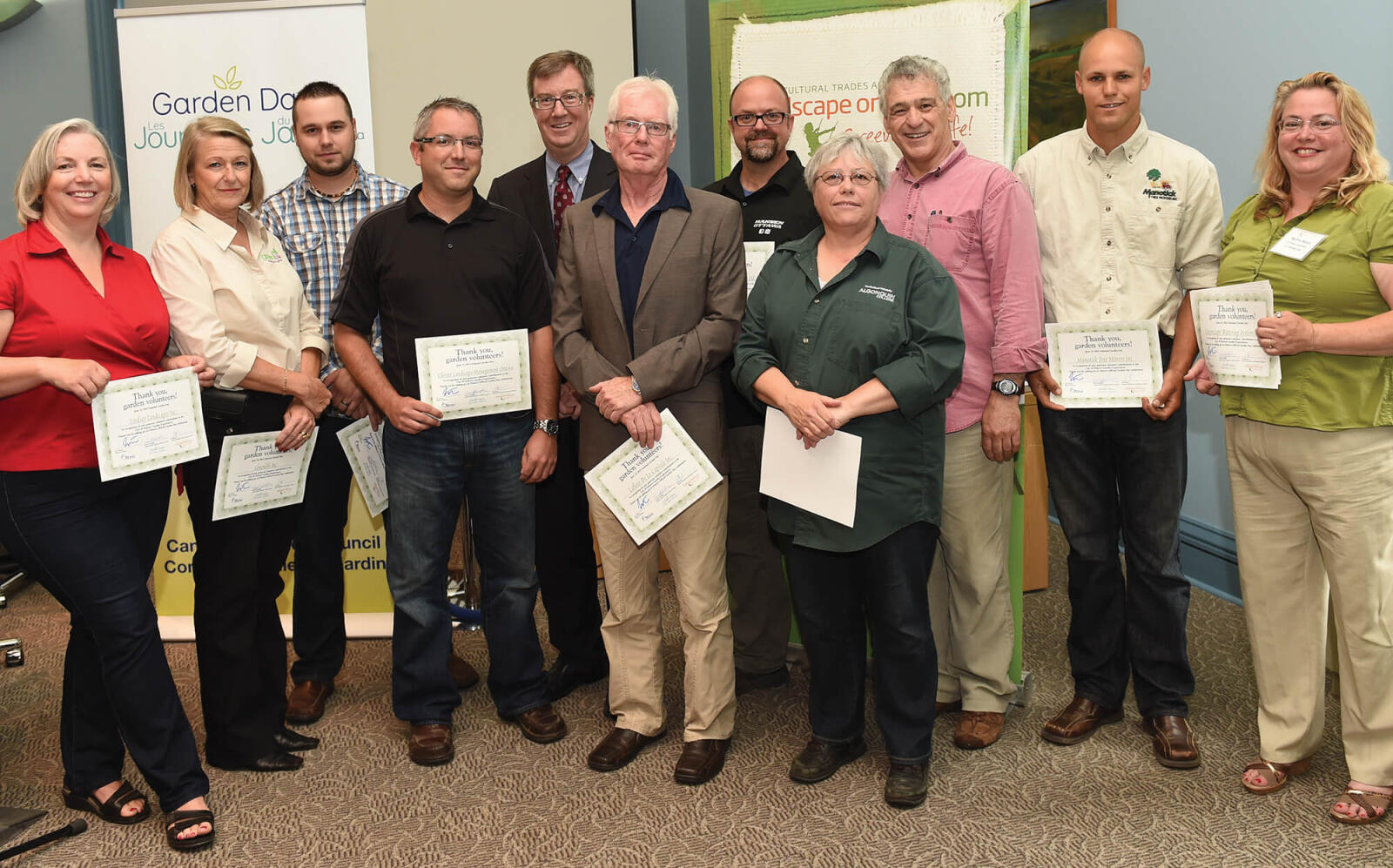 City honours Ottawa Chapter on Garden Days
By Martha Walsh
Volunteering time, experience and materials to beautify and maintain public gardens is a regular activity for members of the Ottawa Chapter.
On June 13, the Chapter received special recognition from the City of Ottawa, when Mayor Jim Watson officially proclaimed the day as the first official Garden Day in Ottawa, coinciding with National Garden Days. The ceremony was held at Ottawa city hall.
Along with the Chapter's long list of community projects, individual Landscape Ontario members were honoured by the mayor.
The impressive list of Chapter projects contains man hours freely given Cancer Survivors' Park, the Day of Tribute at the National Military Cemetery at Beechwood, the CHEO Dream home, the CHEO Healing Garden and The Ronald McDonald House.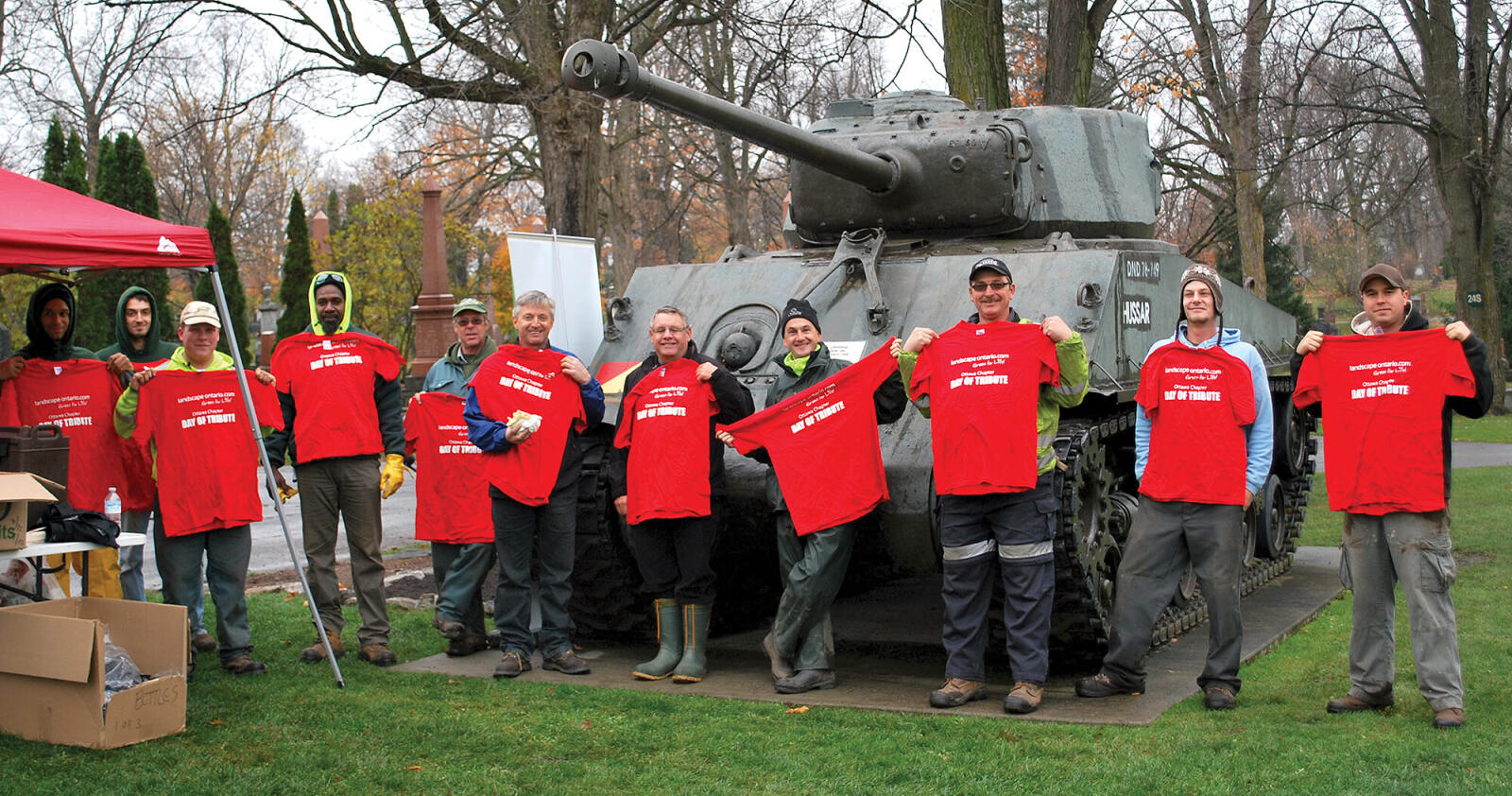 The Day of Tribute at the National Military Cemetery at Beechwood is one of Ottawa Chapter's most popular volunteer projects.
---
Along with giving their time to the gardens, members provided teaching opportunities to students in the horticultural industries program. Students were given the great opportunity to actively participate and gain valuable experience.
Each member has his own personal reason for volunteering, but as a group, Ottawa Chapter members continue a tradition of volunteering time and resources to our nation's capital public green spaces.
National Garden Days is a three day, coast to coast Canadian celebration of activities and events for gardening enthusiasts, families, schools and tourists to enjoy public and private gardens and gardening experiences. It takes place yearly on the Friday before Father's Day.
Ottawa's official Garden Days celebrated the community's garden culture and heritage, and the local horticultural industry in our nation's capital. The public was encouraged to visit their favourite garden, their local garden centre or travel to a local garden destination to celebrate.
Mayor Watson presented certificates to Ottawa Chapter President Ed Hansen, Canadian gardening radio personality Ed Lawrence and Canadian Garden Council executive director Michel Gauthier.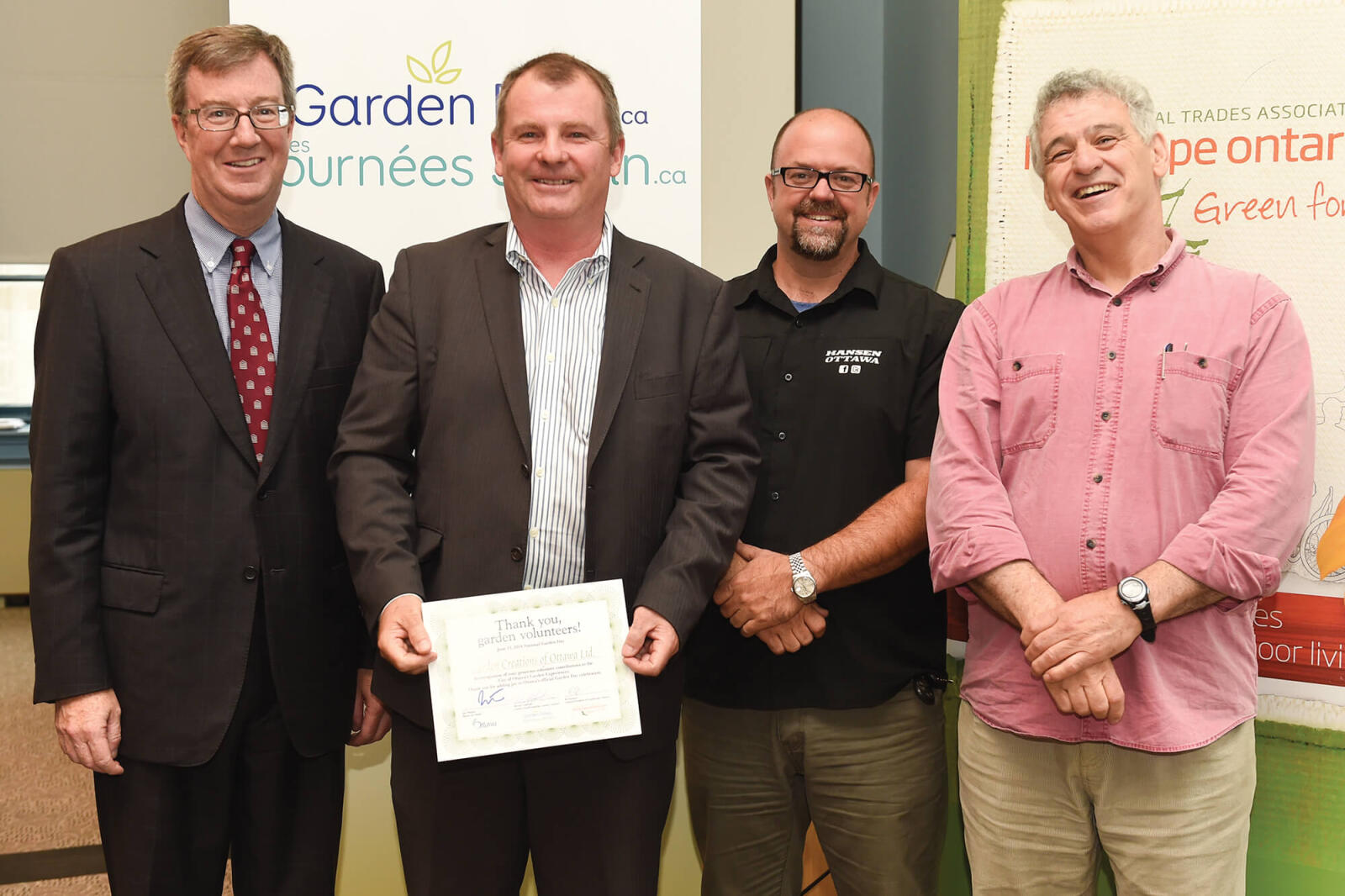 Volunteers who worked on the Ronald McDonald House Garden received congratulations from the Ottawa mayor. They are from left, Mayor Jim Watson; Tim Kearney, Garden Creations of Ottawa; Ed Hansen, president of the Ottawa Chapter and radio personality Ed Lawrence.
---
The following Ottawa Chapter members were acknowledged and given certificates for their volunteer work to beautify Ottawa public green spaces: Hansen Lawn and Gardens, Lafleur de la Capitale, Greenscape Watering Systems, Clintar Landscape Management Ottawa, Natural Impressions Landscaping, The Professional Gardener, Lindsay Landscapes, Greenlife, Horticare Landscaping, Manotick Tree Movers, CityScape, Algonquin College Horticultural Industries Program, Geosynthetic Systems, Green Unlimited, Weedman Ottawa, Peter Smit & Sons, Zone 5 Landscaping and Property Maintenance, Surgenor Truck Centre, Garden Creations of Ottawa, A Cultivated Art, Jason Smalley Landscape Design, Janice Ife Algonquin College, Les Enterprises Prebbel Enterprises and Maple Leaves Forever.
The following Ottawa garden groups were also recognized: Friends of the Central Experimental Farm, The Friends of the Maplelawn Garden, Ottawa Field-Naturalists Club/Fletcher Wildlife Garden, Barbara Harris and Ann MacDonald The Hope Garden, Nepean Allotment Gardens Association, Vanier Beautification, Vanier Community Gardens, Orleans Community Gardens, Bayshore Park Community Gardens, Michele Heights Community Garden, Greely Gardeners, Osgoode Museum – Garden Committee, Kanata Research Park Family Centre, Kanata North Community Garden, The Children's Garden, Brewer Park Community Garden, Stittsville Goulbourn Horticultural Society, Canadensis Botanical Garden Society, Russell Avenue Gardens and Ottawa Field-Naturalists' Club.
The event also included the dedication of a native maple tree at Ottawa City Hall in the name of Maple Leaves Forever. It was donated by Ottawa chapter member Ferguson Forest Centre, to commemorate the inaugural Ottawa Garden Day.
For more information on Garden Days including provincial and national celebrations visit
www.gardendays.ca
.
---
Garden Days celebrations grow
The 2nd Annual Canada's Garden Days was extended to three full days this year, from June 13 -15.
A Private Member's Bill was introduced to the House of Commons in April to establish National Garden Day, to be held the Friday before Father's Day of each year. Landscape Ontario's director of public relations Denis Flanagan has been named provincial spokesperson for Canada's National Garden Days.
The event celebrated the importance of private and public gardens and the role they play in promoting good environmental stewardship, and all the benefits related to gardens and gardening. Garden Days was celebrated from coast to coast this year in nearly 75 venues.
Events were held across Canada from Guelph, where the university celebrated its 50th anniversary, to St. John's, Nfld. Appropriately, Ottawa hosted the most events, including the presentations at city hall honouring volunteers.
To see all the Garden Days events, go to
http://gfl.me/x29Z
.